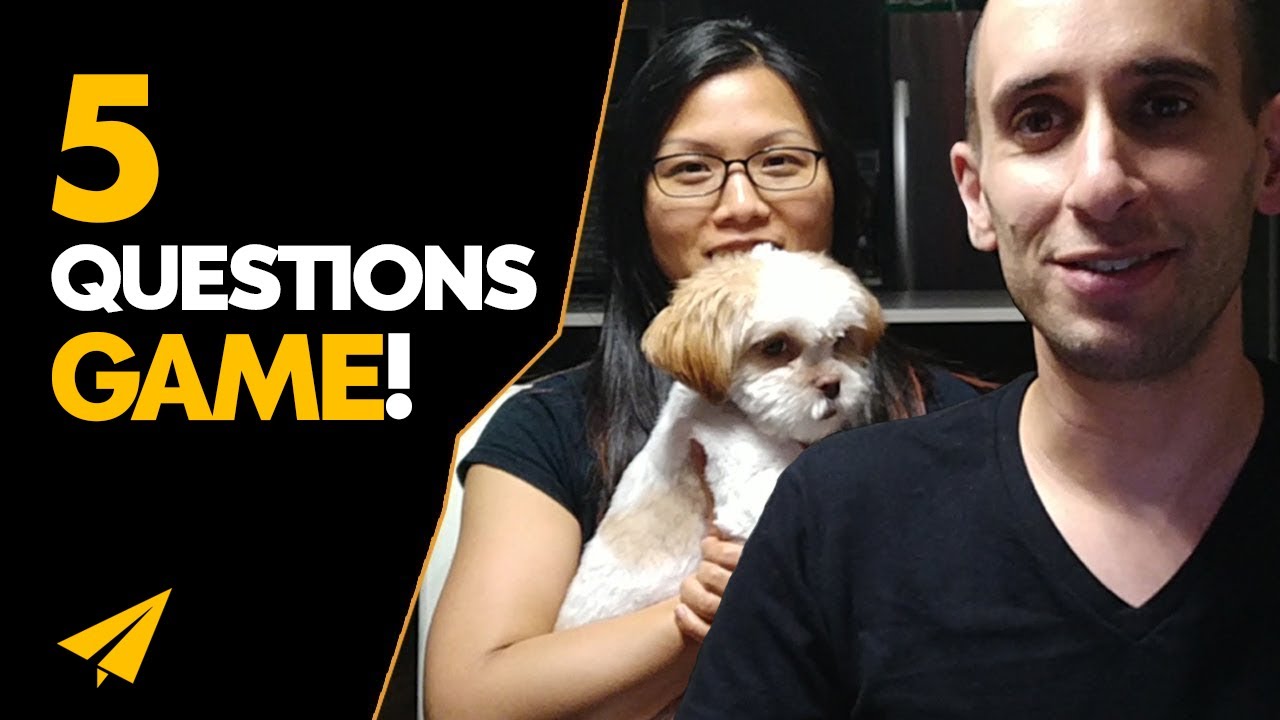 Alright everybody, happy weekend, we are going to play Five Questions for Evan and Nina.  Okay so this is a spur of the moment thing, Nina doesn't really even know what we're doing, here's what we're going to do: I pulled up this list of 200 questions to get to know somebody, and I'm going to pick five to ask you, and you're going to pick five to ask me, and we'll go one at a time.
About yourself?
No about the other person. I pick one for you, you pick one for me. Alright, ready? Your question is, let's see, what's your favorite piece of clothing that you own or have owned?
Oh one of that dress from bee-see beachy, very elegant.
Okay that was an easy one, I'm soft, but that wasn't very detailed though, Nina, okay we want some comedy, okay, find a question for me. ♫ Do do do do do do do We have to do this five times, you know, we got to, you got to pick some questions!
What songs have you completely memorized?
The most memorable one was this Chinese song, I don't remember it now anymore.
Oh!
But there's this Chinese song that I wanted to impress Nina with one of her favorite songs and so I had a friend of mine write out how it would sound in English, and then I would memorize it, I had no idea what it was saying, and then I had Nina play it in the car randomly, it came on randomly and then I just started singing to her. Do you remember any of it?   Yeah, what what?   I'm making stuff up now, that was pretty good, come on that's like three years!
You had to sing it at our wedding.
I was forced to. Next question, what job would you be terrible at?
Oh be-ki, I don't know, can you just ask me another question?
No, answering questions, that's the challenge.
I don't know. I've never done a job that was really bad.
Maybe you haven't done enough jobs.
I've done a lot of jobs.
How about  how about a clown? I think you'd be a real bad clown.
Oh I would be really bad at making people laugh.
Nina would be a really bad clown.
Nina: I, I, yeah.
Nina would be a bad clown.
I'm very, I'm very- Don't dress up as a clown.
Reserved.
Okay, clown, okay, good.  I answered your question for you, okay good. Go next, okay, two, we got to get through five each, come on this going to-Okay, what would your perfect room look like?
My perfect room look like? My perfect room, hm. My perfect room would have my YouTube channel playing on my big screen TV  with daily, with second by the second updates and comments, it would have this awesome ice cream machine that would be like no calorie ice cream.  And soft serve orange swirl, oh my god. And it would have all sorts of toppings that were also low calorie, no calorie toppings that I could include with it. There would be a big picture of Nina somewhere in there.
That's somber okay, you don't even have the picture.
Its important. I feel like a bean bag is important. What else would I need to have? I need to have my video camera ready to go. I think like one of those eight screen monitors, you know? Like a computer with like eight monitors that have different things on them, it'd be pretty cool. An infinity pool that you could jump into. The pool that you could jump into that like when you swim it moves.
In the same room?
Yeah in the same room of course, with an infinity view so that it's like, it's going out … That goes outside! Okay so like the office is enclosed but there's like this secret part on the side with an outdoor above ground, like, and this is like sky rise, right, so you're going out and you've got 360 view and the water's pushing back, you got to swim against it. That'd be pretty cool. A direct phone line to Batman would also be very cool.  I think, I don't know. That would be an essential part of an ideal room. That's pretty good that's a good start, that's a good start, I feel like I'd need a teleportation somewhere, or just like I could jump into a tube when it like transports me somewhere, that'd be really good.
That must be a huge room.
No, no, but it's all going to be condensed, like everything has its own spot.
I just noticed, you did lose a lot of weight, your bone, your cheekbone is very, it's showing a lot.
Okay, you should be a clown. Okay, good!
Oh my god yeah you lost too much weight!
Too much weight, la, you know that's what happens. Okay, next, what pets did you have while you were growing up? You had dogs!
All the dogs that my Mom bought, they will last for one season.
Oh wow.
Because, er …
Because when I was in China I was living like quite a big street that's like-
Go on!
Different lanes, four lane street, it's like our houses right by the big main street. Every time, like, almost every year, every time-
I'm not letting your Mom babysit the dog.
No because those dogs they're not like pets like in Canada.
They didn't last, they got ran over by car. What takes too much of your time?  Your time is valuable.
You know, I'm in charge of my time, so I take accountability for the things that take up too much of my time. I would say driving, driving takes too much of my time, I don't like driving. Picking people up, driving people to places. It's also because it's hard to be productive while driving. I can't do anything else while I'm driving. Guess I could still talk to people on the phone if I use the phone. Anything else I don't mind so much because I can usually get work done, I can do something, I can be productive. When I'm driving, I can't, it bothers me. What are some small things that make your day better? That's when you pick me up somewhere and drive me to something!
Driving.
Yeah.
Great.  Don't pretend, it's only five minutes to drive me somewhere, okay?  Okay, you get to spend time with your wife. Only on the way there, and then I have to spend time-Yeah and then you get to spend time with your dog on the way back.
I have the dog the whole day!
Well but he was sleeping during the day. Okay, next, my go.
That's it, the only thing that makes your day better is when I drive you to the subway mark?
What are some small things, so this is some of it, not all!
Okay, alright, fine.
Okay?
Okay, question four for me, what have you got?
What shows are you into?
What shows am I into?
Yeah.
What kind of shows, like TV shows? So together we're watching Game of Thrones, we're watching Agents of Shield.
Blindspot.
Oh yeah and blindspot we went through that, we went through Gotham, we went through Suits,
And Arrow.
We went through Arrow.
Flash.
We watch like one show a night, one episode a night, feels like, how have we gone through so much stuff? Arrow, Flash, and then me, also watch Billions and Silicon Valley.
Yeah, I don't like them.
No Nina doesn't watch them. And then every now and then like a backup sharktank or the Prophet, the Prophet was good too.
Yeah I liked Prophet.
Yeah.
What's his name?
Mac-is-son mon-o-reece. Okay, last question, oh my God it better be a good one. Last question, what are you interested in that most people haven't heard of?
Oh my God I don't know, that should be me asking you!
Good question,  I got that question I'm so excited!
I don't know.
Final answer!
I don't know, you just pick another one.
The bachata dancing. How about something Chinese? What do you do that's Chinese that, er, you watch Chinese TV shows.
I watch a lot of Chinese TV shows when Evan's not available. V Channel, V Channel.
She orders a lot of stuff.
No.
Lot of Chinese boxes arrive, often to the Condo.
That was your, those boxes they're for you.
A lot of random clothes showing up. What else do you do that most people haven't heard of?
I don't think most people have heard of bachata dancing, come on you guys, you don't know what bachata dancing is. Maybe key-zumba dancing?
No.
Okay we'll go with bachata dancing.
I'm a very simple person.
Last question for me! ♫ Last question for me What have you got, Nina? I like this one, if you are a dictator of a small island nation, what crazy dictator stuff would you do? I like the office one, I'm excited for my infinity edge pool auto-motion out into the city with my direct line to Batman.
What piece of entertainment do you wish you could erase from your mind so that you could experience for the first time again?
Oh wow! What was a great first experience? See the experience often is around the circumstances too.
Rollercoaster?
I don't want to experience it again. If I could just erase it from my mind, that'd be great, but then I ave to experience it again for the first time, so see the problem is a lot of the first time, you know, that's a good experience, you can't recreate those circumstances.
Okay, let me ask another one.
What, really?
Yeah.
I was thinking about that one!
Okay maybe you could come back later if you want.
No it's only, that's the last question! Okay, are you going to switch it up?
What movie title best describes your life?
What movie title best describes my life? Why are you laughing? Is there some movie called believe?  There's got to be a movie called believe, that's an easy one. I'm curious you guys, what movie title best describes me, or this channel?
This is asking you!
Yeah I know, I know, but I'm just asking, you know, its an interactive thing here. The Bourne Identity! I'll go with the Bourne identity.
Okay.
Oh boy. Wait are you flexing in the camera?  My wife the clown.
Jason Bourne?
Yeah I don't even know why I picked that one.
Why?
I don't know, I have no idea, I just said I don't know why I picked that one. I watched it the other day when I was sick.
Yeah I saw you watched it.
The newest one, it was okay.  There you go, The Bourne Identity. Alright, you guys watching, if you had to pick a movie title to describe this channel, who is it, what is it, leave in the comments below. Thank you guys so much for watching, hope you're having an amazing weekend, let us know what you're thinking about this new spur of the moment kind of video for life with Evan. We believe in you, hope you continue to believe in yourself and whatever your one word is. Much love guys, we'll see you soon!
---
You might also like
---
More from Evan Carmichael
---
What's up, Believe Nation? Greetings from London, England. It's Evan. My one word is believe and I believe in people, …
Watch Evan Carmichael's Top 10 Rules For Success video. Famous Entrepreneur Quotes Evan Carmichael's Quotes "Changing my environment had a dramatic impact …
Today we're going to look at seven different ways that you can make business alliances. What's up Believe Nation? It's Evan. …