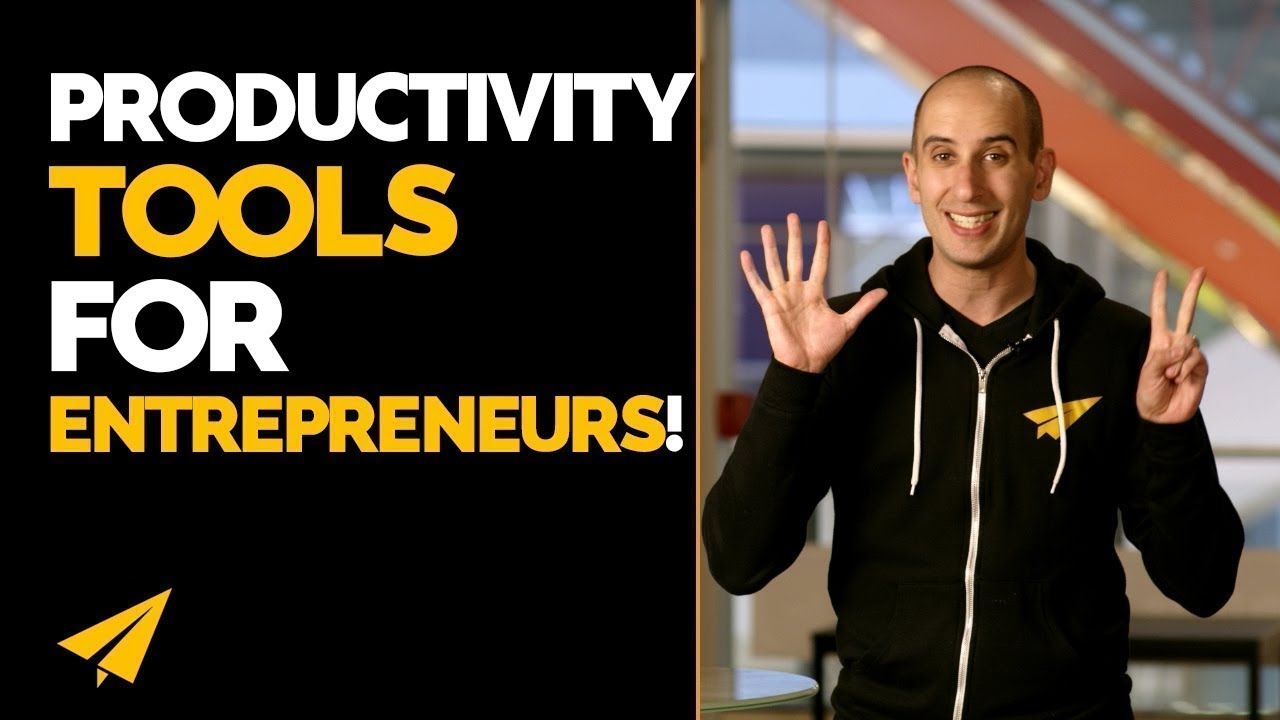 What's up Believe Nation!
Today I'm going to talk about seven essential tools that all entrepreneurs should know about.
And as always guys, if you hear a point that really resonates with you, please leave it down in the comments below, put quotes around it so other people can be inspired as well. And also, writing it down helps you lock it in for yourself too. Enjoy.
---
7 Essential TOOLS for Entrepreneurs – #7Ways
So I often get asked by entrepreneurs, what tools do you use, what are some of the most impactful, resourceful tools that you put into practice every day to help you build your business?
And what should I apply in my company to help me grow faster? And so today, I'm going to share with you my seven tools that I think every entrepreneur should be aware of and using in their company.
#1: Calendar
Tool number one is a calendar, and this is the most basic of all the tools that I'm going to talk about today. A calendar, whether you're using your Outlook, whether you're using your Google Calendar, whether you're using a physical calendar, a calendar is so, so, so, so important.
But more important than just having a calendar is sticking to it and abiding by it. How many times do you set something in your calendar, not a meeting with somebody else, I think with meetings, you're more likely to go to it 'cause you commit to somebody else.
But you put something in your calendar, and then you don't stick to it. You put something down and say, I'm going to work on my business in this time chunk, and then something comes up and you don't stick to it and you don't keep it as a priority. And so, one, it's having the discipline and the patience to actually stick to it, and two, it's making a calendar that makes sense.
Accomplish with your goals
And so, every month on a small scale, and every quarter on a bigger scale, I'll look at my calendar, I'll see where I'm spending my time on different activities and think, is this the best use of my time? Is there something else that I want to work on, and then if I add that to my calendar, what gets taken away?
And so, most days when I wake up, I'm just applying what I wrote down in my calendar. It's just work mode, grind mode, I'm not thinking high-level strategic, what should be in my calendar? 'Cause if you're thinking like that every day, if every day is just, how am I going to plan, how am I going to plan, you don't ever take action.
We have to take action as an entrepreneur. So most days I'm waking up and I'm just taking action and living according to the calendar that I set up for myself.
And then once a month or once a quarter, I'll look at it, and it's like hmm, that time there, that's not really being spent effectively, and I want to add this new thing in, so I need to find a spot for it. So let's shift things around.
And so, making a good calendar that works for you, works for your schedule, works for what you want to accomplish with your goals, and then sticking to it is one of the most important resources that you can use as an entrepreneur.
#2: Upwork
Number two is Upwork. Upwork.com is a website that freelancers from around the world can sign up to, and you can use them to bid on your projects. A lot of times, people think when they have to hire somebody, they need somebody local and it needs to be somebody full-time.
Or you can get people highly-talented, highly-skilled who are working overseas who will work part-time for you and a set number of hours and it will be a lot cheaper than hiring somebody local to do amazing, amazing, amazing work for you.
And recognize you can't do this alone, and so having a team of people around you who can help complement your weaknesses and do amazing things for your company is really important. I think the hiring process is broken for a lot of companies.
People from around the world who can help you build your big mission
I'm a big fan of bringing people on on a trial basis, letting them see what they can do, seeing more in their results, 'cause I don't think a job interview and a resume really speaks to somebody's results.
If you're hiring a video editor as an example, their ability to write a resume and to do well in a job interview has nothing to do with their ability to actually make good videos. And so I'd much rather skip a lot of this stuff and move to, okay let's start working on trial project and see what you can do in a couple of hours work.
I made a video called The Hiring Process is Broken. I recommend you go check that out 'cause it has a lot of those steps in a lot more detail. Being able to bring on good people from around the world who can help you build your big mission and achieve your goals in a cost-effective way and on a part-time basis is such an amazing resource for you, and so I highly recommend checking out Upwork.
#3: 99designs
Number three is 99designs. This is similar to Upwork, but just for design. And so what happens is, you can create a project that you need for your design work, whether it's a new logo, a new website design, banners, flyers, brochures, business cards, whatever it is that needs to be designed, if you are not a designer yourself, you can put it up on 99designs, they recommend different pricing points, and people from around the world will bid on it.
And they'll bid on it with designs. And so you can structure your content so that you only pay if you're getting a design that you actually like. And so people will bid on it, they'll submit designs, you give feedback, you go back and forth, until you get something that you love and say yes, that's it.
Hundreds of designs
I think a lot of times, the way that we hire designers can also be broken. Typically, it's you look at a portfolio and say well here's what we've done in the past.
It doesn't mean that I'm going to get something good. Just because you've done this kind of work in the past, it doesn't mean that what you're going to give me is going to be amazing. The best way to figure it out is to actually get involved in a project and start doing it.
The challenge of hiring somebody locally is you pick one person, it's going to be expensive, and you don't know if you're going to get a great result.
Where with a website like 99designs, you get people from around the world, you'll get dozens to hundreds of designs and you can tweak and go back and forth until you get the one you actually, actually, actually love and want to use in your business. And so another great tool to use, I highly recommend for any design work, 99designs.
#4: YouTube
The number four resource is YouTube. We're all here watching on YouTube. And it's no surprise for me, it's both as a creator and then also as a resource. I think if you're a creator, you have a chance to tell your story, to promote your business, to talk about behind the scenes, why you started this, how you do certain things. I think every entrepreneur should at least consider being on YouTube as a part of their business.
Whether YouTube becomes your business or it's just a funnel for your business, for my company, for Evan Carmichael, Incorporated, a lot of the opportunities that I get for my company come through the YouTube channel. For Toronto Dance Salsa, we're posting videos every week on our YouTube channel, and that drive students more.
People want to know your story
The model's not revenue off of YouTube, but students coming to the class, because now they're aware of what we're doing. I think it's a fantastic marking opportunity for any entrepreneur because so many people are on YouTube and people want to know your story.
Your competitive advantage as an entrepreneur is your story. The way you beat the big guys in your industry is not going to be on price, it's not going to be on reputation, it's going to be on your story.
I feel connected to you, I feel like you just care more, and you can't really communicate care more if you have a boring website. And an easy way to do it, is get in front of a camera and just talk. You don't have to be great and you don't need to have fantastic gear.
The most important thing is the message that I feel the passion and the connection to you and why you started this business. So that's from the creator's side. I think from a learning point of view, it's also really helpful. A lot of the best learning that I've received in my life has come from my own YouTube channel. I mean it's why I started my YouTube channel.
Education that has helped me as an entrepreneur
I wanted to learn as well for myself. I wanted to study these famous entrepreneurs and learn from them because I didn't have connections to famous entrepreneurs. There was nobody in my family who was a successful entrepreneur, and so I wanted to hang around these people, I knew it was important, I didn't know how to go out and do it, so I thought I'm going to make a YouTube channel about it.
And every time we profile a famous entrepreneur, I review the videos, I review the content. I only put it up because I have learned something from these videos, and it's been the single greatest source of education that has helped me as an entrepreneur is by watching my own videos every day.
And so I think whether you're watching my videos or whether you're trying to learn a certain skill, YouTube is a fantastic free resource that wasn't available in the past.
I wish I had this when I was going to high school, because it can dramatically short-cut your path to learning something, as well as connect you to people who actually know what they're talking about, connect you to experts in certain fields that before you would have no access to. So I highly recommend whatever you want to learn, somebody's made a YouTube video about it.
#5: Snapchat, Facebook, and Instagram
My number five resource for entrepreneurs is Snapchat, Facebook, and Instagram. I think these are really important tools to again help you tell your story. I think entrepreneurs need to learn how to tell their story better.
I think YouTube, typically people look at as a more polished resource, so you make your video and there's editing involved in it, and it's longer form. Where if you just want to film from your phone, you want to get better practice, more experience, you can get on Snapchat, you can get on Instagram, you can do the story, you can do Facebook with the Stories now.
All three platforms allow you to make really informal videos, it's expected to be informal. It's expected when you do Snapchat that people are coming from their phone, and it's expected to be more raw.
It doesn't need to be produced, it doesn't need to be edited. And so, it's a great tool to help you become a better storyteller, to help get your message out there more. And the good news is, for some of you, the stuff that you create expires in 24 hours.
Practice and get better
I'm not a huge fan of it, because I want the stuff that I make to live forever. When I put love into something, into these videos, I want it to live forever, I want my grandkids to watch this and learn from it and it apply it to their life and their business.
I want to build a legacy. But if you're nervous and you're worried and you're not sure how good you're going to be, and you don't want everybody to see it and to live forever, then get on Snapchat and get on Instagram Stories, because the stories disappear in 24 hours.
When I took over Toronto Dance Salsa, I wanted Alex who's helping me run the company to get good at storytelling. He had zero experience, zero practice in this. And so, I wanted to make YouTube videos with him, but I wanted him to develop the experience and practice and get better.
And so, every day he's on Snapchat posting recommended three Snaps per day to improve his own skills. To yes, build a following, and he's getting people watching him every single day now, and people emailing him, and people talking to him who come into class and say, "I saw your Snap, that was really good."
Improving your skills
And he's involving people in the Snaps. The most important part is to improve your storytelling in a really low-risk way. If nobody watches it at the start, it doesn't matter. If you make a big mistake, you don't even have to post it, but if you do, it doesn't matter 'cause it's going to disappear in 24 hours.
And so it's a great way to know that your customers are here. Your customers are on those platforms. Storytelling is going to be your competitive advantage.
Those platforms are where the big companies aren't yet. And so your ability to tell your story in a meaningful way on the platforms that exist that your customers are in, where the big companies aren't yet, that's an easy chance for you to win as an entrepreneur, and I highly recommend getting involved and improving your skills.
#6: Finding your one word
The number six resource for entrepreneurs is finding your one word. This may sound a little self-serving, but I wrote the book and we have the concept and the philosophy behind it because it's so incredibly important for entrepreneurs.
When I discovered what my one word was, which was believe, everything I touched that was around believe instantly took off. And I didn't just go all in on believe in my business, I tested it.
I tested it on my newsletter and the first newsletter was the best news letter that I had ever put out. I tested it on my videos and the first believe video was at that time the best video that I ever put out. It got 100,000 views in the first month, where all my other videos, the best video took a year to get 100,000 views.
This happened in the first month, and now it has over two million views. Everything I touched around believe did better.
It makes all the difference in the world
I hired people better, I made better content, I communicated my message better, I got more website traffic, my YouTube videos did everything, everything I did became better. Now this was just me, and so I thought okay, let's apply this to other people.
As other entrepreneurs that I connected with, I shared this philosophy and I shared this story with, they discovered their one words as they applied it to their business, they did better.
They got more customers, they got more word-of-mouth. They had an easier message that people connected with and wanted to spread for them. They got better employees, they got investment into their company.
And so, it's such an important tool to know what you stand for, to understand the single most important core value that you have, and then inject that into your business and make every single important decision through the lens of your one word. It makes all the difference in the world and can really catapult your business to success, so highly recommend checking it out.
#7: Resourcefulness
And the number seven essential tool for entrepreneurs, this is a mind twist, it is just your resourcefulness. I think a lot of people put too much stock into tools. I think a lot of people expect the tools to save them.
The tools will not save you. If you are an unorganized person, it doesn't matter what tool you use, Evernote, OneNote, Gmail, a notebook, whatever calendar system, none of the tools will save you if you have bad habits.
And you need to have the habit of being resourceful. The most important tool that you can ever have is right here, is you, is your mindset, is your belief system. And I think a lot of times, people always blame the tools. I'm not more successful because I don't have the right tools, or because I don't have the budget to do it.
The most important tool of all
I'm not a big YouTuber because I don't have the right camera or I don't have the right lighting or gear or editing software, blah, blah, blah, none of that stuff matters. They're an incremental growth, yes it can help you. But much more important is you.
The most important ingredient in being an entrepreneur in this context is just your resourcefulness. It's never about how many resources you have, it's about how resourceful you are. You will never have enough resources. You'll never have enough resources to do the big things you want to do.
There will always be something else that you want to get and shoot for, and always another excuse or reason to pin it on why you're not more successful. And as long as you're constantly blaming those things, blaming your tools or your bad tools, then you're never going to get to where you need to go. So the most important tool of all, of all for entrepreneurs is your resourcefulness.
Thank you
So thank you guys so much for watching. I'd love to know what did you think of this video, which of the seven tools was your favorite and why?
Is there an eight, nine, 10 that you want to add on the list as well? Leave it down in the comments below, I would love to hear from you.
I also want to give a quick shout-out to Frode, thank you so much for picking up a copy of my book, Your One Word, and making that awesome video as well on your channel. I really, really, really appreciate your support and I'm really glad you enjoyed the book as well.
So thank you guys so much for watching, I believe in you, I hope you continue to believe in yourself and whatever your one word is, much love, I'll see you soon.
---
You might also like
---
More from 7 Ways
---
Today we're going to look at seven different ways that you can make business alliances. What's up Believe Nation? It's Evan. …
Today I'm going to talk about the seven ways to discover your strengths and weaknesses. What's up believe nation? It's …
Today I'm going to talk about seven ways to be more disciplined. What's up Believe Nation it's Evan. My one word …