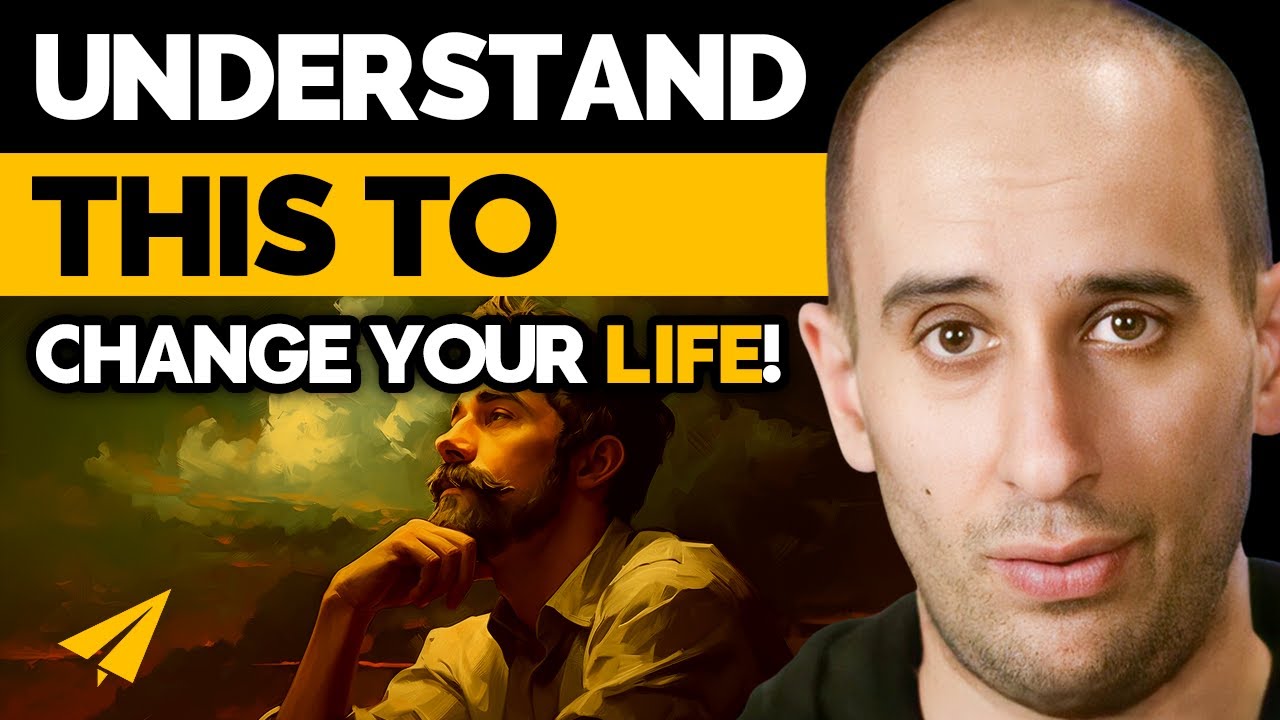 Evan: Hello Believe Nation, I'm Evan Carmichael, my one word is Believe, and I believe that entrepreneurs will solve all the major problems of the world. So to help you on your journey, today I'm going to talk about the seven fundamental truths that will change your life.
And as always guys, as you're listening, if you hear something that really resonates with you, please leave it in the comments below, and put quotes around it so other people can be inspired, and the more you write it down for yourself, the more likely it's going to stick in here as well. Enjoy.
7 Fundamental TRUTHS that will Change Your Life
#1: You Are What You Consistently Do
Truth number one is, You Are What You Consistently Do. If you look at your calendar, you look at what you're doing on a daily, regular basis, that is what's going to determine your future path. So if you eat one chocolate bar, but the rest of your day is pretty healthy, you're going to be a healthy person.
But if you're eating junk, and more junk, and then pizza, and then Burger King, and more burgers, and more junk afterwards, and then you eat one piece of broccoli, doesn't mean you're going to be healthy. Working out once won't make a big difference for you.
Working out three times a week, or working out every day, you'll see changes in your life. And so if you apply that to your business, if you have a goal, if you have a dream, if you have something and you want to pursue, you are what you consistently do.
Doing it once is not enough. Doing it once a week is likely not enough as well. If you have a plan, you want to accomplish a big goal, you need to find time every single day to focus on it, to take some kind of movement so you build a momentum, so that that dream happens. You are what you consistently do, not what's in the exceptions.
#2:  Your Daily Habits Set You Up For Success
Number two is, Your Daily Habits Set You Up For Success. So in order to be what we consistently are, then you need to set up your day so that every morning you create the routine that sets you up for that perfect day. I'm a big believer that the first habit that you do sets you up for the rest of the day. And so if you are consistent with that habit, then you're consistent with everything else that you want to do, so an easy one is making the bed.
So if you make the bed, then you're not just making the bed, you're the kind of person who sets a goal, and follows through. And then you're much more likely to do the next step, and the next step, and the next step. So a lot of people have a daily routine. In an ideal world of, I'm going to wake up, and I want to make the bed, and I want to have green tea, and I want to meditate, and I want to do some yoga after that, and I want mindfulness, and gratefulness, and I want to work out, and then I'm going to start my day.
You know, you have this huge long thing, which is possible to do. But if your first thing is really hard, if you're goal for example, is I want to wake up, and I want to go for a 30-minute run. That run is painful. Once you're running you're good, but getting the shoes on and going out the door is painful. So it's much easier to start with something simple.
Because if likely, if you miss that run, you're going to miss everything else that's part of your schedule. But if you hit that run, you're going to stay consistent. So that morning thing, the very first thing that you do becomes super important. It's why I created the Hashtag BTA for you guys.
And what I wanted you to do was wake up every day, watch a video that inspires you where you're learning something, and then write Hashtag BTA, with the number of consecutive days you've left a comment, to keep the streak going.
And it's not just giving you the information in that video, but you're the kind of person now who follows through. And if you start with that video, you're much more likely to do the next thing, and the next thing, and the next thing. And so create a daily routine that supports you, and sets you up for success, and make the first thing super easy to do, so that you're going to follow through, and keep the next one going, and the next one going, and the next one going.
#3: Your Environment Matters More Than You Think
Number three is, Your Environment Matters More Than You Think. This is the reason why people say you are the result of the five people closest to you in your life. Your environment really, really, really matters, and most people have big goals of what they want to accomplish, but they don't have the current environment around them, that helps support them achieving that big goal. And so look at your friends, look at the people who you hang out with.
Look at the magazines you're reading, and the videos you're watching. Do they consistently help you become that person that you want to become? Are your friends pushing you and guiding you, and motivating you, and supporting you? Or are they telling you, "You can't do that, "you're never going to make it, "you're not going to have success, "who do you think you are to go off "and do that big scary thing?"
And so your environment matters, because if you're hanging around these people who are just putting you down, then what are you going to do? You're going to have moments of boldness, and then you're going to shrink back down. Because you want to be here, but your environment's keeping you here. And so whether it's joining the meetup group, or watching YouTube videos, or looking at your physical environment, and what's on the walls, what's on the background of your phone and your computer, you want to be around the things that make you come alive, and force you to think big and bold consistently.
It's why I helped create this YouTube channel, it wasn't just for you guys, it's for me. Because I want to be around successful people, doing big, bold, scary things, so that I don't wake up and just be comfortable every day. So I'm still pushing myself to get up and do bigger and bolder things every single day.
#4: You Don't Need Anyone's Permission
The fourth truth is, You Don't Need Anyone's Permission. So, from my personal experience, when I had to make a variety of career changes in my life, going from a police officer in training, to going into sales, to thinking of being a marriage counselor. In all these things, I needed to make sure that I do right by me. And so when I think of the life decisions that I have made in my life, I think of myself in like in 40 or 50 years.
Let's say I'm lying on my death bed. What kind of regrets do I not want to have? So I read an interesting blog post by an Australian nurse, who takes care of dying people. She mentioned five things that were in common with a huge number people, and what they worried about, what kind of fears they had, the kind of things they said. Interestingly enough, three that really stood out for me, one, a lot of them said, "I wish I let myself be happier."
Second point is, I wish I had the courage to express my true feelings. And the third one was, I wish I had the courage to live life to my true self, and not live to someone else's expectations. So when you think of your life right now, and if you imagine in 40 years, maybe you want to try a new job, maybe you want to do a dance class, maybe you want to ask someone out. Are you waiting for permission, and the funny thing is sometimes it's not from other people.
Sometimes it's just from yourself. Sometimes you're getting in your own way, because of fear of failure, because of fear of rejection, a variety of things. I'm going to tell you right now, it is an incredible feeling when you let that go, and you feel that you deserve all the happiness that's out there waiting for you. Just make sure you consider it.
Next time you get excited about something, next time you feel passionate about something, next time you feel a little bit scared, but you want to try something, just do it. Don't get in your way, don't let others get in the way. You don't need other people's permission. At the end of the day, 30-40 years from now, I want you to make sure that you're not living with regrets. So be free, and be happy.
#5: Modeling Success Will Shortcut Your Path
Truth number five is, Modeling Success Will Shortcut Your Path. Whatever you're trying to figure out, whatever goal you have, whatever ambition that you want to go out and create, somebody has already done it. If they haven't done it exactly, they've done it pretty closely. And so the more that you can look to their story of how they went from startup to hitting that first big objectives, you can learn from that story, and apply it to yourself.
If you look at Starbucks as an example. Howard Schultz, the founder, went to Italy, and he was on vacation with his family, and he saw how the coffee shop was the center of life for Italians, it was their third home. They had home, they had work, and then they had the coffee shop.
And the cafe was a sacred place that people liked to hang out and belong to. He looked at the North American market, and he saw the Dunkin Donuts of the world, where it was just fast through, you go in, you come out.
You know, you just get your coffee, you get your caffeine, and you leave. But it wasn't seen as that third home. And so he thought, "Why don't I just bring this concept "to North America?" This concept that had worked for decades for Italians, and just bring it to North America? And that's how Starbucks was eventually born. And you can think of it as, that's a meeting place for people, that's where people like to spend their time, between home and work, and so that model really worked for him.
Whatever goal you have, somebody has already figured it out, and by watching videos, or by reading their stories, or listening to interviews, you can dissect it, and apply their rules to help you accomplish the same goal.
#6: Your Profits Will Come From Your Passion
Truth number six is, Your Profits Will Come From Your Passion. If you look at anybody who's had success in any field, it's because they had massive love for what they're doing. You have to enjoy the work. Jerry Seinfeld calls it the torture that you can endure. The things that you do, that you could do day in and day out, that you love so much that other people look at your schedule and say, "That is torture, that is crazy, "I can't believe how much time you spend on it."
People look at me filming 60 videos today and say, "That's nuts, how do you do that all in one day, "it's crazy, I can barely get one video up per week." It's torture to them, but to me, I love it, I breath it. Helping entrepreneurs, I can stay up all day, and not go to the bathroom, and not eat, and forget to sleep, just because I love helping entrepreneurs, and get so focused in that zone.
Where other people would look at that and say it's torture. That's what you need to find. When you find that thing that you love doing so much, and find a way to be able to apply it to help other people, that's when you start making money. Your money, your profits will come by pursuing your passion.
#7: You Can Do What You Believe
Truth number seven is, You Can Do What You Believe. Believe is a big thing for me, it's my one word, it's super important. But I find it so saddening to see people holding themselves back, not accomplishing the thing that I feel that they can do, that other people think they can do, but they just don't have the self confidence in themselves. There's an expression by Henry Ford that saying, "Whether you believe that you can, "or you can't, you're right."
If you think that being 65 is too old to start a company, your right. But Colonel Sanders did it, and tons of success. If you believe that being 19 is too young to start a company, you're right. But lots of people have come before you and done it. There are people who have way fewer resources than what you currently have right now.
Whatever reason you're giving yourself right now for not being a success, whether you're blaming your government, or your country, or your gender, or your size, or your age, or your education, or your family, whatever it is that you're blaming, whatever the reason is, that you think you can't be successful, there are already people who look exactly like you, who come from worse backgrounds, had less resources than you currently have right now, and they've gone off and achieved much bigger things than you have. If they can do it, you can too, you just have to believe.
Thank You!
So that's my take on the seven fundamental truths that will change your life. I'd love to know, what did you guys think, which one was your favorite and why? What are you going to immediately apply somehow to your life, or your business? Leave it down in the comments below, I'm super curious to find out. Also, did I miss an eight, nine, 10, that you want to add to the list? Let me know by leaving a comment.
I also want to give a quick shout to Anthony Avina. Anthony thank you so much for picking up a copy of my book, Your One Word, and doing that review on your blog. I really, really appreciate it man, and I'm glad you enjoyed the book.
So thank you guys again for watching. I believe in you. I hope you continue to believe in yourself, and whatever your one word is. Much love. I'll see you soon.
---
You might also like
---
More from 7 Ways
---
Today we're going to look at seven different ways that you can make business alliances. What's up Believe Nation? It's Evan. …
Today I'm going to talk about the seven ways to discover your strengths and weaknesses. What's up believe nation? It's …
Today I'm going to talk about seven ways to be more disciplined. What's up Believe Nation it's Evan. My one word …