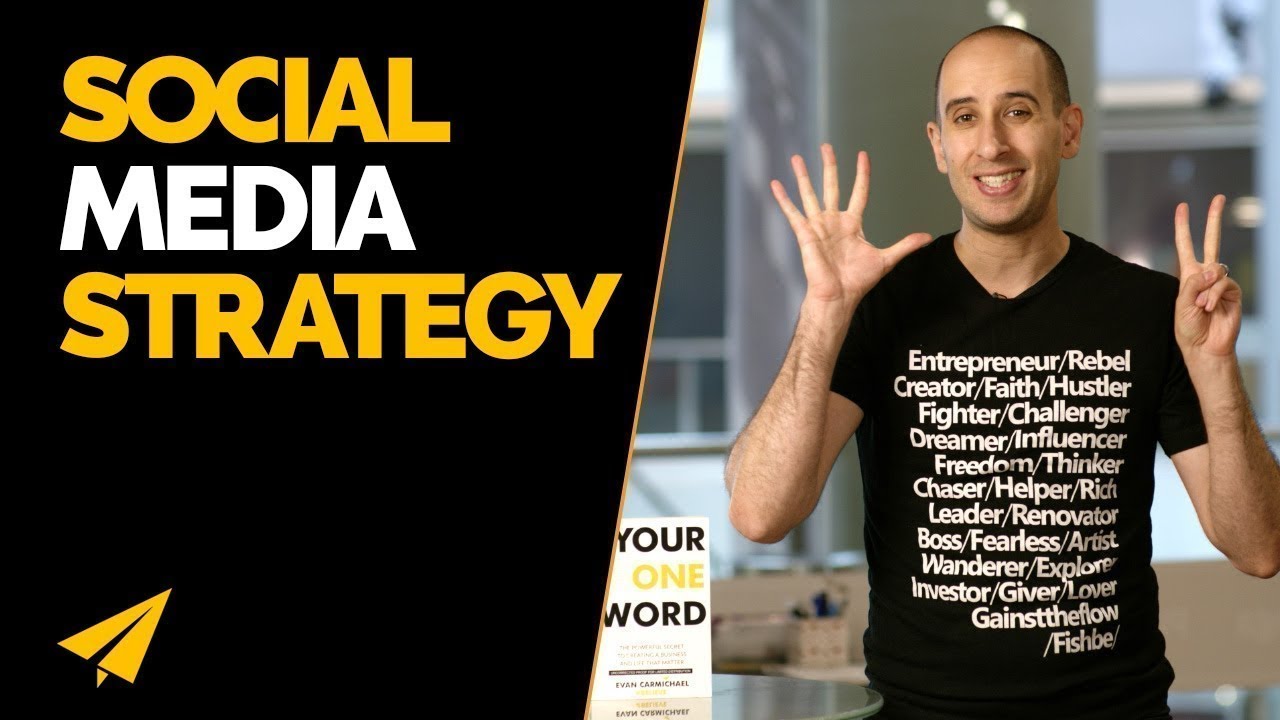 Hello, Believe Nation, my name is Evan Carmichael. My one word is believe and I Believe that entrepreneurs are going to solve all the major problems of the world. So to help you on your journey today we're going to learn seven ways to crush it in your niche on social media.
And always, guys, as you're listening, if you hear something that really resonates with you, please leave it down in the comments below, put quotes around it so other people can be inspired as well. And when you write it down, it's much more likely to stick with yourself too. Enjoy.
7 Ways to "CRUSH IT" in Your Niche on SOCIAL MEDIA
So because of the success that I've had on social media I often get asked by people who want to get their channels going and started. How do I have more success on my channels? How do I get more impact, more influence, help reach my goals? What's your advice on what I should be doing? And so today I'm going to share my seven ways, seven techniques for you to crush it in your niche on social media.
#1: Find The Right Platform
Way number one is you have to find the right platform. Find the best platform for you. And it starts with combining two things. One is what are your skills, what are you really good at, what do you enjoy doing, what do you want to get better at?
So do you like being in front of the camera, like I do? Would you rather do podcasts and just do audio only? Would you rather write, and you can't stand the thought of being in front of a camera? Where do your skills line up and the content that you're going to share? Are you a graphic designer, do you want to create beautiful images? Are you a videographer, you want to behind the camera, editing great things? What are the skills you have? And combine it with where are your customers?
So for me, I love Youtube because I get to be in front of the camera. It's where I have the most skills. I'd much rather make a video than I would write a blog post. And I go to Youtube because it's where most of my audience is. My audience are entrepreneurs, or budding entrepreneurs, and wannabe entrepreneurs. And a lot of you guys are on Youtube. And you're watching. And so that combination works really really really well for me.
It's why I've invested so much of my time into Youtube as opposed to the other platforms. And so understanding one, what you're really good at, where your passion lies, what skills you have, with two, where is your target market, where is your audience? And then what platform, which social media platform, performs the best across those two things. And I wouldn't try to do every single social media platform to start.
'Cause this is what happens, entrepreneurs try to do everything, and then you end up doing nothing well. And you're posting crap to all of these different places. So pick the one and start there. Pick the one that has the best results, the best potential results for you, and go all in on that one to start with.
#2: Just Start
Number two is just start. A lot of people just don't start. You have an idea, one day I'm going to start a Youtube channel. I have this big vision for what I want to do, but you don't actually do anything. And this is where your perfectionism can be a problem. A lot of people, they don't want to start until it's perfect. They need to have the perfect channel art and to have the perfect setup, you need the perfect gear.
You need the perfect logo, I need the perfect name. All this stuff has to be perfect, and because you want it to be perfect, you don't do anything. You never actually take any action. You just live in your head of this future thing that you want to do. And so if you want to do it, just start. Start, expect it to be crap, it's okay 'cause nobody is paying attention to you yet. You're just getting started. You don't have a ton of followers that you're going to mess up with.
Just start and make it better the next day and better the next day and better the next day. As soon as you get any kind of idea, the best thing you can do is take some kind of immediate action towards achieving your goal. Whether it's social media or any other kind of goal. Immediate action.
You get an idea, just start. Do something immediately, right away, right now. If it's a social media platform that you're interested in, you want to start a Youtube channel, start it. Go to Youtube, create your account and record a video today. Expect it to be terrible, expect it to be garbage. That's okay, it's your first video. Just make tomorrow's better. Just start.
#3: model Success
Number three is model success. Anytime you don't know how to do something, the best thing you can do is look for somebody who's already accomplished what you want to do and look at the steps that they took.
And you can look at where they're at now, but you can also look at their journey and the path that they took and learn from them. So for Youtube as an example, there's a number of people that I look up to that I've learned from. I love watching Gary Vaynerchuk's channel, I love watching Lewis Howes's channel. There's a number of other channels that I look up to, I learned a ton from.
Tim Shmoyer, Derral Eves, on how to build a proper Youtube channel, and the right things to do, and strategies. And so I'd be constantly looking for people that I can learn from in your industry. So if you want to be big on Youtube, if you want to be big on Instagram, or big on Twitter, or big on LinkedIn, look at the people who are already crushing it, understand their path, break it down.
Go back on their history and their timeline and try to do a research to understand what were the things that they did to achieve their success. And what I love looking at most is what was the turning point for them? What was the breaking point that turned them from just someone who was doing okay to really crushing it. And if you look at that, for a lot of different people in your field, you'll get enough of an idea what you need to do to be successful.
#4: Be A Story Teller
Tip number four is be a storyteller. The reason you want to be a storyteller is so that people can relate to you on a human level. When they do that, it's not the product anymore that it's about, but the story behind it. And what that means is that they're more inclined to follow you on social media, to purchase your products and to promote it to their friends.
Because they identify with you. So for example, me personally, I am on Snapchat, I am on Instagram, I am on Facebook. Whenever I do posts, it's not just a matter of me saying, hey guys, here are the prices for all the classes coming up.
Hey guys, here is a brand new social. You should come out and dance. I let clients, customers and friends make sure that they can see the behind the scenes of what I do day to day, which helps them relate to me, which helps them bond with me and ultimately gives more value than just the thing that we offer at the school.
As a result, people are reaching out and joining our school when they've never even heard of it except through the social media, where they watch the Snaps, where they watch the Instagram posts or where they're on Facebook. Ultimately, there are a lot of ways to reach your clients. But altogether, you want to make sure that again, you're a storyteller and you are not just promoting the product or niche that you're in.
#5: Do Collabs
Tip number five is do collabs. One of the fastest way to grow your presence and audience in a niche is to do collaborations with people who are already in your niche, serving the same audience. Now they may not be exact competitors of yours, because you have your message, they have theirs. But if you're targeting the same people, and you can provide some kind of value to them, then it's a great opportunity for you to be able to build up your influence in your network.
One of the first people I did a collaboration with Tim Schmoyer, he has a channel called Video Creators. And, again, I mentioned I love that channel. I used it a lot to learn how to build up my channel. And I was a big fan of what he did and I reached out and we connected. I said, hey, I'd love to be a part of your channel. Here are some ideas that I could present that I think would be of interest to you and really provide some value to your audience.
And we picked one and that was the first piece of content that went up. And it was great, because Tim's audience is entrepreneurs but Tim will teach people how to build a Youtube channel. And I'll teach people how to be entrepreneurs. And so, I'm not sharing the exact same advice that Tim is. And so, I went on his channel, he eventually came on my channel. I think I've done three or more collabs on Tim's channel.
I just came back from Climber Con in Palm Springs. Met other Youtubers. Ended up doing four or five different collaborations on different people's channels. So if you're reaching out to do collaborations, the ideal people are the ones that you already know of. You've already consumed their content. You already know what message is going to hit for them. You're a fan of their channel. You engage in their channel.
Ideally, you want to be a known quantity. You've left comments on their videos, you've engaged with them on Twitter. You've connected somehow in a little bit of a back and forth so that when you reach out and say, hey, I'd love to do a collaboration, here are some ideas I have, they already know who you are because not maybe of the great content you've put up, 'cause maybe you're just getting started, but because of the interaction that you have already made with them.
And that's easy to do, it's just providing value on what they're already doing. So if they're big on Twitter, respond to them on Twitter. If they're big on Youtube, make a comment on every single video. You should be a known quantity to them before you reach out to make a collaboration. Once you do, collaborations are one of the best ways you will quickly grow an audience.
#6: Build  A Team
Tip number six is build a team. At the start, you got to do everything yourself. I'm a big believer in not spending money until you're making money. So I do everything myself. When I first started this Youtube channel, I did everything. I was in front of the camera, I was behind the camera, I was editing, I was researching, I was doing the SCO, I was do everything for my channel. And because of that, I was doing a video a month to a video a week.
That was the max that I could do. As I started earning some more money, I said, okay, I'm getting serious about this. I want to start to build a team. And the first person I hired was somebody to do my editing. Because I hated it, and I was super slow at it. And that allowed me to go from a video a week to a video a day. Just hiring somebody to do the editing for me. I got to spend more time doing what I love.
He was way better at doing the editing anyway. And my channel started to lift and grow. Now I've got eight people who work on my Youtube channel. It allows me to make three videos a day. Because of the people that I've surrounded myself with, I'm able to put out more content and I'm able to spend my time doing what I think I'm great at and not worry about everything else that's associated with building up my channel.
And so, at the start, you start at the start. You do everything yourself. You can't compare yourself to where somebody else is at in their middle. So you start at the start, you do everything yourself. But quickly start to think about what is it that you are great at and where you want to spend your time at, and as soon as you start making some money on the channel, on any social media channel that you're working on, start to think about, okay, as soon as I start making some money, this is the first person I'm going to hire. Start thinking immediately that you're planning to hire people to turn this into a business, will allow you to focus on what you are great at.
#7: Be Consistent
And tip number seven, and probably my most important tip is be consistent. So many of you guys are not consistent enough to have success. It's a real problem. If you look at my channel, why has my Youtube channel grown so much? I've made over 5,000 videos. Only 4,000 of them are public. We've got 1,000 non-public just practice videos that I put up on my channel. 5,000 videos. I wasn't very good at the start.
If you go back on my channel and look at my earlier videos, you'll see that I wasn't very good. I wasn't very comfortable, I was nervous, I was stuttering, I was trying to find my path. It wasn't very good. And with more practice, and as I did more, I got better and it also trains the audience. People come when they expect to get more content and it plays well with the Youtube algorithm or whatever algorithm you're posting to on social media.
You need to be consistent. And so so many people start and they make one video, or they make one piece of content. And that's it, and they fall off. And the next week, maybe they make one more and they fall back down. The next week … You got to put it in your calendar. If you want to crush it in anything that you do, it's the topic, how are we going to crush it on social media. If you want to crush it in anything that you do, you have to spend the time.
You got to dedicate the time to make it great. Yes, there are shortcuts. Yes, you can model success. Yes, you can get there faster. But you still have to spend the time. It's not just going to happen. You're not going to turn on the camera and just be amazing and get five million subscribers. You got to be consistent. And so look at your calendar and factor in the time, either every day or a big chunk of time every week to spend on your social media, creating better content. And I'm a firm believer that the quantity leads to the quality.
The quality is what's going to get you the base, the subscribers, the brand deals, the attention, the impact. It's the quality content. But to get to the quality, you have to produce a ton of quantity. Just like anything else. To get the muscles, you have to lift a lot of weights. To get good at a language, you have to practice over and over and over again. The quantity leads to the quality. And so you need to be consistent in your output.
Thank You!
So these are my seven tips on what to do to crush it in your niche on social media. I'd love to know, what did you guys think? What was your favorite rule? Is there an eight, nine, 10 that you want to add to the list? Leave it down in the comments below. I'm super curious to find out. I made this video because Brett Vaughn asked me to. So if there's a topic you'd like me to cover in a future seven ways video,  check out the link in the description, and cast your vote.
I also want to give a quick shout out to Vincent Montello. Vincent, thank you so much for picking up a copy of my book, Your One Word, and doing the review on your Youtube channel. I really really really appreciate it, man, and I hope you're enjoying the read. So thank you guys so much for watching.
I believe in you, I hope you continue to believe in yourself and whatever your one word is, much love, I'll see you soon.
---
You might also like
---
More from 7 Ways
---
Today we're going to look at seven different ways that you can make business alliances. What's up Believe Nation? It's Evan. …
Today I'm going to talk about the seven ways to discover your strengths and weaknesses. What's up believe nation? It's …
Today I'm going to talk about seven ways to be more disciplined. What's up Believe Nation it's Evan. My one word …