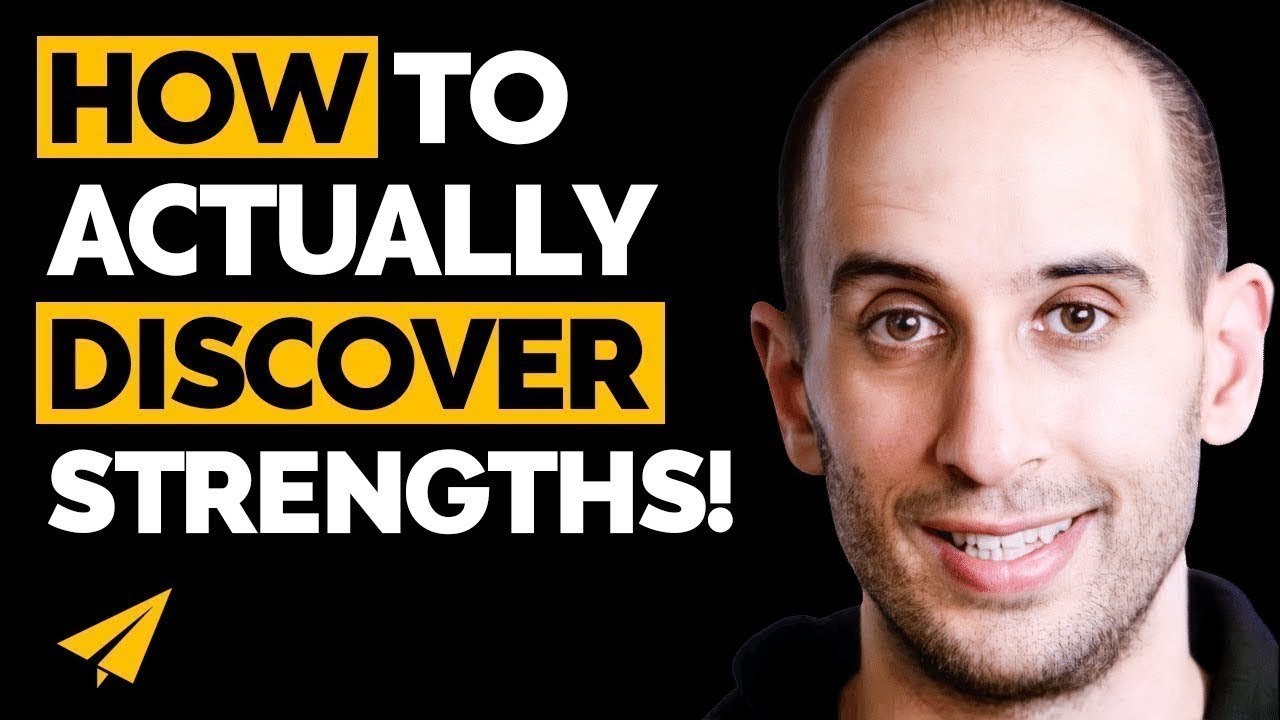 Today I'm going to talk about the seven ways to discover your strengths and weaknesses. What's up believe nation? It's Evan. My one word is believe. And I believe in people more than they believe in themselves and my sincere hope is that if you see in you, what I see in you, you'll be able to change the planet. So to help you on your journey
7 Ways to Discover Your STRENGTHS and WEAKNESSES – #7Ways
So the question I get asked a lot by different entrepreneurs trying to figure out their path, figure out where they're going to go is, "What am I good at? What am I strong at? What am I weak at? "And how do I use that to build a successful business?" So today I'm going to share with you my seven tips on how to discover your strengths and weaknesses.
#1 What Do You Have The Most Fun Doing
A lot of times we get too in our head, we're too analytical, we're too data-oriented, we're too process-oriented and an easy way to step out of it is to just think, "What do I enjoy doing? "What do I have the most fun doing? "What do I get lost in?" We all have something that we can get lost in.
And now it is there's no stupid answers 'cause you could turn almost anything into a career. You know, 10 years ago, if you said that you wanted to be a gamer, that wouldn't have worked out.
You wouldn't have been able to make money as a professional gamer but now, a lot of professional gamers are making more than our parents made right? If you're a faker, or if you're a double lift or if you're in the legal legend scene or the other games as well, like you're making some money.
And that is doable. Another option. If you like hanging out with your friends. If you're really people-oriented person, that's a strong strength. That my lead you to a career in HR or a business as a speaker or a business as a coach or consultant with other people. So just think about before trying to figure out how it's all going to make sense, that's what we always get caught up.
Before thinking about how does this turn into a perfect plan for myself, just think about what can I get lost in? What do I love doing? If I didn't have responsibilities, or the great question, if I had all the money in the world, what would I do with my time? Yes, you're going to travel.
Yes, you're going to buy whatever. You're going to buy all this stuff. Great. You still have money left over. You still have time in abundance. What are you going to do? 'Cause you'll get sick of traveling. You'll get sick of buying stuff.
You'll need to do something that has a little bit more meaning to your life. I promise you, you'd be saying, "No that's not true". It's true. It'll happen.
So what would you do if you had that kind of money? What would you do with your time? And thinking about that, then allows you to think, "Then okay, I really like those things".
From there, you can pull out your strengths and weaknesses. Really making lists of the things that you can get lost in and that you just love doing.
#2: What Do You Daydream About
So, it may not be what you're doing right now, but when you lie in bed about to pass out or when you are in the shower thinking or when you're walking through nature going on a hike, or when you're traveling or lying on the beach or whatever it is that you kind of get hit with some inspiration, what do you daydream about doing? Maybe, you're not doing it yet, but you wish you could do it.
You have these crazy dreams sometimes that I wish I could be doing that or people you look up to. When you think about what you daydream about, again don't make it practical yet.
Just write down a list of things that you wish you could be spending your time on. You wish you could be doing. And then, I would try to find some small way to actually start doing it.
The test to see if you like it, To see if you're good at it. A lot of times, the grass is greener on the other side. A lot of times, that thing that you want to do, once you start doing it, is way too much work and not what you thought it was going to be.
And you don't want to do it anymore. But sometimes, when you do it, it's like, "I love this. "I want to keep doing it". So, you never know, until you get started. I never thought I'd be a salsa dancer.
I never thought I would run a salsa school, invest and buy it. I'd never thought that'd be part of my plan. I'm tall, I didn't speak Spanish. You know, I take big steps.
I didn't learn the music growing up. It's all on paper, there's all the reasons why it would never work out for me as a salsa dancer but I just loved it and I went to a class. I wanted to go back.
I wanted to do it again. I wanted to do it again. Same thing as YouTube videos. My first videos sucked. They really were bad. But I liked it. I liked the process. I wanted to do it again.
And I wanted to do it again. I wasn't getting any results. I wasn't getting any comments, no views, no shares, nothing. I just loved it so I had to do it again and again and again. And so, instead of making it some big plan on what you want to do with your life; that can seem overwhelming.
That can seem depressing. It's upsetting because you don't have clarity. I would just think about the things that you have some daydreams about. That you wish you could do and then find, some small way to get started.
Just hit that little bit of the pyramid instead of just thinking about it as this huge project, just this little thin wedge, this little tiny piece to test it. To say "yes" to one thing.
You could say "yes" to going to try rock climbing without having to become a professional rock climber.
You could say "yes" to going out on a date with one girl to see how it works out, without having to get married to her.
Right? So say "yes". Try it. The thing you have in your mind, find some small way to get started. And then you'll see if you enjoy it and if your strengths come out.
#3: What Do You Do Differently Than Others
You are a strange duck in some respects.
You are not exactly like everybody else.
You're not the same as all your other friends.
You are your own unique little snowflake.
And so, what is it that you do or the way that you think that is just different than other people? It's an important question to ask because a lot of times you may not see those things as strengths, you may even see those things as weaknesses.
That because you're different, you're not good like the other people are at this other thing.
But you see the world slightly differently than other people do.
And where do you stand out compared to the people around you? And just asking that question, will pull out some things that are very interesting.
So, for me, I'm very mission-driven. I'm also very pragmatic.
I don't really hang out a lot of times just going for beer, and watching movies with friends.
A lot of times, there's a purpose behind what I do.
There's a purpose behind the conversations I have.
I don't like dealing with small problems.
I want to look behind it to see the bigger cause and go out and solve that big thing.
That could be a weakness in some social settings but it's also a strength for me in that it allows me to build this business.
It allows me to build this movement.
It allows me to create great content and videos for you guys.
And so just asking yourself, what do I do that's different than most people? Again, without thinking about how it's going to apply practically down the road, just what do I do that's different? Or what do I think about in a different way than the people around me? And make a list and though there you'll be able to find some of the what you might have thought were weaknesses but could actually be strengths for your future career.
#4: Be Brutally Honest With Yourself  (Lily Ma)
All of us are so unique and we have different strengths and weaknesses.
And sometimes, admitting to some of them could be really embarrassing for us.
So for example, I'm an organizational disaster.
I don't do well with organization at all.
Which is why I have to create structure around my life.
I have to schedule my days to do specific things because if I don't, I'm going to fall off track and I'll just find myself lying on the floor staring at the ceilings, dreaming about a brighter future.
The truth is that brighter future will never come if I don't do something about my organization.
That's why I stick to my schedule as much as possible and I only stray away from it when there's something urgent that needs to be taken care of.
And on the other side, I did not want to admit that my strength is empathy.
Especially when I started out in the workforce and I was up against all these alpha-males and they're like, "Oh, you're such as woman.
"You just want to hold hands and hug people and feel "where people are feeling".
And I hid it inside of me for a long time.
And I took on personas that wasn't even mine.
And then eventually, I admitted to myself.
Empathy is not only a strength for me, it's my super power.
It allows me to feel what other people are feeling.
My mission is to help people.
What better way to help people than feel what they're feeling and really understand what they're going through? I think most of us are aware of our strengths and weaknesses.
The only thing you need to do is just be brutally honest with yourself.
#5: Use Your Friends As Counselors But Not Jailers
So one of the things we tend to do when we don't know the answer to something, is we ask our friends.
And our friends can be a great window into understanding us a little bit better.
Asking your friend what you think your strengths and weaknesses are can give you a perspective on yourself.
The thing is though, you have to be careful about it. Because your friends see one side of you.
They see a certain side that maybe one friend sees one side, another friend sees another side, and there's still a piece of you too that's hidden, that you haven't shared with anybody, that you just keep to yourself, that you don't want exposed.
And so, the positive of asking your friends what you think you're strengths and weaknesses are is that you get some insight into you and to that side that you are showing.
The negative side though is that because they only see one aspect of you, that that becomes your jail cell.
That because this is how they see you, you have to continue behaving only in that way and going on those strengths and you're missing this whole other part that you're not sharing.
And so, I'm always reluctant on any of these personal development exercises and self-awareness, because that is what it is. It's your self-awareness.
I'm always reluctant to go outside and ask other people.
I think your time is better spent with yourself.
Spend more time with yourself than time with other people if you want to understand yourself because the answers are here, not out there.
But if you want to, it gives you a perspective.
So again, use your friends as counselors but not as jailers.
You don't have to live up to their expectations or that one side of you and spending some good time with yourself to reflect, to write down, to spend time in nature, to think about the whole you and what you're really good at and where you want to focus is important.
#6: What Do you Hate Doing
Often the way to find what you're good at, is by thinking about what you're not good at.
So just like in the process of your one word, some people find it easier to find their one word, their one most important core value, by going positive, thinking about all the good things in their life and figuring out what their most important core value is.
Some people can't get down to it only going positive.
They find it better going opposite, going negative.
So think about the people who you can't stand being around.
What values do they have? What's just like toxic to you? You can't stand being around these kinds of people. Or being in these kinds of situations.
And by figuring out that, that's your anti-word, you can figure out your one word. And so think about what you hate doing.
Think about what other people may like doing, the people around you, they enjoy doing but for you it's like, "I can't believe "people like doing that".
What would you absolutely hate spending your time on every single day? And that gets you to a list of weaknesses and the opposite will be what you're really good at.
So what is the thing that you absolutely hate doing and then what's the exact opposite of that? Chances are, that's where you should be playing.
#7: Say Yes More
If you have no idea what your passion is, If you have no idea what your strengths and your weaknesses are, just say "yes" more.
When someboody invites you to do something, don't immediately judge it and say, "Well this is not going to be for me".
Say "yes".
Try it.
See if you want to go back.
See if you want to do it again.
See if it sparked anything.
We talked about not putting up so much pressure on it being the perfect thing and making it some big, huge project and it has to work out.
But also just exposing yourself to more things, exposing yourself to opportunities that maybe your parents wouldn't agree with or maybe it wasn't a part of your culture, but it's still kind of curious for you.
If something hits on your radar and say, "Hmm, that's interesting" or a friend comes and tells you, "I want you to come out to this thing", at least try it once.
It's good to adopt the mentality of to try almost anything.
You know within reason. Once.
Try new foods once.
Try a new club once.
Try a new activity once.
Try a new kind of movie once.
If you've tried it and it doesn't work out, great.
You know, you don't have to do it again.
But at least, trying it once.
Because I think most of the time we discount so many things that we've never even tried.
We're judging things we've never even spent any amount of time on and then you just constantly live in this narrow lane.
And that's probably not even the best path for you.
There's some path way out here that you don't even know you should be on because you never bothered expanding your horizon.
So if you feel lost, if you feel like you don't know what you're strengths and your weaknesses are, if you like you don't know what you're passionate about, then try multiple things at least once say "yes" to a lot of things and if it doesn't work, great.
Kill it.
You don't have to make a lifelong commitment to being a salsa dancer.
If you go to a class, you don't like it, but at least say "yes" once.
Try it.
See if it's for you.
See if you want to go back.
Expand that reach, say "yes" once to almost anything and through that process, you'll discover your passion, your strengths and your weaknesses.
---
Thank You!
So those are my seven tips on how to discover your strengths and weaknesses.
I'd love to know what do you guys think? What was your favorite tip?
What's most relevant to you?
Resonated the most?
Leave it down in the comments below.
Did I miss an eight, nine, ten that you want to add to the list? Leave in the comments. I'm really curious to find out.
Now I made this article because Kami Ragan asked me to. So if there's a topic you would like me to cover in a future seven ways article please let me know.
I also want to give a quick shout out to Hugo Beyer. Hugo, thank you so much for picking up a copy of my book "Your One Word" and taking that picture and sending it to me. I'm curious what you're looking at. Something on the ceiling. Something happening up there. I want to know next time but thank you again for posting. I really appreciate the support and I hope you enjoyed the book. I believe in you. I hope you continue to believe in yourself and whatever your one word is, much love. I'll see you soon.
---
You might also like
---
More from 7 Ways
---
Today we're going to look at seven different ways that you can make business alliances. What's up Believe Nation? It's Evan. …
Today I'm going to talk about seven ways to be more disciplined. What's up Believe Nation it's Evan. My one word …
Today I'm going to talk about seven ways to make money as a teenager. So I know I have a …