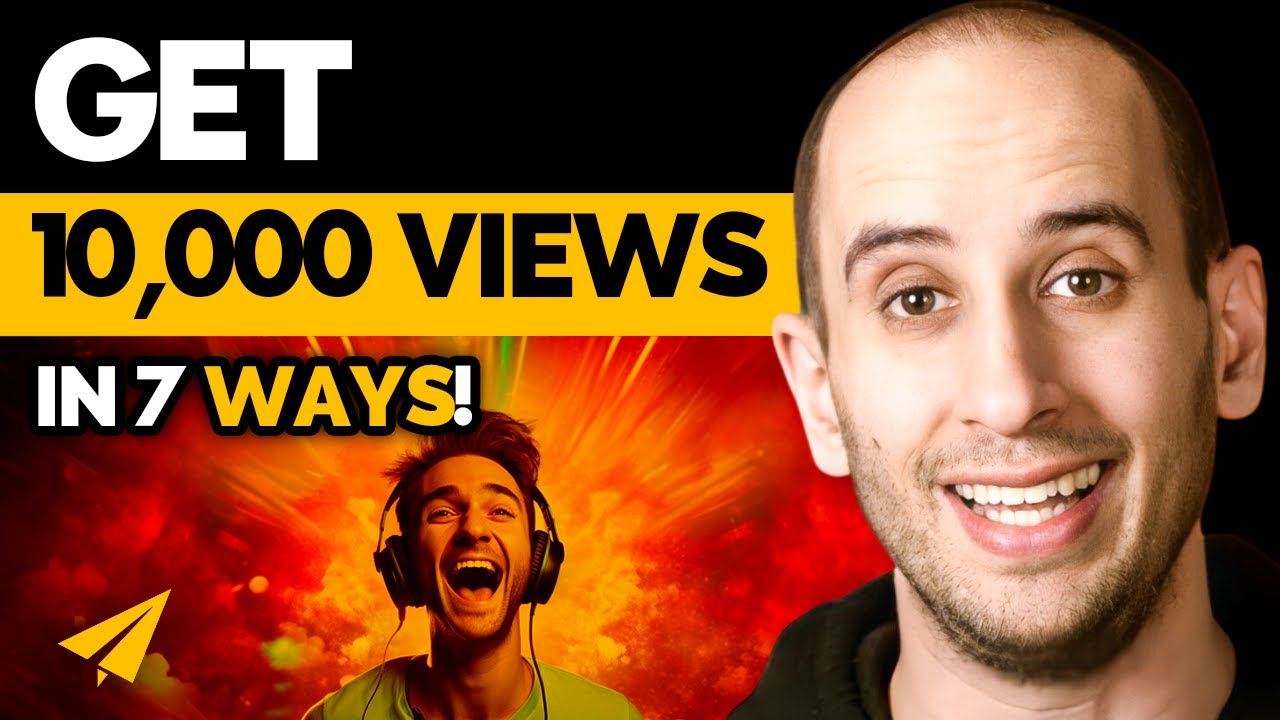 Hello Believe Nation!
Today I'm going to talk about seven ways to get 10,000 Youtube views.
Alright so Youtube recently came out with a new policy that if your channel did not have at least 10,000 lifetime Youtube views on your channel then you would not get any monetization from Adsense on your channel.
Once you crossed 10,000 views then you can start making money and so today I want to share with you my seven ways on how to get that first 10,000 views for your channel.
And for those of you who have already hit the 10,000 views these strategies will help you too.
7 Ways to Get 10,000 YOUTUBE Views
#1: Make A Video On A Trending Topic
Way number one is make a video on a trending topic. Just kind of like what I'm doing with this video right now. I'm eating my own dog food. This is a topic that a lot of people are talking about. They're trying to figure out how do I get my first 10,000 views? And so what am I doing? Making a video about something that's newsworthy and that people are talking about to help drive more traffic and awareness on these videos.
In general, this is not a strategy that I usually do. Most of my content is evergreen content. Meaning, if you watch my videos from five years ago it's still relevant, it's still applicable it's still helpful to you today. But it's not the strategy that every Youtuber needs to go down or every content creator needs to go down as well. So I'd be looking at, is there anything in the news that you want to talk about? Whether it's politics.
Take a powerful position
Whether it's business. Whether it's your local economy. Whatever it is, is there something newsworthy that you have an opinion on that you want to share. When I was first staring with my agent he was always coaching me to say "I want you to take a powerful position "On this thing that is happening." This political scene or that this company did this thing. And it was really hard for me because I don't really care.
I don't really have strong opinions on politics and what else is happening in the news. I don't really follow pop culture, a lot of these things that people are concerned about. I don't really care about most of the newsworthy buzzworthy things. And so I couldn't create content around it but it doesn't mean that you can't. And it's a powerful way to help you get your first 10,000 views.
#2: Create A Reaction Video
Way number two is to create a reaction video. If you look at a video that is already having a lot of success it's easy to piggyback off of that video by making a similar one with your own thoughts, your own opinions. So for example, if a channel put out a video about the top seven marketing books for entrepreneurs.
If you had a thought on that you want to share your list of books for entrepreneurs you can make a video with the same topic. The top seven books for entrepreneurs in marketing. And then you can share your thoughts right? It's not just copying what somebody else did from the topic point of view but adding more context and clarity around your opinions of it.
So the goal is, when somebody watches that video yours is going to be the next one that pops up right afterwards so if you use a similar title you use some of the same words in the description you use similar tags then you're likely to show up after that first video.
Just make sure again, that you're adding value you're adding some context there or you're adding something that's worth watching. You have something that you want to add your own opinion to and you're not just trying to piggyback off of somebody for the wrong reasons.
There has to still be a good quality video but if you can create a good reaction video or a good piggyback video then it's much easier to get those initial views coming into your channel.
#3: Update Your Social Media Bios
Way number three is update your social media bios. In most social media platforms you have an opportunity to put a link. Where is that link going? What you want to do is try to get as much traffic and much attention going to your Youtube channel as possible.
You want to hit that 10,000 views as quickly as possible. And so there's actually a cool tool out of TubeBuddy. TubeBuddy is a tool that I use. I don't know if this is part of the free version or not. I'm not associated with the company apart from being a happy user. They have an option to have a link to your most recent Youtube video. And so right now, that's the bio for my Twitter account. It's the bio for my Instagram account.
You get more views on your channel
It's the bio on my Facebook account. I don't think it's Linkedin. I've got to update my Linkedin account. So anytime somebody goes to see my social media they see that link, they can click on it. It will take them to my most recent video. Even if you don't do that you can link them to a single video that you really want to promote or you can lead them to your channel that you really want to promote. Having that link, because most of the time you get one link.
Put it in there so that any time somebody checks you on social media they're also going to check out your Youtube videos. As a side note, you can also put it in your emails. At the bottom of my emails in every signature it will say, "Here's a link to my latest video."
So that anytime you send an email out to somebody you put it as a PS, just have it as a default in your signature. You send out emails, people like it. Some are going to click through and you get more views on your channel.
#4: Do some Collabs
Number four is do some collabs. One of the best ways to grow a channel is to partner up and collaborate with somebody who already has an audience and channel of their own. It doesn't have to be a massive channel. But they have a similar sized channel or maybe slightly bigger than yours and you're giving them value that they can promote to their audience. You have a video on their channel now. People are going to learn about you.
They're going to want to say, "Hey who is that person? "What's their channel? "Let me check them out." And they're going to funnel your way. Some of the first collabs I did was with Youtubers Tim Schmoyer and Derral Eves.
I've done four collabs with stand alone videos I think with Tim. I was part of his Youtube entrepreneur series that ran for 12 episodes. Derral I think we did one video together. And it was just basically finding ways that I could add value to their audience at the time they both had bigger audiences than I did. And so it really helped me get some initial traffic and views on my channel.
Find a way to work together
I've gone on to do a lot more collaborations. We've had guests come on my channel. I've been on other people's channels. I did a series with Brian Tracy the sales and time management expert where we did the top 10 rules for entrepreneurs.
Something like that, he had five on his channel. I had five on my channel. At the end of our videos, we both said go check out the other person's channel to see the other five rules. So those kinds of things.
Coming up with creative ways to market yourself and work with other Youtube creators ideally somewhat in the same space so they have an audience that is related to your audience. It's kind of the same base from. That they would want to then check you out.
If I look at Tim's audience, Derral's audience as an example their audiences are all Youtubers. People who only want to build an income based off of Youtube. But they're all entrepreneurs so it's a subsegment of my audience as well and so those collaborations really did some work. So look at who is already in your market. Who is doing videos for an audience that is similar to yours and how can you find a way to work together and give them value?
#5: Make a one word video
Way number five is make a one word video. Now you may know what your one word is. You may know what you're all about. You may understand what your you know, core value is. You may not know, and you can check out the book if you want to.
Even if you can't get it down to one word just understanding why you're here. It's making a why video. What is this channel all about? Why is it so important? And not just, not from a mental point of view. Not from a here's why you need to subscribe to my channel.
Nobody really cares about those videos. But from the heart. Something coming out that you have made that you just think is awesome. The video that helped explode my channel the first video that really took off and got 100,000 views in the first month and now it's at two million views was Believe, it was a video about believe.
When I watched it, it was like yes. That's what it's about. That's what I want people to feel when they come and visit my channel. That's what I want entrepreneurs to look at on a regular basis and feel every day as they bring that to their business.
So, a passionate why video for what you're doing here. Why is this so important to you. Something that when you watch it it gets your blood excited and say yes, that's it. That's the feeling I want people to feel. If you can pour that kind of love and energy into making that kind of heroic video. Then you have a good chance of getting those first 10K views.
#6: Get Your Friends To Help
Way number six is get your friends to help. You have friends, let them know about your channel and let them know about your mission. Let them know what you're trying to do. Let them know you're trying to get to 10K views. Send them the videos that you feel are most relevant to them. That they would enjoy they find some value at, that they may want to share and help other people with as well. I still use this strategy.
As an example, when I was trying to get interviews for your one word. I interviewed the Honest Company. And to get in the door I made a video on it and then I asked people to leave comments on the video to show that there was engagement and action and then I could take that to the Honest Company and say, "Hey look, people are curious. "People want to hear from you. "How about we set up a meeting "So that I can have you in my book?" And so where I got the most results from that was actually my Facebook friends.
I sent it to my Youtube audience. I sent out a couple of newsletters to my newsletter list and said, "Hey guys, can you support me in this? "Here's what I'm trying to do. "Can you please leave a comment on this video?" But I got the best results from my Facebook friends.
Where I went down my entire list and I had a message and it said "Dear whoever, I'm trying to do this. "Can you please support me? "Watch this video, leave a comment on it. "It would really, really, really mean a lot to me."
People want to support other people's dreams.
That was the highest response rate and it lead to the most number of comments on that video. And so I wouldn't underestimate your friends. I would look at the people who you hang out with. It doesn't have to be your close friends. But friends of friends.
People who you know, they would recognize your name if you went off and asked them for a favor. And sharing the mission, sharing the why. Saying like, I'm trying to get my channel to 10,000 views.
It would really help me start monetizing my channel and it's really super helpful and important to me. Or this is one video that you're really trying to get the attention of somebody with and your support of commenting or sharing would really, really help me.
If it feels like a heartfelt message. People want to support other people's dreams. And especially if it's only a view. It's only a comment and you're not asking for somebody to give you money for it. Then it can really help get that channel to where you want it to go. So get your friends involved and ask for help.
#7: Do A Listicle Video
And way number seven to get 10,000 views on your channel is to make a listicle video. People like listicle videos. What's a listicle video? This! I'm eating my own dog food again. Right, seven ways to do something. Whatever idea you have, whatever your message is.
Whatever level of expertise you have. You can make a top 10 list, a top seven list a top eight ways, a top nine secrets. Making a listicle video helps make it easy for people to digest and when people see numbers in a video they're much more likely to click through for whatever reason.
So try to take that expertise that you have those opinions that you have and form it in a list and make that video. It's much more likely to stand out and succeed.
---
So those are my seven ways to get your first 10,000 views on your channel. I'd love to know what did you think? What strategy is your favorite that you're going to now immediately apply on your channel? Do you have an eight, nine, 10 that you want to add to that list as well? Leave it down in the comments below. I'm super curious to find out.
I also want to give a quick shout out to Charles Botensten. Charles, thank you so much for picking up a copy of my book, Your One Word and the fun video that you put together on your channel. I really, really appreciate the support man and I'm glad you enjoyed the book.
So thank you guys again for watching. I believe in you. I hope you continue to believe in yourself and whatever your one word is. Much love, I'll see you soon.
---
You might also like
---
More from 7 Ways
---
Today we're going to look at seven different ways that you can make business alliances. What's up Believe Nation? It's Evan. …
Today I'm going to talk about the seven ways to discover your strengths and weaknesses. What's up believe nation? It's …
Today I'm going to talk about seven ways to be more disciplined. What's up Believe Nation it's Evan. My one word …