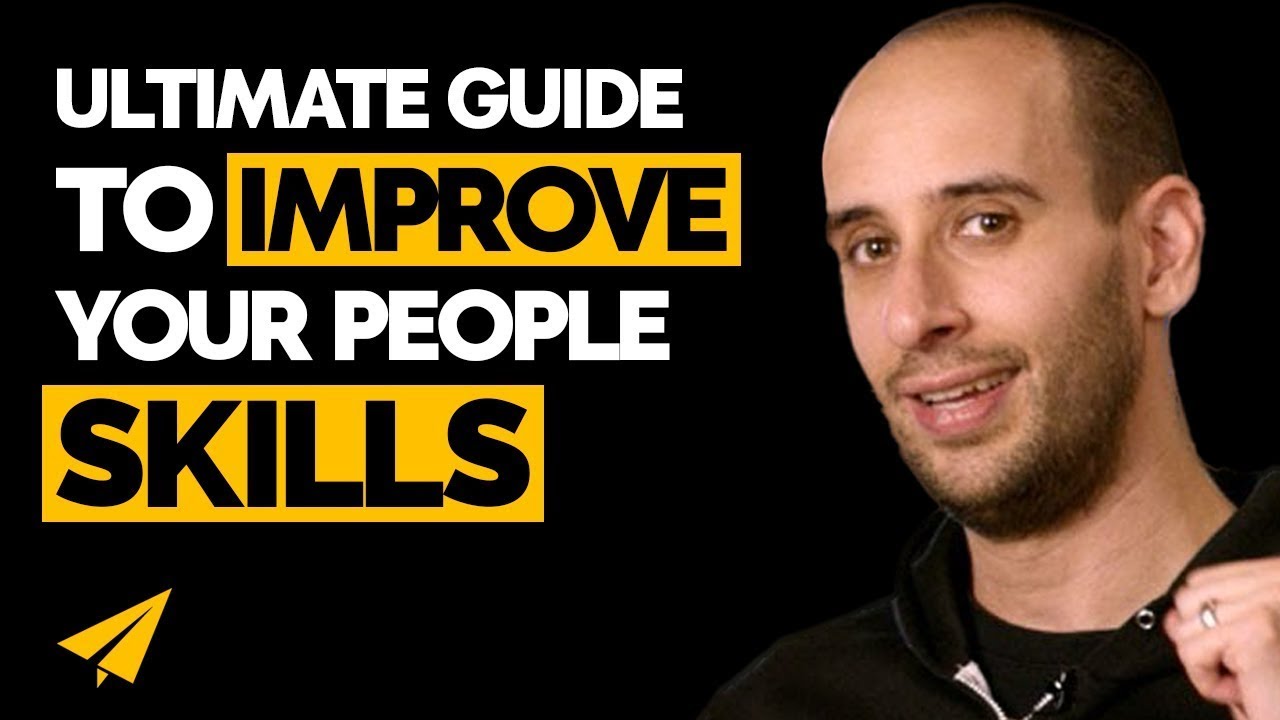 Hello, Believe Nation! My name is Evan Carmichael. My one word is believe, and I believe that entrepreneurs will solve all of the world's major problems, so to help you on your journey today, I'm going to talk about seven ways to improve your people skills.
7 Ways to Improve Your PEOPLE SKILLS
So, I often get asked, from entrepreneurs, how do I improve my people skills? Evan, I need help, either with my customers, either when I'm marketing, and going out to trade shows, or I'm meeting people, or I'm with my team, how to be a better leader. How do I improve my people skills? And so, I thought I'd make this video, sharing seven different ways I think will help you in your challenge.
#1: Decide What You Want To Improve
So, tip number one, is decide what you want to improve. There's a lot of different things around people skills, and if you want to improve at all of them, it can be a challenge, and you may not even want to. So, having focus gives you clarity, and allows you to really improve. So, as an example, do you want to improve your networking skills? Do you want to improve your leadership skills?
Do you want to improve your social setting skills? You know, what is it exactly that you want to improve, and we can figure that out. And just focus on the one most important thing, like maybe you really want to be a better leader, but you don't really care that much about the networking, or maybe you don't even have a team yet.
You don't care about leadership skills. Maybe, all you want to do, is get more sales, and you're going to events, and you want to learn how to shake hands, and make a connection really quick with people. Figure out exactly what it is that you want to learn. If you can get that focus and clarity, it's much more easier to make rapid progress, achieving your goal.
#2: Model Success
Step number two, is model success. And this is always a go-to for me. If you don't know what you're doing, if you're trying to learn something, one of the fastest ways to do it, is find someone who's already done it, and learn from them. Instead of you struggling, and trying to figure it out, learn from someone's who's already gone out and done it.
It'll massively shortcut your path to success, and you may not even figure it out most of the things that you're trying, until you get that input from someone else. And so, again, having the clarity, I want to be a master networker, great. Who is a master networker in your eyes? Go to YouTube, look at different videos. You can read different books, you can attend conferences.
Find the master networker! Or, I don't care about networking, I care about leadership! Great, who are the leadership experts? How can I hang around them? How can I be with them, as much as possible? Going to their events, reading their books, being around them, watching their videos? And I would highly encourage you not just to read content, not just to look at the how-tos, because everybody will have, here are the seven ways to do it! Rhetorically, will have their list.
But, to feel it, to see how they do it, right? So, if I'm making a video about how to write a book, right? Don't just watch the video about how to write the book, watch me document the process. I mean, I don't know how many videos. I made over 50 videos, documenting the process. Watch that, or watch somebody else going through the process.
Having the how-to videos is great, it's a starting point, but a lot of the content is also going to come, by just watching them. So, just reading an article about how to make an introduction to somebody, versus watching somebody, who's really good at it, doing it, and demoing it, and showing it, and guiding other people through it, you'll learn a lot more through that process, than just by reading an article.
And so, when you clearly identify, back to step one, clearly identify what it is that you want to work on, then go off of model success, find a person who's the genius at it, and try to be around them. Go to their event, see them do it live, watch their videos, and get their books, and read their content, but I want you to see it, and feel it, 'cause when you can feel it on an emotional level, and not just understand it, up here, you're much more likely to retain it, and take action.
#3: Practice, Practice, Practice
Tip number three, practice, practice, practice, like anything else! You want to get better at somethin', you got to practice! You got to dedicate time to it, consistently, every day, to practice, to get better, to improve. So, we've identified what it is about people skills we want to work on. We've modeled success, and found the best people in the world that are doin' it.
We've attended some of their events, we've watched their videos, we've read their books, great, that's just knowledge! It's not going to actually happen 'til you do somethin' about it. You can understand how do to do a jump, on a snowboard, but you're not going to get the muscle memory and actually be able to perform it, until you practice, and you're going to fall, and fall, and fall, and fall, and get better and practice.
And so, whatever it is that you improve on, you got to put in the reps. I've made 5,000 videos, on this YouTube channel, right? 1,000 of them are not even public. Though, 1,000 videos, which is more than most people do, in general, on a YouTube channel, that are not even public. I've just brought Lily on board, on my team, if you've watched Unlocking Lily series, and right now, I'm filling up her schedule. When she does an Unlocking Lily video, her first video, it took over 100 takes, each time, to get that best version.
And she'll spend every Friday, the whole day, filming, filming, filming, filming, filming, hundreds of takes. And if you've watched her first video, she only got three videos. Her first, to the second, to the third, you'll see that she's gotten way better in each one, but she's put in the work. And so, I'm filling up her schedule. I'm giving her interviews, I'm giving her coaching sessions. I'm giving her entrepreneurs to talk to. I'm giving her opportunities to speak, opportunities to be in the video. Her schedule is just rammed, full, right?
She came here, and she did two videos with me, today, filming day, and she just came back from a coaching calling interview, then she had to rush back, to do more coaching calls, more interviews, the whole day is full, because she's puttin' in the reps! 'Cause, she's really good now, but to get great, to get to where she wants to be, to build a million dollar business around speaking and coaching, that she wants to do, that I'm here to help her with, she's got to put in repetitions, to get better.
And so, practice, whatever you learn, whatever that thing is, that you pull from that expert, that you want to learn, you got to put in the practice, and find somebody to work. So, if it's networking, great, you've learned the skill, now go out and practice! Going to one networking event a month is not going to do it! You got to, multiple events, per week.
Practice networking on the subway. Like everyday, you want to hone your skills of practice. If it's about rapport building, maybe you learn about how to match and mirror, and so, you're learning matching body language, right? If somebody's goin' like this, you kind of go like this. If somebody's arms crossed, then you start with your arms crossed, and you try to lead them, to get them to have their arms open.
It's when you know you've established some rapport. Matching and mirroring. Great, practice that! Practice it with your family, practice it with your friends, even without telling 'em! You're just practicing! And sometimes, you're going to fail, especially at the beginning. You will suck. A lot of these methods won't work quite as you expect them to, because you're just starting out, and you suck.
Expect that to happen. How you get better, is you practice, practice, practice, practice, practice. 'Cause, you have the knowledge. You know what you're supposed to do, but you can't actually do it yet. You get it, by putting the work, doing the practice, and building a muscle.
#4: Put Yourself In Their Shoes
We got it, we're in? Awesome. Misfit Nation has just taken over Seven Ways. Hi, everyone, my name is Dave Lukas. I'm the host of the Misfit Entrepreneur podcast, and we are tackling number four, in Seven Ways, in people skills this week. The answer I have for you is actually a two-part answer, and the first part is actually something that I learned from a mentor of mine, that ran a Fortune 100 company, and I learned it many years ago.
And it goes like this. If you want to know what John Smith buys, you have to see things through John Smith's eyes. And what that means, is that you really need to put yourself in the other person's shoes. You really need to understand what motivates them, what drives them, what they care about, what the levers are, that really drive their decisions, and why they do things.
Once you understand that, and understand what they want out of something, then it makes it that much easier, to get what you want, or be able to get the outcome that you're looking for, whether you're negotiating a deal, putting together a big project, or just want to work better with somebody. The second part of this, there's actually a concept made famous by Zig Ziglar, and that goes like this, if you help somebody get what they want, you'll get what you want, and more, and really, it's the law of reciprocity.
So, the more that you are focused on helping others get what they want, and accomplish the things they want, you'll be amazed at what it does for you. It'll come back to you tenfold.
So, when you pair those two together, really understanding what drives someone, motivates them, and then looking for the best way to help them get there, and make it mutually beneficial, everybody wins, and that's the important thing. So, that's number four, in Seven Ways, this week. Hopefully, you can take that, and put it to work in your life right now, and make a big difference. Thank you.
#5: Find Something You're Curious About
Tip number five is find something you're curious about. The easiest conversation to have with somebody, the easiest way to connect with somebody else, is through some kind of joint love. So, if you can find somethin' that you are genuinely curious about, then it's way easier to have a conversation. It's way easier to get to know them. So, for example, for me, anything around entrepreneurship, I am generally going to love to talk to you.
If I find out that you're an entrepreneur, we are going to have an amazing discussion. It's just going to happen. You will, immediately, perk up my excitement, and I'm going to want to challenge you, talk to you, understand you, see how I can help you, Even if we only have five minutes together, I want to be able to provide value, and get you on your path. It's just who I am.
And so, try to find some kind of common ground, between you and the other person. It'll really help. Now, you could do, if you know in advance, anything about that person, you can stalk them on Twitter, and Instagram, and Facebook, and YouTube, and just kind of understand a little bit about them, what they may be interested in, and you don't want to lead with, hey, I saw that you loved horseshoes, on Twitter! That's awesome! Tell me about horseshoes! 'Cause, if you don't actually care about horseshoes, then it's a disconnect, and it's kind of creepy stalker scary, so you don't want to let them know that you've been following them along on Twitter.
But, if you find something that's generally interesting, that's the key. And so, you can start, if you don't know anything about them, you could start an event. Well, how did they come to this event? You're both at this event.
What motivated them to come here? How do they know the host? How did they find this place? Did they search for it online? What were their reasons for coming here? That opens up a discussion, and then, you're looking for ways to generally be curious about the other person. If you can find any kind of genuine connection there, then it's easy to get them to talk about themselves, and it's easy to form that rapport.
#6: Understand Their Why
Tip number six, is understand their why. People love talking about themselves, and I love getting people excited. So, when I'm talking to entrepreneurs, I like understanding why they started their business. Because, I want to get them pumped up. If you are talking about something that is meaningful to you, that on a deep, emotional level, it gets you feeling excited, like this is your purpose, then it's so much easier to follow through on a conversation.
If I'm talking to an entrepreneur, I ask them, why they started their business. And they tell me this story, about this deep, meaningful connection, to this product they're making, or service they're making, and they started because of their parents, or whatever that backstory is. There has to be something there that fueled them to want to do this thing. And whether it shows up to this event, or choose that career path, or marry that person.
Whatever it is, if you understand their why, and get them excited about it, it's much more easy to form a bond, and a connection. When people ask me my why, and they genuinely care about it. If you have to actually care, you can't just fake, and say, so, why did you do this? With genuine curiosity, why do you do this thing? It's awesome.
You'll get, if you ask me, that you get me being excited, if you get me telling an excited story, like I am now, then I'm much more likely to connect with you, and much more likely to want to do business with you, much more likely to want to refer you, and much more likely to take whatever action it is that you want me to take, even if it's just get to know each other, exchange contact information. Whatever it is, if you can get somebody to explain their why, on an emotional level, because you generally care about it, then it's much more easy to build a rapport.
#7: Help Them With Their Goals
And tip number seven, is help them with their goals, and this builds off of what Dave, from Misfit Entrepreneur, was saying. You want to try to help them accomplish what it is that they're trying to accomplish. I'd like to say, internally in my team, that the most dangerous thing that you can do, is tell me what your goal is. 'Cause, as soon as I know what your goal is, what your dream is, now it's on my radar, and I'm going to try to make it happen for you, and I'm going to push you, to go off and do it.
And when you say, that you can't do it, because of XYZ, and whatever limiting beliefs you have, we're pushing through those things, baby! It's going to happen. And so, I try to do that with everybody I meet. It's not even a strategy, it's just natural. Just what I try to do. I don't even think about it, but now that we're kind of making a list of seven things to do, it's one I think can be highly, highly, highly effective.
When I went to ClamourCon recently, it was an event for YouTubers, one of my main things was every time I met somebody, I tried to introduce them to somebody else that could help. So, there was Sean, from Video Influencers, who was tryin' to interview YouTubers. And I asked him, how many he had set up? Like, what's your goal? What are you tryin' to accomplish? How many people are you tryin' to interview while you're here? And he had this target.
Like, how many have you done so far? And then, he's here. Great, if I find somebody that's relevant, do you want me to introduce you? "Yes, that'd be amazing!" Awesome! So, every time I met an entrepreneur, a YouTuber who had certain channel size, I thought might be a fit for Sean's channel, I've watched Sean's videos, so I know what it's all about, I would introduce them.
And Sean is happy, and the other entrepreneur is happy, 'cause they're getting exposure. And I'm happy that I was able to make that connection. It was to the point, where Charlie, from Chris on Command, one of the channels that I love watching, I met him at ClamourCon. I introduced him to Sean. He's going to be a guest, on Video Influencers. Charlie, then, went to his channel.
He made a video about how to network, as an introvert, which was me, and the video's basically about me, and my strategies at ClamourCon, and how amazed he was at all the connections that I was able to make, despite not really knowing a lot of people. And a lot of us, just based on this, it's not that I'm some genius, it's just I meet somebody, I understand their why, I ask questions about them.
I try to figure what their goal is, not from a strategic point of view, it's just how I think. And then, I just keep that in my head. This person is trying to accomplish this. I meet somebody else, and huh, you guys might, do you know Charlie? Do you know Sean? Do you know this guy? I just try to make those natural connections.
It's just something that, I think if you do it, if you try to help other people with their goals, it's always going to come back to you. It may not be in a way that you recognize, or that is immediate, but it comes back. Another quick example, on my trip to LA, not too long ago, I took my TDS team to see Tony Robbins in LA, and I sit back an extra day, to do meetings.
I had a meeting with Brian Grazer, the legendary Hollywood producer. His assistant reached out to me, 'cause Brian wanted to meet with me, on one-on-one. I met with Lewis Howes, later on that afternoon, from School of Greatness, and I was on his YouTube channel. We did an interview there. You guys can check it out. It's pretty fun. And I had other couple of meetings, met with fans, and then I came back.
Two weeks ago, I was watching a video on Lewis's channel, with Wyclef Jean, and Wyclef, from the Fugees, was talking about Brian Grazer, and saying, "This guy is one of the top guys, "in Hollywood history, "and someone who you need to have on his show." And Lewis was saying, "Yeah, wow, that sounds really interesting." I wrote to Lewis, and said, hey, Lewis, I saw Wyclef on your show, he name dropped Brian Grazer.
You looked interested. I actually met Brian a couple hours before I met you, when I was in LA. I can set up the intro if you want, and see, maybe where that goes. And he said, "That would be amazing! "Thank you so much!" And so, I introduced Lewis to Brian's assistant, and maybe something happens, maybe something doesn't happen. Maybe it doesn't work out.
Maybe they become mortal enemies, who knows. But chances are, they're going to connect, something's going to work out, and both Lewis and Brian will be grateful that I was the one who made that connection. Now, I'm not keeping scores. It's not like, hey, Lewis, I intro'd you to Brian, so now you owe me this, for my book, or my whatever. That's not really how it works.
It's not really about keeping scores. But, one, it just feels good, to help people. And two, if you help people, and it's consistent, then it comes back to you. It just always does. And so, when you're talking to people, understand what their main goals are. What are they trying to accomplish? What are their dreams? And to think, how can I help them?
And maybe an introduction, and maybe just giving them a push, beyond their limitations. It may just be believing in them. It may just be checking, and seeing how they're doing. Finding ways to help them accomplish their goal makes a huge, huge, huge difference.
Thank You!
So, those are my seven ways on how to prove your people skills. I made this video, because Amervim Bonano asked me to. So, if there's a topic you'd like me to cover, in a future Seven Ways video, check out the link in the description, and go and cast your vote, 'til you're going to win, and we'll see some content coming soon.
I'd love to know, what did you think of this video? What was your favorite tip? What are you going to immediately apply, somehow to your life, or to your business? Is there any idea, that you want to add to the list, that I missed? Leave it in the comments below. I'm really curious to see what you guys have to say.
I also want to give a quick shout out to Dave Lukas, from the Misfit Entrepreneur. Dave, thank you so much for being in this video, as well as posting the picture of my book, while you're on the beach. I really appreciate the support, man, and I'm so glad you enjoyed the read.
So, thank you guys, so much for watching. I believe in you. I hope you continue to believe in yourself, and whatever your one word is. Much love. I'll see ya soon.
---
You might also like
---
More from 7 Ways
---
Today we're going to look at seven different ways that you can make business alliances. What's up Believe Nation? It's Evan. …
Today I'm going to talk about the seven ways to discover your strengths and weaknesses. What's up believe nation? It's …
Today I'm going to talk about seven ways to be more disciplined. What's up Believe Nation it's Evan. My one word …