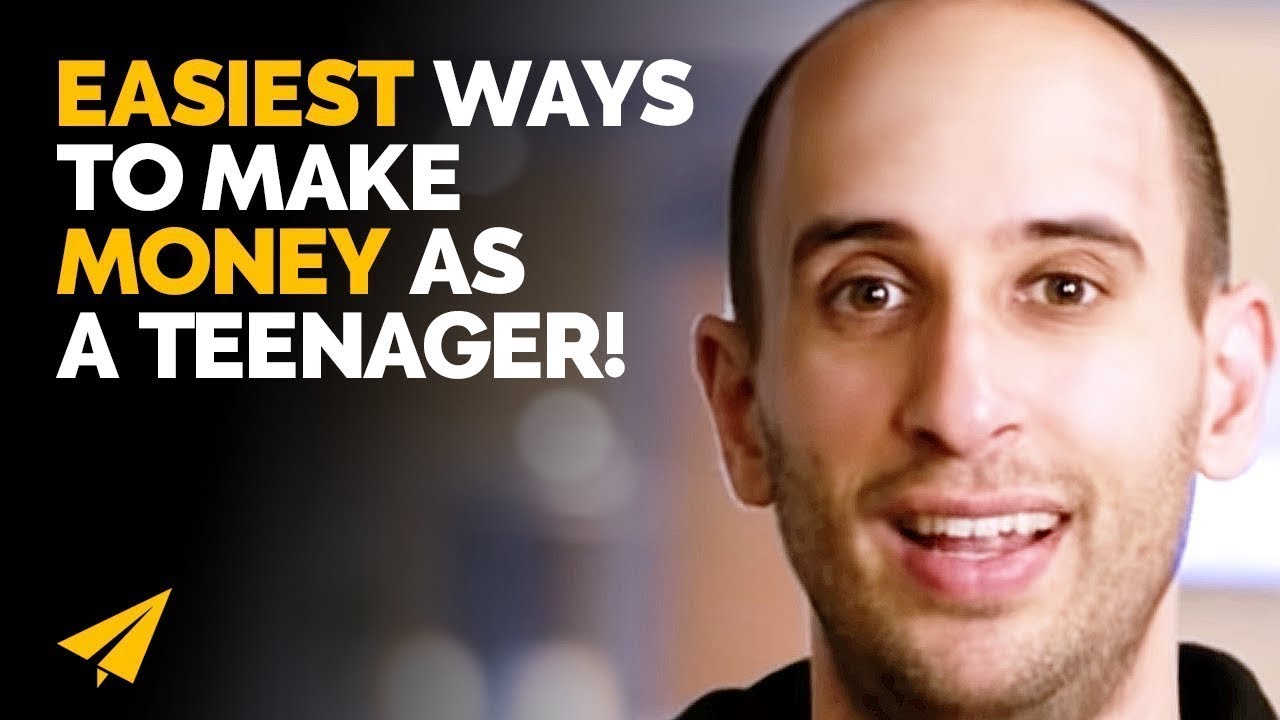 Today I'm going to talk about seven ways to make money as a teenager. So I know I have a lot of young people watch my YouTube channel. I love it. I wish YouTube was around when I was a teenager trying to get started as an entrepreneur. And I wanted to make this video today to share how you can get started, how you can make money as a teenager, and start seeing some real business success and some results to achieve your goal and not have to go get that typical corporate job that you may not want to do. So today, I'm going to share some of the things that I actually did when I was getting started as a teenage entrepreneur, but also some of the things that I would do if I was starting again now. So I'm 37 right now. If I was starting up again, what I would do today.
7 Ways to Make MONEY as a TEENAGER
#1: Understand where you can Bring Value.
So the most important business rule that you need to understand is where you can bring value to people is where you're going to make money.
The more value you can bring to somebody, the more money you're going to make. It's the most important rule about money.
So I'll be thinking about, where can I bring value to the people around me, to companies that I know, to people that I know?
What major problem have I solved for myself that may be valuable for other people out there, as well?
And I'd be looking for opportunities where youth is an advantage. Because in some industries, youth is a negative.
You don't have the experience. But in some industries, youth is an advantage.
This did not exist 20 years ago. Even when I was getting started 10 years ago. Wait, how old? 19. My first company I was 19, so almost 10, no, almost 20 years. I'm getting old. I'm getting old, guys. 37, so 19, so 20 years ago, pretty much.
Youth was still seen as a negative, like, "You don't know what you're talking about. "You have no experience.
Now it's starting to change in a lot of different industries where youth is a benefit, and if you can solve a problem for yourself or bring value to somebody else, then that's a quick path to be able to make some money. So understand the value that you can bring to people.
#2: Online Business.
This is what I did. And when I was at the very beginning, my first company, again, I'm 19 years old, I was actually really concerned about selling to people, selling face to face, selling over the phone.
My voice sounded really young. I was selling to people who had PhDs who were three times my age. And on one side it was a limiting belief.
All they really cared about was that I could provide them with some value, back to point number one.
But starting the online business allowed me to do something that I was good at. We understood websites. We understood how to sell online. It was something that people who were older. Think about this. This was 20 years ago, too.
The idea of having a website is not anything revolutionary right now.
But starting an online business in a field where you can bring more expertise than people who are three times your age, four times your age, maybe, is something that you can do as a young person to bring a lot of value.
So I started online with the website. We started selling internationally. We started selling to companies, again, around the world, internationally.
And so I would encourage you to look at online opportunities that fit your skill set, again, where you can bring value. So not just typical fill out a survey and make some money or do some boring data entry job. I'd be looking at, what are you great at, and then how can you bring that service online?
#3: Hustle versus Experience.
In some businesses, you need to do a lot of hustle to stay on top of the game to really understand how things are working, and in some business, you need to have a lot of experience to understand how it has historically worked so you get a sense of your success in that field.
And so you're going to have a hard time competing in the businesses and industries where experience really, really, really matters.
So if you want to be a lawyer, you kind of have to understand the whole legal system.
If you want to be a really great leader, you have to understand all the leadership training, have gone through actually leading people before.
If you want to be a great speaker, you have to put in the reps. You have to do a lot of work to be great at speaking.
It's not that you can't do it. It's totally achievable.
If you have a big goal and you are working on it every single day, you can pass people who are more experienced than you.
It's just a harder road to climb if you want to get into an industry where experience really matters versus ones where hustle really matters.
So as an example, the first thing I did when I sold my first business was I went to go work with a venture capital company.
I was curious about the industry. To have all the connections in the industry takes time to build up. So what I did was I connected with people who already had those connections and I offered to come in and hustle with them.
So my role was to, I wanted to learn the venture capital industry. I wanted to learn from these guys. And my role was to go out and drum up new business.
And so I was talking to new potential entrepreneurs who wanted to raise capital, who needed to grow and to expand, and then I relied on my four partners there to be able to provide the credentials, the experience, the connections, the knowledge, the expertise, all the things that had to do with running a business that they can give the advice, where my role was the hustle role.
So your advantage as a young person is you can hustle. You can out-hustle, you can out-work a lot of the people who are older who may have other responsibilities, who may just not care as much about it.
I look at YouTube as a great example. One, it's a newer medium, so a lot of the older people aren't even on YouTube. A lot of the great speakers of the world are barely on YouTube.
That gives opportunities for people who are not as great at speaking. I'm not as great at speaking as a lot of people who have come before me.
But because they're not on YouTube or not nearly as much, I can win. And so the same thing for you guys. YouTube, people complain about YouTube's algorithm update changing all the time. That's great for you.
All the social media networks with their algorithms changing all the time, it really promotes somebody who loves to hustle versus somebody who has experience.
So what worked on YouTube five years ago doesn't work as well as it does right now.
The idea of having consistent content and looking at watch time versus what YouTube cared about before makes a difference.
Every time there's a new update, all you hear about are people complaining. "I can't believe Facebook did this. "I can't believe YouTube did this. "I can't believe Google did this."
And they complain, and they complain, and they complain, because all the experience that they gained is now useless, or at least has been diminished. It's not as helpful to them anymore. Where the value is in the hustle, the figure out the new thing.
I look at it in the e-sports world, as well, where when Riot introduces a new patch for League of Legends, we're going niche now in e-spots, but I love League of Legends, there's always changes that happen in the game.
And the teams that win are the ones that adapt to the changes fastest.
You have to constantly be adapting to the changes that are happening. And if you just rely on your experience then you're going to fall apart.
The way that League of Legends was played last year is different than it's played right now.
And that applies to some industries more rapidly than other industries. So if you want to be the next great personal development coach, you can do it.
It's just a ton of work, and the guys like Tony Robbins are ahead of you, so it's going to be hard to replace him or all the other people 'cause they have tons of experience behind them.
But in other industries where the hustle is more important than the experience, you can get to number one really, really quickly.
#4: Go In on Your Strengths.
What you want to do is focus on the thing that you are great at.
What do you love doing? How do you love spending your time? And try to provide value in that specific niche as much as possible.
So for example, me. If I was starting all over again, if I'm a teenager or I'm in high school or I'm just starting university and I'm trying to figure out, "What business do I want to go into?" I would look at online marketing.
'Cause I love online marketing. I don't want to tell you guys to get into online marketing. You got to find the thing.
Getting into online marketing because I tell you to is the stupidest reason ever. You want to go into the thing that you have a passion for, that you're consuming, that you're learning, you're digesting, as much as possible.
I love online marketing. And so I would go and learn everything about whatever platform I was using most.
I use the YouTube the most right now as a 37 year old, and so I would look at YouTube as the place where I would want to learn as much as I could.
And really, to understand the YouTube algorithm and to start to win there, you could understand everything you needed to know about the YouTube algorithm in a day.
By consuming lots of other people's content and looking at the experts and seeing what they have to say, you could know more than 99% of YouTubers in one day.
You couldn't do that in another industry where experience is super, super important. And then I'd be looking at, how can I provide that value to somebody else?
How could I approach a YouTuber who I look up to and say, "Listen, I love your channel. "I love all your content. "I watch it every day. "There are some key things that you're missing "that I'd love to help you with and provide value on."
And I would do it for free at the start, one, to gain some experience and credibility and recognition, but also, if you're providing a good service for them and they like it, they're going to want to hire you to, say, go in and help them with a couple of their videos, and it works, because you've done the research and they're seeing a result.
You're providing value. What do you get for providing value? You get paid. You get money.
And so if you were providing insane value to a YouTuber and their channel is exploding, they're going to want to keep you on board. Now, the first person you do it for, they may not want to keep you on board.
They may want to steal your idea and do it all themselves. They may not have seen results, in which case you didn't do a good job.
But if you do that a couple times, you're not going to get 10 people all say, "I'm just going to steal from you "and I'm going to pay you for your service."
And so it may not work the first time, it may not work the second time, but the third, fourth, or fifth time, it's going to work eventually, and you'll find the people who really value what you do.
And once you're in, you can build a long term relationship with them. You'll get referrals. You'll be able to grow this business out. And so I would focus on YouTube.
But for you, maybe it's Instagram. Maybe it's Facebook. Maybe you love Twitter. Maybe it's musical.ly. And find the other people who you can look at in that market who are having success but could be doing way better, or helping port people to a new market.
If somebody is big on YouTube like me but isn't doing as much on Snapchat, maybe you're the Snapchat king.
Maybe you understand everything about Snapchat and you're on top of every algorithm update and you're on top of every filter and every strategy and every idea, and you love my content and there's a way that you can help me explode on Snapchat and turn a real ROI on that, talk to me. Let's see how we can make something happen.
That's the game that you want to start to get into. That's what I would do if I was starting over right now.
#5: Start Small.
This is one of the hardest things to do, because I remember being 19 years old and having big ambitions and wanting to do big things and then being frustrated with slow progress and slow results.
A lot of people put in so much energy at the start and then they burn out, and they never really had a chance to let their business grow, where starting a company does take some time.
It's not for lack of effort or lack of hustling or lack of work. It just doesn't happen the next week or the next month.
You've got to put in consistent work. If you look at any successful entrepreneur that you look up to, they put in consistent, consistent, consistent work.
So I'd be looking at, what do I need to do to start small and take daily action?
That may even mean go get a part time job. Go get a job working at, now, if you're going to get a job, it's not just to earn money but to learn.
If you want to know YouTube inside out, go work for a YouTuber who's having success that you look up to.
If you want to learn digital marketing, go work for a digital marketing company that has 10 employees or less and take on as much as you can to really learn that business.
You're getting paid to learn the industry. So that may be an option. And start on the side. Research as much as possible. Hustle every day. Reach out multiple times to people every single day.
And eventually, those are going to turn into wins. But you're going to get a lot of fails, a lot of small nos, over and over and over and over again, and most people just quit too soon.
Most people, you may reach out to 10 people and you get 10 nos or really you have to reach out to 500 people.
You're just not putting in enough reps. So start small, and understand that with patience and dedicated action, you're going to grow.
#6: Model Success.
One of the great things about any business is you can reverse engineer it.
If somebody has figured out how to do it, if somebody looks like you and has had success, you can do it, too.
A lot of young entrepreneurs came online because they saw Mark Zuckerberg and Facebook take off.
They see this young guy becomes a billionaire and gets everybody's respect, so if he can do it, I can do it, too.
And so if there's somebody that looks like you who's made it, you can make it, too. And being surrounded by that I think is important, because young people more and more and more and more are getting respect in the business world because you can provide real value, but you may not feel it from your immediate environment.
Your parents might think you're crazy, like, "What are you doing? "You want to be a gamer? "What are you talking about? "You can't make money on video games."
The people around you who are older who grew up in a different generation, they love you, and they're looking out for you, but they may not understand how today's economy really, really works.
And so it's hard to stay dedicated to that thing that you really want to do when everybody around you is so negative.
And so create a better environment for yourself, modeling success.
Modeling success is what saved my company. I was 19. I wanted to quit. I told my partner, "I quit." And looking at Bill Gates and how he started Microsoft gave me a strategy that I can use for my company, and we started to make money.
And so that really helped save my business. You could do the same. It's even easier now because there's people to reach out to, people who are doing live hangouts, people who you can send an Instagram message to and they're going to write back to you.
I wish hangouts was a thing when I was 19. I was still going to libraries and studying at libraries and getting research from books.
Books are still great, I have my own, but I wish I had the Internet. I wish I had people that I can connect with.
I do hangouts almost once a week on my channel. You can reach me. You can reach Gary Vaynerchuk. You can reach other business leaders. You can reach people on Twitter. You can connect with people and ask real questions and get feedback on it.
So I would use that to my advantage. You know, being a young person gives you that advantage where people want to give back.
If it seems genuine, if it seems authentic, if it feels like you really want to make this thing happen, people like giving back because they see themselves in you.
They see, like if you write to me, anytime somebody writes to me, is like, "Hey, I'm a 13 year old entrepreneur," I think of myself at 13. It's like, "Man, how awesome would it be "to be able to reach out to somebody "who's accomplished more than me when I was 13 "and get direct feedback?"
And so doing the work. If you're going to ask for questions, though, ask for one question. Don't ask for a million questions. One question, and then do the work.
Do not come back to that same person, ask another question, until you did the work on the first thing that you asked for. Otherwise, you're wasting their time.
#7: Create a Great Environment.
And I talked a little bit about that on the modeling success, but you have people around you who are discouraging you, and you're trying to do one of the most difficult things in the world, which is start a business. It's no joke. It's not an easy, overnight thing.
There's a lot of dedicated work that has to go into it, and if you have people around you who don't support your vision, it's really hard to get that going.
And so I'd be looking at my environment, my physical environment, like where are you working? Working out of your bedroom? Great. What's on the walls? What are you looking at every day? What inspires you? What's your morning routine?
Everyday, you need to start your morning with something that inspires you, makes you feel like you can be an entrepreneur and have success, whether that's watching one of my videos, reading a book, watching somebody else's videos, tuning into somebody's Snapchat, whatever it is, whatever the thing is that gets you feeling confident that I can go out and do this, do that every single morning.
Because otherwise, you're going to get too discouraged.
You're going to have moments of excitement and, "I can do anything," and then you're going to fall back down and you're not going to work for a week because your parents are hating on you or your friends are hating on you or your teachers say you're never going to do anything in the entrepreneurship world.
So having that daily, consistent action to make you feel bold, confident, powerful, entrepreneurial is super important.
Whatever that thing is that gets you juiced and motivated, every single morning, start with it.
And it can't be the same video. Like the same video or the same song will phase out. You could watch this video once and be motivated, the next day, a little bit more motivated, and then it'll start to, it's going to fall off.
So you need a source. That's why I make videos daily, because there's always something new for people to digest and consume and feel good about themselves on and learn something from.
But if it's an author you like, read a different book of theirs. You go through a couple pages a day. Or again, somebody who's consistent on Snapchat.
It's not about that one snap six months ago that they did. It's the next one that they do and the next one that they do. So having that constant source of new motivation for you every single day and starting your day with it is super important.
---
So those are my seven tips on how to make money as a teenage entrepreneur. Thank you so much! I hope you enjoyed. I'd love to know, which was your favorite tip? What did you enjoy the most? Did I miss an eight, nine, 10, that you want to add to the list? Leave down in the comments.
I also want to give a quick shout-out to Shlomo Awoke. Thank you so much for picking up a copy of my book, Your One Word, taking that picture, posting to Instagram. I really appreciate it. I see that my book is on the left side, and so I'm assuming you're reading from left to right, and so that would be awesome as a first choice to read on that list. But thank you so much again for sharing, and I really hope you enjoy the read. Thank you again guys! I believe in you. I hope you continue to believe in yourself and whatever your one word is. Much love. I'll see you soon.  
---
You might also like
---
More from 7 Ways
---
Today we're going to look at seven different ways that you can make business alliances. What's up Believe Nation? It's Evan. …
Today I'm going to talk about the seven ways to discover your strengths and weaknesses. What's up believe nation? It's …
Today I'm going to talk about seven ways to be more disciplined. What's up Believe Nation it's Evan. My one word …