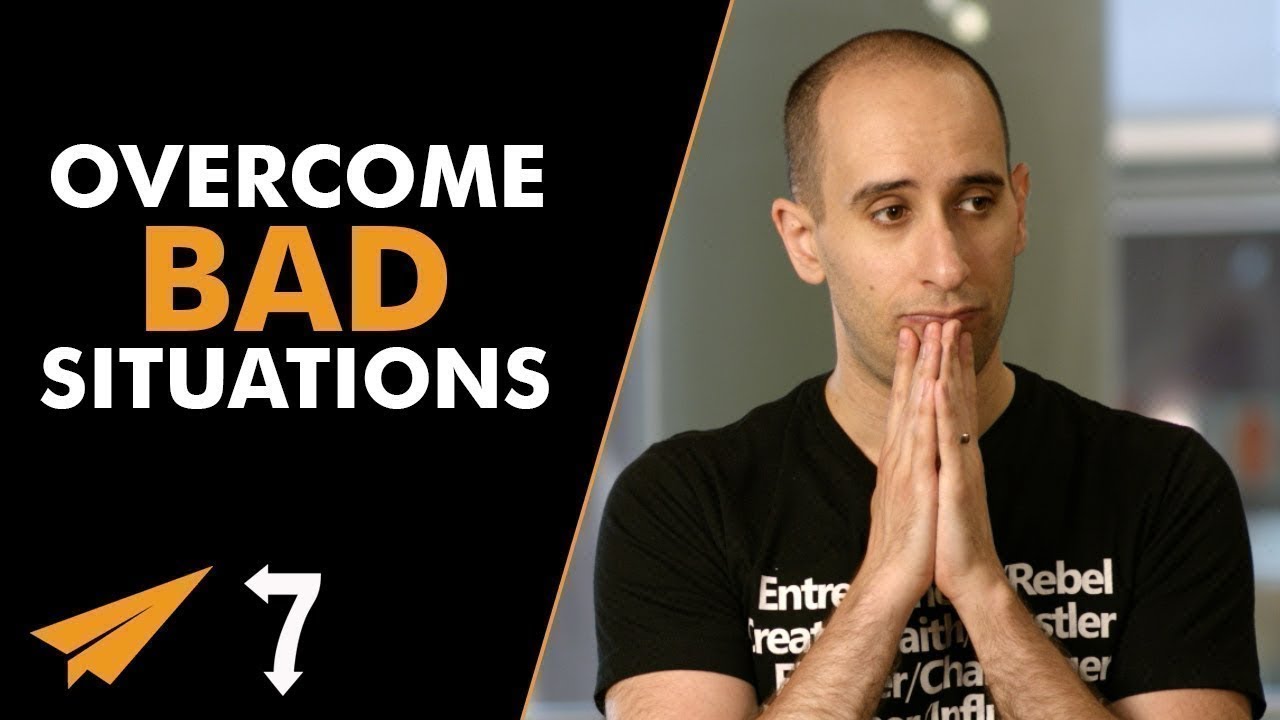 Hello believe nation. My name is Evan Carmichael. My one word is believe. and I believe that entrepreneurs are going to solve all the major problems of the world. So to help you on your journey today we're going to learn seven ways to overcome bad situations. And as always guys as you're listening, if you hear something that really resonates with you, please leave it down the comments below. Put quotes around it so other people can be inspired as well. and when you write it down, it's much more likely to stick with yourself too. Enjoy.
7 Ways to Overcome BAD Situations
So, being an entrepreneur is tough. It's one of the hardest things you're ever going to do in your life. If you think it's going to be easy, you're in for a world of pain. And so overcoming bad situations is going to be part of the game. It's something that you're going to deal with on a consistent basis. And so I'm going to share with you my seven tips on how you can do it.
#1: Changed your mindset
Number one is changed your mindset. And this is a really important one. It's so easy to get sucked in and lost in negativity that you just stay there and spiral out of control. And you as an entrepreneur, you're the leader. There's nobody above you saying hey, come on let's do this go, go, go.
That's on you. And especially if you have your team, you can't get stuck in a bad place because you're going to bring all your team down and they won't be productive either. And so start by changing your mindset. Look at it as an opportunity to grow, to get better, to build stronger. Anytime there's something major that happens in my business, it sucks, but immediately I start to think okay how can I make this better? How do I solve this problem? How do I see this as an opportunity? How is this going to make my business better for the long term?
And as soon as you can break out of the immediacy of the negativity and start looking at how do I fix this, how do I solve this, how do I get better, how do I make this stronger? As soon as you start asking those kinds of questions, it pulls you into positivity and it pulls you into the most important part of all: action, fixing the problem and actually doing something about it. Change your mindset.
#2: Remember Your Why
Tip number two is remember your why. This is why it's so important to have a strong why when you're starting your business. If you're just starting the business because you're trying to make money, you're just reaching some kind of opportunity, this is where you're going to quit. As soon as you start facing multiple bad situations over and over and repeated again, you're going to quit because you thought it was easy money, you thought it was passive income, and so that's why you got into it.
It gets hard; you're going to bail and go somewhere else. If you have a deep passion for it though, you have a strong why as why you are doing this, why it's important. This is going to get done. Remembering that helps push you through the crap that you have to deal with.
There's a great interview with Steve Jobs where he's talking about you have to kind of be crazy as an entrepreneur. You have to be crazy in love with your idea because running the business and starting it is so hard that any sane logical person would quit because you're sane, because your normal, because your logical, because it's just way too hard.
Nobody wants to deal with all this crap, but the thing that gets you through is that strong why, that insane passion for what you're doing. And so whenever you're down in the hole, think back to why you started this business, why it's so important to you. You better have a reason other than money, otherwise you're in trouble.
#3: Model Success
Tip number three is model success. Whenever you don't know what to do, model a success I find is one of the best single strategies that you can do to help you get out of your hole. And so find somebody who's been in that same situation as you have, and how did they overcome it? And I find two great things happen when you model success and read their stories of famous entrepreneurs who have come before you.
One is you get the tactical things of what to do. Like okay Oprah Winfrey went through this and here's how she came through. Or Steve Jobs went through this and here's how he came through. Or Bill Gates had this happen and here's how he came through. And you get the tactics the specific steps of what to do that they did. Second thing, though that I think is really important is just the motivation.
Just knowing, at least for me, knowing that these people struggled and suffered early on in their careers makes me feel like I'm not alone. Made me feel like if they could do it. I could do it too. And, so I would always start my day reading a story of a famous entrepreneur and how they got started.
Now we use the top ten because it's video and I much prefer video, but being able to watch somebody's story, hear from their advice, gave me both the motivation to keep going, as well as the tactics on what to do. And so whenever you're in the hole, at least I found that to be super helpful to help me get out. Model success.
#4: Focus On A Teachable Lesson
Tip number four is to focus on a teachable lesson. So I had a situation where I had a really close friend of mine betray me in the worst way possible. She stole something very important to me that was really near and dear to my heart. And I focused on the negative. I focused on the bad situation that happened and I carried that resentment everywhere I went. I'm not an angry person at all, but I was punching holes through walls.
I was hurting myself. I was angry at everything around me and I was so resentful and angry everywhere I went. It affected my relationships. It affected my friendships. It affected the way I operated at work. And I needed to find a solution. So the solution was to focus on the teachable lesson. What can I learn from this? I had to learn how to forgive. Resentment wouldn't take me anywhere. Anger wouldn't take me anywhere, but forgiveness can.
So every single day I worked on forgiving this person. I had to let her go. Even though I haven't seen her again, I no longer hold the need to seek revenge to see her suffer because she made me suffer so badly. I wish her all the happiness in the world and I hope she's doing well. So the next time you find yourself in a bad situation, always try to remember the teachable lesson and think to yourself what can I learn from this?
#5:  Find Another Way
Tip number five is find another way. And so this again is why the why is so important. You know, you're down in the hole. You're struggling. You're sucking. You've got no energy left. Thinking to yourself what I have done is not working, but there is another way to go. This is what I use really effectively in my first business. When I told my partner that I quit, when I felt so worthless and useless and I had no value, I felt like I wasn't bringing anything to this business and I just felt so low I myself, I woke up the next day after telling my partner that I quit and I said I have to find another way.
There has to be another way. Someway to solved this. There has to be another way. It's not that the whole idea sucks. Just the way we've been doing it has sucked and there's another path. There's another way to stay and I've just got to find that. And it actually ended up being a blessing because good is the enemy of great. If what I was doing was kind of working, I might have just stuck with doing what was kind of working, but knowing that it wasn't working at all meant that I had to find a totally different path.
I had to find a totally new innovative way to market and improve my business. And it ended up being my model of success by going through partnerships by looking at what Bill Gates did to build Microsoft through partnerships and applying that to my company and that's when we started to get a lift. But just that mindset that this isn't total failure what's happening right now. Just the way that I've been doing it, hasn't been working and I need to find another way.
#6: Just Go Back To Work
Tip number six is just go back to work. Sometimes the best thing you can do is just get back to work and start building something. When you start taking action good things start to happen. When you are just negative and sad and down what ends up happening? You don't do anything. You sit there and you wallow and you stay in your head and you get frustrated and you complain. And the solution out sometimes is just do the work.
There was this interview I was watching recently of Joe Rogan. We're doing a top ten volume two on him. He was saying that if he waited until he was super motivated and excited to go out and go work out, he would never work out. He'd be this fat slob because he never feels motivated to work out. He forces himself to just go out and do it. And so having a schedule I find really helps me. Knowing what I'm doing every day really helps me.
Yes there are some days that I'm inspired and motivated and excited. I want to do brand new things. And when that happens, sometimes I'll throw away my schedule and just go all in on this new idea because gold's going to come out of it. But on the days when I wake up and I'm not super excited and motivated and pumped ready to go you know I have my calendars. Like this is what I'm going to do today. I have a schedule.
I know what's going to happen. And if I grind out that work today, good things are going to happen. I'm going to get closer to achieving my goals. And so sometimes the way out of a bad situation is just going back to work.
#7: Remember That Somebody Has It Worse
And my number seven tip is remember that somebody has it worse. Both from a global perspective, you know the fact that you are watching this video, you have access to the internet, you invest in yourself and personal development and watching these you know video content to help you get better and improve. Just the fact that you are here puts you ahead of most people in the world, right? And so the problems that you're facing are not actually that big compared to what most people in the world have to deal with.
That sometimes could help. The other thing that really helps me though is also remembering that a lot of people that I look up to the people that I aspire to be like in terms of the impact that they're having, people have done things amazing things with fewer resources than you have right now. The people that you look up to people who have gone on and done just amazing, mind-blowing things inside and outside your industry.
Your role models. Look back to how they started. Chances are they started with less than what you already have right now. And so remembering that and that they were able to rise up and do such amazing things and the forced creativity that had to come from it because they didn't have a lot of resources when they were starting their business that always turns into motivation for me and pulls me through bad times.
Thank You!
So those are my seven tips on how to overcome bad situations. I'd love to know which one did you resonate the most with and why. Is there an eight, nine, 10 that you want to add to the list that maybe I missed? leave it down in the comments below. I'm super curious to find out.
I made this video because a Amervin Bonano asked me to. So if there's a topic you'd like me to cover in a future seven ways video, check out the link in the description and go and cast your vote.
I also want to give a quick shout out to Christi Vlad. Christi, thank you so much for picking up a copy of my book: You're One Word and making that YouTube video on it as a review. I really really appreciate support and I'm so glad that you love the book.
So thank you guys so much for watching. I believe in you. I hope you continue to believe in yourself, and whatever your one word is, much love. I'll see you soon.
---
You might also like
---
More from 7 Ways
---
Today we're going to look at seven different ways that you can make business alliances. What's up Believe Nation? It's Evan. …
Today I'm going to talk about the seven ways to discover your strengths and weaknesses. What's up believe nation? It's …
Today I'm going to talk about seven ways to be more disciplined. What's up Believe Nation it's Evan. My one word …