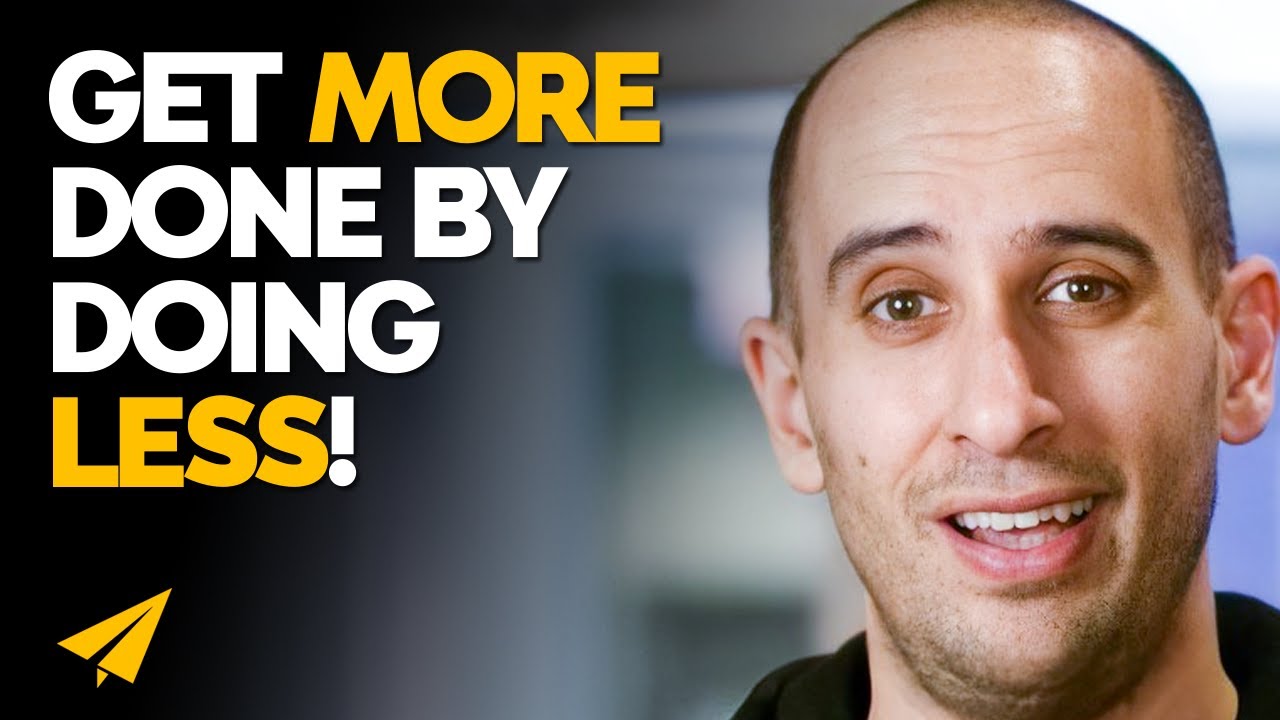 Hello, Believe Nation, I'm Evan Carmichael. My one word is believe and I believe that entrepreneurs will solve all the major problems of the world. So to help you on your journey, today I'm going to talk about the seven ways smart people work less and get more done.
7 Ways Smart People Work LESS and Get MORE Done
#1: Create A Schedule
Successful people for the most part have a schedule. When you have a schedule and you know what you're going to get done that day, it's easier to stick with it and plan your big things out. So what's really important, what I find really helpful is once a quarter I do a big audit of my life of my business, where am I spending my time, where am I getting the most value from?
Do my actions map to the big things that I'm trying to create for myself?
And so if my big goal is I want to get a million subscribers on YouTube as an example, that's one of my goals, how do I do that and are my actions mapping to that consistently? So once a week, I have a YouTube day.
I'm researching. I'm trying to better understand the algorithm. I'm trying to update my thumbnails and titles, trying to research new story ideas, new potential videos that we can put out and so I'm constantly adjusting my schedule to map to achieving those big goals.
So if you know what you're going to do, you wake up every day with a schedule that is on point and helping guide you towards your big picture, you're much more likely to get it done.
#2: Batch Similar Tasks Together
Number two is batch similar tasks together. This one really saved my life. It saved so much time out of my schedule where anything that you're doing multiple times per day, do once per day. Multiple times per week, do once per week.
Multiple times per month, do once per month. The more you can do that, the more success you'll have at getting more stuff done. So as an example for making these YouTube videos, I will make most of the videos once a month. So I come in here, it's a Wednesday afternoon when I'm filming and we'll spend the whole day making YouTube videos and I'll batch them out for the entire month. We'll film between 16, 18 different videos in one sitting all day long because one, I'm in the mindset, I'm in the mode.
We don't have to worry about setup, take down. Also, me being able to be comfortable in front of the camera, share my story, have energy. All of that stuff really works where if you're switching between tasks constantly, it's easy to fall off. If you're in writing mode, I remember being in writing mode for my book and I'm writing and researching, I'm in introvert mode, don't want to talk to anybody.
To then prepare for a call that's coming up, that half hour to an hour before the call, I'm not being as productive. I'm researching who that person is. I'm getting nervous about the call and what's happening and so I find it really hard to switch between tasks. If I'm going to do an introvert, creative writing day, I spend the whole day doing that. Wednesdays I make my YouTube videos.
Thursday's my public facing day so I'll do interviews and podcast and radio shows and guest appearances on other people's YouTube channels and phone calls and meetings. I'm in my extrovert mode and I'll put my hoodie on and I go from one meeting to the next to the next to the next to the next back to back to back to back to back and it really helps me stay in that same energy and get more stuff done and so batch similar tasks together to help you be more productive.
#3: Bring On A Team
Number three is bring on a team. You cannot do everything on your own as an entrepreneur. At the start, I get it, maybe yes. You're trying to do everything 'cause you don't have the resources yet to build but as soon as you can afford it or as soon as you can think of how you can bring other people on board, it's so worth it because you have genius level talent at something and yet usually that thing that you're so great at, you're only spending 10% of your time on and 90% is spent on all the other stuff that's involved in running the business.
The more you can get rid of those things and give them to other people who love doing it even if it's hiring somebody for one hour a day which is what I did with my first hire in my business, it alleviates some of the pressure to allow you to focus on what you are great it. If you want to go far, you have to go with a team so start looking at who is around you that you can bring on board to take some of those tasks off your plate so you could focus on what you are genius level talent at.


#4: Know What To Work On
Hey, I'm John Sonmez from Simple Programmer channel and tip number four is know exactly what you're going to do before you sit down or you let your fingers touch the keyboard. This is one of those things that I have found has really helped me to be more productive because if I just put my fingers on the keyboard, if I just sit down and type at my computer, I'll instantly type in there facebook.com or gmail.com so always before I start anything, before I go to the computer, before I open up my laptop, I think to myself and I say, what am I trying to accomplish, what am I trying to do? And by doing that, it stops me from wasting a lot of time and just the little bit of five minutes here, five minutes there that you spend browsing the internet or doing something or distracting yourself can lead to a lot of procrastination and can prevent you from getting things done.
So quick tip to remember. Just remember, before you sit down to do any work, before you do anything, know exactly what it is that you're supposed to do and then when you unlock your computer or put your fingers on the keyboard or you sit down in your chair, that's what you start doing and you don't just go to some social media site. Alright.
#5: Eliminate
Number five is eliminate. So I mentioned at the top how I love doing a quarterly audit of my schedule. It's so so so so important 'cause you'll often find things that you should not be doing anymore. So as an example, I have a mastermind group and I used to keep minutes of every meeting. I thought that was the professional thing to do. I thought I was adding a lot of value.
I keep track of what everybody was doing, what they said they were going to do and report back and send them the email every month after the meeting and say, hey, here's what we talked about, here are the minute notes. One month, I got too busy and I wasn't able to get it out and what happened was nothing. Nobody cared.
And so the next month, as a test, I didn't send the minutes out again either and nobody cared, nobody emailed me, nobody called me, nobody wrote to me, nobody asked where they were. So here I was doing this service that I thought was really valuable.
It was a quality value add for my customers and nobody actually cared about it and so ever since then, I stopped doing minute notes. There are things that you are doing in your day to day calendar, in your day to day schedule that you may think is adding value but really isn't and if you can eliminate those, take that chunk of time out of your schedule then you can focus on higher priority tasks.
#6: Automate
Number six is automate. So after I've eliminated all the stuff that I don't need to do, the next thing I look at before bringing on a team is actually automating. If there's anything that I do on a consistent basis using the computer, if it's over and over and over repetitive tasks, I immediately start to think, how could I automate this? How can I find a software tool to help me do this or how can I hire somebody to build a program for me to solve this problem?
So as an example, using YouTube, there's a great tool called TubeBuddy that I'm the highest paying member of. I've upgraded my account twice to pay them extra money. I'm not affiliated with them in any way but I love them because they allow you to automate a lot of your YouTube processes.
So as an example, YouTube added a new feature called end screens where you can in the last 20 seconds of your video add some new features in to link to other videos, subscribe to your newsletter, subscribe to your channel, all that fun stuff but I already had 3000 videos that didn't have these end screens and going in one by one by one by one would cause a real problem.
So TubeBuddy had that program and for whatever I'm paying them, $80 a month or $100 a month or $50 a month, whatever it is, makes so much sense because I can update 3000 videos at a time and so always look to eliminate first, automate next before you move on to bringing somebody on board.
#7: Do Work That You Love
And number seven is do work that you love. You are way more productive. You are way more creative. You create much better output when you're doing work that you love, if you are doing the work that you look down and it's eight in the morning, you look up and it's suddenly one o'clock in the afternoon, you look back down, you look back up, it's six o'clock at night. When you're doing work that you love, you're going to have a much better output than when you're doing work that you hate.
You know that work that you hate. You struggle through it. You try to find ways to avoid it. You force yourself to do it but it's not going to be very good and it takes way, way, way longer than somebody who loves it and it's not just about skill.
Somebody who loves it might be better skill, they can get it done faster but if you had equal skill level, they'll still get it done faster because they love the process. When you love it, you want to spend time doing it and it goes much quicker than if you don't love it and it feels like a chore.
Thank You!
So those are the seven ways that smart people work less and get more done. I'd love to know which one did you guys like the most. What are you going to immediately apply maybe to your life or your business after watching this video? Did I miss an eight, nine, 10 that you want to add in as well? Leave it down in the comments below. I'm really curious to find out.
I also want to give a quick shout out to Jelena Ostrovska. Thank you so much for picking up a copy of my book, Your One Word and the fun interview we did on your YouTube channel as well. I really, really appreciate the support and I'm glad you liked the book.
So thank you guys again for watching. I believe in you. I hope you continue to believe in yourself and whatever your one word is. Much love. I'll see you soon.
---
You might also like
---
More from 7 Ways
---
Today we're going to look at seven different ways that you can make business alliances. What's up Believe Nation? It's Evan. …
Today I'm going to talk about the seven ways to discover your strengths and weaknesses. What's up believe nation? It's …
Today I'm going to talk about seven ways to be more disciplined. What's up Believe Nation it's Evan. My one word …