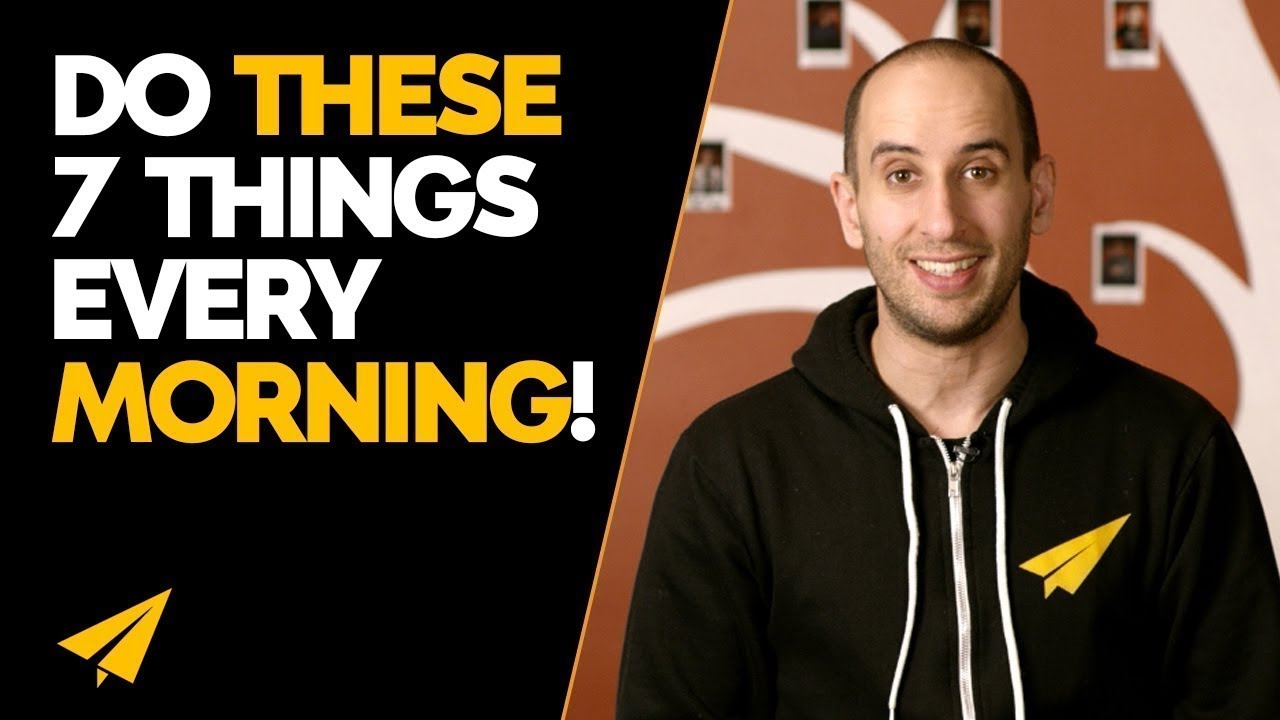 Hello, Believe Nation!
Today I'm going to talk about the seven ways to start your perfect day.
So I'm big believer in morning routines. I think that if you start your day off right, it carries through to the rest of your day. But if you start your day off wrong, negative, missing your first thing, whatever that first habit is you're supposed to do, if you miss that, then you're likely to cheat on the rest of it.
Right, like if you say you're going to eat healthy, and then you start by going to get that really junky Starbucks drink in the morning, you're unlikely to be healthy the rest of the day. You're unlikely to follow through on all the other goals you said you were going to do.
So why it's so important to have a morning routine that sets you up for success. This is probably the topic of my next book, or at least a good chunk of it. I find a lot of people, once they find their one word, it's super helpful, it's really powerful.
But how do you make sure that you live your one word every single day? And it comes from starting up with a great morning routine. Now these are seven strategies I'm going to share with you today. You don't necessarily have to apply all of them to your life.
What I encourage you to do is test one at a time for a week. Just test adding this one thing to your morning routine for the week.
And see, do you feel better?
Do you have more energy?
Was it a waste of time?
All you've lost is a few minutes every day for one week, right? But the upside is tremendous. So test each one out, and let me know which one works best for you.
#1: Get Rid Of Snooze Button
So the first way to start your perfect day off is to get up. Get rid of the snooze button. Now while some of you may be throwing tomatoes at me now, or clicking away, you're addicted to that snooze button. Let's talk about some of the reasons why you shouldn't be snoozing.
First off, science has proven it's actually bad for you. You actually feel a lot more groggy. If you just hear the alarm, and you get up, you're much more likely to have an energized morning. Where if you snooze, and then you snooze, your brain falls back asleep, and then gets up, and then falls asleep, and then gets back up again.
And while that may feel good in the short term, you're going to have a couple hours of grogginess that will not help you. The other thing is on a subconscious level, you're training yourself to fail. You're training yourself to say, this is a goal that I had, and I didn't do it, right? My goal is to wake up at this time, and I didn't do it. I'm snoozing, I didn't do it. I snooze again, I didn't do it again.
You're training yourself that it's okay to set a goal for yourself for a new habit and not follow through. And this is how you're starting every single day. You're starting the day by saying it's okay to let myself down and disappoint myself again.
That is not a powerful way to start your day. So that, combined with the science, get up. Put your clock somewhere else across the room. Whatever strategy you want to use, it doesn't matter, stop pressing the snooze button, and just get up.
#2: Drink Some Water
Number two, drink some water. Your body is 60% water. Your brain is 75% water. One of the main reasons why you're so tired in the morning is you're dehydrated. You've sweat a lot of water out overnight. You've just been sleeping for five, six, seven, eight, nine hours without any hydration.
You need to get up and not reach for coffee, but reach for a glass of water. It will make you feel better. The science has proved it. It's one of the most consistent things that I think really everybody should be doing to give themselves more energy in the morning.
On top of having more energy and feeling less tired, drinking water will help you lose weight, and will help you fight off sicknesses as well. And as a special bonus, I'd say, try adding some lemon to your water, too.
Adding some lemon to your water in the morning will give you vitamin C to help boost your immune system, will allow you to have better skin, and will fight bad breath as well. A good tip is if you're under 150 pounds, add half a lemon to your water, and if you're over 150 pounds, add the full lemon into your water. It makes a difference. Stop reaching for coffee, reach for water first.
#3 Music
Number three is music. Music is so, so, so, so important, because it changes your state. When a good song comes on that makes you want to bounce, it instantly lifts your mood.
It instantly gives you more energy. And so I have a Believe playlist, and one of the things that I do is every morning, I wake up, and with my wife, we put on a dance song that we both enjoy, and we dance, and we groove, and we dance with each other.
It's a good time to bond, but also to get us shakin', to give us energy. And so I would encourage you to make your own playlist. Think about songs that make you want to move, that make you just, when it comes on, you have to bounce, you have to get excited. And start your day with that, so that you have energy in the morning after drinking your glass of water, and you're ready to take on the day.
#4: Gratitude
Number four is gratitude. It's impossible to be grateful for something, and really sad, and depressed, and angry at the same time. And so I find it really helpful to have a quick morning gratitude session just to think about three things that I'm grateful for, for the day.
And so it's something I do with my wife. We'll wake up, we'll grab a glass of water, we'll then dance to a song, and then we'll sit down for four minutes, another song will come on, it's calming, peaceful, relaxing, no lyrics, and we'll just put our hand over our heart, and think of three things that we're grateful for, for that day.
And I think that really helps set us up, just the awareness, the shifting of perspective, the not complaining about the things that are outside our control, and just recognizing that we have a lot of amazing things that we have in our lives, and not only focusing on the things that we don't have.
For my view, it's not just recognizing what's great, it's also the frustration that you want more, right? Like I am equally happy with what I have, I'm so grateful for it, and I want more. I want to go out and have a bigger impact. What I've done is not enough. I don't want to just rest on what's happened.
But if you only focus on this part of wanting more, wanting more, wanting more, and not focusing on what you already have and how great life is, then you're never going to be happy. And so I find that that combination is really, really helpful.
#5: Review Your Goals For The Day
Number five is review your goals for the day. I find it really helpful to have a plan for the day. And if you look at successful people, they often have a plan. They know their outcome for what they want to accomplish for the day. Again, if you don't have a plan, you can guarantee that everybody else around you has a plan for you, right?
People have a plan for you. If you open up your email, there's a whole bunch of people who have a plan for you, and a plan for your time, where you need to fight for that time, you need to fight for what you want to do. And so reviewing your goals and remembering, what am I trying to do today?
What's my outcome today? What do I want to accomplish today? And start setting up walls for yourself to say, nobody is going to crush through these chunks of time, because this is what I want to get done today.
And so reviewing that in the morning, reviewing that consistently, reviewing that every day, allows you to have a more powerful day where you're more likely to follow through on your goals. If you can't remember what your goals are, you're probably not going to get them accomplished today.
#6: Exercise
Number six is exercise. This is another way to change your state, right? If you're sleepy, and you're like this, and you're complaining, you're probably not going to feel really powerful. But if you get up, you drink some water, you put on some music, you do a quick exercise, you do jumping jacks, you do some push-ups.
For me I take my dog, Teemo, for a walk. He's sittin' out here, that's why I pointed. You can't see him on camera, but he's out here. That's why I pointed to him. Getting some kind of exercise in the morning gets your body movin', gets the blood pumping, gets things flowing, even if it's 30 seconds of jumping jacks, just something.
At the end of our walk, we'll run up 13 flights of stairs, and we'll both be panting and tired, but I feel great, energized, and ready to take on the day. So adding some form of physical activity, doesn't have to be half an hour walk, could be 30 seconds of jumping jacks at a high intensity just to get the blood flowing, will make a difference to your energy level.
#7: Be Inspired
And number seven is be inspired. It's really important. I've talked about this a lot in my videos to have an environment for success. That whenever you felt energized, excited, motivated, bold, empowered, want to do great things, what was it that caused that, and put that into your daily routine?
So you have your goals, right? We have your list of goals that you want to accomplish, you're reading those through, but there's still that voice in your head that will say, you can't do that. Who are you to think that that's going to happen, right? That's never going to happen for you.
You need the voice to say, I'm going to crush these things. Remember who you are. These things are powerful. You're going to go and kill it. You can do this. And so if it's watching a video, or listening to a podcast, or reading a book, or whatever it is, however long it takes you to get in that state of feeling powerful, and unstoppable, you want to do that daily.
So why I have the Entspresso series in the morning, as a video series to help me get energized, to be hanging around a successful person for 10 minutes, to give me a boost, to not just give me a strategy for what I can do, but also just the motivation.
When you are around other successful people, you instantly become more successful. When you're around hardworking people, you instantly want to start working harder. If you're around lazy, slow, apathetic people, it's really hard.
You're going to become lazy, slow, and apathetic, where you know you have a higher gear, you know you could play stronger, you know you can go faster, you know you can get up there. So you need to design that environment. You need to design that into your morning routine, so that you're living it daily.
Thank You!
So those are my seven ways on how to start the perfect day. I'd love to know, what did you think? What did you learn from this video? Which one was your favorite way? Leave it down in the comments below. Do you want to add an eight, nine, 10 that I haven't thought of? I'd love to hear your thoughts. Leave it below as well. I also want to give a quick shout out to Marta Magdalena, Lifestyle Design. Thank you so much for picking up a copy of my book, Your One Word, and reviewing it, making a video on your channel. I really appreciate your support, and I hope you enjoyed the read. So thank you guys, again, for watching. I believe in you. I hope you continue to believe in yourself, and whatever your one word is. Much love. I'll see you soon.
---
You might also like
---
More from 7 Ways
---
Today we're going to look at seven different ways that you can make business alliances. What's up Believe Nation? It's Evan. …
Today I'm going to talk about the seven ways to discover your strengths and weaknesses. What's up believe nation? It's …
Today I'm going to talk about seven ways to be more disciplined. What's up Believe Nation it's Evan. My one word …