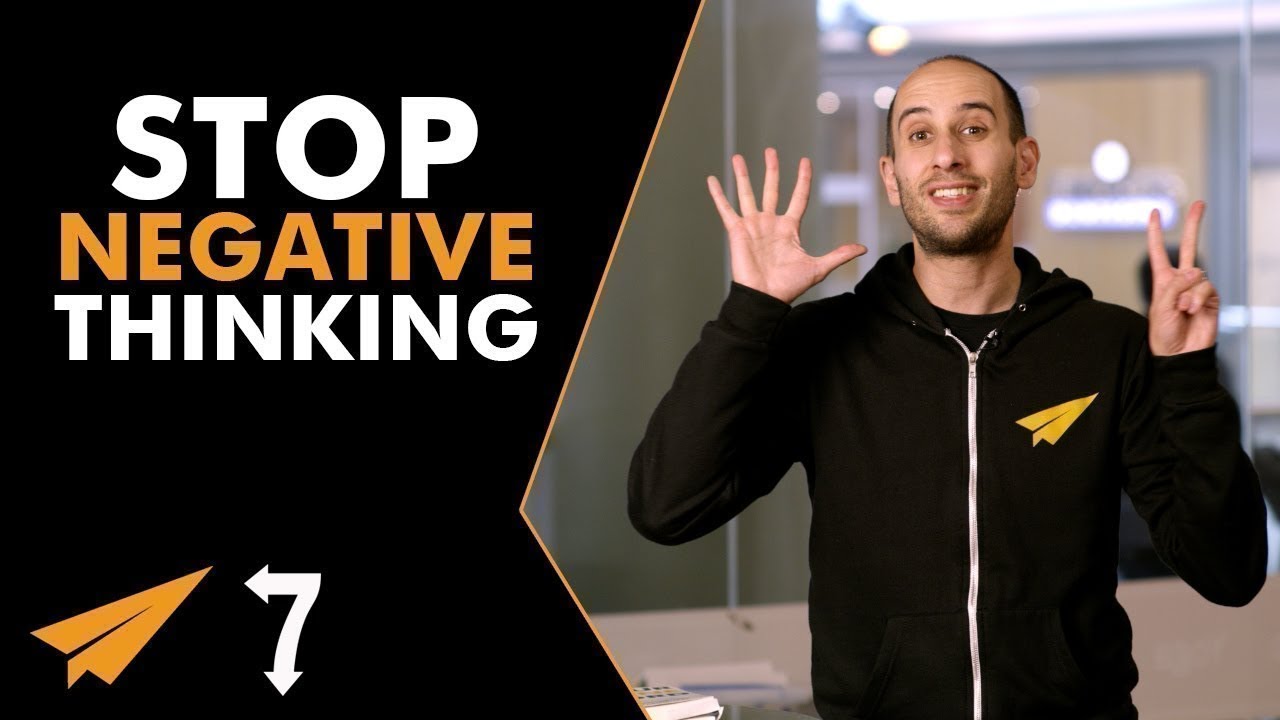 Today, I'm going to talk about the 7 Ways to Stop Your NEGATIVE THINKING. So one of the questions I get asked a lot from entrepreneurs is how do I stay positive? How do I avoid going into the negative zone?
As an entrepreneur, it's really hard to get my business going. There's so many pains and struggles, and people don't believe in me, and I'm always being told to quit and go do the safe, smart thing and get a job.
How do I stay positive? How do I stay out of that negative territory? And so today, I'm going to share with you my seven ways on how to avoid negative thinking.
And it's a little bit of background on myself, too. I'm currently going through this in the micro way. One of the things that I've challenged myself is to restructure my thinking around there is no such thing as a bad day.
I'm trying to really embody that. There is no such thing as a bad day, and I'm going to share with you how I'm fixing that, how I'm believing in that, that will hopefully help you along your path to avoid your negative thinking as well.
7 Ways to Stop Your NEGATIVE THINKING
#1: Catching Yourself
This is honestly one of the hardest parts. We don't even know when we're being negative. It's just default.
We're on autopilot mode. We're constantly just in survival mode, just trying to put out fires. And we don't even catch the negative thoughts that we have, we just feel them.
And I think that's the first, biggest challenge is being able to step outside, whether that's you, yourself examining your day, whether you, in the morning, ask yourself how you're feeling, or how you felt yesterday, or taking a break at lunch, or taking a break in the afternoon, or at the evening, reflecting back.
A lot of people, a lot of entrepreneurs use journals to kind of think about how the day has gone, and just reflect.
Like, was I negative today? Did I have negative thoughts? Was I being positive today, right?
track it and measure it
Like any goal that you have, the more that you can track it and measure it, the more likely you're going to make progress on it.
So what's your method of tracking whether you had a negative day or not?
Because if you cannot catch yourself in the moment of being negative, then it's going to be hard for you to change that behavior.
So whether it's journaling, whether it's taking time out at specific parts to see if you're being negative, whether it's working with somebody and saying, hey, if you catch me being negative, let me know.
Having some kind of form of checking so that you're not just always in autopilot mode and you know exactly when you're being negative, when you figure that out, you can start fixing it.
"The more that you can track it and measure it, the more likely you're going to make progress on it." – Evan Carmichael
#2:  Turn your Negative Statements into 'How' Questions
This is one of my favorite exercises.
If there's a negative thought that you have, something that, you just can't do this because, or you're so upset because, turn it into a how question. Turn it into a how can I.
Or turn it into a gratitude statement.
So as an example, if you are upset that somebody's off and had some major success and you ready about their bio, and they had the same ideas you did, and, you know, they went to Harvard and you didn't, you blame it on, you know, not going to university, then you can ask yourself, instead of just complaining about, being negative, turn into a how question.
How can I succeed despite not going to Harvard? How can I succeed despite not having the education, or the money, or the right parents, or the right connections?
Whatever it is that you're blaming the world on, right? How can I succeed despite.
Asking that how to question takes your negative situation and turns it into something positive.
The resource-less into the resourceful, right? We're thinking about how do we make this amazing thing happen now out of this negative situation.
Appreciation and Gratitude Instead of False Expectations
So as long as you're staying in this negative, down situation, all these limited beliefs, you're going to stay there.
You're going to stay in the negative state. But if you start asking yourself how do I solve it, you're forcing your brain to think in a positive way.
You're forcing your brain to solve a problem, and when you do that, you move to a world of opportunity.
The gratitude side of things is maybe you're upset about, you know, the elevator being late, you know? I'm stuck in this elevator, and I'm waiting forever for this elevator to come, or you're stuck in traffic, or there's something that's outside your control.
For me the thing that really helps is just thinking about gratitude.
So turn your expectations into appreciation.
So, you know, it's pretty impressive that there's this magical box that will take me from the ground floor to the 20th floor, and I don't have to walk the stairs.
And, yeah, I have to wait an extra 45 seconds for it to come, but it's not the end of the world.
So just shifting perspective, again, it starts with catching.
You got to catch it.
You got to catch when you're being negative.
If you can't catch it, you're not going to fix it. If you catch it, then turn it into a how to question or just showing appreciation and gratitude instead of false expectations can really help re-frame the situation.  
#3 Create A Better Environment
One of my go-tos, always, when you're trying to change a habit, when you're trying to change something that is, subconsciously, you're always doing, is to make it part of your habit and your daily routines.
And so if you're trying to avoid being negative, then think about, okay, what's negative that's in your life.
Are there negative people that are in your life?
Can you try not to be around them on a daily basis?
How can you then bring more positivity into your life on a consistent basis?
What are your morning routines?
Part of what I do every day is I remind myself, I'm trying to work on that there is no such thing as a bad day, right?
So I remind myself every day, one of the things I believe is no such thing as a bad day.
Try to remember, try to feel it, yes, and remember, there's something that is important to me. It's back on my radar again. Consistency, right? Remind myself of that.
Re-frame Your Thought Process
Watching videos that are positive and uplifting, and how CEOs, and entrepreneurs, and athletes are dealing with all these negative situations makes me feel more positive.
And so designing your environment and your morning routine so that you just fall into that daily helps you start to re-frame your thought process.
So what I don't want you to do is wake up every day and not know what to do, or just fall into a pattern that doesn't support you, that isn't intentional.
Where if you spend some time, and spend a day on a Sunday afternoon, think, how did I want my schedule to look like?
What does a morning routine look like for me that will allow me to be more positive and eliminate negativity from my life?
And when I am faced with negativity, I'll have the tools to fight it.
What does that morning routine look like?
And with intention, create it, and then follow it, every day. Like I want to wake up every day and just follow my routine.
I don't have to think first thing in the morning. I just fall into my routine and I took the time to create a routine that supports the belief system that I'm trying to build.
#4: Pay Attention to the Words that you Use
The words that you use to describe situations will often create the emotions that can follow you throughout the day.
So watch out for the words that you use.
I've been personally working on this a lot, so when an annoying situation happens, whether it's a customer that's not happy or I'm stuck in traffic, you know, it comes over you like, ah! I can't believe this is happening!
You say dammit, shoot, drop the f-bomb, so many things that you can just throw out there when something annoying comes your way.
But here's the thing, emotion on a chemical level can last anywhere from a few seconds up to 90 seconds.
After that, it's often the labels that you put. So here's what I'm doing.
Any time something really frustrating happens, I label it as, it's a pickle, and how do I solve it?
Just me saying that it's a pickle, no matter how bad it is, first of all cracks me up, makes me laugh, and really at the end of it makes me focus on how do I solve this thing.
And really, labeling it like that makes it more manageable for me.
So what I want you to do is pay attention to the words that you use any time something difficult or annoying happens.
Are you cursing? Are you just physically just really turning red and yelling at your dog? I hope not.
But it's important that you pay attention to the words that you use. They have a lot of power.
So next time something annoying happens, pay attention to the words you use and change them, because once you change the words that you use and the labels that you place on your environment, you can either become more positive or more negative.
#5: Model Success
I love model success. It's one of my go-tos always when I'm trying to figure out how to do something that I don't know what to do with.
One of the things that I always remind myself with this negative positive thing is, there's people who have way worse situations.
Like I'm actually really blessed with a fortune, and so are you.
When you think about where you're at in life, the fact that we have a computer, you have internet, you can watch this video, you're ahead of most people in the world, and there's a lot of people.
Some of your heroes, people you look up to, who have way less than what you already have right now, surrounding myself with those stories consistently helps me remember that they were able to do it with a lot less than what I have now. I can do it, too.
They serve both as tactical, right, like here's what you can do, here's how they did it, but also motivational, inspirational, because by following their stories, just by understanding that these people grew up with such bad family situations, such poor resources, such limited access to everything, and made it out and built these amazing businesses and had these insane careers, watching that helps me.
And early on in my career, before YouTube, it was a book. I was reading books of successful entrepreneurs, and there was this one book that had a couple pages per entrepreneur.
I would read one every day. Just not read a whole book, just a couple pages. You have time to read three, four pages on a person.
And again, it gave me the motivational boost, the inspirational boost as well as tactics, and now I use them in videos, right?
By seeing these successful people come from nothing and have to deal with so much, I think, I'm complaining about this stuff where these people have done such amazing things that had to deal with all of that in their lives?
So having that really helped me be able to overcome it, and if you model success, find the people who've gone through what it is that you are going through and come out the other side, both from inspiration and from tactics, it'll help you accomplish your goal, as well.
#6: Have An Accountability Partner
I find it really helpful when you're trying to follow through on a new habit to have somebody in your life who holds you accountable, who says, hey, you're not doing the thing that you said you were going to do.
You know, you asked me to keep you accountable, and you're not doing the thing that you said was important to you.
I find that, that's really important, because we will let ourselves down more than we'll let other people down, and sometimes we need a reminder.
And so if I look at my habit of the, there's no such thing as a bad day.
I told Dina, I told my wife, say, hey Dina, if you hear me complaining about something negative, I want you to remind me that there's no such thing as a bad day.
And when she does, it's like, ugh, you're right, yeah, you're right, okay, okay, okay, and I try to adjust.
But like, that's the process.
It's catching the negativity in the moment.
I tell people on my team, you're team yes, I told , I told Lily, just knocked the second book over. There's no such thing as a bad day.
I told them on my team, said, hey listen, if you, I'm trying to build this habit there's no such thing as a bad day.
If you find me falling off track, I want you to catch me. And their default reaction was like, you're always positive. You don't complain about stuff.
It's like, I know, that's great. You know, my, I'm 95% positive, but that 5% when I might be complaining, I might be upset, you know, just remind me, there's no such thing as a bad day.
So having people to hold me accountable when I forget, when I lapse, you know, and it's something that I say is important to me.
And so some people may be afraid to find the people in your life who, you know, will stand up to you and say, listen, I'm only doing this because you told me to do this, those kind of people, I think is important.
When you commit to somebody else, when you have somebody else to hold you accountable, you're much more likely to follow through with anything.
#7: Remember Your One Word
When you know, when you have the self awareness to know what it is that you stand for, right, what your one word is, what the most important core value is in your life, then it's much more easy to stay on the positive track because you want to, for me it's believe, right?
I want to believe more. I want to believe in myself. I want to believe in other people more.
And your one word is always something positive, right? I've never had somebody who's one word was negative, who's one word was hate or kill or destroy.
It's always something positive. And so it's an easy way to get back to the positive spot inside of you.
So if you're designing your environment around, so for me, believe, right, or just reminding yourself when you're reading your credo on a daily basis or creating an environment that is your one word for you, I want believe to be everywhere around me.
My office, when I walk in, is believe. My videos are believe, they ooze believe. The content I make is around believe.
The things that I feed my head in, with, is around believe. It's important.
So when you can design your environment, your routine, and everything you absorb on a daily basis around your one word, that most important core value that makes you feel great, you're much more likely to stay positive.
---
Thank You!
So that's my take on the seven ways to stop your negative thinking. I made this video because Amarin Winino asked me to, so if there's a topic you'd like mt cover in a future seven ways video, check out the link in the description, and you can go and cast your vote.
I'd also love to know what did you think of this video, which one was the most important point for you, how are you going to stop your negative thinking. Did I miss an eight, nine, 10 that you want to add to the list? Leave your thoughts in the comments below, and I'm excited to see what you guys have to say.
I also want to give a quick shout out to Jelena Ostrovska. Thank you so much for picking up a copy of my book, Your One Word, doing the review on your YouTube channel, sharing it on your Twitter account, as well, I really, really, really appreciate the support, and I'm so glad that you enjoyed my book.
So thank guys so much for watching. I believe in you. I hope you continue to believe in yourself, and whatever your one word is. Much love. I'll see you soon.
---
You might also like
---
More from 7 Ways
---
Today I'm going to talk about the seven ways to discover your strengths and weaknesses. What's up believe nation? It's …
Today I'm going to talk about seven ways to be more disciplined. What's up Believe Nation it's Evan. My one word …
Today I'm going to talk about seven ways to make money as a teenager. So I know I have a …