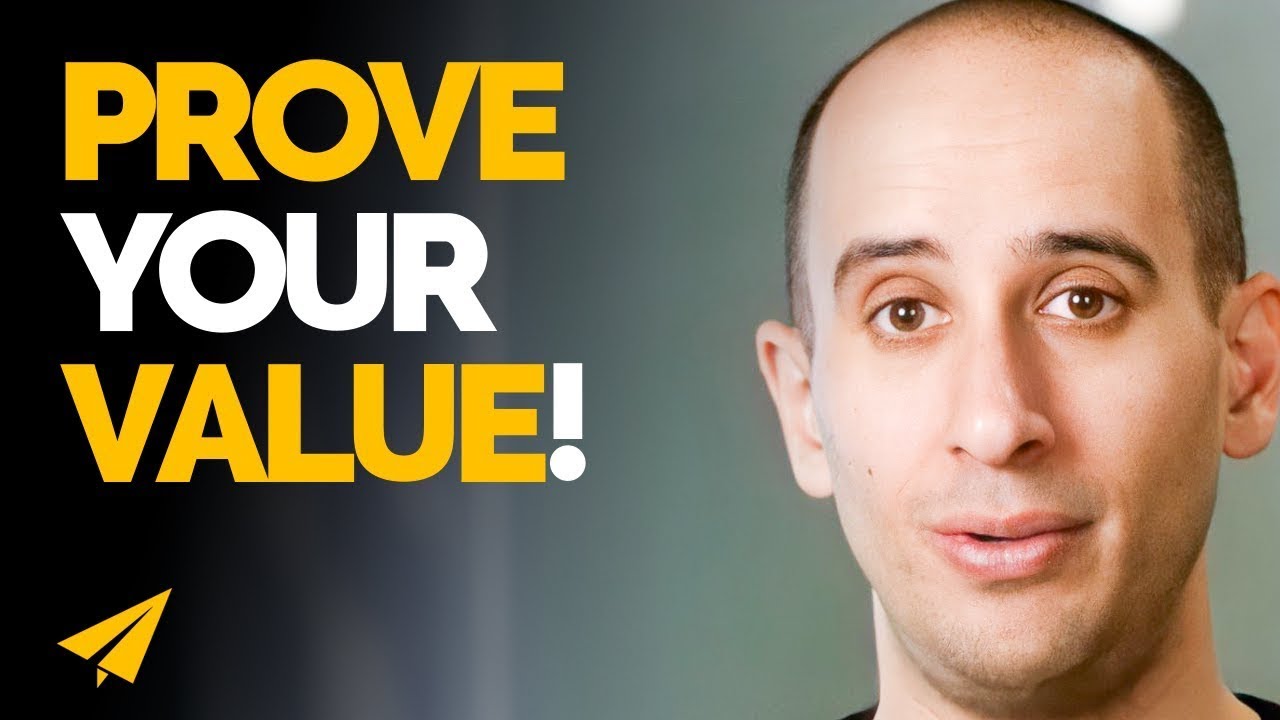 Hello, believe nation, my name is Evan Carmichael. My one word is believe, and I believe that entrepreneurs are going to solve all the major problems of the world.
So to help you on your journey, today we're going to talk about seven ways to get your clients on board with value-based pricing. And, as always, guys, if you hear something that really resonates with you, please leave it down in the comments below, put quotes around it so other people can be inspired as well, and when you write it down, it's much more likely to stick with yourself too. Enjoy.
7 Ways to Get Your Clients Aboard with VALUE-BASED PRICING
So a common problem with a lot of entrepreneurs is they're not getting the money they deserve to get for the value that they're putting out. And they have a hard time, one, charging what their worth, which could be a topic for a whole other video. But two, getting the clients that are the right fits with them, who understand their value and are willing to pay them for it. So today, I'm going to share with you my seven ways on how to get your clients aboard with value-based pricing.
#1: Don't
My number one strategy is don't. I don't try to convince my clients of anything. It's very rare to find clients who start with you at a really small level and are willing to grow with you and pay you more and more and more and more. It can happen, but it's very rare. This is why selling to entrepreneurs is usually a really terrible idea, because, I love entrepreneurs, and it's a rough business model for most people, because entrepreneurs don't have money.
So as much as you may love the cause and the business and everything that they're up to, they don't have the money to be able to pay you for what you do, and even if they do value it, they value your experience and expertise, they don't actually have the money to pay you for it. There'll be other people who have the money, but they don't value what you do enough, and so those aren't ideal clients either.
Instead of wasting your energy trying to convince people to spend more money with you or that you can provide the value, I would rather invest my time prospecting and working with ideal clients. And so I don't really try to bring clients aboard with value-based pricing. I try to go out and find the clients that are already attuned to it, and work with those people instead.
#2: Define What An Ideal Client Looks Like
So that takes us to step two, which is define what an ideal client looks like. So one, they have to have the budget, right, whatever range you're in. So if, for example, when I deal with brands, my first brand deal was for $500. $500 to write a blog post, and I ended up over delivering, doing great work for them.
And this is a great example of I carried them so far, so I started with $500, and then we moved it to 750 or something and then 1,000 and then 1,250 and then 1,500, and I moved them from $500 to $1,500 for each post that I was doing, but that was their cap. That was their limit, and I was bringing them more than $1,500 worth of value every time I did it, 'cause I put in so much work and effort.
So eventually, I had to leave them. Instead of trying to bring that brand with me up, I left them, and I brought on bigger brand deals. And so understand what is an ideal client. What do they look like for you? What budget do they need to have? What values do they need to have? If you understand your one word, and you understand what values they're looking for, having a good mash.
Most of the brands that want to work with me I say no to, because we're not in alignment. They just want to sell you guys stuff, because they don't actually care much about entrepreneurs, and if you don't believe in entrepreneurs, you're not going to be a good fit for this channel. I don't want to do a deal with you, even if you throw tons of cash at me, because it's not going to be a good long-term fit.
We're just going to fight because of values differences. So understanding the clients that have the budget, clients that have the values, clients that are doing the work that is meaningful and important to you, setting that list of what an ideal client looks like for you, being able to identify them, will help you be able to do out and get them on board.
#3: Prove Your Value
Tip number three is prove your value. So once you've found who these ideal targets are, you've created your criteria and you've identified who these people are or who these brands are or companies are, I love starting off with a small deal and then finding a way to make it bigger. Prove your value. If nobody knows who you are, you don't have a name, you don't have a reputation, you look like everybody else, prove your value.
If you get in with a low price, with a low amount of work, right, like some small project, then it's easier to get a yes, and it's easier to continue on with them. And so understand that whatever it is that you do, a company that you want to work with, they probably already have some kind of existing supplier.
They're already working with people who look like you. They're working with your competition in some respect. And so if you go in and try to pitch, taking on this huge deal, one, it involves kicking out your competition, who they have an established working relationship with, and a big deal involves more people at that company to make a decision. And so the bigger it is, the more complicated it is, the more steps involved, the less likely you are to get a yes.
What I'd rather do is go into a company and ask where they're unhappy. Find one small scenario where they are unhappy. So if you're doing website design, as an example, instead of trying to take over an entire company's website, find one landing page. Like what one landing page are you unhappy with. Just give me one thing that you're unhappy with, that your current supplier is not doing a good job with, for whatever reason, no judgment against them, you're just unhappy with.
Let me prove my value to you. And charge them a reasonable price to do one small project. Something that is easy for them to give to you that one person has to make a decision on, and you've got your budget to work with, even though it's a small one. And then over-deliver like crazy. Give them so much value.
Be their favorite supplier. Be the person that then, whoever you worked with, saying these guys do such great work, we should give them more business. If you do that work, you won't even have to pitch the other business, getting the whole website, because they're going to be fighting for you to have that business. Does it make sense?
The more entrenched you are, the more value you're providing, the tighter you build that relationship, giving them so much more value than the competition is, they're going to fight to give you more work because they love working with you.
And so, too often, people come in and they pitch these huge ideas when nobody knows who they are, and it's just so complicated a deal and takes too many steps that you're not going to get a yes.
Well, if you go in with some easy-to-say-yes-to decision, and then you over deliver like crazy, you're going to get more and more and more work. But make sure it's with an ideal client.
#4:  Figure Out The Why Of Your Customers
Tip number four is figure out the why of your customers. This is super important. In a competitive world, where a lot of people are trying to under-price each other, the ultimate way to win over your customers is by understanding why they're coming to you in the first place. So here's what happens at our school.
Whenever clients come into TDS, one of the first questions they ask is how much are the classes. What I make sure to do is ask them why they're interested, before we even talk about pricing. If I can figure out their why, whether it's to make friends, to be more comfortable with their body, whatever it is, I can tailor my conversation around that.
And what happens then is, price doesn't become as important, because, ultimately, people will pay a lot more for a product that addresses their needs, their deep-down desires. So if you spend a couple extra minutes to figure out the why of your customers, you'll be able to charge them what you're worth and, ultimately, have loyal customers.
#5: Over-Deliver Like Crazy
Number five is over-deliver like crazy, and I touched on it in point number three. It's really important that once you get in the door that you are doing everything you can to be remembered and just providing so much insane value to help them. And what you want to think about is what skills do I have, what people do I know that can help make this project just so much better?
And so, as an example, things that I've done. In that first blog post that I had $500 for, my very first brand deal, all they wanted was 300 words for a blog post that they're going to post on their site. And so I didn't just write 300 words and give them content, I wrote 1,500 words, something like that, and I give them the longest article that they ever had for their blog.
I made a video that was custom for that post. I promoted it to my newsletter list and let my audience know to go check it out. And they hired me, and they hired nine other influencers, so there was 10 of us total for this project, and I was the only one that they picked to continue on with.
Why, because my content got more impact, got more results, more engagement, more views than all of the other nine combined, because I gave them so much more value. And so any time a customer's asking for this, you want to give them this. But then you also want to give them more, right? Using your skills, your resources, your connections, your knowledge to give them more than what they asked for. That's how you over deliver.
That's how you can start raising your prices. That's how you can start getting more business within the organization. And so maybe you know somebody that can help that company out, maybe you can connect two people together, two companies together, where there's an interaction that's mutually beneficial.
Maybe you can provide a video or go longer. Always think about the baker's dozen. 13 is the baker's dozen. So you buy 12 of something, you get the 13th one for free. What can you add in that is unexpected value for them? Help them in any way possible. Cover them on your website. Be a testimonial for them on LinkedIn. Whatever it is.
Showcase their stuff. Follow them on Twitter and retweet their things and be engaged, because I guarantee you, no other supplier they're working with is doing this. And this is your chance to stand out. You get some small, easy-to-say-yes-to deal, and you provide just so much value to them that they want to find ways, they will fight for ways to continue working with you.
#6: Keep Increasing Your Pricing
Tip number six is keep increasing your pricing. So I'm a big fan as you get better, as you understand how to add more value, as you improve your skillsets and you can bring more value to the table, that you continue to increase your pricing. The way I do it on my YouTube channel, as an example, since you guys are watching is, I can only work with so many brands at a time.
And usually I'll work on annual deals. So a brand works with me, it will be for at least a year. And because I can only work with so many brands at a time, every time I get a new brand, I increase the price.
There's limited supply. We can only do so many. So okay, for you it's this, and now, next time it's this, next time it's this. And I did the same thing before I was doing YouTube, when I was just having my website and my blog and my newsletter list. I would send one newsletter out a week, maximum, that would be in partnership with a brand.
So there's only four a month that could happen. So I'd sell the first one at $1,500 and the second one maybe at $1,500. Now, my space is getting limited. So okay, the next one's at $1,750, and the next one's at $2,000. And if somebody falls off, then the next one's going to be at $2,250. So as your supply goes down, you start increasing your prices.
As your value goes up, as you know more, you can bring more to your clients, you start increasing your prices. Where a lot of times, entrepreneurs just stay stuck in the same zone for many years charging the same price, even though they're bringing way, way, way more value. As you bring more value, you start raising your prices alongside it.
#7: Be A Thought Leader
And tip number seven, this is one of my favorite, is to be a thought leader. If you are so great at what you do, showcase your expertise. Be a thought leader so that people will find you, so you are not out having to do cold emails or cold tweets or cold calls or go to events and congresses and conventions to try to make connections.
Be a thought leader to have people find you. See, when people hire thought leaders, they're willing to pay more. If they're bringing on somebody who they think is the expert at this field, they're going to be willing to pay more. They're seeking you out because you are the leader. If somebody's only going to hire somebody based on price, they're not going to look at who's speaking at these events, who's writing the white papers, who's being interviewed on the different YouTube channels.
It's just a different mindset. The people who want the value, the people who want fast results are people who appreciate the people who are bringing the results to them, they seek those people out. And they pay premium dollars for those people. So the way to get that is to expose yourself. Be a thought leader.
Share your opinions. Share your expertise. Anytime a reporter is talking about a subject that is in your field, write to them and give your opinion. Share your expertise. You could be a resource for them.
Reporters are always looking for people to comment on articles. They always need industry expertise. That could be you. That's how I got into New York Times and all these other publications and all these lists of speakers and thought leaders and SEO experts and social media experts to follow, because I did a lot of work connecting with reporters.
Put out great content. Start a YouTube channel. Start a Twitter account. Whatever it is that your expertise is, you'd rather write, you'd rather make video, you'd rather do audio, you need to spend time being a media company and sharing your expertise to be seen as a thought leader so that people will find you, and you can start turning people down.
When I look at brand deals, there's platforms out there where you can bid on working with a brand, right? Famebit is one, as an example. Brands will post a deal, say we have $1,000 to work on this deal, and all these different creators will bid on it. You have no leverage in that situation.
You're one of hundreds of creators bidding on a project, and it's just a race to the bottom. I'm willing to do it for this. I'm willing to throw in this for free. You compete against so many people, and the brand has all the power, where when I'm creating content, and the brands come to me, I'm the one who has the power.
I'm the one who can set the pricing. I'm the one who can dictate the terms, because they're coming to me. And so that's what I want to create for you. I want people to come to you, to find you, to reach out to you, because you are the thought leader expert in the field. And chances are you already know it.
If you're an entrepreneur, you should be good at what you do. You already have the knowledge, but you're only helping a select group of people, where if you're making that more public, and you're sharing what's already in here out there, you're going to attract people who value that expertise, and they'll pay you top dollar for it.
Thank You!
So those are my seven tips, seven ways on how to get clients aboard with value-based pricing. I'd love to know what did you guys love about this video? What was the biggest take-away for you? Is there an eight, nine, 10 that you want to add to the list? Leave it down in the comments below. I'm super curious to find out.
I also want to thank Mihovil for asking for this topic. I made this video because of him and his request. If you guys have a request that you'd like me to make a future seven ways video on, check the link in the description and go and cast your vote.
I also want to give a quick shout out to Katie Kruse. Katie, thank you so much for picking up a copy of my book Your One Word and making that video on your YouTube channel. I really, really, really appreciate it, and I'm so glad that you enjoyed the book.
So thank you guys so much for watching. I believe in you. I hope you continue to believe in yourself, and whatever your one word is, much love. I'll see you soon.
---
You might also like
---
More from 7 Ways
---
Today we're going to look at seven different ways that you can make business alliances. What's up Believe Nation? It's Evan. …
Today I'm going to talk about the seven ways to discover your strengths and weaknesses. What's up believe nation? It's …
Today I'm going to talk about seven ways to be more disciplined. What's up Believe Nation it's Evan. My one word …