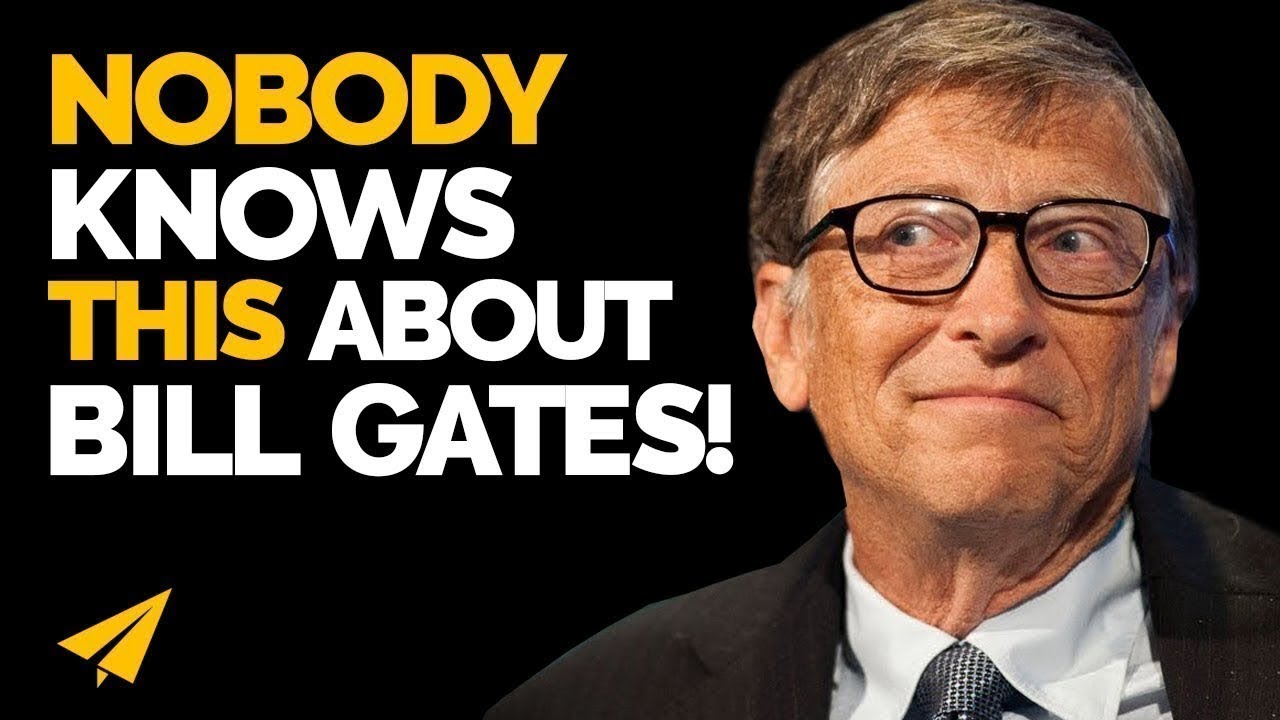 Hello, believe nation.
I started the did you know series to help us understand some of our favorite entrepreneurs a little bit more, what makes them tick, some of the fun things that have happened in their life.
And so today, we're going to look at nine surprising facts about Bill Gates.
Fact #1:
When he was 13 years old, he programmed the schedule for his school and put all the girls that he liked in his class.
Yeah, computers came along when I was 13. And they kind of intimidated the teachers so I and a few others were viewed as the computer experts. And they were nice enough to let us do the scheduling of the different classes. So I could decide you know, which girls were in my class. So I had lots of great girls in my class. I didn't talk to them much but they were there.
"Hey, learning science, you'll be amazed at the opportunities that'll come your way." – Bill Gates
Interviewer: You've started at a high point there. From then on, Bill, it's all downhill. Because if you're 13 years old and you're manipulating the girls in your class, that's like a dream.
No, it's great privilege. Hey, learning science, you'll be amazed at the opportunities that'll come your way.
Fact #2:
As a teen at Lakeside prep school, he wrote his first computer program on a General Electric computer. It was a version of tic-tac-toe where you could play against the computer.
One of the first things I learned was how to write a program to play tic-tac-toe. And so I had if statements to say okay, if the other person's about to win, go ahead and block that spot.
Fact #3:
Fact number three, he reads 50 books a year, and once he starts one, he has to finish it.I don't let myself start a book that I'm not going to finish.
When you're reading, you have to be careful that you really are concentrating. Particularly if it's a non-fiction book, are you taking the new knowledge and sort of attaching it to knowledge you have? For me, taking notes helps make sure that I'm really thinking hard about what's in there.
If I disagree with the book, sometimes it takes a long time to read the book because I'm writing so much in the margins. It's actually kind of frustrating. "Please say something I agree with "so I can get through to the end of this book."
So there's this one, it's a fiction book, called Infinite Jest. I'm trying to decide if I start it or not because I watched the movie The End of the Tour. I loved it. David Foster Wallace comes across as a super interesting, broad-thinking person.
If the book was a two or three hundred-page book, there's no doubt as soon as I watched that movie, I'd dive in. But it's quite long and complicated and I don't want to make an exception. It's my rule to get to the end. Over time, I will make the switch, but when I'm just sitting there at night reading, often a paper magazine or the book, I'm used to that.
And it's ridiculous because I have a whole book bag that goes on my trips with me and it's voluminous and antiquated. If you're reading books like these, you'd want to be sitting down for an hour at a time.
Because otherwise, just getting your mind around "Okay, what was I reading?", this is not the kind of thing you can do five minutes here, 10 minutes there. Magazine articles fit, or short YouTube videos fit into those little slots. And so every night, I'm reading a little over an hour so I can take my current book and make some progress.
Fact #4:
Despite his interest in artificial intelligence, he's in the camp of those that are concerned about the power of super intelligence.
Interviewer: Theoretical physicist Stephen Hawking, whom I'm sure you know, warned this week that technology could end up ending humanity at some point. Do you share that apocalyptic view of technology?
Well, I think it's something that-
It's not going to happen overnight. I do think we have to worry about it, I don't think it's inherent that as we create super intelligence, that it will necessarily always have the same goals in mind that we do.
Humans don't always have the same goal as other humans so who gets control of the technology, how is it built in. I don't think there's a need to panic, but I think the dialogue along those levels, the people who say let's not worry at all, I don't agree with that.
Fact #5:
For years, he used to fly coach when he traveled by air. But in 1997, decided to buy his own plane, which he calls his one true extravagance.
Well, certainly the greatest extravagance is that when I travel, I often use a private plane. And that is very extravagant.
Interviewer: But you didn't start doing that, because up until '97-
No, I waited, I always thought that was kind of a decadent thing. But then when I started traveling to Africa and Asia a lot, I gave in on that.
Interviewer: Do you enjoy it, do you enjoy that now?
Yes, it's a luxury. It's my one true extravagance.
Fact #6:
In 1994, he purchased a Codex Leicester, which was a collection of writings by Leonardo Da Vinci, for 30.8 million dollars.
Leonardo was a truly unique person in terms of his curiosity. No one could have such broad range of knowledge today, there's just too much to know.
Man: Well, it was very surreal. I went to the auction, first major auction I'd ever been to, just by virtue of the fact I was an invited player because I wrote a very short introduction to the catalog. And you go and there's this rather small auction room. And there are people bidding and it's over.
I don't know how long it took. Nothing flat, there are people on the telephone and there are people present. And it's over, it's sold for over 30 million dollars. Nobody knows who bought it. Nobody knows who bought it that evening.
Well, there's a number of notebooks of Leonardo's that are preserved. They think there's quite a few others that weren't preserved. This particular notebook was owned by the Earl of Leicester and then was bought by an American.
He made a lot of mistakes about did he really pay for it properly. And so it had to be auctioned. I bid for it over the phone and I didn't want people to know who I was. And when I grew up, I read a lot about history, and particularly, history of science. Scientists seemed interesting to me, the idea that one person could figure something out that nobody else understood and then explain it to other people.
That idea that they just, what did they do, just concentrate? Or how did they do that? So there's a lot of fascinating figures in the history of science. Even some recent scientists, I think are quite incredible. But Leonardo, to me, was sort of the most interesting.
He wandered around as a kid because at that time, you were either a noble person who went to school or you were somebody who worked on the farm. And because he was the son of a nobleman, but not by that man's wife, he was in a strange category.
That's why he doesn't really have a last name. His name, Leonardo Da Vinci, just means Leonardo of the town that he grew up in, which was Vinci. But everybody's always debated a little bit, which do you think of him more as, as a scientist or an artist? He probably contributed more to science than to art because of the notebooks.
Fact #7:
Like a lot of other successful tech entrepreneurs, he is a college dropout. In 1975, he dropped out of Harvard University to focus on Microsoft full time.
Interviewer: You went to Harvard and you dropped out. Have you ever thought how your life could be better off if you had gotten your Harvard degree?
Well, I'm a weird dropout because I take college courses all the time. I love learning company courses and things so I love being a student. And there were smart people around and they fed you and they gave you these nice grades that made you feel smart. So I feel it was unfortunate that I didn't get to stay there but I don't think I missed any knowledge because whatever I needed to learn, I was still in a learning mode.
"I'm a weird dropout because I take college courses all the time." – Bill Gates
Fact #8:
In the early days of Microsoft, Gates said that he was a nightmare boss.
Interviewers: And your early days, you described yourself as a nightmare boss. Those are your words, not mine. Was your work ethic just very different to everybody else's?
I was fanatical in my 20's, helping Microsoft lead the way in software was the only thing that I really focused on. So I worked weekends, I didn't believe in vacation.
And so I really pushed people to work hard. And I was still learning how to manage people, particularly, the different skill sets, the sales people, the accounting people. And so fortunately, I think I'm a little bit better now.
"I was fanatical in my 20's, helping Microsoft lead the way in software was the only thing that I really focused on. So I worked weekends, I didn't believe in vacation." – Bill Gates
That's ridiculous, I'm not using this thing. No, no, somebody's confused. Somebody's just not thinking. I mean there's no way-
Woman: We'll figure it out.
You guys never understood, you never understood the first thing about this.
Man: He is certainly passionate.
Woman: So how do I interpret that, does that mean he shouts?
Man: Yeah, there are times, of course, there are times he shouts. I think that as he's grown older, that the ratio of shouting to non-shouting has tremendously decreased.
Fact #9:
Despite his immense wealth, Gates said he's only given his children 10 million dollars in inheritance, which is a small portion of his 80 plus billion net worth.
Interviewer: Everybody who's wealthy who has children has to deal with how do you train your children to live with the wealth, how much do you give them, and how do you get them involved in philanthropy?
Well, our kids are young enough that the key focus is helping them enjoy learning, get a great education.
All of them will pick careers that aren't related to software or philanthropy, they will strike out in their own direction and be great in their own way, whatever it is they pick to do.
So we've chosen that they'll have enough wealth that they'll never be poor or anything, but we're not going to take billions of dollars and have that define their life. The vast majority of the wealth is dedicated to the foundation.
*******
Thank you guys so much for watching. I hope you enjoyed this did you know series. I'd love to know what did you think.
This is one of the series that is on the bubble for us, should we keep doing it, should we not, should we kill it and put something else in.
I'd love to get your feedback, leave it in the comments below to let me know what you think.
Finally, I wanted to give a quick shout out to Michael Johnson. Michael. Thank you so much for picking up a copy of my book, Your One Word, and posting that picture on Instagram. I love it, man, and I appreciate the support.
So thank you guys again for watching. I believe in you, I hope you continue to believe in yourself and whatever your one word is. Much love, I'll see you soon.
You might also like
---
More from Bill Gates
---
Hello believe nation! Today we're going to talk about the power of belief. And as always guys, as you're watching, if you …
Yes, I believe in the Internet. I believe it'll get increasingly popular, and we're doing some neat, new things to …