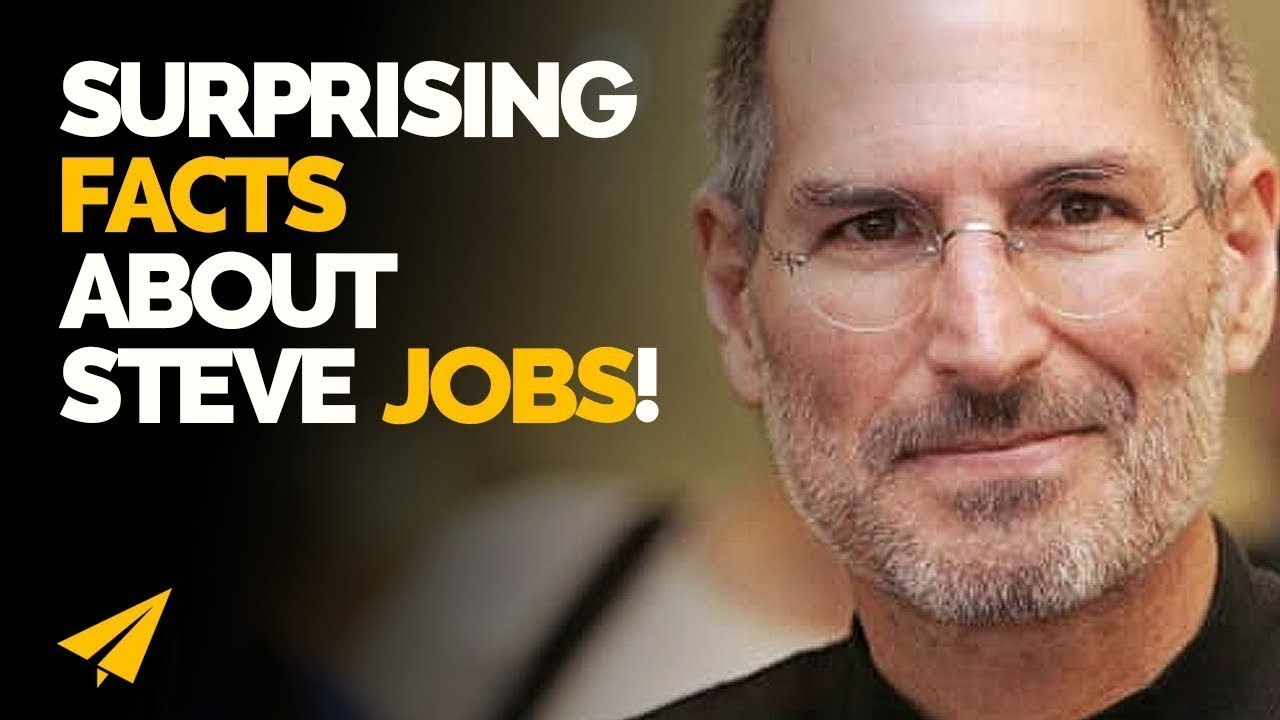 Hello, Believe Nation.
I started the Did You Know series to try to learn a little bit more about some of our favorite entrepreneurs, what makes them tick, what their upbringing was like. And so, today we're going to learn nine surprising facts about Steve Jobs.
Fact #1: He Was adopted.
I dropped out of Reed College after the first six months, but then stayed around as a drop-in for another 18 months or so before I really quit. So why'd I drop out? It started before I was born. My biological mother was a young, unwed graduate student, and she decided to put me up for adoption.
She felt very strongly that I should be adopted by college graduates, so everything was all set for me to be adopted at birth by a lawyer and his wife. Except that when I popped out, they decided at the last minute that they really wanted a girl. So, my parents, who were on a waiting list, got a call in the middle of the night asking, "We've got an unexpected baby boy. "Do you want him?" They said, "Of course."
My biological mother found out later that my mother had never graduated from college, and that my father had never graduated from high school. She refused to sign the final adoption papers. She only relented a few months later, when my parents promised that I would go to college.
This was the start in my life. When I was looking for my biological mother, obviously, y'know, I was looking for my biological father at the same time. And I learned a little bit about him, and I didn't like what I learned, and I asked her to not tell him that we'd ever met, and not tell him anything about me.
Man: So, Mona goes to the coffee shop, meets this guy, Mr. Jindali, who's running it, who says, among other things, when she asks, how sorry he is, but then he says that he had had another child, and Mona said, "What happened to him?" He said, "Oh, I don't know, "we'll never hear from him again." And then he says, "I wish you could've seen me "when I was running a bigger restaurant. "I used to run one of the best restaurants "in Silicon Valley. "Everybody used to come there. "Even Steve Jobs used to eat there." And Mona's sort of taken aback, and bites her tongue and doesn't say, "Steve Jobs is your son." But she looked shocked, and he says, "Yeah, he was a great tipper."
And I was in that restaurant once or twice, and I remember meeting the owner, who was from Syria, and it was most certainly him. And I shook his hand, and he shook my hand, and that's all.
Man: And Jobs never spoke to him, never talked to him, never got in touch with him, never wanted to see him.
Fact #2: When He Was 12 Years Old, He Got A Summer Job With Hewlett-Packard.
But I called up Bill Hewlett when I was 12 years old, and he lived in Paolo Alto. His number was still in the phone book. And he answered the phone himself. He was like, "Yes?" I said, "Hi, I'm Steve Jobs, I'm 12 years old. "I'm a student in high school, "and I want to build a frequency counter, "and I was wondering if you had "any spare parts I could have."
"When people ask me, I try to be as responsive, to pay that debt of gratitude back." – Steve Jobs
And he laughed, and he gave me the spare parts to build this frequency counter, and he gave me a job that summer in Hewlett-Packard, working on the assembly line, putting nuts and bolts together on frequency counters. He got me a job in the place that built them, and I was in heaven. And I've never found anyone who's said no or hung up the phone when I called. I just asked.
And when people ask me, I try to be as responsive, to pay that debt of gratitude back. Most people never pick up the phone and call, most people never ask, and that's what separates, sometimes, the people that do things from the people that just dream about them. You've got to act, and you've got to be willing to fail. You've got to be willing to crash and burn, you know, with people on the phone, with starting a company, with whatever. If you're afraid of failing, you won't get very far.
Fact #3: He Was A College Dropout.
But I naively chose a college that was almost as expensive as Stanford, and all of my working class parents' savings were being spent on my college tuition. After six months, I couldn't see the value in it. I had no idea what I wanted to do with my life, and no idea how college was going to help me figure it out.
"I stumbled into by following my curiosity and intuition turned out to be priceless later on." – Steve Jobs
And here I was, spending all of the money my parents had saved their entire life. So I decided to drop out and trust that it would all work out okay. It was pretty scary at the time, but looking back, it was one of the best decisions I ever made.
The minute I dropped out, I could stop taking the required classes that didn't interest me, and begin dropping in on the ones that looked far more interesting. It wasn't all romantic. I didn't have a dorm room, so I slept on the floor in friends' rooms. I returned Coke bottles for the five cent deposits to buy food with, and I would walk the seven miles across town every Sunday night to get one good meal a week at the Hari Krishna Temple. I loved it. And much of what I stumbled into by following my curiosity and intuition turned out to be priceless later on.
Fact #4: He Experimented With Psychedelics And Said It Was A Profound Experience.
Trip Hawkin: My favorite Steve anecdote was one day just sitting in my office and he comes by and he says, "Hey, Trip, you've never taken LSD, have you?" And I said, "No." And he said, "Yeah, I thought so." And then he walks away.
So, of course, he and I understood each other well enough that he knew that I knew that what he's basically doing is saying, "I just came out of a meeting with somebody, "and they said that you disagree with me "in this way about this thing, "and I'm just thinking to myself, "that if you had just dropped acid, "you wouldn't be so damn screwed up." Because he really absolutely believed that LSD had been a very positive transformation in how he thought.
Interviewer: You used to do LSD with Steve Jobs. Can you take me back to those college days? Let's just rewind and go back there.
Man: Let's see, were we playing Sgt. Pepper?
Interviewer: What were you playing? How did this go down?
Man: It was pretty prosaic. We were in Portland at Reed College. You know, freshman college year is a very poignant time of life where you're very much trying to figure out what the world is about and what you're interested in.
Interviewer: How'd you guys meet?
Man: Oh, well at Reed, Reed was a pastoral environment and so there was a lot of hanging out going on, but Steve and I developed a friendship when we figured out that we had both read this amazing book called "Be Here Now," which is about psychedelics and spirituality.
Steve was my best friend at the time of life when I was discovering all this huge current of Eastern literature. All of a sudden, psychedelics were being introduced into the mix of traditional spirituality, and that was just very fascinating.
Interviewer: Do you remember the first time you guys took psychedelics together?
No, not really. We were just kind of walkin' around. I think we used to go for hikes. I think we camped out on the beach. I can't really remember building a campfire. I don't remember what we did when it got dark. I can tell you that the times that I was taking psychedelics with Steve, we weren't really talking that much. We were more of in a meditative space.
Interviewer: Once you were there, did you and Steve Jobs ever take LSD or continue to take psychedelics?
Once Apple started, Steve was really focused with all of his energy on making Apple successful. And he didn't need psychedelics for that.
Fact #5: He Was Fired From Apple.
As you may know, I was basically fired from Apple when I was 30, and was invited to come back 12 years later, so that was difficult when it happened, but maybe the best thing that ever happened to me. There wouldn't be a Pixar if that hadn't happened. So, you know, you just move on, life goes on, and you learn from it.
Interviewer: We're at the end here but, you were fired from Apple when you were 30, asked to come back when you were what, 42?
Mm-hmm.
"Just move on, life goes on, and you learn from it." – Steve Jobs
Interviewer: Did you think in that moment how sweet it is?
No, I thought at that moment what a, y'know … What a circle of life.  Life is just always mysterious and surprising, and you never know what's around the next corner.
Fact #6: He Was One Of The Youngest People Ever To Make The Forbes List Of Wealthiest People In The World.
It's very interesting. I was worth… about over a million dollars when I was 23, and over 10 million dollars when I was 24, and over 100 million dollars when I was 25.
"The most important thing was the company, the people, the products we were making, what we were going to enable people to do with these products." – Steve Jobs
And it wasn't that important, because I never did it for the money. I think money is a wonderful thing cuz it enables you to do things, it enables you to invest in ideas that don't have a short-term payback and things like that, but especially at that point in my life it was not the most important thing.
The most important thing was the company, the people, the products we were making, what we were going to enable people to do with these products. So I didn't think about it a great deal. You know, I never sold any stock and just really believed that the company would do very well over the long term.
Fact #7: He Was One Of The Founders And Was The Majority Shareholder Of Pixar.
This all started with George Lucas. He had a problem. Now, to describe his problem, let me digress a little bit. When you make a copy of an audio cassette tape let's say, an analog copy of an audio recording, you get noise artifacts, hiss, right? We've all experienced that.
Well the same thing happens when you make an analog copy or an optical copy of a piece of film. If you copy optically one piece of film to another you get hiss, if you will, and in this case the noise artifacts are visual. You get a dirty frame. Well, when George was making the original Star Wars, he had to combine many, many pieces of film together to make one frame.
Some with the models, some with the matte paintings, some with the human characters, some with the special effects, and by the time he got through combining all these pieces of film to make just one frame of his movie, it was dirty. And he, being the genius that he was, thought, "I wonder if I could combine them digitally, "if they could be totally clean." Because when you make a digital copy of an analog recording, it's perfect. It turns out if you make a digital copy of a piece of film, it's perfect.
Interviewer: Sharper, clearer.
Sharper, clearer, without the noise artifacts. So George hired this guy named Ed Catmull, who was at the New York Institute of Technology, to come out and build a computer group for him and to figure out how to solve this problem, and they did. And George was the first one to ever do this.
And after this problem was solved, George decided that he'd solved this problem he decided he would sell this computer group. And I ended up buying them. I met Ed, and Ed told me his dream was to make the world's first computer-animated film, and I bought into that dream, both sort of spiritually and financially, and together we started Pixar in 1986.
Fact #8:  He Was A Zen Buddhist.
Interviewer: At some point, you guys, you and Steve Jobs, you guys decided to go to India, right?
Man: Yes.
Interviewer: What was that trip like?
I didn't have any money. I had no travel plans, but Steve had started working at Atari and he had money. A couple thousand dollars. And so he offered to buy my ticket. I said, "Absolutely, okay, let's go." We were just traveling around. Just hippies, traveling around. We weren't even hippies. We shaved our heads.We were monks. We were monk wannabes.
Fact #9: Him And His Friend Steve Wozniak Created Illegal Blue Boxes Which They Used To Call The Vatican And Wake Up The Pope.
So we built these little boxes to do blue boxing, as it was called. And we put a little note in the bottom of 'em, our logo was "he's got the whole world in his hands."
And they worked, we built the best blue box in the world. It was all digital, no adjustments, and so you could go up to a pay phone, and you could take a trunk over to White Plains and then take a satellite over to Europe and then go to Turkey, take a cable back to Atlanta, and you could go around the world.
You could go around the world five or six times cuz we learned all the codes for how to get on the satellites and stuff. And then you could call the payphone next door, and so you could shout in the phone and after about a minute it would come out the other phone.
It was miraculous. And you might ask, "Well what's so interesting about that?" What's so interesting is that we were young, and what we learned was that we could build something ourselves that could control billions of dollars worth of infrastructure in the world.
That was what we learned, was that us, too, y'know, we didn't know much, we could build a little thing that could control a giant thing. And that was an incredible lesson. I don't think there would have ever been an Apple Computer had there not been blue boxing.
Interviewer: Woz said you called the Pope.
Yeah, we did call the Pope. He pretended to be Henry Kissinger. Yeah, we got the number of the Vatican, and we called the Pope, and they started waking people up in the hierarchy, y'know, Cardinals and this and that, and they actually sent someone to wake up the Pope, when finally we just burst out laughing and they realized that we weren't Henry Kissinger, and so we never got to talk to the Pope, but it was very funny.
*******
EVan: So that's what we got, those are the nine surprising facts about Steve Jobs. I hope you enjoyed this video, I'd love to know what did you think, what fact was the most interesting or resonated the most with you, please leave it in the comments below and I'm going to join in the discussion. Thank you guys again for watching, I believe in you, hope you continue to believe in yourself, and whatever you one word is, much love. See you soon.
---
You might also like
---
More from Did You Know
---
Today we're going to learn nine surprising facts about Will Smith. Fact #1: He believes he can become president of the United …
What's up Believe Nation? It's Evan, my one word is believe and I believe in people more than they believe …
What's up Believe Nation? My name is Evan Carmichael. My one word is believe and I believe that entrepreneurs are …