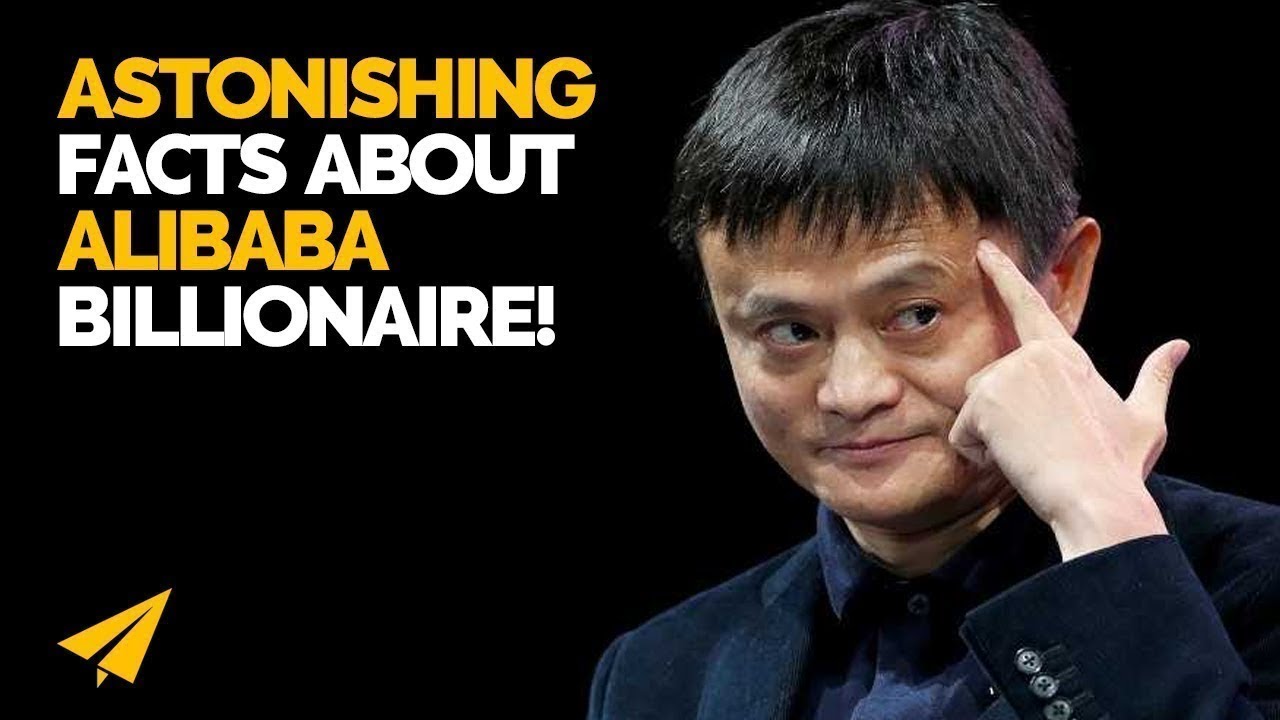 Hey guys this is Evan Carmichael, my one word is believe and I believe that all the world's major problems will be solved by entrepreneurs. So to help you on your path, today we're going to learn nine surprising facts about Alibaba founder, Jack Ma.
9 SURPRISING FACTS About Jack Ma
Fact #1: He used to guide tours for free in China for nine years to learn new ways of thinking.
For nine years, every morning, almost, whether snow, rain or sun, I went there looking for foreign tourists to become the free guide. And I made a lot of friends. This trained me the way of think different from the other kids in China, my generation. 'Cuz everything I learned from the tourists, foreign tourists are so different from the things I learned from the schools, my parents because we thought China was like that, the world was like that, in our books. But the thing that I learned from outside they are so different. So that trained my way of thinking different. When people talk about everything, when everything people agree, normally I take one minute to think about is that true? When everything disagree, I say take about a one minute, think about it, hmm, is that true? So that was a training.
Fact #2: His hero is Forrest Gump.
The hero I had is Forrest Gump. Fourteen years ago when,
Want some chocolates?
Yeah.
You know he's a fictional character though.
I really like that guy, I've been watching that movie for about 10 times. Every time when I'm frustrated, I watch the movie. And I watch movie before I came here, again.
Co-host: What are you doing?
Yeah, for coming to the New York, because I watch the movie again, and telling me that, no matter whatever changed, you are you, and I'm still the guy, 15 years ago, I only earn like $20 a month. And today I can do that much, you know.
Fact #3: He has no technical background, started with one dollar in his pocket, and beer was the first thing that he searched on the internet.
And when I go to register company called, internet, the registry office said no, there's no such word, internet in the dictionary, how can you register an internet. So they say, you have to register another name, I said what's the name? He said, Computer Consulting Firm. And I have no idea about what is computer. So my first company, Hangzhou Hope Computer Consulting Firm. It was tough, without knowing anything about technolog, without knowing anything about computer, in the past 15 years, I've been working. I call myself like a blind man, riding on the back of the blind tigers.  Those experts riding horses, they all fell. We survived because we worry about the future. We believe the future, we change ourself, we never compete the others.
Fact #4: His life is full of failures and rejections.
Tried to get into three colleges. Each time they rejected you.
No, I tried, there's a examination, that young people, if you want to go university you have to take the examination. So I failed it three times. But I have a lot of fail. I fail for funny things that I failed a key primary school test for two times, and I failed, three times for the middle schools. You would never believe, in Hangzhou, my city, there's only one middle school, that last only one year. It was change from primary school to middle school, because I want our graduates of our school, no middle school accept us, because we were too bad. So we become a middle school. When I graduate from universities, and before, for three years, I tried and failed in the universities, so apply jobs for 30 times, got rejected. I went for a police, they said, "no you're not good." I went to even the KFC, when KFC come to China, come to my city,
Host: You applied. 24 people went for the job, 23 people accepted, I was the only one guy. And we went for police, 5 people, 4 of them accepted, I was the only guy that receive it. So to me, being turned down, rejected, oh by the way, I told you that I apply for Harvard, for 10 times rejected.  I know they reject, I just want to see …
They're sorry now. Ten times you wrote them and said, "I'd like to come to Harvard."
Yeah. And then I told myself, someday I should go teach there probably.
Fact#5: He chose the name Alibaba, because he liked the open sesame story.
Why did you call the company Alibaba?
I like the spelling and I like the vision, Ali Baba open sesame. I believe the internet is open sesame, and there is pass world to everybody, that you can find the great people, you can find a great opportunities of business, and improve people, that is open sesame story. I love the Alibaba, it saves me a lot of marketing dollars. When I started, I think, Internet is global, we should have global name. And a name that, interesting like, at that time the best name is Yahoo. So I been thinking for many days, suddenly thinking, Alibaba is good name. So I was happen to be in San Francisco that day. I have a lunch, and the waitress come. I ask her, do you know about Ali Baba? She say, "Yes", I say, "What is Ali Baba?", she say, "Open sesame." Good. So I went down the street, I ask about 10, 20 people. They all know about Ali Baba, forty thieves, and open sesame, and I think, this is a good name. Start with A, what ever you talk about, Alibaba is always top.
Fact #6: He learned English by watching TV, because there were no other options in China at the time.
Think, there is no way to learn English at that time. There's no teachers in our city, who can teach people to speak English. So I listen to the BBC and Voice of America. And there, every evening, nine o'clock, eight o'clock to nine o'clock, I open my video, Monday, Wednesday, and Friday, I listen to the VOA, the first book I heard about is the Adventure of Tom Sawyer.
Fact #7: He performs mass weddings for his employees.
Fact #8: Fact number eight, he wants to retire early, explore other interests, and die on a beach.
People say this is a uncertain world. Every day's uncertain, the only certain day was yesterday. I'm not sure about that in the future, I will dictate, I will be stupid, that's why I should retire early, when I'm young. That is why I have a lot of things that I dream I want to do, I want to do philanthropy, I want to be a teacher, I want to go back to school, I want to do the environment. And the world is so wonderful, why should it be the sea of Alibaba all the time? I'm come in to this world not to work. I want to come to this world to enjoy my life. I don't want to die in my office, I want to die on the beaches.

Fact #9: He once dressed up and sang the Lion King theme song to his employees.
Narrator: I'd worked as a vice-president in his company for nearly ten years. As our team survived the Internet bubble, fought a war with Ebay, and managed to build China's first global internet company, I settled into my seat and wondered, how would Jack address us on this important night? And then, just like any other billionaire in the same situation, Jack took the stage.  ♫ Can you feel the love tonight
Narrator: Well, it may not have been typical for a company chairman, but it wasn't surprising coming from Jack. People outside the company assumed he was crazy, but those of us inside the company knew better.
Thank You!
So guys, thank you so much for watching, I hope you enjoyed. I'd love to know what was the most surprising fact that you learned about Jack Ma in this video, leave it in the comments below, really curious to see what you have to say. Thank you so much for watching, I believe in you. I hope you continue to believe in yourself, and whatever your one word is, much love. I'll see ya soon.
---
You might also like
---
More from Did You Know
---
Today we're going to learn nine surprising facts about Will Smith. Fact #1: He believes he can become president of the United …
What's up Believe Nation? It's Evan, my one word is believe and I believe in people more than they believe …
What's up Believe Nation? My name is Evan Carmichael. My one word is believe and I believe that entrepreneurs are …