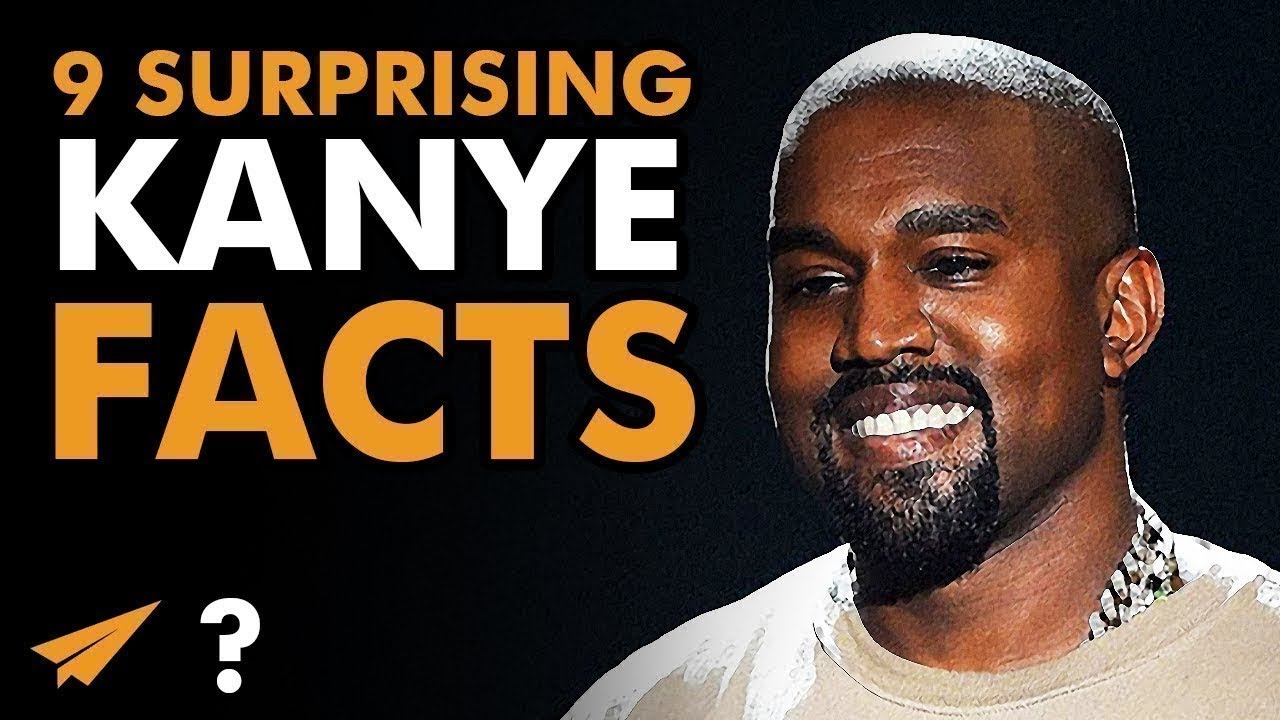 What's up believe nation?
I made the Did You Know series to try to learn a little bit more about some of our famous entrepreneurs and maybe introduce you to a few surprising facts you might find interesting.
So today, we're going to learn nine surprising facts about Kanye West.
…
Fact #1: Michael Jackson told Kanye he could sing.
Interviewer: What about Michael? You talk about Michael all the time. You did a remix for him. Did you ever had an MJ personal encounter?
Yeah, I sat with Michael Jackson. I met him over Leonard Cohen's house and I just vibed out with him and then like, I think Michael the one that want to put that battery in my back to do 808s.
I played 'Good Life.' And he was like, "Who's that singing right there? "I like that voice." It was my voice, he gassed me up. Next thing ya'll know, you have me ♫ In the night, I hear them talk. Like, "Michael Jackson told me I can sing, "fuck all ya'll."
Fact #2: Kanye originally went to art school but dropped out so he can do music.
Originally I went to art school. I had scholarships at plenty of art schools. Everybody thought I was going to be an artist.
Sway: When did you do some of these pieces right here?
'94, '95 Most of these
Sway: Okay what's this? You got a blue ribbon on this one.
That's cause I won.
Sway: Congratulations
I remember this. I was really into anime and Japanese art.
Sway: This one is kind of eerie.
It was a good exercise that the teacher gave us. And it's not very good but since it was a dude looking like he was dead, I just put my name on it and put 1977 to 1995, which is the year which I actually drew it. And somebody should have killed me for how bad this actually was but..
Sway: But this is almost like a premonition of a sort because you know, you were like this at the end of your car accident. You were in the bed like this and you thought it was your deathbed.
Right, so I would never draw myself dead ever again.
Sway: You ever find time to do this anymore?
Seldomly. Now drawing, I just use it as a language. Like I want it to look like  this. I love to draw but I just love music more. See my thing about the drawings is, I couldn't turn 'em up louder. I wanted to do something where people have it on all the time and basically now, what my music gets is a soundtrack to millions of people's lives. You couldn't get that feeling from art school. I couldn't get it.
Fact #3: Before writing his own music, he produced music for other stars like Jay Z.
So I used to just take the New Jersey transit and I'd pack up all my stuff, pack up all my dats and put 'em in a bag and just walk over here to Baseline. And that was the key, right there.
Being able to walk up into Baseline and play these rappers these beats.
I remember, it was Beanie Sigel's birthday and I came and I played a bunch of soul beats. Like, we had soul beats here and there, but I had a bunch that I was building up, just from the success of 'Can Be Life.' I was like, I need to make some more stuff in this vein, right here.
So I'm playing Beanie some beats and he get to smiling, like, 'Yeah, it's hot.' But he had to go , so I don't know, he was going somewhere for his birthday. So then Hov came in.
I remember he had Gucci hat on, like the fisherman joint and Hip Hop, my manager, who definitely saved my life, was like, 'Yo, play that one beat for Hov' And it came on  and he was listening to it like, 'Ooh this shit is crazy, right here.' and then it got to the chorus and the chorus is like, ♫ Ain't no love in the heart of the city  And all he's like 'Ooh' and doing his face like that then.
He's like play a next beat, play a next beat. I play another beat. Listening to it like 'Yo man' He was so fudu and everything that Hov is saying is in stone I will never forget none of these words cause I'm off the train, I'm from Chicago.
I got $10 in my pocket right now and I'm just having the opportunity to play these beats so, I've had given so-called hit records to everything up to that point. But at this point, it's like I'm just, this is like the moment of truth of me, right here. So I play another beat, then I play another beat, then I play this one beat and it was like ♫ Never, never, never, never change, ♫ I never change.
Yo, he took his hat down, he's like ooh. I was like yo, maybe he like 'em. Maybe Hov might buy this beat. So he was like, 'Yo, put them joints on CD' and then he left out right.
I was like, 'Ok I'll put these joints on CD 'and we goin' see what happen' So then two weeks later, the Blueprint was finished right, so basically at that point, everything started rolling. Everybody's like, 'Yo man I heard you had half the Blueprint album 'I heard you did half of Jay Z's album.'
I couldn't even believe it myself. Now, cause of Hip Hop, G, the Blueprint and Dame, I'm over here with the opportunity to get my music out which is what I wanted since third grade.
Fact #4: In 2002, he survived a near fatal car crash, which prompted him to write 'Through the Wire'
"If you had the opportunity to play this game of life you need to appreciate every moment. A lot of people don't appreciate their moment until it's passed." – Kanye West
When I had my accident, I found out at that moment nothing in life is promised except death. If you had the opportunity to play this game of life you need to appreciate every moment. A lot of people don't appreciate their moment until it's passed.
And then you got to tell those Al Bundy stories. You remember when I.. But, right now, it's my time and my moment, thanks to the fans, thanks to the accident, thanks to God, thanks to Rock-A-Fella, Jay Z, Dame Dash, G, my mother, Rhymefest, everyone that's helped me and I plan to celebrate.
I plan to celebrate and scream and pop champagne every chance I get cause I'm at the Grammies, baby.
Fact #5: He announced in 2020, that he's going to run for President.
As you probably couldn't guess by this moment, I have decided in 2020 to run for President.
President Donald Trump: I was actually watching. I saw him do it and I said, 'That's very interesting. 'I wonder who gave him that idea.' Miley Cyrus said, 'I was going to vote for Trump 'but now I'm voting for you.' So it sounds like she was all made up for me and he took her away. He's actually a different kind of a person than people think He's a nice guy.
Fact #6: He has an amazing work ethic and completely immerses himself in his projects.
Man 1: I got to watch Kanye make some of the last record. Not the,
Man 2: Dark Twisted Fantasy record?
Man 1: Yeah, the Twisted Fantasy record, man. And he lived it. He was living it, man.
Man 2:When you say he lived it, was he literally in studio like a mad scientist, every single day
Man 1: Yo man.  My man was in the studio, kind of everyday, First of all, I hope he doesn't. You know, when Kanye get mad at you then you get dissed on a record.  Nah I was just impressed. First of all, everybody in the studio had suits on. Everybody.
Man 2:You're kidding me.
Man 1: I'm serious.
Man 2:Was that like a pre-req?
Man 1: Yo, I thought he had flown in the bunch of guys from Europe or something. But all the engineers and everybody was in black suits and white shirts and black tie. He set up a mood, that when you walked in there, you felt this mood, especially when you went into electric lady land. You felt like.
Man 2:That's interesting.
Man 1: Yeah he set a mood, man and then, and you knew he was going to be there. I stopped in there a few nights and we did, What did we do? We did the 'Blame Game.' We did the 'Blame Game.'
Man 2:Wow that's interesting.
Man 1: But he, you know, when you talk to him, he's living it.
Man 2:He's immersed in it.
Man 1: He's immersed in it and when he does the fashion, he's immersed in it.
Fact #7: Kanye suggested that John Stevens change his name to John Legend.
Oprah: You used to be John Stevens.
John: Yes.
Oprah: It was Kanye West who said, change to Legend.
John: You know, the first person, actually, was a guy named Jay Hivey, who's also from Chicago and is a friend of mine and Kanye's. And he's a poet. And we're working on Kanye's album and Kanye was having me sing all these parts and Jay Hivey was just like, 'Man, we going to have to call you the Legend' cause my voice is kind of old school. I've always had a old soul and he just felt like that name was appropriate for who I was.
Oprah: Have you always known you always had an old soul?
John: Always knew I had a old soul.  When I was like seven or eight years old, my Halloween costume was, I was dressed up as a businessman with a briefcase cause I wanted to be grown when I was seven.  I liked how my grandfather carried himself. I just wanted to be grown when I was a little kid. And then, Kanye was like, 'Man, you should just call yourself John Legend' and I was like, no, that's ridiculous.  You know, of course, Kanye's got a new album called Yeezus, so he's not afraid to say big, bold things. And maybe I'll just roll with this whole Jon Legend thing.
Fact #8: He filters his ideas by speaking with thought leaders like Elon Musk and Bill Knight.
It's a difference between somebody who working for somebody else's idea and a person who made the idea. Cause me and Phil Knight going to talk like this. The way me and Elon Musk talk for three hours like this. The way me and Eric Smith talk like this. This is a,
Interviewer: Who are the people you just named?
Elon Musk has the car company Tesla also has Space X, also invented the hyperloop. Eric Smith is the head of Google.
So I'm just saying current civilization, living civilization that can actually have a full conversation about what it is I'm attempting to do.
So it's a lot of my ideas that I put out in the world have now then been pilfered through by corporations whether it's sonic ideas cause Yeezus, at the end of the day, you can like it, you can not like it, but it's a group of new ideas.
Fact #9:  He's won 21 Grammy awards, making him one of the most awarded artists of all time.
I'd like to thank everybody who's accepted me trying to break new boundaries of music.
I wake up in the morning just thinking about what stereotypes I want to break.
And we push the envelope with the last album, with 'Stronger', with records that they thought wouldn't play on urban radio. And it's our responsibility as musicians to keep pushing each other and keep competing with each other. It's a really great competition.
I see artistes like Beyonce, Alicia Keys, Rihanna, Chris Brown, Chris Martin all in the same room.
And we're going to push this music to the point where it was like in the '60's in the '70's when you talking about Led Zeppelin and Hendricks and the Beatles. We will be the new Beatles The new Hendricks.
They said any other industry, you supposed to do better than the past. The computer should get smaller and faster.
But whenever you say, I want to be Elvis, they say what's wrong with you?
But I want to be Elvis. Everybody ask me the question, they want to know, 'Well Kan, 'I know he's goin' wild out. 'I know he's goin' do something crazy.'
Everybody want to know what I would do if I didn't win. I guess we'll never know.
…
Thank you guys so much for watching this video. Love to know what did you think. Let me know. Leave it down in the comments below. What was your favorite surprising fact. How many of them actually surprised you? Are there more that you want to add to the list. Leave it down in the comments. Thank you guys again for watching. I believe in you. I hope it gets you to believe in yourself and whatever. Your one word is much love. I'll see you soon.  Bonus fact number ten. Walt Disney is one of his idols.
---
BONUS
I'm standing up and I'm telling you I am Warhol. I am the number one most impactful artiste of our generation I am Shakespeare in the flesh, Walt Disney.
I mean, taste, culture, art just the quality of life. This is what I'm here to do so when I compare myself to Steve Jobs or Walt Disney, Howard Hughes, David Stern, Michelangelo, Da Vinci, Jesus or whatever it is, I'm saying these are my heroes. These are people that I look up to.
This is the type of impact I want to make on the earth. If I can make this type of impact up to this point, what can I do if, if you call Bob Eichner', and say, 'Yo, give him a shot.' If you call Oprah and say, 'Yo back this kid.' This kid  his parents were educators. He wants to educate.
He wants to look at curriculums and say how to re-simplify that. Exactly what I did in music, I want to apply to product. I want to apply it to education. This is what my company DONDA is about.
---
You might also like
---
More from Did You Know
---
Today we're going to learn nine surprising facts about Will Smith. Fact #1: He believes he can become president of the United …
What's up Believe Nation? It's Evan, my one word is believe and I believe in people more than they believe …
What's up Believe Nation? My name is Evan Carmichael. My one word is believe and I believe that entrepreneurs are …