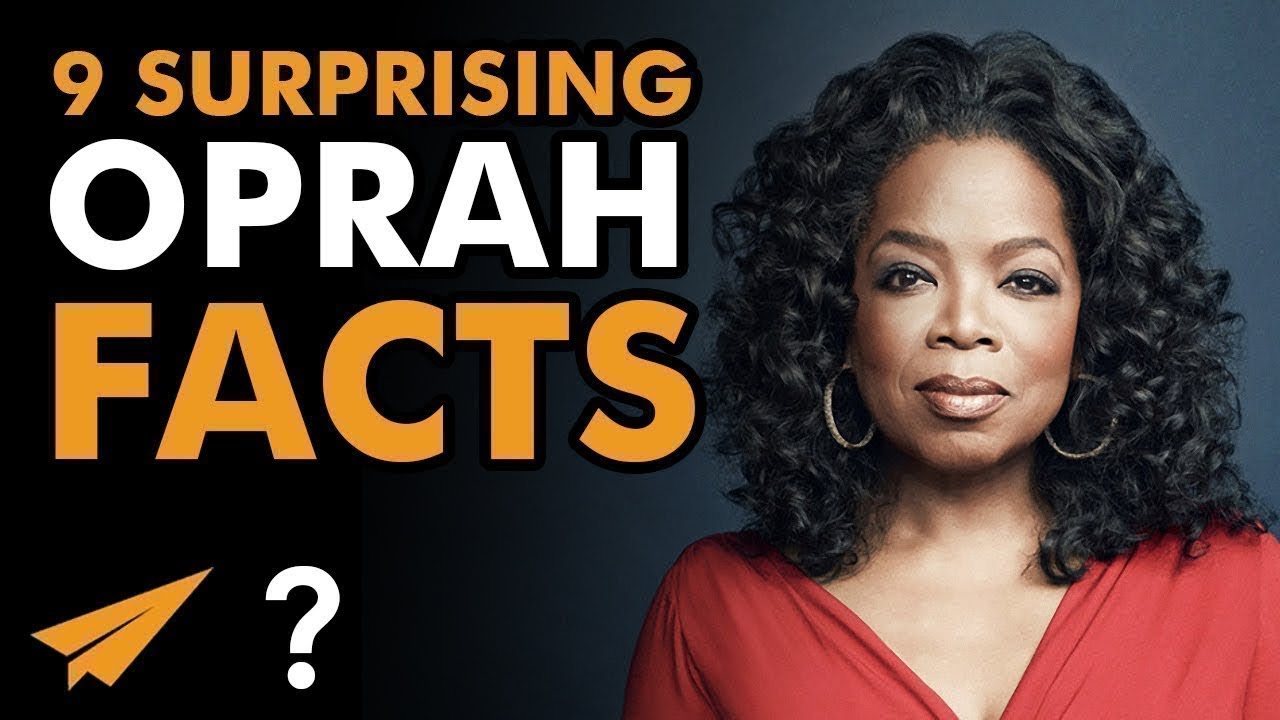 What's up Believe Nation? It's Evan, my one word is believe and I believe in people more than they believe in themselves and my sincere hope is that if you see in yourself what I see in you, you'll be able to change the planet.
So to help you on your journey, I started the Did You Know series to try to get to know some of the successful entrepreneurs we've profiled in a little bit more personal way.
Share some surprising facts about them that maybe you don't know yet and give you a little bit of a inside peek into their lives and who they are. So today we're going to learn nine surprising facts about Oprah Winfrey.
9 SURPRISING FACTS About Oprah Winfrey
Fact #1: Her Original Name was Orpah
Evan: Fact number one, her original name was Orpah after the biblical character in the Book of Ruth and her aunt named her that. It's on her birth certificate, but so many people mispronounced it and called her Oprah that eventually the name just stuck. 
I was born, as I said, in rural Mississippi in 1954 and I was born at home and there were not a lot of educated people around and my name had been chosen from the Bible. My Aunt Ida had chosen the name, but nobody really knew how to spell it so it went down as Orpah on my birth certificate but people didn't know how to pronounce it. So they put the P before the R in every place else other than the birth certificate. So on the birth certificate it is Orpah but then it got translated to Oprah and so here we are but that's great because Oprah spells Harpo backwards. I don't know what Orpah spells.
Fact #2:  50 Cent named His Dog Oprah After Her And His Cat After Her Best Friend, Gail.
Oprah: Let me ask you, I heard you have a dog named Oprah?
50 Cent: Yes.
Oprah: I consider that a compliment, whether you meant it to be one or not.
50 Cent: Yeah, I love her, I love you.  You know when then say a dog's a man's best friend?
Oprah: Yeah, I know, I've had 22 dogs in my life. I have five right now. Okay, but you named your dog Oprah, that was not the compliment.
50 Cent: I added a cat, I got a cat too.
Oprah: Name?
50 Cent: Gail.  You know I was just lookin' for a real cute names for the pets that people would-
Oprah: Do you still have the dog named Oprah?
50 Cent: Yeah, I got a babysitter for her when I travel.
Oprah: Wow, you have a dog nanny. I call it dog nanny.
50 Cent: Dog nanny.
Oprah: Dog nanny, Okay, why'd you name your dog Oprah?
50 Cent: At the time I was just looking at the situation and saw I was developin' negative feelings for someone who doesn't even know me.
Oprah: Yeah.
50 Cents: And then I gave it to the dog cause I was excited about the dog at the time.
Oprah: So now do you have greater affection for me.
50 Cents: Absolutely, I have for you for a few years now. I take pictures and say crazy stuff on Twitter but people impact because they would associate it to me saying it to you.
I know.
Fact #3: She Helped To Launch Doctor Phil's Career.
I feel like I raised this dude. And let me just tell ya, I had a moment driving in and seeing your big face on the side of the Paramount wall. I must say wow!  Wow, wow!  And it all started cause we going through, I was going through a hard time.
Doctor Phil: What was it, 98?
It was 98.
Doctor Phil: And we worked for two years before that.
Oprah: That's right.
Doctor Phil: So we been knowin' each other 20 years.
No, I was knowing, Jay was in high school.
Doctor Phil: Cause I remember Jay, came time for you to testify and you said not unless Jay's here.
Jay's here, yeah.
Doctor Phil: She called Jay's high school and said I need him out of class and the principal went to his class and said "Somebody that sounded a whole lot like Oprah Winfrey."
Like Oprah Winfrey.
Doctor Phil: "Just called and said they need Jay out of class."
You know what it was, cause Jay and I became friends and I just wanted somebody to hold my hand. So we did that trial and then I said to Phil, I wanted you to come on television and do for the other people what you had done for me.
Fact #4: She Once Competed In Miss Black America
I remember back in 19 blah blah, when I was a contestant, that I just was so excited about being there. I considered it a major accomplishment just to get there and represent my state, Tennessee. And I remember being so nervous and upset when all the girls, at least I thought all the girls, at least appeared to be all the girls, got flowers from home from their boyfriends and I was dating this dud at the time who did not send me not even one single solitary rose and I remember being so upset about it and it was Miss Iowa who said to me "It really doesn't matter if you put a flower on your mind." And so I let that kind of carry me through the contest having that flower in my mind and believing anything was possible and just enjoying the experience. And although I didn't place, I went home with a flower in my mind feelin' pretty good.
Fact #5: Is She Considered Starting A Girls School In Africa To Be One Of Her Greatest Accomplishments
As a mother, as just a person who has been a part of your lives for the past four, five years, I've never been more proud. I think you all were exemplary. You made me a really proud Momma.
Juju: She may not have biological children, but thanks to the first graduates of the Oprah Winfrey Leadership Academy for Girls, Oprah says she now understands the trials and tribulations, as well as the joys, of parenthood.
Nice to see you!
All seen in the documentary The First Graduating Class. So when they call you Mom Oprah, that's for real.
Juju, if you were there more than 10 minutes, they'd call you Sis Juju.
No matter who you're with, no matter what you're doing, if one of these girls calls, you pick up the phone.
Oh yes, now we're all texting all the time. As a matter of fact that just happened this morning and I was on the phone last night for an hour with one of 'em trying to watch the debate.  I was like okay, trying to watch the debate but okay I hear what you're saying. Yes, I think I've come into my mothering space in a way that was wholly, wholly so unexpected. I knew from the moment that I met these girls that I was going to fall in love with them and I did.
Juju: The maternal bonding began five years ago as a leap of philanthropic faith, inspired by the venerable Nelson Mandela.
What is the single life changing, trajectory changing moment for me was being exposed to a world of education that offered me a new insight into how I saw the world. So I just wanted to do that for somebody else, that's all.
Fact #6: She Started Going To School At The Age Of Six, Already Knew How To Read And Was Consistently Ahead Of Her Classmates.
First day I went to school, I was in a classroom, by the time I was six years old, didn't go to school till I was six years old cause I was living with my Grandmother at that time. But she had taught me how to read, read the Bible, Bible stories. So I went into the classroom knowing Nicodemus, Shadrach Meshach and Abednego, I could spell all of those words.
I thought I was preachin' to my kindergarten teacher. So she was like who is this girl? So I was never placed in an environment where I was ever made to feel inferior. I always felt like I'm the smartest kid in this room. And because I was never placed, never put in a position where I was made to feel less than, I didn't grow up feeling less than, you know?
And the rest as they say is history.
And the rest they say is history. And it's all about what you believe. You know I say this too, when I do something on my network now called Life Class. The fundamental key to success is what you believe is true for yourself. Not what you want, not what you desire. It's what do you believe.
You can say I want to be the most successful person in the world, but if you believe that there's a glass ceiling and you're going to have a hard time kicking through that glass ceiling, you will be defined by the glass ceiling. And the great beauty and gift of my life is that I was never defined by the box that other people tried to put me in.
Fact #7: In 2011 She Received An Honorary Oscar For Her Philanthropic Efforts
It's unimaginable that I would be standing before you voted by the Board of Governors.
Announcer: Drama at the Governors Awards as Oprah Winfrey accepted the Jean Hersholt's Humanitarian Award from the Academy of Motion Picture Arts and Sciences.
I don't know of anyone, anyone, who would be more deserving.
What this really means is that all of us can make a difference through the life that we live.
Announcer: Oprah, Oscar nominated for The Color Purple, was honored for her philanthropy.
She's always thinking about how she can help others.
Increasing the literacy level of this country by your mere passion for books.
Fact #8: She Ran The Marine Corp. Marathon With Her Trainer, Bob Green.
I vowed that I was going to run a marathon even though I was all blowed up at the time. Agreed?  That I was going to work on myself and I was going to run a marathon by the time I turned 40. Well it was my biggest dream ever and for months, for months you know you have to train so that you can handle the 26 miles.
Here's some of the training. Okay, so this is August 9th and we're about eight and a half miles into a 15 mile run. All a part of the training for the 26 mile marathon. I've been running now for exactly two hours straight. Exactly. I had to stop to wee willy winkle four times. It's a bad willy winkle day for me.  Bob just said "Hey, got some good news for ya. "After today you only have 10 more long runs "like this one till the marathon."
He calls that good news!  I'm ready to die and you think that's good news!  Don't tell me no bad news okay. Okay, so that was just a part of the training. Two weeks ago I ran the Marine Corps Marathon in Washington D.C. and this was the real deal.
We got to the race site about an hour before the start time. It was pouring rain. Hadn't expected that. As I made my way to the start I was feeling a little nervous really, anxious and a lot of pressure as all the photographers surrounded us.
Man: Alright guys, give me a path here. Move it!
Oprah: I was thinking what have I gotten myself into? I finally made it through the crowds. Their spirit hadn't been dampened at all by the downpour.
Woman: Good luck Oprah!
Yeah! Thanks! And then I got my last little good luck hug in and tried to calm myself as the national anthem played.  I was really anxious to get going. The starting gun sounded, 15,000 runners took off at once. I knew they were going to swallow me and they did.
I was swallowed by the massive pack of all those marathoners. About 37 minutes into the run, I looked at my watch and said remember this cause you're feeling pretty good. Two tabloid reporters were so dead set on getting the scoop on my first marathon they actually ran the race alongside me. This is David from the National Enquirer. Peter ran the whole way for 13 miles.
I'm still here!
David came to meet us back there. This was my worst nightmare. I had to pee and there's the National Enquirer running next to me. At mile 16 I'd been running for almost three hours. We rounded the Capital, I was feeling pretty good. As you can see the rain wasn't letting up.
Miles 19 through 21, whoa, those were tough! Lots of runners were dropping out, slowing down, walking, just too tired go on. I'd been running at that point for about over four hours and I was starting to hurt. The crowd was great. As I was nearing the final few miles, the momentum of the crowd helped to carry me to the finish line.
People always said it would feel like this. And it was the greatest feeling I believe I've ever had. I started to cry when I saw that 26 mile marker and realized my dream had really come true. I did it! I did it. I actually run a full marathon.
Fact #9: For A Period Of Time She Sang The Theme Song For Her Own Show
♫ Ohhhh, run on, run on ♫ Run on, run on ♫ I believe I run on ♫ See what the end will be ♫ Believe I work on ♫ Find out what waits for me ♫ I see 10,000 stories and glories and dreams ♫ See angles right here on Earth ♫ I see laughing and growing and loving ♫ And knowing what life is worth ♫ So I believe I run on ♫ And see what tomorrow will be ♫ Run on, run on ♫ Cause I like what I see ♫ Run on, run on ♫ Come on and run with me ♫ Run on, run on.
Thank You!
Thank you guys so much for watching. I'd love to know what did you think of this video? Did you learn something new about Oprah that you didn't know before? How many of the nine surprising facts did you not know? I'd love to hear from it. Share it down in the comments below.
Also is there something we missed? Is there a number 10, number 11 that you want to add to the list that people may not know? I'm really curious to find out. Share that in the comments too.
Thank you guys so much for watching. I believe in you. I hope you continue to believe in yourself and whatever your one word is. Much love, I'll see you soon.
---
You might also like
---
More from Did You Know
---
Today we're going to learn nine surprising facts about Will Smith. Fact #1: He believes he can become president of the United …
What's up Believe Nation? My name is Evan Carmichael. My one word is believe and I believe that entrepreneurs are …
Hey guys this is Evan Carmichael, my one word is believe and I believe that all the world's major problems …