How Do You Read Profit And Loss
---
---
Free PDF Download
More Motivational Quotes - By Stephanie Horne
---
The Profit and Loss Statement can tell you a lot about how a
business
is doing. It can also help you to determine ways that you can go about saving
money
(so that there is more to bring home!) Your business might not be operating for long if you don't learn to read and use the
profit
& loss statement (as well as the balance sheet).
One beneficial thing a profit and loss statement can do is to compare the current year's
income
and expenses to those of the previous year. This would indicate if the decisions you are making are helping you to make more money or less money. The financial statements can also be used by other people in ways that can benefit you or be to your detrimant. An example of this would be when you are presenting your
bookkeeping
reports to a bank. The banker will look at these financial statements and try to predict how long he or she expects you to stay in business.
The profit & loss statement will basically tell the bank if your business is profitable or not. What you would typically want to see on a profit & loss statement would be a steady amount of growth in revenue and net income.
A sample profit and loss report might look something like this...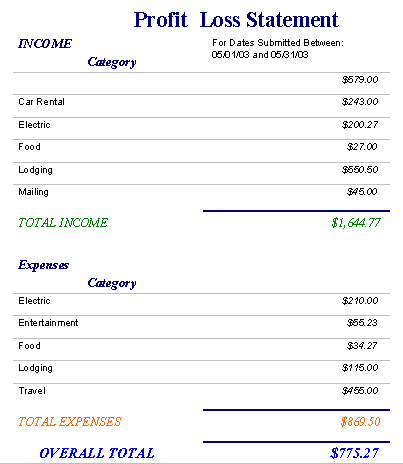 After reviewing it's profit and loss statement, sometimes a business might end up choosing not to grow in order for them to be able to increase their net income. They might also decide to cut back on jobs that aren't making them as much money, or decide not to sell the types of products that are making them less money.
The Profit & Loss Statement is great to review in order to make sure that you are making money and not overspending on job costs or overhead expenses.This would let you know that you are doing well and are right on track for the success that you seek!
Related Articles
The Secret Button in QuickBooks for a Better Profit and Loss Report
Which is the Best Forex Trading EA
Impress your bank manager! How to read your profit & loss account report
Hobby Loss Rule
Manage Salespeople One at a Time
How to choose MQL4 Live trading result for automated Forex Trading
Distinction between provisions and reserves
Creating cash flow forecasts
Preparation of Profit and Loss Account
Reserves and Provisions
How much cash does your business generate?
THE Critical Financial Report Your Business Needs
3 tips to better your currency trading results
Nature of ReservesFunds or Provisions
Training Nonprofit Board Members to Read and Understand Financial Reports
Understanding the Bottom Line
How to select MQL4 Expert Advisor for your MT4 currency trading
How to price for optimum profit - 5 steps
How much can I really make in a franchise business investment? PART 1
A sinking "Titanic" Business
Free PDF Download
More Motivational Quotes - By Stephanie Horne
Related Forum Posts
Which kind of industries are you interested in?
More Profit Women!
Re: Approaching Social Marketing from the right angle
A ton of Great Women
profit line
Share this article. Fund someone's dream.
Share this post and you'll help support entrepreneurs in Africa through our partnership with Kiva. Over
$50,000 raised
and counting -
Please keep sharing!
Learn more.
| | | |
| --- | --- | --- |
| | Like this page? PLEASE +1 it! | |
Newsletter

Get advice & tips from famous business
owners, new articles by entrepreneur
experts, my latest website updates, &
special sneak peaks at what's to come!
Suggestions
Email us
your ideas on how to make our
website more valuable! Thank you Sharon
from
Toronto Salsa Lessons / Classes
for
your suggestions to make the newsletter
look like the website and profile younger
entrepreneurs like Jennifer Lopez.