| | | | |
| --- | --- | --- | --- |
| | Like it? PLEASE +1 it! Thanks! | | |
What Are You Afraid Of?
Fear is the most basic of human
elements
and plays a major role in business success and failure.
I spend a great deal of time trying to help
business owners
understand that one of the most important
marketing
strategies they must embrace is
finding a way
to stand out from the crowd. Because this is such a focus for me I can tell you that one of the single greatest
fears
that many business owners have is being different than everyone else in their industry.
I suppose it goes back to the schoolyard where being different made all but the most independent kids nervous as heck. I find that this goes well beyond simply copying what others in the industry do, it's a real
fear
of doing anything that might appear odd. I can tell you right now this fear, and knowing that others in your industry share it, is the single greatest
small business
marketing opportunity at your disposal.
Here's an exercise I would like you to tackle. Go to the web site of your four biggest competitors, copy the introductory
paragraph
from their home page and paste each on a document. Now add the same from your own web site. Lastly, black out any mention of the names of the firms and pass this page around the office or to anyone familiar with your business.
The object of this little
game
is to see if anyone can identify any of the companies listed, including your own. My experience when I've done this is that many business owners struggle even identifying the entry from their own company, but what is usually painfully obvious is that each of the companies is saying essentially the same thing.
I can tell you right now that if the world of
prospects
can't tell you apart from your competitors, they will be forced to use price as their only guide.
You must get over the fear of being different and find a way to demonstrate that you serve a very narrow target niche, package your services in unique ways, provide an over the top experience, own a certain way of doing things, do something that someone wants like no one ever thoughts of - and then, proudly declare this difference in every fiber of your communication.
So tell me, how do you stand out, how do you tap the fear of being different?
Related Articles
"Your Strategic Thinking Coach's Ten Questions To Diagnose Fear Of Marketing"
Play The Money Game To Win!
Change Your Attitude, Change Your Business
Don't Be Afraid Your Life Will End?
Can't Say
Hearing \"No\" Needn\'t Be a Sales Killer
How To Overcome The Fear Of Failure
Always Learn From Your Business Mistakes
Conversations with The Barefoot Millionaires presents #73: Employee = Sucker
Good Things Come to Those Who Ask
Are you Afraid
Top tips for women who aspire to be great speakers
Overcoming Fear
Lesson #3: Think Big
Don't Let the Fear of Failure Limit Your Potential
My Life Rocks
The Most Important Word In Sales
Eliminate the Fear
Why Are You Afraid Of Taking Action?
Conquer Fear at Work

Free PDF Download
Weekend Favs May Twenty One
By John Jantsch
About the Author: John Jantsch



RSS for John's articles - Visit John's website
John Jantsch is a veteran marketing coach, award winning blogger and author of Duct Tape Marketing - The World's Most Practical Small Business Marketing Guide (foreword by Michael Gerber, author of The E-Myth) published by Thomas Nelson - due out in the fall of 2006 He is the creator of the Duct Tape Marketing small business marketing system and Duct Tape Marketing Authorized Coach Network. His Duct Tape Marketing Blog was chosen as a Forbes favorite for small business and marketing and is a Harvard Business School featured marketing site. His blog was also chosen as "Best Small Business Marketing Blog" in 2004, 2005 and 2006 by the readers of Marketing Sherpa.
Click here to visit John's website.



More from John Jantsch
Building Your Own Social Network
Adding Social Features to Your Web Site
Are There Holes In Your Network
Turning Problems into Marketing Strategies
The Logistics of Time

Related Forum Posts
Top Four Young Entrepreneur Mistakes
Share this article. Fund someone's dream.
Share this post and you'll help support entrepreneurs in Africa through our partnership with Kiva. Over
$50,000 raised
and counting -
Please keep sharing!
Learn more.
Featured Article
Employing People Can Accelerate Your Small Business Growth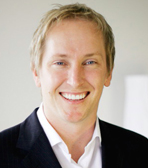 By
Casey Gollan
,
Melbourne Business Coaching
| | | |
| --- | --- | --- |
| | Like this page? PLEASE +1 it! | |
Supporters: Thank you Sharon Galor of Toronto Salsa Lessons / Classes for your suggestions to make the newsletter look like the website and profile younger entrepreneurs like Jennifer Lopez and Sean Combs!