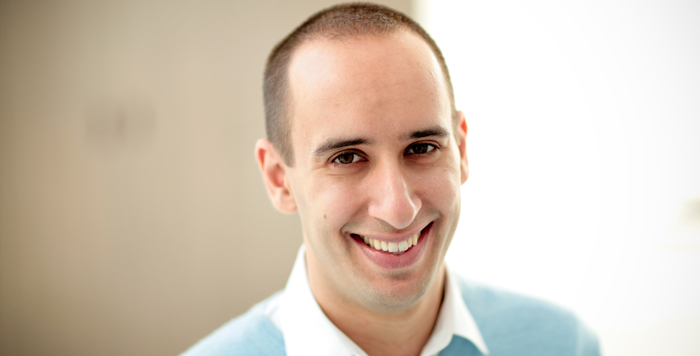 About Evan in 99 Words
Evan Carmichael helps entrepreneurs. At 19, he built then sold a biotech software company. At 22 he was a venture capitalist helping raise between $500,000 and $15 million. He now runs EvanCarmichael.com, one of the world's most popular websites for entrepreneurs. His goal is to help 1 billion entrepreneurs. He has helped set 2 world records, works 20 hours per week, uses a stand-up desk, rides a Vespa, raises funds for Kiva, and created a line of Entrepreneur trading cards. He graduated from the University of Toronto and enjoys salsa dancing, being a DJ, and the Toronto Blue Jays.
(more details below)
---
I Help Entrepreneurs
---
Media Coverage
Evan has been interviewed / featured as an entrepreneurship expert by media across North America including:
To arrange an interview time, please contact Evan by email at evan@evancarmichael.com.
---
Helping Brands Connect to Entrepreneurs
We help brands that sell to small businesses like TELUS and American Express who are frustrated with their online marketing build communities with massive engagement. We guarantee at least 5,000 people to your site with each post that we create. Some of the brands he's worked with include:


Learn more at http://www.evancarmichael.com/Brands/ - To arrange a time to discuss your project with Evan, please email him at evan@evancarmichael.com.
---
From Evan's Desk
Welcome!
Hi I'm Evan, thanks for visiting my website.
I love helping entrepreneurs and hope I can help you too!
Here's a little bit more about my story:
How I Got Started
I've been an entrepreneur for as long as I can remember.
My first venture started when I was 5 years old and I convinced my 3 year old little sister to make some drawings with me which we sold door to door.
I made my first sale to my neighbor for 5 cents - I was in business!
From there I jumped from business idea to business idea always looking for the next hot thing.
I dealt baseball cards, I sold plastic canvas kits, I tried online startups.
None of them had any real success but I learned a lot through the process.
My Big Break
When I was 19 I connected with two friends who had a biotech software company.
I joined as an owner and became responsible for the sales and business development.
I was both scared and excited and had absolutely no idea what I was doing!
Instead of trying to learn everything from scratch I asked myself "who else has had a lot of success selling software?" and modeled the early strategies of companies Microsoft, Intuit, and MacAfee.
We ended up selling to clients like Johnson & Johnson and NASA and our software was being used in research for everything from AIDS to diabetes to cancer.
We landed customers in over 30 countries and then got acquired by an American company.
Man... Now What???
My partners moved with the business to California and I had no idea what I wanted to do next.
I wasn't about to retire in my early 20's and quickly got bored.
So out of curiosity I hooked up with a venture capital company and started to help raise between $500,000 and $15 million for companies who needed money to grow.
The partners at the firm were all in their 60's and 70's and had all the connections - my role was to bring in fresh new entrepreneurs and I learned a lot in the process.
I discovered the world of raising capital and also got to see a lot of very cool businesses come in and learn from their successes.
The entrepreneurial itch started becoming stronger and I wanted to do my own thing again.
Finding My Passion
If you look at successful entrepreneurs you'll find that they all have different personalities, backgrounds, and values but the one thing they all have in common is that they are passionate about what they do.
I set up EvanCarmichael.com with the goal to help other entrepreneurs stay motivated and give specific strategies that can help you build a successful business.
I discovered that I LOVE helping entrepreneurs and that I was really good at it too.
It's so hard to start a new business and keep the faith that what you're doing is the right thing.
It's easy to want to quit - every entrepreneur thinks about quitting multiple times and just going back and getting a job.
I believe entrepreneurs can be a tremendous force for good in this world and love being able to help either by giving them specific advice or even just showing that someone believes in them.
The 1 Billion Goal
I believe that when you find something you love doing and that helps people you owe it to yourself to give it everything you have to try to make it work - otherwise you'll always wonder "what if I just tried a little harder?"
My goal is to help 1 billion entrepreneurs through my website - so far I'm proud to say that this website has helped over entrepreneurs... but I'm just getting started.
I know it's hard running a business - a lot of the work sucks, you don't get paid what you're worth, and often the people around you expect you to fail.
I'd like to help makes things a little easier if I can - we've got profiles of famous entrepreneurs that can inspire you, articles from experts that can educate you, and Worksheets for entrepreneurs that can give you a step-by-step guide to solving your important challenges.
You can also email me, send me a tweet, or hit me up on Facebook or YouTube.
I may not respond right away as I get a lot of correspondence but I'll do my best to help!
Under the Hood
I love salsa dancing and between dancing, DJ-ing and teaching, I'll spend upwards of 25 hours a week at Toronto Dance Salsa.
I'm a big baseball fan. The Toronto Blue Jays are my team but I'm also a fan of baseball history. Can't get enough!
I'm constantly life-hacking. Recent successes are using a stand up desk instead of sitting all day and Vibram FiveFingers instead of shoes.
My favorite mode of transportation is my Vespa. If there's no ice on the ground I'm riding it!
I've help set 2 world records for charitable causes.
My favorite TV show right now is Suits.
Thank You!
Thanks again for stopping by and reading my story.
I hope you'll explore the site and look forward to hearing from you!
Best of luck with your business - Do something you're passionate about and that has an impact on people's lives.
And don't give up! You owe it to yourself and the world to give it your very very best!
See you at the top!
PS. If you want to learn more about me, check out the video at the top of the page. I'm also a fan of salsa dancing - below is a performance video of mine with Toronto Dance Salsa and pictures with business icons Ted Rogers and Brett Wilson.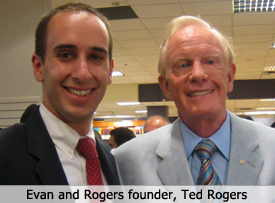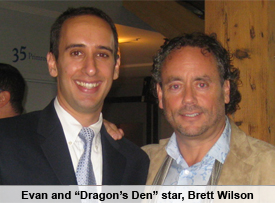 "Evan's passionate delivery was very awe inspiring, most especially for the entrepreneurs who came to learn from his personal perspective in the entrepreneurial pursuit for success. He certainly made a positive impact both on and off stage, and his enthusiasm certainly made it all the more an interesting presentation. This was further more confirmed through the various requests made by participants during the conference, who would like to see more of Evan and his insights, in future conferences." – Fauziah Talib, organizer, YEAB, Brunei Darussalam.
Evan is available for speaking and media engagements. To contact Evan, click here.
Share this article. Fund someone's dream.
Share this post and you'll help support entrepreneurs in Africa through our partnership with Kiva. Over
$50,000 raised
and counting -
Please keep sharing!
Learn more.
| | | |
| --- | --- | --- |
| | Like this page? PLEASE +1 it! | |
Newsletter

Get advice & tips from famous business
owners, new articles by entrepreneur
experts, my latest website updates, &
special sneak peaks at what's to come!
Suggestions
Email us
your ideas on how to make our
website more valuable! Thank you Sharon
from
Toronto Salsa Lessons / Classes
for
your suggestions to make the newsletter
look like the website and profile younger
entrepreneurs like Jennifer Lopez.