Small Business Branding Coach - Erin Ferree
Small Business Branding Coach - Erin Ferree
Erin Ferree is a branding coach, design genius and strategic thinker. She's been told that her right-brain, left-brain combination of creativity and logic is hard to come by... and that it's what small business owners need to be successful. She loves connecting the dots between passion and profit, mixing strategy and inspiration and shaking things up. She deeply enjoys working with entrepreneurs who want to help more people and look good doing it. Who want all of their branding and marketing to make sense and speak to their ideal clients. And who want an open, honest, inviting brand with integrity - instead of using icky, pushy, sleazy marketing tactics and trickery. She's branded over 450 small businesses in the last 10 years. She's been published in so many books and periodicals that she stopped counting. She's shared stages with some awesome people - like Michele PW, Linda Hollander, Lisa Cherney, Sheri McConnell and Kelly O'neil. In the rare moments when she's not obsessing about branding or design, she can be found hugging her corgi-dog Stanley, going for long walks, cooking improvisationally, or throwing parties so her friends can enjoy them.
---
Contact Information
---
Small Business Branding Coach
One-on-one branding coaching to take your brand from where it is now to where you want it to be.
Branding Coaching may be for you if:
You want focused, customized, personalized coaching
You want to fill in the gap between your business vision and plans and your brand reality
You feel unconfident about your brand's message or look and you want to know how to turn that around
You want to clean up the mess in your branding and make everything consistent
You're ready to package and position your intangible, invisible services to add value, to support raising your prices
You already have a graphic designer, and want a strategic, effective and inviting brand strategy to back up their work
You know your branding could use some help and you don't know what to do
---
Small Business Strategic Branding Design
I design brand-new brands and I work with existing brands to polish, perfect and extend them. I am a one-stop branding shop: I create identity designs (logos, stationery kits), print designs and I design and code online designs
Strategic Branding Design may be right for you if: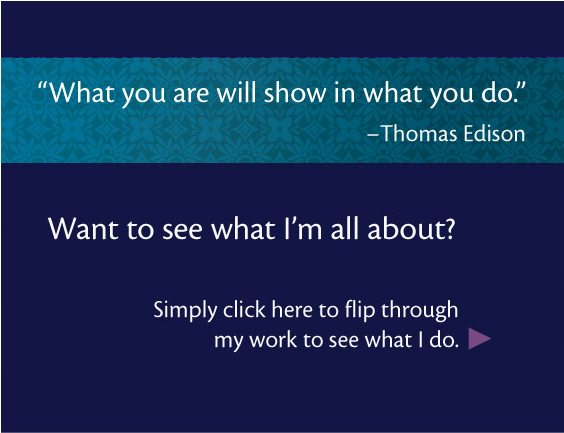 You're tired of working with designers who don't "get it" on the business side of things
You're ready to uplevel your brand and take your look to the next level
You want to create designs that will speak to your ideal clients
You want to work with a designer who understands small business, internet marketing and customer psychology
You want your brand to look "put together" – consistent, gorgeous and sophisticated
You're ready to grow your brand family with a new program, event, product, mastermind group, or something else and you want to make sure they relate
You want to change something in your brand without confusing your clients or losing the reputation you've already built
You're serious about making more sales and money with your brand
Design services are available on a per-project basis or on a monthly retainer.
I invite you to contact me today to talk about your Strategic Branding Design.
---
Small Business Brand Coaching and Consulting
I believe that fabulous branding is full of contrast and balance, dot-connecting and gap-bridging… between:

Business planning and brand design
Structure and inspiration
Strategy and creativity
Client and business owner
Profit and passion
Invitation and case-making
Left-brain and right-brain
Rules and rulebreaking
Universal appeal and difference-showing
Communication and compelling
Meaning and emotion
Form and function

Now, I've worked with over 450 small businesses to package their intangible, invisible services into understandable, desirable and purchasable brands.

I've been working "behind the scenes" with clients in the brand coaching, consulting, info-marketing and online marketing worlds for the last 8 years… making them successful.

I coach on branding.
I work with brilliant business owners to shore up their business plans and bring them to life through their brands.
I help business owners who like to evolve and expand their businesses to transform their brands and take them to the next level.
I design powerful brand identites that appeal to your ideal clients.
I create brand strategies that invite your clients in instead of repelling them with icky marketing tactics.

If you think that sounds intriguing – that you'd like to have a creative, strategic brain on your side to get results through your brand… you should contact me.
---
Small Business Branding Coach Testimonials



"Having a brand and an image that speaks for itself makes my "job" in selling who I am and what I do so much easier."

Kristin Ecklund
Spiritual Healer and Channel

"Erin's strategic brand designs for my company, products and programs have made my company hundreds of thousands of dollars over the years."

Kelly O'Neil
Kelly O'Neil International, The Ignite Program, Marketing to Millionaires




"This woman is a genius! Not only did my investment in her pay off, it will change the trajectory of my business."

Gina Hiatt
Finish Agent
---
Connect with Erin Ferree to Learn More About Small Business Branding Coach
| | |
| --- | --- |
| | 650-358-9973 |
| | erin@brandstyledesign.com |
| | Brand Style Design Blog |
| | Follow Erin on Twitter |
| | Become friends with Erin on Faccebook |
| | Connect with Erin on Linkedin |
---
Free Related Articles from Erin Ferree
---
Share this article with your friends. Fund someone's dream.
Leave a comment below or share on the left and you'll help support entrepreneurs in Africa through our partnership with Kiva. Over
$50,000 raised
and counting -
Please keep sharing!
Learn more.
| | | |
| --- | --- | --- |
| | Like this page? PLEASE +1 it! | |
Newsletter

Get advice & tips from famous business
owners, new articles by entrepreneur
experts, my latest website updates, &
special sneak peaks at what's to come!
Suggestions
Email us
your ideas on how to make our
website more valuable! Thank you Sharon
from
Toronto Salsa Lessons / Classes
for
your suggestions to make the newsletter
look like the website and profile younger
entrepreneurs like Jennifer Lopez.