uturn.
U-Turn Vending Feature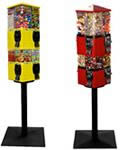 For those who haveadditionalincome and would like to find a way to invest that income without committing to a labor or time intensive venture, purchasing a vending machine may be just the ticket.

When investigating the world of providing bulk snacks from automated vending machines, U-Turn Vending Franchises is a safe prospect as a company with a 20 year history and a commitment to helping to ensure the success of its vending machine owners. U-Turn Vending offers itsentrepreneurswho purchase their bulk candy vending machines high quality equipment and timely delivery, excellent and easy to use service, and access to expert training and coaching to help you get your business off the ground and soaring.

Considering the fact that many people occasionally enjoy a decadent snack such as a candy treat from a vending machine, where there is no witness to the nutritional deviation of healthy eating, it is no wonder that nearly $64,000 is spent each minute at vending machines in the United States. You can enjoy part of that earning potential by exploring the idea of purchasing a bulk candy vending machine.

Your low maintenance new business in vending machines will give you the chance to earn extra money with minimal public interaction, low risk, high earning potential, built in repeat business, company support, an appealing machine that has been affectionately dubbed "The Money Machine." Check out our machines now so you won't need to wish you had done so sooner.