| | | | |
| --- | --- | --- | --- |
| | Like it? PLEASE +1 it! Thanks! | | |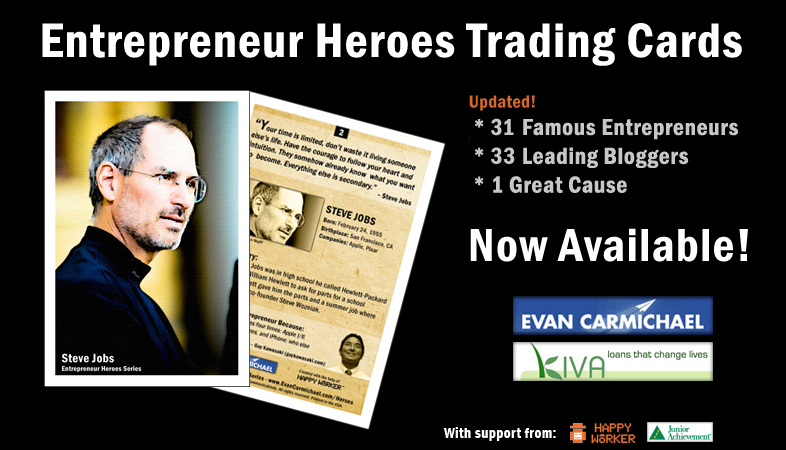 ---
Sold

Out

---

"Even my wife, who has no interest in trading cards, enjoyed these." - Mike F.

"Great gift idea." - Jason Gillard
Recent Praise

The wrapper matters

"When you have a big idea, the question is, how to spread it?

… You can turn your idea (like a focus on entrepreneurs) into cool trading cards, like Evan did…."

Read Seth's full post at: http://sethgodin.typepad.com/seths_blog/2010/06/the-wrapper-matters.html

---

---

Entrepreneur Heroes Trading Cards

"These are Entrepreneur Heroes trading cards, created by Evan Carmichael, an entrepreneur from my other home, Toronto Canada....

Evan invited 33 bloggers to nominate their favorite entrepreneur to feature on one of the cards. Many of my picks were taken already by other bloggers, so I went with Milton Hershey as my favorite entrepreneur....

Profits Go To Kiva

The main reason I am happy to support this project is that profits from sales of the trading cards go to Kiva, an organization that supports entrepreneurs in less developed countries by providing micro-loans.

If you'd like to pick up some cards yourself, you can order them from here – Entrepreneur Heroes Trading Cards....

Thanks to Evan for launching this great idea for charity!"

Read Yaro's full post at: http://www.entrepreneurs-journey.com/2703/entrepreneur-heroes-trading-cards/

---

Dot Com Pho – Entrepreneur Heroes Edition

"This episode of Dot Com Pho celebrates the heroes of entrepreneurship. Evan Carmichaelcame up a great idea for trading cards featuringfamous entrepreneurs. The entrepreneurs were selected by 33 famous bloggers (of which I am one). The bloggers were asked to name their favorite entrepreneur. That entrepreneur is featured on the front of the card and the blogger who selected him is featured on the back.

All process from the the sales of Entrepreneur Heroes trading cards goes to Kiva. They will use the money to help entrepreneurs in third world countries. The Entrepreneur Heroes trading cards goes on sale in April. Pre-order your packs today and save 20% off the regular price – only $3.95 per pack of 5 cards instead of $4.95. There's free shipping if you order three packs or more. In addition, you'll receive a limited edition hologram gold Steve Jobs or Woz card for every three pack pre-order. There's also a chance to win a baseball signed by the Woz. Watch the episode and then go buy some cards!"

Read John's full post at: http://www.johnchow.com/dot-com-pho-entrepreneur-heroes-edition/

(Go to 2:12 in the video)

---

Cubicle Spy: At Work with Steve Rubel of Edelman

"As part of the ongoing "Cubicle Spy" series here at Mashable, we're taking a look inside the coolest, quirkiest, and most gadget-laden offices of people who work with social media.

For our second peek into the cube, we scoped out the office of Steve Rubel, senior vice president and director of insights for Edelman Digital, a division of Edelman — the world's largest independent PR firm.

Rubel's job involves traveling the world and helping clients identify emerging technologies and trends that can be applied in marketing communications programs. Though he might be a self-declared minimalist, Rubel's workspace contains an interesting variety of toys, gadgets and military paraphenalia. Click through the gallery for a behind-the-scenes look.

Evan Carmichael, a Canadian entrepreneur, developed a series of entrepreneur trading cards. During the development stages, he reached out to bloggers and influencers, asking who they thought should be on the list. Steve replied, "Benjamin Franklin." This card of Apple co-founder Steve Wozniak sits on Rubel's desk."

Read the full post at http://mashable.com/2010/08/23/cubicle-spy-steve-rubel/#Steve-Wozniak-Trading-Card

---





Suggested Tweets:

Please Re-tweet! "THE most innovative way to bring attention to a cause. Love it!" http://ow.ly/15wK2 - Entrepreneur Heroes Trading Cards

Please Re-tweet! Support Entrepreneur Heroes Trading Cards for Kiva entrepreneurs http://ow.ly/15wK2

Please Re-tweet! The Launch of Famous Entrepreneur Heroes for charity! http://ow.ly/15wK2

Fans!

If you would like to be added to this page just take a picture of yourself with the cards and email us!

---

Profits from the sale of the Entrepreneur Heroes cards go to support entrepreneurs in Africa set up their businesses through the micro-lending organization Kiva. You can also join our lending team, Entrepreneurs For Africa. Over 1,500 Entrepreneurs helped so far! Here are some of them:

Rebecca Arthur

, Mankessim, Ghana




Rebecca sells large quantities of eggs in a store near the busy Mankessim market. She started the store with $200 of her own money 13 years ago and now her profits are about $200 a week. Rebecca used the money to purchase more eggs and egg containers. She tries to purchase her eggs from the local farms, but sometimes they do not produce enough, so she has to by them from a distributor. Her goal now is to diversify her products, so she does not have to depend on the eggs. She would like to carry chicken feed, pillows, and chop boxes (used for street vendors to store food).

Brahima Kone

, Treichville, Cote D'Ivoire




Brahima Kone is a 34-year-old married man. He has 3 children who attend college (secondary school) and primary school. He lives with his family in Williamsville, one of the suburbs of the Abidjan district. He has been selling ladies' fashions and clothes for 4 years. He was working on a port. He used the money from that work to start his business. His wife sells boiled rice for breakfasts every morning. Kone is a hard worker; he devotes his entire income to support his family. He has been able to send his children to school with the revenue from his business. Things are going on very well for him and he wants to increase his sales, but he lacks capital to meet his target.

Hadija Said

, Dar Es Salaam, Tanzania




Hadija, age 40, is married with a 9-year-old boy. She also lives with her 80 year old mother, who she takes care of. She has a business of selling charcoal near their home, which she began in March 2006. Each day, she sells charcoal from 6am to 6pm and she makes a monthly profit of about $70 a month. She now requests a loan to rent a charcoal store in order to increase her business. She will share this loan with her subgroup members, who have businesses dealing in recycling plastic bottles and selling food.

Komlavi Kounke

, Tsévié, Togo




Mr. Komlavi Kounke is an elderly agriculturist born in 1942 in Adzralakopé. Married and the father of 7 children, he has managed to support his family and send his children to school thanks to farming, principally maize-growing. After many years of crops, his arable land is getting expended, which reduces his yield. To remedy that situation, he is asking for a loan to buy fertilizer. This will increase his yield and his revenue.

Yvonne Nogbou Amien

, Treichville, Cote D'Ivoire




Yvonne is a 37-year-old woman. She has been selling plantains and cassavas for 20 years. Plantains, which are like bananas, are a food used in many Ivory Coast dishes such as alloco (fried plantain), fufu (pounded plantain), etc. With the income from her business, she pays for the school fees of her brother and her household expenses. She would like to put some money beside for her future child, to be able to send him to school. A loan will allow her to buy more goods in order to improve her profit margin and give a better life to her relatives.

---

More Information:

Famous Entrepreneur Trading Cards Launch In Support Of Kiva Entrepreneurs

33 Top Business Bloggers Team Up To Unveil "Entrepreneur Heroes" Series
http://www.evancarmichael.com/Heroes/

EvanCarmichael.com has partnered up with bloggers Seth Godin, Guy Kawasaki, Darren Rowse, Tim Ferriss, Chris Brogan, Tom Peters, and others to create a line of famous entrepreneur trading cards called "Entrepreneur Heroes" – the profits from the sale of the cards go to support entrepreneurs in Africa through Kiva, a micro-financing non-profit organization. So far over 1,500 new business owners in Africa have been helped!

Get the Ultimate Entrepreneur Collector's Item

The Entrepreneur Heroes trading cards are instant collectibles. Each of our top 33 business bloggers were asked to pick who their favorite famous entrepreneurs were and gave reasons why. A trading card was then created for each entrepreneur chosen and includes an artistic picture on the front, an inspirational quote on the back, a true story / fun fact about the entrepreneur and other personal information. If you've ever collected cards of your favorite sports stars, the Entrepreneur Heroes trading card series gives you a chance to collect your favorite business founders from Steve Jobs to Richard Branson to Benjamin Franklin.

Raise Entrepreneurship Awareness

Just like today's youth look up to sports, music, and movie stars a goal of the Entrepreneur Heroes trading cards is to inspire the next generation to become entrepreneurs and view starting their own business as an empowering adventure that can help them reach their potential and change the world for the better. To this end EvanCarmichael.com has partnered with Junior Achievement a global leader in youth financial literacy, to use the Entrepreneur Heroes trading cards to raise awareness in business among our young students who on the verge of starting their professional lives.

Support a Good Cause

Profits from the sale of the cards will go to support entrepreneurs in Africa through Kiva and so far over 1,500 new business owners in Africa have been helped through our efforts. Kiva began in 2005 as a micro-finance project of Matt and Jessica Flannery. Their work has grown into an organization which achieved a repayment rate of 98.27% with over $68 million in completed loan terms helping real individual entrepreneurs. The entrepreneurial spirit is not confined within Silicon Valley , but is also very strong among the global poor, and stories have a powerful way of connecting people across the world to help.

Who is Involved: Our Checklist

Here is a list of the famous entrepreneurs we are profiling, the companies they founded, and the bloggers who selected them.

# / Famous Entrepreneur / Blogger

Questions?

Please contact Evan Carmichael (evan@evancarmichael.com) with any questions.
Share this article with your friends. Fund someone's dream.
Leave a comment below or share on the left and you'll help support entrepreneurs in Africa through our partnership with Kiva. Over
$50,000 raised
and counting -
Please keep sharing!
Learn more.
| | | |
| --- | --- | --- |
| | Like this page? PLEASE +1 it! | |
Supporters: Thank you Sharon Galor of Toronto Salsa Lessons / Classes for your suggestions to make the newsletter look like the website and profile younger entrepreneurs like Jennifer Lopez and Sean Combs!