4 Reasons You Need a Mobile Website
---
---
Free PDF Download
What is inbound marketing? - By Cody Ward
---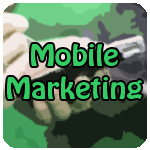 1. Desktop Versions Look Sloppy on Mobile Devices
The web was not set up to be used by
mobile
devices. Even the most beautifully designed site looks awful on a four inch screen. Links can overlap, making it nearly impossible for touch screen users to click on anything. Graphics look distorted. Important information at the top, bottom and sides of the page can be obliterated. A desktop
website
viewed on a mobile device looks like a mess. Site visitors will become easily frustrated and find a comparable mobile enabled site to complete their tasks.
2. Ordering is Close to Impossible
If the site relies on
online
orders for revenue, the need for a mobile accompaniment increases ten-fold. No longer is the site losing viewers for lack of a mobile version; now it is losing actual money. Filling out an order form on a desktop site with no mobile component is practically impossible. Tablets are quickly replacing laptops and desktops; many people have done away with large and cumbersome computers entirely. For many, ordering from a desktop is not even an option. The lack of a mobile site will result in sales losses as customers take their
business
to a competitor.
3. A Mobile Site Can Garner Notice
Google supplies a separate index for mobile sites. Since the mobile bandwagon is fairly new, this index is comparatively empty. Those searching for a mobile site on a mobile device will be shown far less options than those using a desktop. Sites with mobile components are therefore far more likely to climb to the top of a Google search.
4. Mobile Advertising is the Wave of the Future
Mobile
advertising
is expected to surpass $
6.5 billion this year
. A well-visited mobile site can earn a fair share of advertising revenue, especially when the market is currently wide open. Mobile advertising is expected to grow exponentially over the next ten years and a successful business would be wise to get in on the ground floor of this boom.
Do you have a mobile version of your website?
Related Articles
Mobile Devices are Exploding in Popularity can Small Business Compete with a Mobile Website
Mobile Websites for Small Businesses
Three Differences Between a Good Mobile Website and a Great One
How to Develop a Good Mobile Strategy for Your Business
Why Your Small Business Needs A Mobile Website
Study Confirms Mobile Apps and Mobile Websites are More Necessary than Ever
Why Good Analytics Are The Key to Mobile Profits
SEO Measures for Mobile Search
How to Create a Mobile Marketing Campaign
How To Develop A Mobile Website for Your Business – Part 3
Leading Online Marketing Firm IdeaOverTen Launches New Affordable Mobile Website Service
Getting Your Website Mobile Ready
Importance of mobile commerce site
The Mobile Revolution is Here Now [Infographic]
ASP.NET for Mobile Website Development along with Microsoft Visual Studio 2010
Advantages Of Using Mobile Applications than Mobile Browsers
The Easiest Way to Make Your Mobile Marketing Plan More Profitable
Three Reasons to Give Mobile Keyword Marketing a Try
Nine Things to Consider When Going Mobile
Mobile Small Biz Opportunities
Free PDF Download
What is inbound marketing? - By Cody Ward
About the Author: Cody Ward



RSS for Cody's articles - Visit Cody's website
Cody Ward is a marketing leader, consultant, entrepreneur, blogger, and social media enthusiast living in the greater Chicago area. He has worked to help Fortune 500 companies and small businesses alike fit together the right pieces of their B2B or B2C marketing puzzle. By combining technical solutions with modern marketing strategy, Cody has developed a track record for executing digital marketing campaigns that deliver strong ROI results.
Click here to visit Cody's website.

More from Cody Ward
Multitasking Puts Your Brain on Information Overload Infographic
15 Tips to Become Better in Your Career
Social Media Image Sizing Guide Infographic
5 Tips for a Fantastic Marketing Conference
Bring Clarity to Your Marketing with the Campaign ID

Related Forum Posts
A Mobile App Or A Mobile Website?
Re: The Mobile Marketing
Re: Mobile Marketing
Re: Internet Marketing Dashboard for Business Owners
Re: 10 Reasons Who Startups Fail & Book Recommendations
Share this article. Fund someone's dream.
Share this post and you'll help support entrepreneurs in Africa through our partnership with Kiva. Over
$50,000 raised
and counting -
Please keep sharing!
Learn more.
| | | |
| --- | --- | --- |
| | Like this page? PLEASE +1 it! | |
Newsletter

Get advice & tips from famous business
owners, new articles by entrepreneur
experts, my latest website updates, &
special sneak peaks at what's to come!
Suggestions
Email us
your ideas on how to make our
website more valuable! Thank you Sharon
from
Toronto Salsa Lessons / Classes
for
your suggestions to make the newsletter
look like the website and profile younger
entrepreneurs like Jennifer Lopez.