5 Offers to Drive Lead Generation
---
---
Free PDF Download
What is inbound marketing? - By Cody Ward
---
One strategy for getting more of them into the system is to offer something of value in exchange for the low cost of
getting their
email
address. It's not completely free, but it's close enough. By giving them value up front, you are establishing yourself can begin to start the relationship.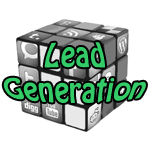 Many companies try to double-dip their
lead
generation tactics by putting up a pay wall or going straight for the sale in exchange for their content. In today's new economy, customers expect you to try and build a relationship before they open their wallets. This is true for B2B companies where there are sometimes hours of research or complex models involved. It's also true for small companies or individuals wanting to
brand
themselves. If a potential employer visits your
online
resume and learns something, you've just jumped ahead of the bland one-pagers on their desk.
Customers want, or even demand, that you showcase your value by providing services or information on your website. It shouldn't be a lone sales pitch with a form saying "give us your phone and email so we can call you 20 times during dinner". Your
website
should be a tool driving conversation.
At some point in the conversation you can ask them to take the next step. That's the point where you ask for their contact information. That's the point where you begin to target and nurture them via email,
social media
, and customer relationship managers. That point is only after you've given them something for free.
5 offers that add value and drive lead generation:
Live or video demonstrations. Walk the prospect or customer through some of the best features of your product or put a face on your unique services. Leverage video testimonials and executives to add the personal touch to your website. Answer questions, talk about interesting facts, or reveal data that your company has access to.
Informational whitepapers. PDF whitepapers make a great resource for your customers, especially when they solve a unique problem. What partners or resources do you have that could help your customers understand or act on a particular issue they're having? If you can document a guide on how to accomplish something or educate them in an interesting area, you'll be able to get their information quickly.
Digital tools or calculators. Small and large companies usually have access to data and processes that customers don't. If you can provide a lite version of your product or demonstrate some value with a free online tool then you'll be able to generate some buzz and inbound traffic. Even if your product/brand is something tangible, you could create an online component to interact with it.
Webinars and podcasts. Digital media is a popular tool for sharing information. They're a quick and easy way to disseminate important information to large audiences. It becomes even more valuable when you make them interactive with surveys and live questions. The results of the webinar can be spun off into even more educational content.
Community forum. Bring people together with a common background or interest. If you establish a secure place where like-minded people can come together and discuss their issues, you'll get their information and generate content at the same time. Leverage your customer's knowledge into shareable information. Keep everyone involved and don't miss the opportunity for your company to jump in and be heard.
How do you attract customers to provide their contact information?
Related Articles
Consultative Selling Won't Fill Your Pipeline
Lead Generation & Marketing Automation How-To Guide
Focus Expert Series on Demand Generation
Thirteen Proven Lead Generation Tools For Service Businesses From Your Strategic Thinking Business Coach
Effective Lead Generation Tactics From Your Strategic Thinking Business Coach
Sales Training Courses that Bring Lead Generations to Life
Effective Lead Generation Techniques
Why you will never see an ad for Find New Customers
Marketing as a business turn-around strategy
Being a Leader is a Great Lead Generation Tecnique
The Advantages of Lead Generation for your Business
Demand Generation Training | $99 via email
The Lead Generation Assessment
Top 3 Network Marketing Lead Generation Methods When Marketing On A Budget! ~GUARANTEED SUCCESS
Business Turn-Around Strategy - Why Marketing is the Imperative
3 Emails Your Customers Should Be Getting, At Minimum
Joining Insightful Marketing Blogs
Marketing and Advertising Making Use of B2B: Getting the Winning Attitude
Who Else Wants To Know This Secret Lead Generation Strategy?
Lead Generating
Free PDF Download
What is inbound marketing? - By Cody Ward
About the Author: Cody Ward



RSS for Cody's articles - Visit Cody's website
Cody Ward is a marketing leader, consultant, entrepreneur, blogger, and social media enthusiast living in the greater Chicago area. He has worked to help Fortune 500 companies and small businesses alike fit together the right pieces of their B2B or B2C marketing puzzle. By combining technical solutions with modern marketing strategy, Cody has developed a track record for executing digital marketing campaigns that deliver strong ROI results.
Click here to visit Cody's website.

More from Cody Ward
The History of Marketing Infographic
Strategies for a Successful Paid Search Campaign
Multitasking Puts Your Brain on Information Overload Infographic
SMS Marketing Trumps Social Media Marketing Infographic
Social Media Image Sizing Guide Infographic

Related Forum Posts
Re: Google Places Review | How to Get a Review on Google Places?
Re: Traditonal Demographics Do NOT Work with Generation V
Re: My Favorite Book For Entrepreneurs In 2010
Re: Books for the Entrepreneur
Re: Run when you can, walk when you have to, crawl if you must;
Share this article. Fund someone's dream.
Share this post and you'll help support entrepreneurs in Africa through our partnership with Kiva. Over
$50,000 raised
and counting -
Please keep sharing!
Learn more.
| | | |
| --- | --- | --- |
| | Like this page? PLEASE +1 it! | |
Newsletter

Get advice & tips from famous business
owners, new articles by entrepreneur
experts, my latest website updates, &
special sneak peaks at what's to come!
Suggestions
Email us
your ideas on how to make our
website more valuable! Thank you Sharon
from
Toronto Salsa Lessons / Classes
for
your suggestions to make the newsletter
look like the website and profile younger
entrepreneurs like Jennifer Lopez.