Best Practices Are Not a Best Practice
---
---
Free PDF Download
What is inbound marketing? - By Cody Ward
---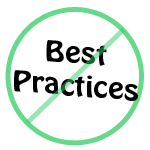 If a campaign or advertisement works for one product or company, labeling it a "best practice" does not ensure it will work for another. Even more dangerous, the
marketing
campaign could be led down a path in the wrong direction from the very beginning.
So what do we do about it?
We need the answers to these questions!
When do I send out my message? How long should my
email
subject line be? What color will grab the attention on this direct mail postcard? At how long into the commercial do I ask them to 'like' us on Facebook? What dimensions do I create that banner for?
We should be figuring these answers out for ourselves.
Have a clear marketing goal. Go back to the very simple reason of what the marketing department is tasked with. Is it driving sales? Leads? Registrations? Clicks? Visits? Understanding what the goal is will affect how it's measured and therefore the results. It will quickly be apparent that the discovered "best practice" on our desk is for a company with a different variable.
Build a foundation of testing. Set up a campaign to measure the end goal as an experiment. Continuously benchmark against the progress of the campaign and adjust as necessary. Build testing into the DNA of every campaign. If the campaign can't be measured then take a good look at the reason it's being run.
Look at the results of the experiment. People are busy. We all are. But without the results there is no measure of success. We need to take the time to present them in a reasonably easy to understand way. If our CMO or executive board spends more time on the format than the data, it's been done wrong.
Marketing can be a fine-tuned and running machine in every company. No matter what the product or company, each has their own needs. Relying on
best practices
will not only take a marketing team down the wrong path but it will set them up for future failure.
Undoubtedly, we'll run into a situation (especially with the way technology evolves) where there is no best practice to choose from. Would we rather have a system in place to figure it out ourselves or wait until someone else does, so we can
read
their "best practice".
Related Articles
Modular EHRís: Small Investment; Big Gains
Top 5 Sales Management Best Practices
Effective Working Practices - Three Tips To Clear Out The Clutter
ARRA HITECH Act: Headache or help for new practices?
Learn the Latest Best Practices in Business Presenting
Using Law Practice Management Software To Protect Your Practice From Liability
6 Quick Tips For Your Business Presentations
Customer Retention A Key to Business Success for Physicians
Implementing Corporate Social Responsibility
Grow Your Dental Practice - 3 Ways to Start Doubling Your Growth Right Now Even If You Hit a Plateau
The 3 Keys to Successful Sales Management
Emails Reach Their Best Results In the 1st Hour [Infographic]
How To Reduce Channel Conflict - Understanding Industry Best Practices
Sharing best practices company-wide
A Brief Summary of the HITECH Act for new medical practices
Best Practices
How Is Search Engine Marketing Part of the Branding Process?
Practices for a Peace-Filled Business
Is Your Law Firm Drowning In Administrative Tasks? How Legal Software Can Help
What Salespeople Can Learn From Elite Athletes
Free PDF Download
What is inbound marketing? - By Cody Ward
About the Author: Cody Ward



RSS for Cody's articles - Visit Cody's website
Cody Ward is a marketing leader, consultant, entrepreneur, blogger, and social media enthusiast living in the greater Chicago area. He has worked to help Fortune 500 companies and small businesses alike fit together the right pieces of their B2B or B2C marketing puzzle. By combining technical solutions with modern marketing strategy, Cody has developed a track record for executing digital marketing campaigns that deliver strong ROI results.
Click here to visit Cody's website.

More from Cody Ward
Make Time for the Not Urgent
Social Media Image Sizing Guide Infographic
Best Practices Are Not a Best Practice
The Difference Between SEO SEM
Invest in Your Brand with Content

Related Forum Posts
Re: How to pitch a business plan?
no-cost Admin help
Different Types of Funding
Share this article. Fund someone's dream.
Share this post and you'll help support entrepreneurs in Africa through our partnership with Kiva. Over
$50,000 raised
and counting -
Please keep sharing!
Learn more.
| | | |
| --- | --- | --- |
| | Like this page? PLEASE +1 it! | |
Newsletter

Get advice & tips from famous business
owners, new articles by entrepreneur
experts, my latest website updates, &
special sneak peaks at what's to come!
Suggestions
Email us
your ideas on how to make our
website more valuable! Thank you Sharon
from
Toronto Salsa Lessons / Classes
for
your suggestions to make the newsletter
look like the website and profile younger
entrepreneurs like Jennifer Lopez.