Multitasking Puts Your Brain on Information Overload [Infographic]
---
---
Free PDF Download
What is inbound marketing? - By Cody Ward
---
In an age where 695,000 Facebook status updates, 1,500 blog posts, and 168 million emails are sent
every 60 seconds
, it remains difficult to focus and keep from multitasking. It pays however to limit your tasks to a maximum at two at a time. According to the infographic:
When the brain is faced with two tasks, the medial prefrontal cortex divides in two so each half can focus on one task. The anterior-most part of the frontal lobes enables the switch between two goals. When a third task comes into play, it's too much for the brain to handle at once. Consequently, accuracy drops considerable.


Some more interesting stats from the infographic:
50% of Firefox Users have 2.38 tabs open on average.
25% of Firefox Users have 3.59 tabs open on average.
People with email opened switched tabs 37 times over those without email opened at 18 times.
The average computer user checks 40 websites a day.
The average computer user switches programs 36 times an hour, or every two minutes!
Media consumed in 1960 per person was 5 hours. That number has jumped to 12 hours per day.
Here are some tips from the infographic that can help you combat stress and digital information overload:
Set only a few times per day to check email. Send messages in batches
Schedule time to check your social networking sites.
Subscribe to RSS feeds so you can read your blogs all at once and in one place.
Turn off the tech when with family and friends.
Take a break from technology after hours.
Measure your time on a task to minimize your multitasking and reduce your stress:
This "Digital Stress and Your Brain" infographic, combined with the more scary side-effect of
sitting down all day
, caused me to think deeply about breaks. I'm often so involved in what I want to accomplish that day that I spend too much time hammering through tasks without getting up. I know I need to stand up, drink water, and recharge but often forget.
A small
Jquery
tool I created that anyone is free to try, take, or modify is a countdown timer in the browser. The timer counts down from 30 minutes and then pops up an alert window saying "times up!" The idea is to stand up, drink some water, and take a short break. You can modify the time to anything you want by changing the query string.
Example:
http://codyward.com/countdown/?time=14:52
Click the image below to open the countdown timer.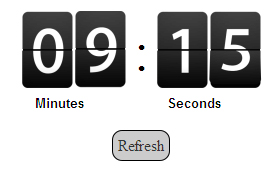 View the infographic below:

Via:
OnlineUniversities.com
Related Articles
Emails Reach Their Best Results In the 1st Hour [Infographic]
The "God-Father of Content Marketing" on Mad Marketing TV
Social Media Image Sizing Guide [Infographic]
Interesting Marketing Trends of Small Businesses [Infographic]
The Remarkable Growth of Social Media - an Infographic
How to Improve Google Adwords Quality Scores [Infographic]
Information Overload Is Part of Your Job
The Mobile Revolution is Here Now [Infographic]
Great at Multitasking? Well, That's a Bummer!
The History of Marketing [Infographic]
5 Steps to Neutralize Information Overload
Stuck for an idea?
Content Marketing Warfare on Google Panda & Penguin [Infographic]
How Social Media and Mobile Technology Impact the Customer Experience [Infographic]
5 Secrets to Control Information Overload Before it Controls You
The Myth of Multitasking: How Doing It All Gets Nothing Done
The Truth About Information Overload
Nurturing Nature-Does Your Brain Need a Workout?
Eliminate Information Overload: Keep it Simple
SMS Marketing Trumps Social Media Marketing [Infographic]
Free PDF Download
What is inbound marketing? - By Cody Ward
About the Author: Cody Ward



RSS for Cody's articles - Visit Cody's website
Cody Ward is a marketing leader, consultant, entrepreneur, blogger, and social media enthusiast living in the greater Chicago area. He has worked to help Fortune 500 companies and small businesses alike fit together the right pieces of their B2B or B2C marketing puzzle. By combining technical solutions with modern marketing strategy, Cody has developed a track record for executing digital marketing campaigns that deliver strong ROI results.
Click here to visit Cody's website.

More from Cody Ward
Strategies for a Successful Paid Search Campaign
Why Your Business Should Go Mobile
Interesting Marketing Trends of Small Businesses Infographic
3 Website Metrics to Watch Daily
How Social Media and Mobile Technology Impact the Customer Experience Infographic

Related Forum Posts
Re: SEO: Then and now
Which is better when it comes to Multitasking?
Christmas funnies #3 from BAP
Re: Live everyday with purpose of learning something new.
Re: What Sells Online?
Share this article. Fund someone's dream.
Share this post and you'll help support entrepreneurs in Africa through our partnership with Kiva. Over
$50,000 raised
and counting -
Please keep sharing!
Learn more.
Featured

Expert
Stan Popovich
@managingfear
Visit website
| | | |
| --- | --- | --- |
| | Like this page? PLEASE +1 it! | |
Newsletter

Get advice & tips from famous business
owners, new articles by entrepreneur
experts, my latest website updates, &
special sneak peaks at what's to come!
Suggestions
Email us
your ideas on how to make our
website more valuable! Thank you Sharon
from
Toronto Salsa Lessons / Classes
for
your suggestions to make the newsletter
look like the website and profile younger
entrepreneurs like Jennifer Lopez.