The Top 10 GTD Times Posts Of The Year
The Top 10 GTD Times Posts Of The Year

The GTD Times blog is an extension of the popular book Getting Things Done (GTD) by David Allen. The blog's goal is to expand the global awareness of the principles that make up GTD. The vision for the site is one of expansiveness, education, openness, warmth, understanding and community. We first featured GTD Times in our Top 50 Productivity Blogs of The Year.

Some of the categories that you will find on the blog include: best practices, downloads, events, GTD for Moms, GTD for Kids, health, human resources, implementation, novel uses of GTD, software, tips, and training. The blog is a must read for anyone who wants to improve their personal productivity. What follows are my favourite posts from the GTD Times blog in the past year. I hope you enjoy them as much as I do!

---

#1: Oliver's GTD Experience Part II: why do we procrastinate?



Why It Made The List
Oliver, a relatively new follower of GTD principles, outlines his experiences using GTD. He discusses his initial reluctance to implement GTD into his own life and found that he had a difficult time purging all of his excesses. He goes into what causes people to procrastinate and tells a wonderful story that most people can relate to. The personal story helps bring home many of the points that GTD makes and how people can improve their lives by following the system.

#2: How to Read 1000 Different Web Sites a Day Without Breaking a Sweat (and while still having a life)



Why It Made The List
This post discusses how readers can use RSS technology to turn you into a "speed browser" and let you read 1,000 different websites a day. Oliver also shares which RSS readers are the easiest to use for both PC and Mac users. The time saving feature of using RSS is that instead of having to go visit websites everyday to see if any changes have been made, you will automatically be told which sites have new content and then decide if you want to click through to read the articles or not.

#3: Getting Things Done By Getting Others to Do Them For You: the Science of Persuasion


Why It Made The List
This post discusses how you can lift the lid on the science of persuasion and discover eight ways to get exactly what you want. The suggestions also serve as a good reference point for those who don't want to be easily persuaded. Some of the thoughts include: be a mimic, look at it this way..., less is more, grind them down, the medium is the means, style over substance, get them angry, and resistance isn't futile. Whether you are trying to convince a customer to buy from you or persuade your partner to do a chore for you, this is a great post to learn from!
#4: 5 Things GTD Won't Fix


Why It Made The List
If you think that by just reading Get Things Done your life will change then you're in for a big disappointment. To realize any improvements you need to properly implement the suggestions made and understand when the problem is yours instead of the system's. The top five things that GTD won't fix were: Self-discipline, Attention Deficit Disorder, Addiction, System overload, and Prioritizing your values. It's worth checking out if you're considering GTD and are not sure if it will work for you or not.
#5: Getting Email Under Control


Why It Made The List
This was the first post that David Allen contributed to the blog. It's hard to find anyone these days who has not run into email overload issues. Sometimes I get bouncebacks on emails from friends saying they declared email bankruptcy and are starting all over! Some of David's suggestions are: Use the DELETE key!, When in doubt, throw it out, File, Complete the < 2-minute ones, and Organize emails that require action and follow-up. He also discusses how you can take customized approaches and implement best practices to get on top of your email overload and make it work for you instead of the other way around.
#6: A Simple Index Card GTD System


Why It Made The List
This post was created by a GTD community member, Joe Ely, who shares his personal GTD system. He explains how he uses a stack of colored 3 x 5 index cards, held together with a bulldog clip. He keeps it on him at all times so he can refer to it and has split his daily tasks into 7 main categories. Each card color represents a different category. He then writes every action step in the form: verb the noun the object. He goes on to explain how he uses each card to greatly improve his personal productivity. It's worth reading if you're looking for practical ways to implement the GTD philosophies.
#7: Is Firefox Three Getting in Your Way of Getting Things Done?


Why It Made The List
Have you considered downloading the new Firefox 3? Will it help or hurt your ability to get things done? In this post Oliver examines some of the issues that surround the new browser's launch including memory leakage, the vertical height of the tabs, and image sizes. 16 GTD community members then also chime in with their thoughts and experiences using Firefox 3 - some are positive while others are negative. If you're considering upgrading to Firefox 3 visit this post first!
#8: Enleiten: A Social GTD


Why It Made The List
This blog post helps those who are having difficulties implementing GTD. David Allen has come out with a plug-in that you can use in your Outlook calendar to help computer users. One of the main challenges, however, is that you are typically limited to using a single computer. What if you don't always use the same computer and want the system to work across multiple devices? Enter Enleiten, a workflow and functionality rich program that helps with GTD principles and project management. 12 GT community members then weigh in with their thoughts.
#9: The Power of Cranking Widgets


Why It Made The List
Frustrated with your work? According to David Allen, one of the healthiest jobs psychologically is the one where you show up at work and you see three things: A bunch of un-cranked widgets, A widget-cranking machine, A bucket to put the cranked widget. This post helps you convert your office into a "cranking widgets" job, thereby increasing your work satisfaction. Some of the recommendations include: Each Action must be "actionable" and must represent a small step, Choose "Next Actions" of as many projects as you can and try to move them forward, and Try to avoid binding your actions to time. Don't be a slave of your calendar.
#10: GTD at Home - Your Family Can Get Things Done!


Why It Made The List
Sure GTD works at the office if you follow it properly - but can it work at home to make your family more productive? This blog post says yes! The writer gave everyone in his family an inbox and gave some practical advice to make the system work: Don't put all of the inboxes in the same place, Locate the inbox in a place where the family member will pay attention to it, Motivate your family members to process their inboxes, Work on the projects together, Encourage the 50,000 feet level thinking, and Apply the great 2-minute rule at home (think of how much you can actually accomplish in 2 minutes if you tried)!

Thank you GTD Times for continuing to provide valuable advice to entrepreneurs through your blog! You can read the rest of their posts at GTD Times.



Like this article? Share it with your friends

---
Have you written articles that would be of value to entrepreneurs? Become an expert on our site by publishing them! Expose yourself to a wide audience, drive more traffic to your website and get more sales! Click Here for details.
Learn how Giorgio Armani a man from a war-torn country grew from poverty to becoming one of the top fashion designers in the world.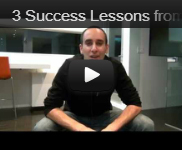 Get advice & tips from famous business owners, new articles by entrepreneur experts, my latest website updates, & special sneak peaks at what's to come!
Email us your ideas on how to make our website more valuable! Thank you Sharon from Toronto Salsa Lessons / Classes for your suggestions to make the newsletter look like the website and profile younger entrepreneurs like Jennifer Lopez and Sean Combs!