| | | |
| --- | --- | --- |
| | Like this article? PLEASE +1 it! | |
Are you ready to quit your job and start your own business? Then you won't believe this...
Is It Even Legal To Discover
Your Perfect Business
Idea and Actually Get Started…
For Only $4.97?!
Get Advice From Oprah Winfrey, George Lucas, Donald Trump, and 14 Other Entrepreneurs - PLUS The Exact, Step-By-Step Blueprint For Discovering Your Perfect Money-Making Passion Within Minutes!
From: Evan Carmichael, Award-winning Business Coach & Entrepreneur.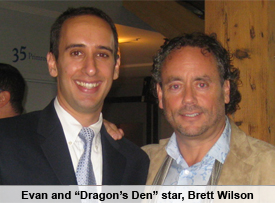 If you're reading this I probably don't need to convince you that working for someone else usually sucks.

Killing yourself for a company that doesn't appreciate you while sacrificing your health, sleep, family-time, and the best years of your life just doesn't seem like a winning strategy to me.

So how do you get started?

You want a business idea that fuels your success from the very start.



Wouldn't that make things so much easier?


A few months ago I created an acclaimed course which helps new entrepreneurs start their business and accelerate their success as quickly as possible. It is called "Getting Past Survival Worksheets -- 13 Rules For Startup Success", and it sells very successfully for $49.95.

Because of its overwhelming popularity, I decided it was time to help you jumpstart your business by releasing one of the most important sections from this amazing course for a massively discounted price of only $4.97.

It's called, "The Finding Your Passion Worksheet."

In it, you will discover extremely rare advice from Oprah Winfrey, George Lucas, Donald Trump, and other mega-millionaires. You will find out how they sprung up from nothing to become business titans, along with specific steps for identifying your ideal business idea—all for less than the price of a Big Mac!





Here Is Oprah's
First Bit Of Advice:

She says:

"If you do work that you love, and work that fulfills you, the rest will come. And, I truly believe, that the reason I've been able to be so financially successful is because my focus has never, ever for one minute been money."

As a successful entrepreneur, and after helping over 14 million entrepreneurs achieve their own success…and after being featured in Forbes, The New York Times, The Wall Street Journal, and many other nationally syndicated publications…I'd have to agree with Oprah.

The secret to finding your golden business idea—the idea that fuels your success from the very start—that kills your day job—that provides freedom for you and your family—that hurdles right over those other businesses which go down in flames—lies in discovering your passion!

Why?

Entrepreneurs who start businesses and are "just trying to make money" rarely do. They quit as soon as it gets hard and they lose interest because they never really cared about what they were doing.





Don't trade one lousy
job for another one.


If you look at almost every famous entrepreneur and research why they got started (as you'll soon discover), it wasn't because they wanted to make a lot of money.

Successful entrepreneurs start businesses because they have a strong passion for something and want to make a powerful and lasting impact.

When you do meaningful work that you're good at, you'll earn far more money and will have a lot more fun in the process.

• What are you passionate about?

• How can you use what you're naturally good at to help people?

You can make money with any business idea if you're truly passionate about it and are providing real value to your customers.

The more value you provide, the more money you'll make. Simple right?

If you need help figuring out what type of business to start, use the following worksheet to help guide your thinking…



Okay Evan, you've told me enough, I want
"The Finding Your Passion Worksheet" NOW.




Testimonials

"This worksheet was very helpful and fun! I definitely recommend others to answer some of this worksheet's simple yet eye opening questions."


- Bailey Vaez
proactivemovement.com

"It's the best $5 I ever spent... Overall I would strongly recommend these materials."


- Sam Lacquaniti

"I love it! Thanks for producing such a helpful product. Kudos to you!"


- Bryant Andrews

"Hi Evan. I did find the worksheet helpful... and narrowed down to 4 possible business ideas."


- Mark Hopkins

"I just got Worksheet #1 - Find Your Passion and you've sorted me out in few minutes. Your worksheet is great."

- Lex Hayball

"The worksheets are excellent. My business is due to relaunch so your info has been invaluable so far. I may get the next series. Many thanks."


- Craig Shrigley

Who Is Evan Carmichael,
And Why Should You Listen To Me?
Ok. Good question, here's my background:

At 19, I built then sold a biotech software company. At 22 I was a venture capitalist helping raise between $500,000 and $15 million. I now run EvanCarmichael.com, one of the world's most popular website for entrepreneurs.
My goal is to help 1 billion entrepreneurs. I have been featured as an entrepreneurship expert by media across North America:

But Here's The Part That Excites Me The Most:
I'm most excited about the lifestyle that I have created and absolutely love…I have helped set 2 world records, I barely work 20 hours per week, I travel on vacation with my family 4 times a year, and I'm a scooter-riding philanthropist who enjoys salsa dancing, being a DJ, and the Toronto Blue Jays!

Evan, How Did You Do It?
I've always known one thing: If you model the success of other giants—if you have their same mindset and attitudes—you will enjoy their same success. That's why I spent years learning everything there was to know about some of the success giants you are about to learn from today.
And other thing: I discovered, and followed my passion. As I mentioned before, people who decide to start a business "just to make money" rarely do. You need to identify the passion that motivates you, fuels you, brings out your most creative self—and then you need to marry that passion to a solid business model.
All of this is actually much easier than it sounds, and I've created an entire blueprint that not only showers you with wisdom from some of the greatest entrepreneurial minds of all time, it also reveals your perfect money-making passion…
...Announcing:
"The Finding Your Passion"
Worksheet…
Trusted by over 62,303 folks in the US, Canada, and around the world, the "Finding Your Passion" worksheet helps you find a business idea that will excite you, challenge you, and give your life a greater sense of meaning and purpose…

Oh, and it can also help make you rich.

It's 44 pages long and will give you everything you need to help you figure out what you're passionate about and how you can build a business around it.

Here's what it looks like inside:

Pages 1-16 - Worksheet exercises to help you get your winning business idea
Pages 17-38 - Advice from famous entrepreneurs on finding their passion
Pages 39-44 - Inspirational pictures to motivate you and keep you on your path

There's no fluff or filler—every page is a real step forward in your business for specific steps on doing so. You'll get specific and practical advice from the following famous entrepreneurs:

Martha Stewart, Oprah Winfrey, Dana White, Steven Speilberg, George Lucas, Tony Robbins, Trip Hawkins, Steve Jobs, Jennifer Lopez, Donald Trump, Sam Walton, Walt Disney, Ron Popeil, Dov Charney.


Here's What You'll Learn:
How to find at least 40 business ideas that are sleeping dormant within you, how to pick the best one, and PROVE that it's a sound venture before you spend a penny…
The Martha Stewart recipe to being a first-rate entrepreneur. (p. 16)
How to identify your deepest passions—even those you forgot about, or haven't yet been introduced to—and turn them into money.
Dana White talks about the mistake 90% of Americans make in college, that sets them up for a horrible career. (And what to do about it now that you're out of school) (p. 19)
How to "marry" your passion with a high demand product or service that makes you lots of money.
How to uncover skills that you already have which could be worth millions. (Hint: you're probably so good at it, you don't think it's special, but some folks might pay you a small fortune for it.)
Oprah reveals how to accomplish the near-impossible by harnessing a little-known source of super-human power. (p. 17)
Speilberg: Deep love, happiness, "oneness"—and lots of success?
The 16-point scale: what it is, and why it's CRUCIAL for your perfect business idea.
And much, much more!

All Of This For Only $4.97?!


Yes, and if you're interested, I'd like to offer you an even better deal. (Hint, FREE ☺)

As I mentioned before, the "Finding Your Passion" worksheet is part of a larger course called "Getting Past Survival Worksheets -- 13 Rules For Startup Success". There are 13 more worksheets which come in the entire package, each one is designed to get you over a major hurdle in your new business and get to profitability as fast as possible.


Here are the titles of all 13 worksheets:
#1 - Find Your Passion
This worksheet will help you find a business idea that will excite you, challenge you, and give your life a greater sense of meaning and purpose. Advice from:

#2 - Get Paid to Learn
This worksheet will help you figure out what type of business you should run by getting paid to learn how the industry works from an insider. Advice from:

#3 - Create a Launch Plan
This worksheet will help you create a plan of attach to launch your new business and do something every day to keep the momentum going. Advice from:

#4 - Find Your First Customer
This worksheet will walk you through how to get your first customer and begin to build a business. Advice from:

#5 - Charge More $
In this worksheet we'll look at ways you can provide outstanding value so you can earn more business and charge more money. Advice from:

#6 - Find a Mentor
This worksheet will help you find mentors who will give you the advice and information to help you launch and grow your business. Advice from:

#7 - Create Your Pitch
This worksheet will help you stand out from your competition and impress your potential clients. Advice from:

#8 - Create Your 100 Word Bio
This worksheet will help you stand out from your competition and impress your potential clients. Advice from:

#9 - Sell to Businesses
This worksheet will guide you through the steps you'll need to take to get close bigger deals by landing business customers. Advice from:

#10 - Launch With No Money
This worksheet will help you launch your business or new marketing projects without spending any money. Advice from:

#11 - Create a Mastermind Group
This worksheet will guide you through the steps of what to look for in a Mastermind Group or how to create your own. Advice from:

#12 - Stay Motivated in 3 Simple Steps
This worksheet will help serve as a quick motivational tool whenever you feel like you're not giving it all you have. Advice from:

#13 - Don't Quit
This worksheet will you create a top 10 list of inspirational quotes to keep you going when you're thinking of giving up. Advice from:

If you're reading this and feeling absolutely thrilled about finding your perfect business idea and getting started, I'd like to give you the chance to have all of these worksheets free for 7 days.

• You'll get instant access to all of the materials.
• You can dive right in and start building your business right away.
• Everything must prove to be worthwhile or you pay nothing.

The entire value of all of these worksheets ($4.97 x 13) is $64.61, but today you'll pay nothing upfront to have all of this cutting edge, action-oriented information.

After 7 days, you'll only pay $37.

Isn't that an incredible offer?

There's absolutely no risk to yourself, and my worksheets must be as good as I say, or you simply email me or my staff within 7 days and cancel—you won't even be charged!

If you DO love this material, just like thousands have before you, then simply do nothing, and after seven days, will be billed for purchase price.

Will lots of cheap-skates rip me off?

A few might. But I think that when most honest, hard-working folks come across a quality product—one that is worth 10…20…100 times more than it's sticker price—they respect it. And if my worksheets can't deliver the results that I say they can, I don't feel like I deserve your money anyway. That's just the way I was raised in friendly Canada :-)


Click the shiny, inviting "Add to Cart"
button to get your worksheets NOW:
I accept PayPal as well as debit cards and all major credit cards. That's Visa, Mastercard, American Express, etc. When you get to the order page, it will look like the snapshot below. This page is totally secure, and if you prefer not to pay with PayPal, you can click the tab at the bottom right-hand side of the page which says, "Don't have a PayPal account?" This will allow you to pay with a credit card or debit card. See the image below:
Click the shiny, inviting "Add to Cart"
button to get your worksheets NOW:
You Don't Have To Stay Trapped In A Crappy Job.
When I picture that never-ending cycle of taking orders, feeling unappreciated, backstabbing office politics, and working like a dog, I feel sorry for anyone who feels stuck in that situation.

I'm telling you things don't have to be this way!

You DON'T have to stay stuck… Even dogs, don't work like dogs!

You can escape this "puppy mill" cycle of lots of work and little appreciation.

You can enjoy the pride and self-respect that comes from running your own business!

I've helped thousands of new entrepreneurs to get on the road to success. I promise, things will get much better for you, very soon...

But you have to do something different.

You must take action now….
Click the shiny, inviting "Add to Cart"
button to get your worksheets NOW:
Look forward to seeing you on the other side.
Your friend,
Evan Carmichael.
Business Couch. Entrepreneur. Professional Relaxer and Hobbyist :-)
P.S.
It doesn't get any more awesome than FREE. You can literally try all 13 worksheets free for 7 days, (or just the "Finding Your Passion" worksheet for $4.97). That means you practically have nothing to lose, and everything to gain!!!
P.P.S.: I'll also throw in a 3 awesome surprise bonuses to help keep you motivated as you grow your business. (Hint: They're worth $37 all by themselves!)
Click the shiny, inviting "Add to Cart"
button to get your worksheets NOW: