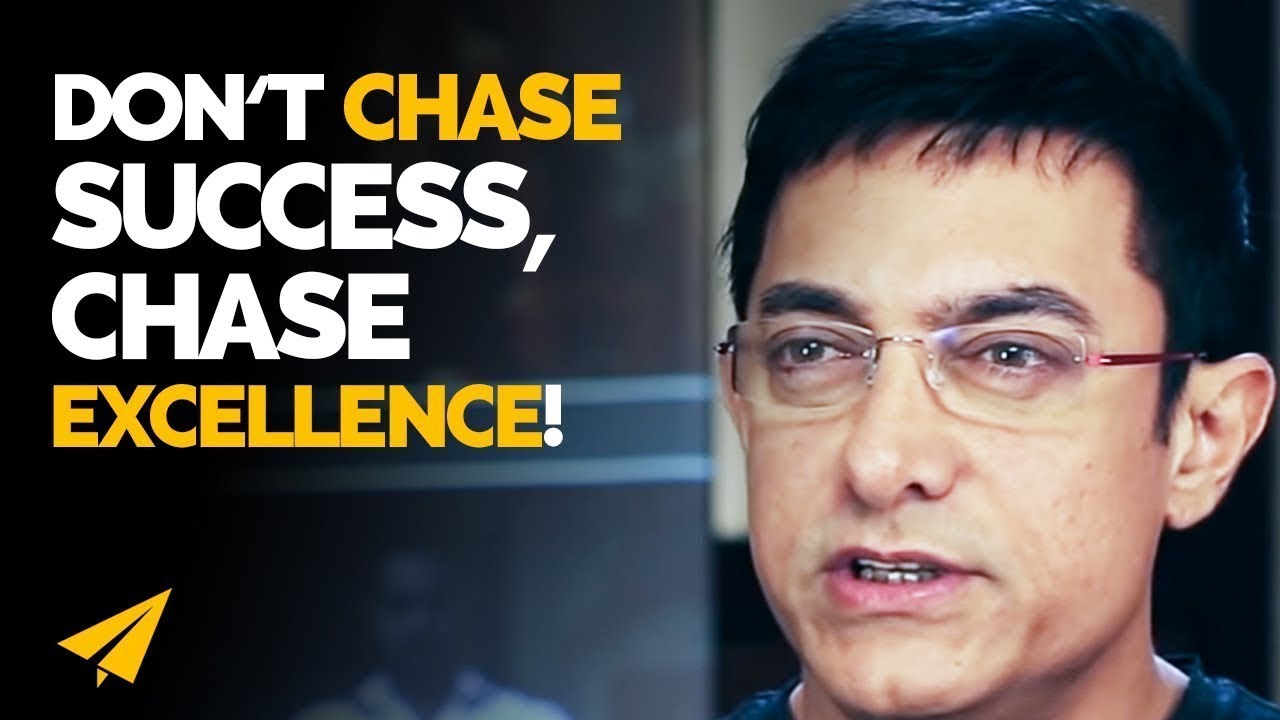 Famous Entrepreneur Quotes
Aamir Khan's Quotes
"I've always believed in following my dreams."
"I like to go instinctively. If I love something, I want to do it."
" I'm not quite aware of why I've been successful so far. You know I don't think so much about that. What I like to do is enjoy my work. So I do work which excites me. "
Aamir Khan's Top 10 Rules For Entrepreneurship, Business and Success
Today we're going to learn from an Indian actor, director, and producer. He's Aamir Khan and here's my take on his top 10 rules for success.
Rule #1. Be Passionate
And I think each one of us, you know, finds their own path. So, what is the important to me, which I would like to share with you is that I've always believed in following my dreams. And I don't know how that happened. I'm not quite sure how that happened. But I think it also happened because I'm very passionate about whatever I do.
Whether it's my work, which is films. Whether it's playing a sport. Whether it's you know, hanging out with my friends. Whether it's having an argument. Whether it's you know, laughing about something. I'm very passionate about everything.
And I give my entire attention and full… Everything about me is in that one thing that I'm doing at that time. So, I think that what is being very important for me is that I don't want to compromise with what I want to do. What is my dream? I don't mind compromising to achieve my dream, but I don't want to compromise the dream itself. So that is something that I've always believed in.
Rule #2. Be The Change You Want To See
I think that, what Gandhi said is so true. That, be the change that you want to see. And I think that each one of us can at least change yourself. And that, itself, is such a big force in changing the world.
You know, you wake up in the morning, you read the papers, the news. You read about injustice. You read about poverty. You read about people who are less privileged than you. And you want to really do something about it. I think most of us feel that way, and we don't know what to do. And I felt that for a number of years. And then I realized that I should do what I know best, which is storytelling.
And I should use the strength of storytelling to try and change minds and try and, you know, enrich, perhaps, the discussion on certain issues that we face as a society. And I saw the ones really doing it on that kind of a scale, on a public platform. And I thought if I combine the strength of TV with the good will that I've earned, And you know, we try and… Actually, combine journalism, investigative journalism and storytelling.
So we really research each topic, and then bring it to the country of India and share what we have learned with the people. And hope that we can transform minds, hearts. You know, I've always felt that there's two ways of bringing about change. One is top-down. When you make laws and you tell people to follow them. Or you make policies and you expect people to follow them.
And sometimes it works, but a lot of time it doesn't. I think the other way is a longer route, but I think that is what we have chosen to do. And that is to reach out to people's hearts. Not with anger, but with love. And, you know, try and transform minds at a young age.
Rule #3. Enjoy Your Work
Interviewer: What is the founder of your success?
Uh, I don't know, actually. I'm not quite aware of why I've been successful so far. You know I don't think so much about that. What I like to do is enjoy my work. So I do work which excites me. And often it's work which, on the face of it is not considered very, you know, doesn't have the potential to be a big blockbuster. You know, I've picked very unusual kind of stories. So, even I didn't expect them to be successful.
Interviewer: Do you feel pressure? Because you had this really long run, apart from anyone else, of success
Well, not really, because I feel that, you know, I'm not even thinking about that. I'm not even thinking about that. I just want to enjoy my work, and I want to surprise myself. Challenge myself and surprise my audience. And give them something new each time. So, I like doing that. I like doing different stuff.
Rule #4. Live On Your Terms
When I look back today, after 25 years of being a professional, I think that that's one thing that I feel happy about. That I lived on my terms. You see, today I'm successful. I may not have been successful. I may not have been successful. I didn't know I was going to be successful. But I'm happy that I lived on my terms. And I'm happy that I never compromised. Whenever I was offered something I was not happy with, I didn't do it.
Rule #5. Follow Your Heart
Interviewer: Do you think you're the kind of person or individuality, that follows his heart?
I do follow my heart. I don't think too much. I like to go instinctively. If I love something, I want to do it. I don't think after that. So, in this film I had to play an older man, who's fat. Who's got gray hair, and who's aging. And he's got four daughters.
If I think, logically, then I should not do a role like this for some time. But I love this film, so I'm an actor. I play different roles. So I like to go with my heart, but I have to say that a lot of people are also successful when, those who go with their mind. There are no rules, I think. Each one makes their own path. But I like to follow my heart.
Rule #6. Help Others
It's not just the emotion of wanting to do something for somebody else, which is in itself a good emotion.
That you want to do something for someone. But if you feel that your life is incomplete if you don't.
So you're doing it for yourself, really.
Of course, you're doing it for someone else. But I think that that's what is important, and it's something that happens to you if you feel like. It doesn't have to happen to you. But I think in me what grew was this feeling that I needed to, for myself, do something.
That I felt better about myself when I felt I was.. You know, I feel I'm so privileged in so many ways. And I feel that, I really feel that when I see around me people who are not as privileged, I can't just sit by and be comfortable with that. There's a need in me to, you know, reach out and perhaps help if I can.
And in a way, you're lucky to have a position where people will listen. You'll be able to…
And I'd like to use it to the best of my abilities. So I guess that's why I've moved into the space that I have. It's for my own emotional or mental piece of mind and satisfaction.
Rule #7. Live Healthy
I don't do too much to look after myself. But what I do, for sure, is I follow a very strict diet. And I think that has made a huge difference to the way I feel and to the way I look. It has made me realize that we are what we eat.
Absolutely.
So, I follow a very healthy, balanced diet. I drink a lot of water.
Yeah, we've seen that.
So, I think I drink about, at least three liters a day. Sometimes four. So I think what has happened is that because of my healthy diet, I sleep eight hours.
Rule #8. Don't Chase Success
And I think success, like Phunsukh Wangdu says, "Don't chase success. Chase excellence, and success will come with it." So, I hope that I'm trying to do that. It is I'm trying to do that. I don't know that I achieve that, But I'm trying to do that, yeah.
Rule #9. Follow Your Instincts
This is a fascinating thing. Right through my life. Every important decision of mine. All the people who are important to me, and who are close to me, have always told me, "You're making a mistake. Don't do this." I'm always being told that.
Interviewer: So that's a good benchmark.
No. I appreciate the fact that people who are close to me are concerned about me. I appreciate the fact that they care for me and are worried for me. But what I've always been happy about myself is that I've always done what I believed in. So I'll give you three examples. When I was in the 12th, that's when I decided that I wanted to learn about filmmaking and cinema. So I told my family, my friends.
Everyone around me that, you know I'm going to start working as an assistant director and start learning about filmmaking. Everybody I knew at that time, my parents, of course, freaked out. You don't want to be a graduate? You want to leave your studies? It was . And my uncles and aunts, they were all like, "You know you can't do this." My cousins. People my age, who I thought would understand me.
My friends said,  "Do what you want. You want to be an actor, you want to be a filmmaker. Do what you want. But at least be a graduate. It didn't make sense to me. I was like, why? If I want to be a doctor, do I study commerce? No, I study medicine. If I want to be an engineer, I study engineering. If I want to be a filmmaker, I want to study filmmaking.
Why on earth should I waste time studying something else when I'm really clear that this is my goal? So, no no. Because you need a paper which says you're a graduate. That was told to me. I said, "No, I don't need a paper." I don't need someone to tell me what I know. I know what I know. And if I need to know something, I'll learn about it. So I was very clear that this is what I want to do. So I didn't listen to anyone.
I didn't listen to my friends, I didn't listen to my family. I just did what I wanted to do. Because I feel that, if I'm clear about what I want to do, and I'm honest about it, and I'm sincere about it. And the reasons why I'm doing it is, is clear to me, then I must follow my instinct.
Even if I have to go wrong tomorrow, I'd rather go wrong on my instincts. I don't want to go wrong on somebody else's advice. If I've taken a wrong step, I'll deal with it. I'll learn. It could be a learning experience for me.
Rule #10. Work Hard
Man: From a young wrestler to a 42 year old man… And then a 52 year old man… it's a long journey Aamir Sir asked me what was my vision… How do you have in mind for Mahavir Singh?
Aamir Khan: Nitish said we'll begin with your young portion… But I said, let's not do that. Let's do the opposite. Let's first get done with the portion where I am fat… I am fat in about 80% of the film.
So let's do that first. If I shoot the young portion first, and then I put on weight… … to shoot the portion where I am old, I'll still be fat when the film is complete. And I won't have any motivation to lose weight! I could eat or drink whatever I wanted.
And have a great time. And I had a ball. I have to say I had a ball. But it was also most uncomfortable. Even my wrestling training was affected, because… … I was carrying so much weight that, I couldn't really move fast enough. You know your breathing changes when you put on weight. Your whole body language changes…
The way you walk, the way you sit, the way you try to stand up. Everything changes. You can see the kind of dedication Aamir Sir has… As there is also a temptation where … … one can wear a body-suit to look fat. Wearing a Body suit didn't excite me. I mean…I would look fat under the shirt, but… I won't get that feel… It won't be any fun for me, as an actor. And guys, that's a wrap.
So that's an end to me looking like this. But in the beginning I thought I won't be able to do it. Because I was so over-weight… 97 kilos and 37% body fat. I thought…I'm in trouble now. Because this is impossible. When you look at the peak of the Himalayas… … you feel you can never make it up there. It seems far…it seems very difficult.
You feel disappointed. When you attempt it on the first day… … you feel as if this is just the beginning. It's still a long way to go. So I would shrug these disappointing thoughts. And I would think… let's just think about this day. Let's not think about the final goal. How will I get there? One day at a time, one step at a time. Dr. Nikhil Dhurandhar, who stays in America was his dietician. We worked out a customized diet plan for him It was a caloric deficit diet plan.
The plan would oscillate from 1800 calories to 2500 calories. No matter how hard you exercise, if your diet isn't right… … you won't get the desired results. Sometimes he would get really tired… … and say 'I can't do this set' or 'I can't do it'. 'I am very tired.' So I would say that 'Okay, sir… we'll reduce the weight'. 'But we'll carry out the exercise.' But I wouldn't reduce the weight.
And because of that, when he would finish doing the set… … then I would tell him… 'You've never done this set before…' '… this is the first time you've done it so heavy.' And then gradually… your body starts to transform.
Want to see his body now? Around 6-6:30-7… Very nice…very nice. 18%?
– 18. something. Dude, that's not fair. 18…
– 18.15. 18.15… Careful. Careful. Push. Go for it! Strong! Strong! Strong! Up! If a superstar is so passionately involved in your film… …then, there can't be anything better for you. 9.67! Yes! 9.67. Finally we did it.
– You hit the target, sir. 9.67!
Thank You!
Thank you guys so much for watching! I hope you enjoyed. Then cast your vote on who you want to see in the next top 10. Check out the link in the description and go vote for the person that you want me to profile next.
I also want to give a quick shout out to Dev Gadhvi. Dev, thank you so much for picking up a copy of my book, Your One Word. Doing a review on your channel. Interviewing me and Lilly on your channel. It's been awesome to have your support, and I'm so glad that you enjoyed my book.
We have Evan Carmichael today joining us.
Thank you guys so much for watching. I believe in you. I hope you continue to believe in yourself and whatever your one word is. Much love. I'll see you soon.
---
BONUS
Learn From Your Failures
In fact, I have learned the maximum from my failures. My failures have taught me the most. And so I really value my failures. Whatever I am today is because, not only because of my successes, but also because of my failures. Whatever I've learned, you know, through my failures. And so, I have always done what I believed in. And I continue to do that.
Be Creative
I strongly feel that creative exchange, creative people, have no boundaries. Jackie Chan is so popular all over the world. It doesn't matter that he's belonging to one country. Over time, he belongs to the whole world. And he entertains everyone. So, I think that for creative people there are no boundaries. And it is the creative people who try and bring cultures together, people together.
Summary
Rule number two is my personal favorite, and I'd love to know which one you guys like the best.
Aamir Khan's Rules
BONUS
I hope you enjoyed this article, make sure to check my Aamir Khan video on his Top 10 Rules For Success as well.
Related Aamir Khan links
---
You might also like
---