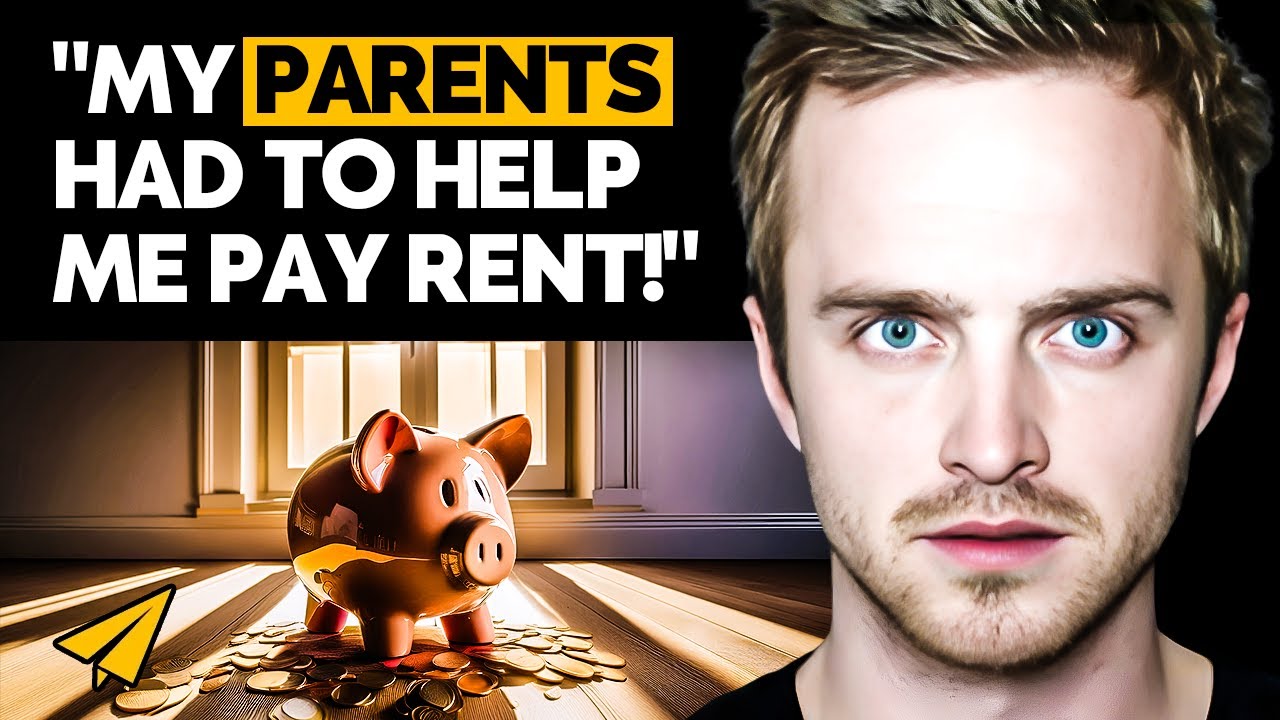 Famous Entrepreneur Quotes
Aaron Paul's Quotes
"I always tend to gravitate towards the more complex side of things, just complicated characters, just because for me, it's just more interesting to play."
"All you got to know is the strong survive, and if you're strong enough, you'll survive."
"Embrace every moment, 'cause it flies by."
Aaron Paul's Top 10 Entrepreneurship Rules For Business and Success
He's an actor  and producer best known for playing Jesse Pinkman in the Breaking Bad series. At 19, he drove to LA in his 1982 Toyota Corolla with $6,000 in savings and his mother to follow his Hollywood dream. He's the only actor to ever win the Emmy Award for Outstanding Supporting Actor in a Drama Series three times. He's Aaron Paul, and here are his top 10 rules for success. 
Rule #1: Be Picky
For longevity, if you want longevity,  you got to be picky with the roles you choose. And it's all about it has to be on the page. You know, if it's not written properly, then you have nothing. So if you get a script sent your way, that they're interested in you, and it's really solid on the page, then you have something to work with. But other than that, then no.
Rule #2: Allow Peaople To Help
I had so many ups and downs, so many struggles, so much rejection, but to me, I never saw myself going home. And to be honest, the first time I ever asked my parents for any sort of financial help, which was so hard for me to ask 'em, 'cause this is my dream, it's not their dream. And of course they want to see their son succeed in their dreams. But first time I asked them for any sort of help was right before booking Breaking Bad. I was like "Could you help me with my rent?" And they paid my rent three months in a row, which was so hard for me to allow them to do. And it was so hard for them to do it, you know. They had nothing. And then I booked Breaking Bad,  and you know, the rest is history.
Rule #3: Be Strong
When I first moved here, they're like "Listen, all you got to know is the strong survive, "and if you're strong enough, you'll survive." And so I have always remembered that.
Rule #4: Get Used To Rejection
There's been times where I was like wow, this is really hard, this is really hard. I mean, just the ups and downs, and where I'm like wow. I'll get like back-to-back jobs, I'm like my career is like really taking off! And then there'll just be a standstill, and it's just like roll with the punches and just deal with the rejection. And it took a minute to understand that that's such a huge part of this business. And now I just don't take it personally. I just like you know what, there was someone better for the role, and there's another job out there.
Rule #5: Just Run With It
There was doing church plays since I was a little itty baby.  I was the baby Jesus. I don't know if I knew then, but I think around like eight or nine, when I was doing kind of like the leading roles, I was obsessed with it and kind of just ran with it.
Rule #6: Dedicate Yourself To Your Work
When I get the script, I just kind of dissect. I read it just front to back, and then I start really dissecting each scene and kind of understanding why he's in this particular situation, why he's feeling, these sort of things. But it's all so much on the page. And so I just, how I dive into a particular scene, I just try and live those moments as if I were Jesse. I don't try and have certain triggers or think about some sort of torture that I personally have went through in my past. I just try and really live and breathe through this particular person's skin. And with Jesse, it's a constant struggle. And so it's a little rough at times, but it's such a blast.
Rule #7: Keep It Interesting
I always tend to gravitate towards the more complex side of things, just complicated characters, just because for me, it's just more interesting to play.
Rule #8: Try Different Things
A lot of roles are coming my way where I'm playing like the lovable drug addict. But what I want to do is do something completely opposite, just do something that is different than something I've ever done, something that's kind of terrifying and scary to me. But that's what it's about.
Gravitate towards just such,  just different kind of roles, ya know. Like I try to do stuff that's always kind of terrifying. Not terrifying as a story, but it just terrifies me as an actor to play.
Rule #9: Embrace Every Moment
Embrace every moment, 'cause it flies by. Just embrace everything.  And I've really taken that to heart, and I have embraced everything.
Rule #10: Have Passion
Most of us have recovered enough to go on, Rod.  Who's our next player?!
Rod: Well, let's see what we can do for Aaron Sturtevant!    Come on down! Aaron, you're the next contestant on The Price Is Right!
Oh!  You're the man, Bob! Oh my, you're my idol!
Bob: I have the horrible feeling I have another one!    Here's the next item up for bid.
Rod: An elegant flat top desk!
Aaron, what do you bid on that?!
1200 bucks!
1200 bucks!   Michelle.
775, Bob.
Bob: 775!  Charleta.
800.
Bob: $800.  Tracy!
850!
Her bid is 850.  Actual retail price, 1,797!   Aaron wins!   Aaron is the winner. Let's get him over here! Right here, Aaron! Congratulations!
I'm touching Bob Barker!  Yeah!
Aaron!
Yes?
Aaron, believe it or not, I have another one of these!
Rod: A new car!
Alright, we're going to play the Dice Game. Light up the first number in the price of the car, please!
Woman: Come on Aaron!
Here are the dice. Now, remember there are no zeroes in the price of the car.
Okay!
There are no numbers higher than six.
Yes!
Role, and let's hope it's the second number in the price.
Woman: Go Aaron!
The first number is one.  Now you've rolled a one.  Is that the second number?   No. Is the second number higher or lower than one?
Higher, higher!
Of course, it has to be.  Okay, next number in the price of the car. Is it six?    No! Is it higher?  Lower than six! Roll! Aaron, we're on a hot streak!  Is it three?   No. Is it higher or lower than three?
Higher!
Higher than three.  Alright, roll that last number. Is it four?!   No! Is it higher or lower than four?
Lower!
Lower than four. Let's find out.  Does Aaron win the car? Light up the second number, please.   Light up the third number, please.
Woman: Come on Aaron!
Give us a number higher than three!   Yes!  Give us a number lower than four!  Oh!   Aaron, I'm sorry!
Oh!   I get to spin the wheel, right?!
That's right!  He'll spin the wheel!   We'll be back after this!
Thank you so much for watching. I made this video  because Orion Dark Night asked me too.
So if there's a famous entrepreneur that you want me to profile next, leave it in the comments below and I'll see what I can do.
I'd also love to know which of Aaron Paul's top 10 rules resonated the most with you. Leave it below, I'm going to join the discussion. Thank you for watching, I'll see you soon.
---
Summary
Aaron Paul's Rules
I hope you enjoyed this article, make sure to check my Aaron Paul video on his Top 10 Rules For Success as well.
---
You might also like
---