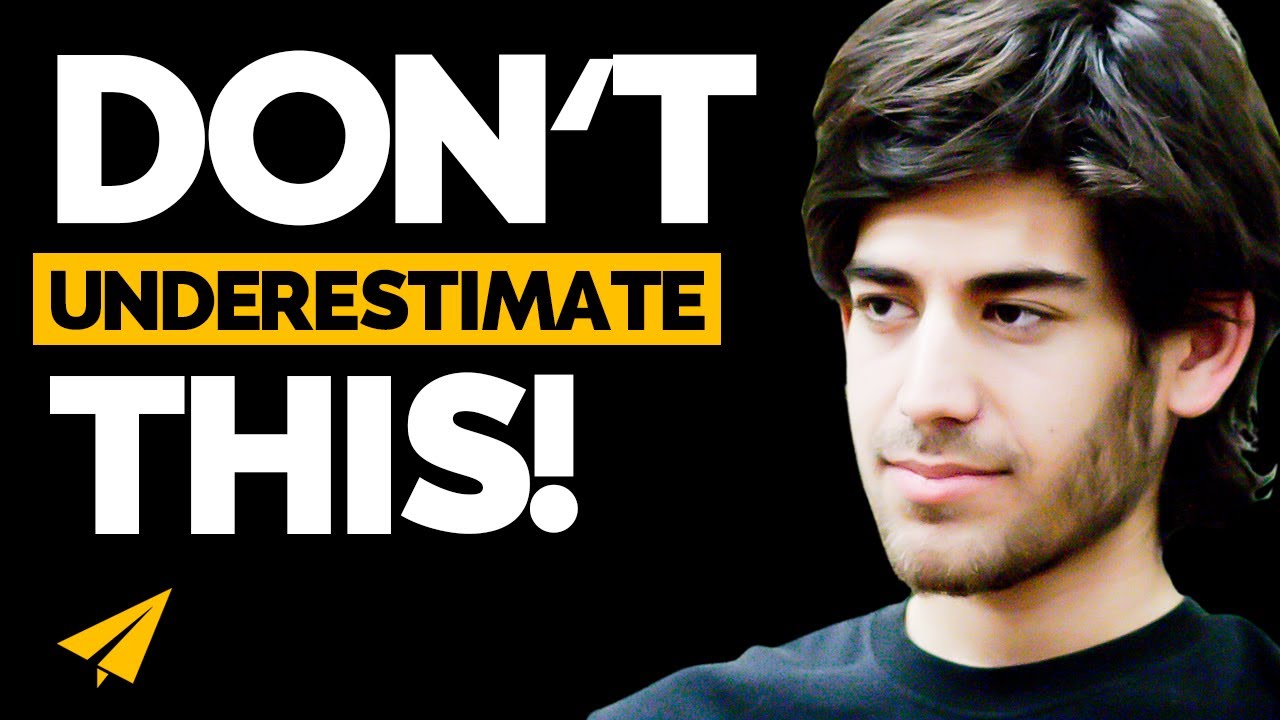 He was an American computer programmer, entrepreneur, organizer, and internet hack-tivist. He was involved in the development of the web feed format system RSS and the social news sharing site Reddit. He founded the group Demand Progress, which campaigned against the stop online privacy act. He's Aaron Swartz and here are his top ten rules for success.
Aaron Swartz's Top 10 Rules For Business and Success
Rule #1: Always Be Questioning
You know, I feel very strongly that it's not enough to just live in the world as it is, to just kind of take what you're given and follow the things that adults told you to do, and that your parents told you to do and that society tells you to do.
I think you should always be questioning. I take this very scientific attitude; that everything you've learned is just provisional, that it's always open to recantation, or refutation, or questioning. I think the same applies to society. I felt growing up, I slowly had this process of realizing that all the things around me that people had told me were just the natural way things were, the way things always would be, they weren't natural at all.
They were things that could be changed. They were things that more importantly were wrong and should change. Once I realized that, there was really no going back. I couldn't fool myself into saying, "Oh, I'm just going to go work for a business and ignore all that." Once I realized that there were real serious problems, fundamental problems that I could do something to address, I didn't see a way to forget that, I didn't see a way not to.
Rule #2: Confront Your Idea With Real People
Do not, I repeat, do not underestimate how much your user use will help you to define your product. If you launch without having significant user feedback time, you've essentially thrown away a massive and free focus group study. I think that's very important.
We all kind of assume when we're going into startups that we have this great, brilliant idea that if only we make it just the way it is in our heads, everyone will love us and give us money. We'll be successful and famous. In reality, that's just not how it works.
You hear stories all the time of people like Flickr where the idea was completely wrong going into it. Changed 350 degrees, spun around, tried something completely different. The more you postpone that, the more you postpone interacting with real people and confronting your idea with the test of reality, the more time you're just wasting working on an idea that won't actually be successful.
Instead, the important thing is to get it out there fast, confront it with real people, real users, and figure out what makes those people happy.
Rule #3: Be Excited About It
I think my main reaction to it was kind of being excited about it, right. Part of what made it magical was finding other people to connect with. The more and more people who were there, the more people you had to connect with, the more interested in pages they were to visit, the more stuff that was online.
You would search for stuff and the vast majority of the time, nothing would come back because there were only a handful of people writing stuff for the internet. As everybody started putting things up on the internet, as every company had a webpage, you could suddenly, instead of, I remember it used to be so annoying.
You would open up the phone book, find the store, dial the stores number and ask them, "How late are you open?" Now you can just type in their domain name. There would be their hours, location, their menu. It would all be there.
You wouldn't have to, at your fingertips, you wouldn't have to talk to anybody. It would just be instantly available. I remember just, I couldn't wait until the whole world was on the internet. I never had to call anybody again.
Rule #4: The Internet Provides Opportunities
Like I said, I got interested in educational stuff. I don't think I really got involved in a political campaign. I spent a lot of time after that wondering what it is that I could really affect. I did a lot of writing, and a lot of reading, but a lot of the stuff I read about social change seemed to come from this model.
In the revolutions in the 60's, people thought, "Oh, if we just get enough people together who are angry, then all of a sudden magically, this revolution will happen and we'll take over the country." It just didn't make sense to me. I think now I have more background, more context, I think it came out of this experience of watching the Soviet Union because the Soviet Union was so underdeveloped, and there weren't very many political structures in place.
It was true that a small group of people getting a bunch of people angry could kind of take over the whole country. I just don't think that can happen in developed countries like the U.S. or Ireland. I began wondering, what is it that you can do in developed countries.
Everything seems so ineffective and so powerless. It wasn't until just recently that I started thinking, "Okay, the internet provides this opportunity now to get candidates elected." It used to be there was just no way for a small group of people to go up against the power of big money, but one of the things we've seen in P triple C is that there's just a couple of us who work there, and in the past year, using nothing, but basically computers and our own apartments, we've gotten 300,000 people to join our list and raise 1.25 million dollars.
That's just, three people were able to make a huge difference like that. That, I think, means the internet really provides this chance where we can start taking on big corporations.
Rule #5: Be Careful When You Change Something
What made Reddit grow was people spreading it by word of mouth, saying, "This is a site I really like. I found some cool links on it, you should check it out." What happened, the way to get people to do that was for it to be a site that they came back to day after day, it became part of their routine that they felt comfortable with. Whenever we added features, that meant changing something.
Whenever you change something, your users tend to get mad at you. They liked it the way, they were used to the way it worked before, so they think they liked it the way it worked before. They will quibble about any little change that you make because it's clear that things can be changed.
It makes them feel uncomfortable that this site they've gotten used to is changing. I think by having a solid stable site each day, that made them feel more comfortable with it and more comfortable about sharing it. It was that sharing that got us all our traffic.
Rule #6: Everything Is Built On Something Else
The thing about the creative process is everything is built on something else. Shakespeare stories were built on traditional legends and folktales right. Modern stuff is built on Shakespeare. Everything builds on something else.
There's no completely new creative thing. If only because if you wrote something completely new, nobody would understand it. We all have to use words that were developed by someone else. We use ideas that were developed by someone else.
Everything has this process of pulling things together and re-combining them. So, what's worrying about this sort of Copyright police is that they want to prevent re-combination. They want to have the law come in and say, "Re-combination isn't legal."
That only, you have to get a license for every single thing you use. Well, if you do that, you stifle creativity. It's almost impossible to get a license for every single thing you use. Imagine if every word you use, you had to call up the person who came up with that word, or if they're dead, their descendants, and say, "Can I have permission to use this word?" You'd never get through a sentence.
Similarly, we see creativity stifled. Songs pull samples from all sorts of different songs. Imagine if you had to call up each person you borrowed a note from, or a tune from, or a sample from and get permission. All sorts of music would become impossible. It would become illegal.
I think that's what we're seeing in the wider culture is that this notion that become a permission asking society, that ever time you do something, you have to ask permission. I mean, that's basically against the freedom culture we have here. That's the opposite of a free country.
The idea in America is, unless it's specifically outlawed, you get to do it. The idea of Copyright laws is people want to propose it is, unless you specifically get permission, you just can't say it.
Rule #7: Learn From Books
The thing that really got me thinking along this line was right before I went to college, I read two books. I read a book, "Moral Mazes" by Robert Jackall, which is the study of how corporations work. It's actually a fascinating book.
This sociologist, he kind of picks a corporation at random, and just goes and studies the middle managers. Not the people who do any of the grunt work, and not the big decision makers, just the people who's job is to make sure that things day to day get done.
He shows how even though they're all perfectly reasonable people, perfectly nice people, you'd be happy to meet any of them, all the things that they were accomplishing were just incredibly evil, right. So, you have these people, just this average corporation.
They're making decisions to blow out the workers in their factory's eardrums, to poison the lakes and the lagoons nearby, to make these products that were filled with toxic chemicals that poison their customers. Not because any of them were bad people that wanted to kill their workers, and their neighborhood, and their customers, but just because that was the logic of the situation they were in.
The other book I read was the book "Understanding Power" by Noam Chomsky, which kind of took this same sort of analysis and applied it to a wider society which said, "We're in a situation where it may be filled with perfectly good people, but they're in these structures that cause them to continually do evil, to invade countries, to bomb people, to take money from poor people and give it to rich people, to do all these things that are wrong." Those books really opened my eyes about just how bad this society we were living in really is.
Rule #8: Fight For What You #Believe In
There's a battle going on right now; a battle to define everything that happens on the internet in terms of traditional things that the law understands. Is sharing a video on BitTorrent like shoplifting from a movie store, or is it like loaning a videotape to a friend? Is reloading a webpage over and over again like a peaceful virtual sit in, or a violent smashing of shop windows? Is the freedom to connect like the freedom of speech, or like the freedom to murder? This bill would be a huge, potentially permanent loss.
If we lost the ability to communicate with each other over the internet, it would be a change to the Bill of Rights. The freedoms guaranteed under our constitution, the freedoms our country had been built on would be suddenly deleted. New technology, instead of bringing us greater freedom would have snuffed out fundamental rights we'd always taken for granted. I realized that day, talking to Peter that I couldn't let that happen.
Rule #9: Try To Make A World A Better Place
I think deeply about things, and I want others to do likewise. I work for ideas and learn from people. I don't like excluding people. I'm a perfectionist, but I won't let that get in the way of publication. Except for education and entertainment, I'm not going to waste my time on things that won't have an impact.
I try to be friends with everyone, but I hate it when you don't take me seriously. I don't hold grudges. It's not productive, but I learn from my experience. I want to make the world a better place.
Rule #10: #Believe That You Can Accomplish Something
I think the most important thing is to realize that you can accomplish something. I know sometimes it feels, you just feel powerless, that you're one small person in this world of big corporations and big evil people, and big media companies, and so on.
There's just nothing you can do, but the fact is, a lot of the reason it seems like that is because people feel powerless. People are afraid to do anything. For a long time, I felt, I watched the news, and all I saw was this corporate propaganda, and this kind of anti-activism attacks, and I thought the news media was just inevitably biased against us, that there was just no hope, that the only solution was to create alternative news streams.
Now, at the P-trip I found, it's not that the news media is inevitably biased against us. It's that, you know, reporters like all of us are just kind of lazy. They report the stories that people give them. There are huge companies that are willing to write up stories for them and hand them to them on a silver platter, so all they have to do is type them up.
You know, of course they're going to do that. It turned out, when we did the same thing when we started writing press releases, and we started going to reporters and pitching them stories. They were just as happy to write about us as they were about Coca Cola.
So, you know, because I had believed so long that change was impossible, it precluded me from taking any actions that could have caused that change. So, I think the first step for everyone out there is just to believe that you can accomplish something. Because, once you believe that, you're half the way to actually doing something.
Thank You
Thank you so much. I made this because Moshin Sharhan asked me to. So, if there's a famous entrepreneur that you want me to profile next, leave it in the comments below and I'll see what I can do.
I'd also love to know which of Aaron's top ten rules had the biggest impact on you. Leave it in the comments and I'll join in the discussion. Thank you so much. Continue to believe, and I'll see you soon.
---
You might also like
---