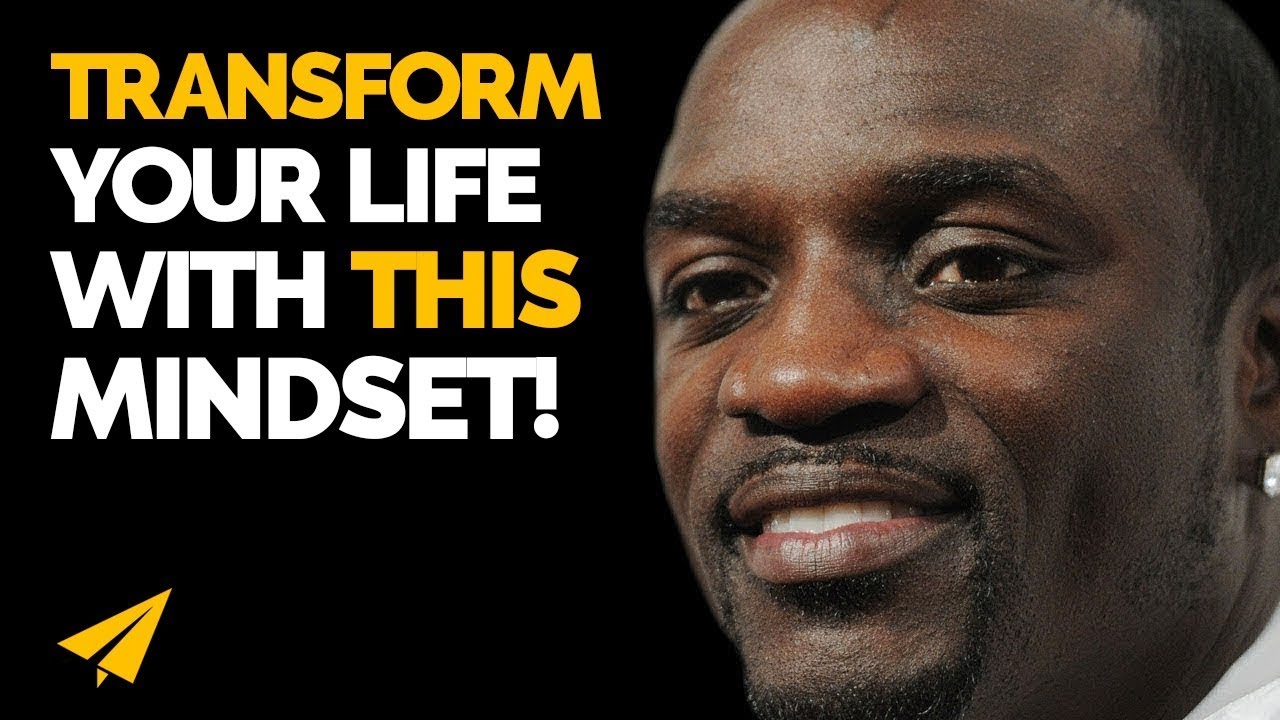 Famous Entrepreneur Quotes
Akon's Quotes
"When I got out, I had a 10 year plan that I wrote when I was in there on what I planned to accomplish when I come out."
"People always ignore they gift, not realizing that gift is what's going to take you out of your poverty, take you out of your situation."
"You supposed to take every situation and make the best out of it."
Akon's Top 10 Rules For Entrepreneurship, Business and Success
He's an American singer, rapper, song-writer, and business man. He's the first solo artist to simultaneously hold the number one and two spot on the Hot Billboard list twice. Billboard rank him number 6 on their list of the top digital song artists of the decade. He's Akon, and here is my take on his top 10 rules for success.
Rule #1. #Believe
The key really is to believe in what you're doing. I think a lot of people invest in things they don't believe in because they think it's going to work. But you have to really believe in it in a way to where you're willing to put everything on the line for it. Otherwise, it's no purpose in investing in it.
And you can't invest off hearsay, she say because you just never really know what's going to pop. So, ultimately you have to know exactly what you want to invest in that you feel like you would do even if it didn't contain you putting money to it. And I think that's always the key, that you have to have the passion for it.
Rule #2. Always Think Big
Larry: You had some problems early on, right? You had some time in prison, we'll talk about that later.
Uh-huh.
Larry: How did the rebound happen? What's this, you had a 10 year plan?
When I got out, I had a 10 year plan that I wrote when I was in there on what I planned to accomplish when I come out. The goal was to stay out of trouble and not come back into that environment. So I had to have a plan, not the trouble. So ultimately that goal became, of course, I started Konvict Muzik. Which was supposed to be a concept that would rehabilitate convicts coming out and utilize that talent that they have. And it just sprung into this huge entertainment enterprise.
Larry: So before prison, no music was in your head?
Nah, definitely not in a way of making money from it. It was more as a hobby, yeah.
Larry: So what happened then? What was your big break?
The big break actually was getting locked up. Believe it or not, Larry.
Larry: Explain that.
Well fortunately for me, my concept was always thinking big. And before getting locked up my goal was to be rich by an means necessary.
Larry: So, you robbed a bank.  That's one means necessary.
That was a little too risky, but what was scary was that that though crossed my mind a couple times before. And ultimately, it was like how do I do it and get away with it? And, just made a lot of bad decisions. Ended up getting locked up, which saved my life.
Larry: What'd you get locked up for?
Actually, I got locked up for a stolen car and a concealed weapon.
Larry: How much time did you do?
I ended up six and a half months for that. The judge was actually lighter on me. He saw the potential.
Larry: Was there a break? You're the first solo artist to simultaneously hold the number one and number two spots on the Billboard Hot 100. You wouldn't have guessed that for someone coming out of prison.
Absolutely not.
Larry: So what did it?
I think it was more of the drive and constantly recording, constantly just working towards that plan. Till one day you work with Michael Jackson and become the biggest artist-
Larry: You didn't know him.
Akon: I didn't know him.
Larry: But you wanted to work with him.
That was at the top of my goal. I said if I can shoot for the sky at least-
Larry: So you set goals high?
Absolutely.
Rule #3. Follow Your Gift
Well my message to the youth is just to follow your dreams. I think a lot of people get caught up and get sidetracked by what's happening around them and what's cool. People always ignore they gift, not realizing that gift is what's going to take you out of your poverty, take you out of your situation.
That gift is the ultimate element that God provided for you to get you out of any situation or to take you to what is destined for you. Some people are just great at certain things, but because music or modeling or film is cool, they alienate what their gifts are just to be a part of something that is persuaded to be cool.
So I always felt like my method and message always has been to just follow the gift that you have. Put a lot of emphasize in it. Concentrate on what you feel that you're great in. Because what you're great in is always going to be what pulls you out of the worst situations that you could ever imagine and put you in a better situation like we here today.
Rule #4. Perfect Your Craft
First, perfect your craft. Regardless of whether you a singer, writer, producer, composer, choreographer. You got to perfect that craft. Learn the business. People always forget, you're in the music business. Understand how these contracts read. Get the right people, right management, right support system, right attorneys. Know what it is you're getting into before you sign anything.
Rule #5. Find Your Advantages
Interviewer: What would you say to somebody that wants to do what you did? That doesn't feel like they have the advantages.
Well you got to find your advantages. That's the key 'cause everybody .. we all come from different places, different backgrounds. And we all have different strategic ways of how we want to get to where we going. But first you got to know where you're going and know the process.
You got to know how to get there. All I am is an example to what I like to do and what my dream is. But ultimately, everybody have their own dream and there's different ways to get there. You just got to pay attention to your surroundings and fine the best way to get there.
But you just can't give up because everybody wants to be rich and famous, so get in line. And you got to be more patient than anything because you can't be so quick to judge, I mean rush into decisions. You got to be very patient, know what you want, and then just go after it. And then when it comes, it comes. But it really comes, so be ready for it.
Rule #6. Find Your Drive
Larry: Are you money driven?
Nah, not at all. Used to be though.
Larry: Is that 'cause-
Used to be. Now, I'm not.
Larry: What's the drive now? You want to get-
Now, it's about a legacy now. It's about what did I do and how will I be remembered when it's over.
Rule #7. Make The Best Out Of Every Situation
Well actually, Kardinall Offishall had brought me some records on Drake back then when I first signed Kardi. This is before Best I Ever Had… And I did, I honestly did pass on him because at the time, he didn't sound like what he sounded like today.
Best I Ever Had wasn't even close to what that sounded like. I think he was in a position where he was finding himself. And I kind of heard it in the music, you know what I mean? But ultimately, as time goes people develop, they get better, and they become the best because of things like that.
Sometimes that motivates you to want to be better and take yourself to the next level. And I think with him, it was more like he was turned around so many times to where it became more of his motivation. And that's what it's supposed to do. You're supposed to take every situation and make the best out of it.
Don't take it to a position where you think people are hatin' or people don't want to rock with you like that. It's just creating an environment for you to be strong and make yourself better at what it is that you do. So that's the whole idea, and I think that's what it was.
I don't regret anything that I've done or any decisions that I made, because you can never really foretell the future or who's going to be what. All you can do is be as honest and true as you can. And those words will carry your way all the way through.
Rule #8. Keep An Open Mind
My mind's always been open. I've been a musical guy since a kid. My dad was a jazz musician. I grew up in Africa where there was no genre, you just loved great music.
So that was one of things, what gave me the advantage even in the U.S. because I never paralyzed myself to just one particular genre. I kind of took a piece of everything with African melodies and just pasted it together.
Rule #9. Invest In Your Career
Of course, if you come upon a large sum of money, invest it back into your career. The first thing you should do is probably a publicist. The reason why I say that is because a publicist is the person that keeps you out there, that keeps the energy around you so that people can get to know who you are, spread that word on what it is you do, what you represent.
And it creates more of a fan base that's curious. That would want to tag into your Instagrams, and the Twitters, and the Facebooks and get to know more about you. And I think the more that people know more about you, the more supporters you get. And when you got more supporters, then they actually support what you're selling.
Which means they will go out and buy. Which will bring you more money, so that you can hire a manager that can help you manage that money. And not only manage the money, but manage the career. And ultimately, if no one knows who you are you have no shot. So, use that money wisely. Put yourself in a position where that money helps to get you exposed.
Rule #10. Have Mentors
Oh, financial mentor? Actually, it would probably be Seun. He's a good friend of mine out of Nigeria. He's in the oil and electric business. And he's very, very wealthy. Huge. And he give me a lot of great tips according to that.
He's like more of my day to day financial mentor. But before that, Michael Jackson gave me a few tips on some financial things too that I still apply today that really, really works. And I can see why he stayed rich for so long .
Thank You!
Thank you so much for watching! I made this video because mr1stcarlos asked me to. So if there's a famous entrepreneur that you want me to profile next, leave it in the comments below, I'll see what I can do.
I'd also love to know which of the top 10 rules had the biggest impact on you and why? What changes are you going to make? What made you think? Leave it in the comments and I will join the discussion. Thank you so much for watching. Continue to believe and I'll see you soon.
---
BONUS
Do what you love
Because at the route where I was going, honestly, had I continued that I wouldn't know where I'd be today. It was just obvious to me, 'cause see I'd been there. I knew this wasn't the life that I wanted to do. Or spend for the rest of my life.
But at the end of the day, I knew I was between a rock and a hard place. Because now, I'm getting out with a criminal history. You couldn't work in a Fortune 500 company or even have the opportunities to become rich.
Interviewer: That's why I love the entertainment industry.
So at that moment it was like, well, I'm great at music. I'd live to do it. I'd do it even without getting paid. So that's when I created a 10 year plan in there and just came out and started executing on it.
Don't copy others.
Don't just do a record because it's the hot record right now and you trying to make one that sounds like it, assuming it's going to give you a better shot 'cause it's not. That record is already there, so your record is not going to make a difference. So do not try to copy what you're hearing out there.
Take a chance
How can record companies become profitable again? I noticed last year they eked out a small, very small profit. I think like 0.2%.
And I think it's going to get smaller. I think unfortunately, as the record companies, they're not thinking outside the box. They're using old methods of how they used to market, promote and they don't know how to let that go. Whereas, the time is changing. The youth are listening differently.
They understand music better than you think they do. And you just can't fool the audience anymore. You have to be able to take a shot and take a chance. You can't break anything that you don't take a shot on. And they're out chasing the single. Records were built on an experience.
Artists and superstars were built on the experience. When you thought about Michael Jackson, you didn't just think about Thriller or Beat It or Human Nature. You though about the experience that came with Mike. From the performance, to the mini-movies, to the concerts, to barely seeing him in public and you see him chasing down that alleyway.
That vision of Mike was going to be there today and you don't know if you're ever going to be able to see him live again. We lost that. That doesn't happen anymore because the record company understood how to build superstars. And you can't be profitable if you're just focused on a record that you can download for free on any music related site anymore.
And I think they've lost site of that. They hadn't transformed into the digital age fast enough. Whereas, the younger youth and the generation now understands how that works. Everyone has a MacBook where they have Garage Band and can make their own records.
And you have YouTube where you can create your own videos and become your own superstar. So guess what? If you have that competition and yet the artist that's making you money don't have no extra leverage that you should be bringing to the table and dumping the money and the system that the average person don't have, you're just as popular as the most popular person on YouTube.
If you just focus on one single record and a homemade video. See, back then we used to put a marketing plan, put money into artists and create a system that would make you want to say I got to go pick that up, or I got to go see that. Or, what's coming next? And how will I be excited from it? They've lost that.
Summary
Akon's Rules
BONUS
I hope you enjoyed this article, make sure to check my Akon video on his Top 10 Rules For Success as well.
---
You might also like
---
More from Akon
---
Today's message is we are all stars. Good morning, Believe Nation. It's Evan. My one word is believe and I …
Good morning Believe Nation, my name is Evan Carmichael. My one word is believe and I believe that entrepreneurs will …