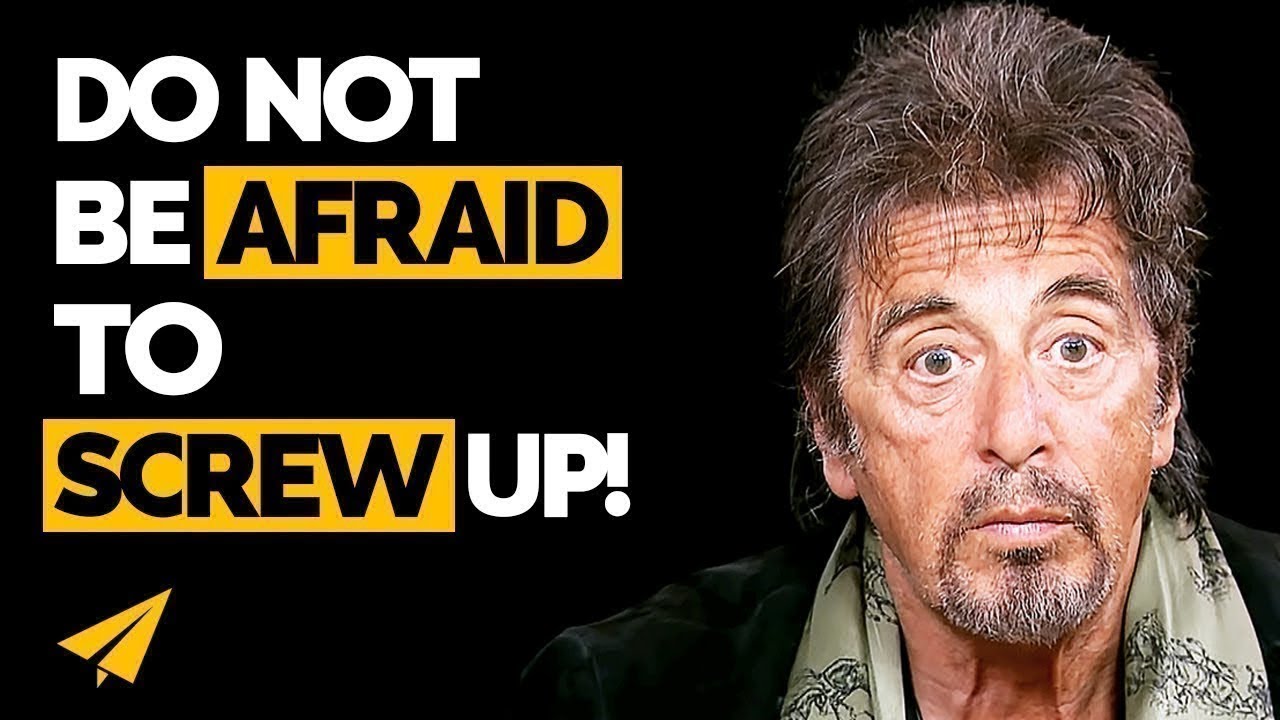 Famous Entrepreneur Quotes
Al Pacino's Quotes
"Desire can sometimes trump talent."
"The idea that we do performances over, and over again you'd say well doesn't that get boring or stale, but no it's in repetition that the creation comes"
"Everything I do, every day, every day, whether they're working on the play, the whole thing, everything has to get to a point where you don't have act it."
Al Pacino's Top 10 Entrepreneurship Rules For Business and Success
He's an American actor, filmmaker, and screenwriter. He's had an acting career spanning 50 years, and along that way has received numerous awards and accolades. His performance as Michael Corleone in The Godfather is widely regarded as one of the greatest screen performances in film history. He's Al Pacino and here's my take on his top 10 rules for success.
Rule #1: Practice, practice, practice!
You look for that thing that moves you, I don't know what it is, I like repetition. And as the saying goes, repetition, repetition keeps me green. I love that saying.
Interviewer: Repetition keeps me green.
Keeps me green, fresh because the idea that we do performances over, and over again you'd say well doesn't that get boring or stale, but no it's in repetition that the creation comes, that the expression comes because, I'll give you an example, I was doing Richard once and not particularly well, and this show is going on, and we couldn't get this court scene with a lot of people in it.
I didn't understand what I was doing in the scene. So, we would call rehearsals and I would, we would rehearse it and stuff, and we would talk about it, think about it you know like all this kind of work where people together are trying to figure out something. The 85th performance of Richard, I had done it, my 85th entrance, I knew the court scene. I understood it, I was there, I could play in it.
Interviewer: But not in 84?
Not in 84! I might've been getting closer than realized, I gave up the ghost, I guess. I just gave it up and said oh, screw it, it's not going to happen and I'll just keep going on, and I found it.
(Movie Dialogue) All train compartment smell vaguely of, I guess so you don't mind it. That's the worse thing that I can confess, you know how long it took me to get there? A long time.When you die, you're going to regret the things you don't do. You think you're queer, I'm going to tell you something, we're all queer. You think you're a thief, so what? You get befuddled by middle class morality, get shut of it, shut it out. Cheat on your wife, you did it, live with it.You little girls, so be it. There's an absolute morality? Maybe. And then what? If you think there is, go ahead be that thing.Bad people go to hell? I don't think so. You think that? Act that way. Hell exists on earth? Yes. I won't live in it.
Rule #2: Take Chances
I would like to be someone who takes chances, I think part of the adventure of it is to go into something, and not be afraid to screw up. Because then you're reaching for something.
(Movie Dialogue)
Come on!
Man: Why are you doing this, Roy?
No, I mean it, say it. Say Roy Cohn, you are a homosexual. And I will proceed, systematically, to destroy your reputation, and your practice, and your career.
I think what happens is you learn to forgive yourself, because you see in the scheme of things how it is, and you say well gee, you know, I tried.
The worst thing, as they say, is not to go for it. But, if you go for it and it goes, you know, it's out of your hands and it's like that old saying what anyone ever says about me is really none of my business.
So, you know, you sort of you go and you hope for the best, and then you see that a lot of the times, you know, things happen and you have no control over it.
(Movie Dialogue)
Alright, let's get a message to Joey Zasa. I respect what he's done, the new overthrows the old, it's natural.
Man:  How could you do business with this guy?
I'm a business man, first foremost, I want no further conflict for that.
Man: You can tell him for me that he could live, or he could die.
Vincent, will you shut up!  That's it. Joey Zasa. He can't be doing this alone. Just when I thought I was out, they pull me back in.
Rule #3: Connect Emotionally
If you're going to make a movie, right, the whole idea is that you make a movie about something, and to be able to make a movie about something you know something that's sort of in your wheelhouse, so to speak. It's something that you relate to. It's important because making a movie is so hard, it's very difficult to get a movie together and, oh man.
You know, you've heard it many times. But to have something you feel you understand, that's why I had a lot of fun doing a movie I made called Looking for Richard.
It was sort of about actors trying to figure out how to do Shakespeare, then people and everything else. So it had a very visceral connection to it.
Well, a movie, a book about an actor going downhill and losing it, and getting older, and falling apart seemed very appropriate for me, you know? And I thought this is going to work.
(Movie Dialogue)
The one thing that bothered me, the one thing that stayed in my mind, and I couldn't get rid of it, that haunted me, was why. Why would she lie? What was her motive for lying? If my client is innocent, she's lying. Why? Was it blackmail? No. Was it jealousy? No.
 Yesterday, I found out why. She doesn't have a motive. You know why? Because she's not lying. And, ladies and gentleman of the jury, the prosecution is not going to get that man today, no. Because I'm going to get him.
Rule #4: Perfect Your Craft
Everything I do, every day, every day, whether they're working on the play, the whole thing, everything has to get to a point where you don't have act it. That all you're doing is going through the thing, and you're not acting it. You just know what you're talking about so much that you don't have to act it.
If you know what you're saying, you know why you're saying it, and what you're talking about, and who you're talking about, and how you feel when you talk about it, then you don't have to act it. And that's what the whole thing's about.
(Movie Dialogue)
Alright, alright, that's enough. I want 'em dead, both of them. I want this no-face dead, and I want Tracy dead. What's a matter? You bums forgot how to kill people? Doesn't your work mean anything to you anymore? Have you no sense of pride in what you do? No sense of duty? No sense of destiny? I'm looking for generals, why do I got foot soldiers? I want Dick Tracy dead!
Rule #5:  Find Your Passion
Yeah, I often say to people who talk to me about Shakespeare, who are not actors or directors, who haven't ever played it or done it. The actor learns Shakespeare in another way, because he learns it having to do it, having to spend months with it. So, he approaches it in that way and understands it in that way, and the familiarity with the words and the phrases, and what the content is, what it's saying becomes a part of you.
And the revelations keep coming long after you've closed in a play. You know, you know things, and you hear things in a way that you could never if you saw the play, or if you read the play, no. That's why actors, in a way, are lucky that they get an opportunity to, that's why some of the great ones that had the repertoires of plays they did, so wanted to do it because it had so much in it.
It's almost like, I can come close to say, say you were a cello, you played the cello or something, and you were playing Bach on the cello. I mean, wow, imagine that. You know, so that manifestation of spirit which comes out of it changes you, it lifts your life, it does. It gives you so much.
And once that appeal to me, when I was very young actually, I was a very young guy when I started to do Strindberg and things like that, and was very affected by that, cause I thought here it is with this material, it's like playing the cello because I can kind of just express things in myself, and it made me sort of universal, it gave me a more universal sense of things and myself, because I was doing things that happened years and years ago.
I was out of the south Bronx. I was out of the life I come from, into another world that was giving me all this stuff. It was a gift. And I knew from that point on, age 21, I knew at that point I had been acting since I was this big, but at that point I though this is what I do with my life. And nothing mattered, being famous, being rich, nothing. Only doing this.
Now at 21, that's easy to say you know, I mean. There's just you and pizza, so you're fine.  But, it is true though, that did happen to me.
(Movie Dialogue)
How many Ferraris you sold this month, though?
Man:  It's not relevant to this discussion.
Freddie, the 80s are over. Are you trying to tell me these things are just walking out of the store?
Man: This is a Ferrari sir, this is the finest piece of machinery made in the automobile industry.
Well, if you like it that much, why don't you sleep with it? Why are you selling it?
Man: Listen, I'd love to accommodate you.
If this car performs the way I expect it to, you will get a certified check of 101,000 and change when you come in here tomorrow morning.
Man: It's 109,000 plus 950 dollars, plus tax.
Freddie, for you, 107 all in, plus a case of champagne, go with your leftover turkey. What do you say? Don't worry about the boy, he drives so smooth you can boil an egg on the engine. When we bring the car back, I'll peel the egg for ya.
Rule #6: Have the desire to succeed
Desire can sometimes trump talent. Think about that. So that you may not have as much talent as you think you have, but if you have the desire, your talent will find you.
(Movie Dialogue)
I never anybody over in my life didn't have it comin' to him. You got that? All I have in this world is my balls and my word, and I don't break 'em for no one. You understand? That piece of up there, I never like him, I never trusted him. For all I know, he had me set up and had my friend Angel Fernandez killed, but that's history. I'm here, he's not. You want to go on with me, you say it. You don't, then you make a move.
Rule #7: Mix it up
Cause I'm making the films myself, nobody sees them of course. But, I make them on my own. I made them, in the old days when I had it, I used to make them with my own money. And that was kind of strange, I was accused of being crazy for doing that. And, I was. But it was important for me to learn film that way, so I like it, I like to mix it up.
(Movie Dialogue)
Man: That plane goes to Miami. 
Okay. That's where I want it met.
Man: Mike, that's impossible. They'll tune him over directly to the Internal Revenue Customs and half the FBI.
It's not impossible. Nothing's impossible.
Man: It would be like trying to kill the president, there's no way we can get to him.
Tom, you know, you surprise me. If anything in this life is certain, if history's taught us anything, it's that you can kill anyone.
Rule #8: Broaden your horizons
I suggest reading, of course it's tough reading books these days, but you should. I really believe in it. Actually cause, you know, the Russians saved my life when I was very young, like your age. And doing plays, if you can if you're actors, because the plays are what, roles that are challenge you and stuff are really good for you.
Because also, you're doing plays sometimes, that ask of you a lot of stuff. I mean it asks you to do more than some of these roles we get cast for that don't ask that much of us, really. I mean if naturalism, we do it you know, you do this, but the roles that ask a lot of you is where you develop, where you broaden your horizons, your imagination.
And what you learn from this great literature, I mean if you're a cellist right, you're going to want to play Bach, no? I mean, why wouldn't you? You're a cellist, Bach wrote for you. And eventually you want to play it, you play anything on it, but finally that's what you want to play because that's going to get you the kind of joy, the kind of excitement that is going to change your life, really.
Changed my life, a lot of the parts I played as a youngster made me broaden my scope and my understanding of things. It's really important to open yourself up to that.
(Movie Dialogue)
City cop, right? Robbing a bank's a federal offense. They got me on kidnapping, armed robbery, they're going to bury me, man. I don't want to talk to somebody who's trying to con me, get somebody in charge here.
Cop: I am in charge here.
I don't want to talk to some flunky pig trying to con me, what's he doing?
Cop: Will you get back over there?
What are they moving in there for?
Cop: Will you get the fuck back there? Get back there, what are you doing? Hey, get over there!
Go on back there, man.
Cop: Get over there, will ya?
He wants to kill me so bad he can taste it.
Cop: Nobody's going to kill anybody.
Attica! Attica!
Rule #9:  Persist
My instincts, I always felt, were better earlier in my life than they are now, it seems as though sometimes I'm a little bit blinded by the the attention so I don't make correct assessments. I'm a little bit influenced by the fact that I'm not on the outside looking in. I was fortunate enough to have certain things happen in my life, I mean it's luck.
It's really luck. And persisting in a thing, you know. What is that, he who persists in his folly will one day be wise, and I'm not wise yet but I keep persisting.
(Movie Dialogue )
Mr. Simms doesn't want it. He doesn't need to be labeled still worthy of being a Baird man. What the hell is that? What is your motto here? Boys, inform on your classmates, save your hide. Anything short of that, we're going to burn you at the stake? Well gentleman, when the shit hits the fan some guys run, and some guys stay. Here's Charlie facing the fire and there's George hiding in big daddy's pocket. And what are you doing? You're going to reward George, and destroy Charlie.
Man: Are you finished Mr. Slade?
No, I'm just getting warmed up. I don't know who went to this place, William Howard Taft, William Jennings Bryant, William Tell, whoever. Their spirit is dead if they ever had one, it's gone. You're building a rat ship here, a vessel for seagoing snitches, and if you think you're preparing these minnows for manhood, you better think again.
Because I say you are killing the very spirit this institution proclaims it instills. What a sham. What kind of a show are you guys putting on here today? I mean, the only class in this act is sitting next to me, and I'm here to tell you this boy's soul is intact. It's non-negotiable. You know how I know? Someone here, and I'm not going to say who, offered to buy it. Only, Charlie here wasn't sellin'.
Man: Sir, you're out of order. 
Out of order, I show you out of order. You don't know what out of order is, Mr. Trask. I'd show you, but I'm too old. I'm too tired, I'm too blind. If I were the man I was five years ago, I'd take a flamethrower to this place. Out of order, who the hell you think you're talking to? I've been around, you know? There was a time I could see, and I have seen boys like these, younger than these, their arms torn out, their legs ripped off.
But there is nothing like a sight of an amputated spirit. There is no prosthetic for that. You think you're merely sending this splendid foot soldier back home to Oregon with his tail between his legs, but I say you are executing his soul! And why? Because he's not a Baird man. Baird men. You hurt this boy, you're going to be Baird bums. The lot of you. And Harry, Jimmy, Trent, wherever you are out there. You too. 
Man: Stand down, Mr. Slade.
I'm not finished. As I came in here, I heard those words cradle of leadership. Well, when the bough breaks, the cradle will fall. And it has fallen here. It has fallen. Makers of men, creators of leaders, be careful what kind of leaders you're producing here. I don't know if Charlie's silence here today is right or wrong, I'm not a judge or jury, but I can tell you this he won't sell anybody out to buy his future.
And that, my friends, is called integrity. That's called courage. Now that's the stuff leaders should be made of. Now, I have come to the crossroads in my life, I always knew what the right path was without exception, I knew. But, I never took it. You know why? It was too damn hard. Now, here's Charlie, he's come to the crossroads, he has chosen a path, it's the right path, it's a path made of principle. That leads to character.
Let him continue on his journey. You hold this boy's future in your hands, committee. It's a valuable future, believe me. Don't destroy it. Protect it. Embrace it. It's going to make you proud one day, I promise you.
Rule #10: Give a great speech
I don't know what to say, really. Three minutes to the biggest battle of our professional lives. All comes down to today. In here, we heal as a team or we're going to crumble. Inch by inch, play by play til we're finished. We're in hell right now, gentleman.
Believe me. And, we can stay here get the kicked out of us, or we can fight our way back into the light. We can climb out of hell. One inch at a time. Now, I can't do it for you. I'm too old. I look around, I see these young faces and I think, I mean, I made every wrong choice a middle-aged man can make.
I pissed away all my money, believe it or not. I chased off anyone who's ever loved me. And lately, I can't even stand the face I see in the mirror. You know, when you get old in life things get taken from you. I mean, that's part of life. But, you only learn that when you start losing stuff.
You find out life's a game in inches, so is football. Because in either game, life or football, the margin for error is so small. I mean, one half a step too late or too early and you don't quite make it, one half second too slow, too fast you don't quite catch it. The inches we need are everywhere around us, they're in every break of the game, every minute, every second.
On this team we fight for that inch. On this team, we tear ourselves and everyone else around us, to pieces for that inch. We claw with our fingernails that inch, because we know when we add up all those inches that's going to make the difference between winning and losing. Between living and dying. I'll tell you this, in any fight, it's the guy who's willing to die who's going to win that inch.
And I know if I'm going to have any life anymore, it's because I'm still willing to fight and die for that inch.  Because that's what living is. The six inches in front of your face. Now, I can't make you do it. You got to look at the guy next to you, look into his eyes.
Now, I think you're going to see a guy who will go that inch with you. You're going to see a guy who will sacrifice himself for this team, because he knows when it comes down to it, you're going to do the same for him. That's a team, gentleman. Either we heal now, as a team, or we will die as individuals. That's football, guys. That's all it is. Now, what are you going to do?
Thank You!
Thank you guys so much for watching, I made this video because Dorian Wright asked me to. So, if there's a famous entrepreneur that you want me to profile next, leave it in the comments below and I'll see what I can do. I'd also love to know which of Al's top 10 rules had the biggest impact on you, and why. Leave it in the comments, and I will join in the discussion.
Finally, I want to give a quick shout out to Jason J-Ryze Fonceca from ryze online dot com. Jason bought another copy of the book so I'm giving a quick shout out.
Thank you so much, Jason, it means a lot to me. For those of you guys watching, if you want your chance at a shout out in a future video, make sure to buy a copy of the book, and email in your receipt so we can keep track. Thank you guys so much for watching. Continue to believe, or whatever your one word is. And I'll see you soon.
---
BONUS
Grow
I had this ability to mimic. I would mimic the movies, I would mimic any of the current singers, whether it was Al Jolson, or Sinatra, whoever it was.
And I then learned how to mimic situations and people just for the fun of it. A lot of us who are actors have that sort of performer in us. Robin Williams would be the example of someone who really lets you see it. You know, most of us have it, but we don't have his gifts to be able to express it. But the needs are there. If you're a shy person, sometimes you hide behind an image that you think somebody has of you.
It's almost a pose that you can let your guard down, or commit to anything. And it's a way you can get into the habit of doing that, I did for awhile.  Because, in a way, once you start getting parts your learning process is going to get less and less anyway, cause you're going to be given roles that you are so-called right for, quote unquote, which is type casting which is a lot of bologna, and you're going to get into that kind of thing.
And you're not going to get a chance to grow and stretch yourself. I used to use auditions as a way of practicing.  Usually they'd have a script they wanted me to read, I'd say oh I'll tell ya I've prepared a little something, you know? And it was an opportunity to do something that I'd been working on, and you would work it out without ever thinking about getting the role.
Have idols
I used to dream about John a lot. Of course, when it first happened. And he was always alive in the dream. See, it's always there, you know? 30 years. I was doing a play called Basic Training of Pavlo Hummel on Broadway, and it was a really great role and I had done things with it, and I had gotten the Tony Award, and I was really, you know. Elmer John was coming to see it.
And I don't like to know when anyone's in the house, but I knew John was in the house, right? And every single thing I did, every scene I did I was trying to impress John. And I knew I'm doing this, I'm saying to myself I'm not doing this, I'm trying to impress John. You know?
And, it was over and I was really unhappy cause I knew I hadn't done. And John came back, and he said it was very impressive, Al . Very impressive. I went yes, John. I said, you know what. He said, he was so graceful though, he was so gracious about it all, but I said, you know, I knew you were there and I was trying to, I've been doing everything twice as much as I had to do it, you know?
He says, it was good Al, it was good. It was good. I said you don't know, you don't realize that, you know, you've been doing it. But I knew I had. So I was very, you know, he was like one of my idols so that when he was coming to see me it was. You give all out, and that's the worst thing you can do is try to impress your friends who you love.
Tell great stories
Host: What's the best direction you've ever received on a set?
The best direction, well one of the best things that comes to my mind now is this AD Burt Harris on Dog Day Afternoon. Well, he came up to me. I was in the, first of all he kept me sober every morning. He hit me with those tomato juices. I'd come in. Some girl the other night was describing knowing me in Godfather II, how I came up with that crazy hat and scarf, and stuff. And then I would have to turn into Michael.
Slowly it would just.  And I'd become this. But anyway, Burt Harris came up to me. Smart kid, I mean, smart man. And I was in the middle of stuff and he just came over and whispered in my ear, which we were in the dark, they were out there with all the, I recommend the movie on a big screen if you could ever see it to see what Lumet does with a crowd and with the street, and to put you in it in such a way it just is kinetic.
You can feel the energy around. It was a turning point in films, and the way he did it. But anyway, this guy Burt, Burt Harris comes up to me, this is what I love about movies, too. And he leans in and he says, say Attica. I said, what? He said go over the the crowd and just yell out Attica. Okay, remember Attica.
Because Attica was in prison and had had a lot of trouble, and terrible prisons were killed. It was a real scandal, it was so in the world. You know, it was right there. And I said, oh okay. He said go ahead, you just go out there. So I went out, and there I am, and there's all these extras out there standing there all day long, and they start looking and the cops, you know.
And I just say you know, what about Attica. At one point I just add to the cup, I says Attica. And I looked at the crowd, and I said hey, remember Attica! Huh? Attica! And they went yeah, Attica. Somebody says Attica. All of a sudden they say Attica! Attica! And this become an iconic moment in the movies, and that's how it came about.
Host: That's amazing.
Isn't that something? Yeah, I mean this is the way these things happen in films. If you're open to it, and that's the kind of brain that Lumet had. And we would do things like that. And, you know, it just became this magic. When you're out there, you got the room, but when you're doing a movie in six weeks, they don't have time for Attica.
Summary
Rule number two is my personal favorite, and I'd love to know which one you guys like the best.
Al Pacino's Rules
BONUS
I hope you enjoyed this article, make sure to check my Al Pacino video on his Top 10 Rules For Success as well.
Related Al Pacino links
---
You might also like
---