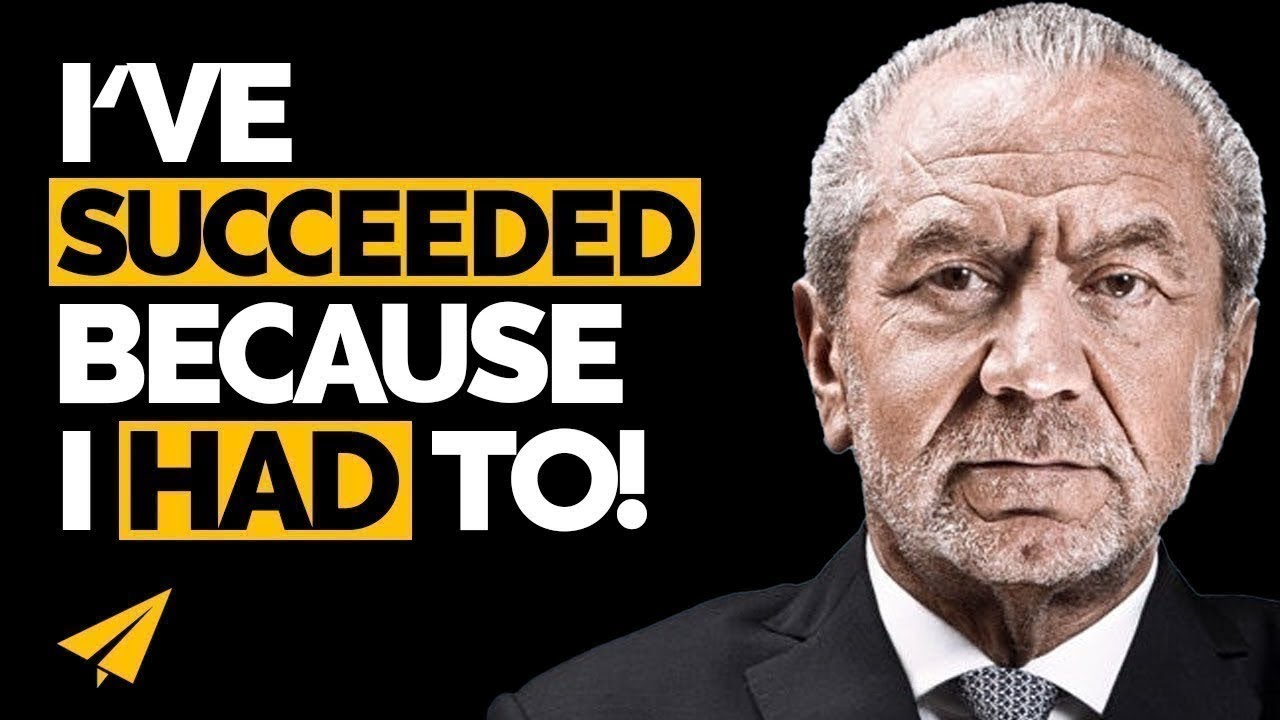 Famous Entrepreneur Quotes
Alan Michael Sugar's Quotes
"I got a philosophy, which is stick to what you know."
"A successful business person needs to exploit the market or the sector that they are in."
"Generally, people that stay with you are motivated not necessarily just by money, but they're motivated by the enjoyment."
Alan Michael Sugar's Top 10 Rules For Entrepreneurship, Business and Success
He's an English business magnate, political advisor, and television personality. In 2007, he sold his remaining interest in his Amstrad company, which was his most well-known, and most successful business venture. He has an estimate fortune of 1.4 billion pounds. He's Alan Michael Sugar, and here are his Top 10 Rules for Success.
Rule #1. Your Destiny Is In Your Hands
I don't wish to alienate people here with about what I'm about to say. But you know, your destiny is in your hands. I have succeeded because I had to. No one sorted anything out for me. I didn't ask, go to any government and said, pretty please, find me some work, please, and do something for me, because it was a waste of bloody time.
Simply that, a waste of time. And if I was going to do something, I had to do it myself. And that's it, and I would say to every one of you here, don't sit around relying upon, magically, some government going to create an environment that's going to make it easy for you to find work and find jobs.
You've got to go out there and fight for it yourself. I'm sorry to say, I can't give you any other, any other form of advice. If you want something bad enough, you do it. And if you look at some of these wannabes have made themselves television stars and pop stars and all that type of stuff, they have a desire to want to be famous, and they don't stop until they're recognized and they do.
And half the people that you see on television these days in the entertainments industry are those that had the determination that wanted to do it. And I'll add a little rider to that, none of them could bloody sing.  Not helpful, right, I mean, you didn't find that helpful answer. But you're going to control your destiny, I'm telling you. No one else is going to do it. Not unless you got a rich dad.  Have you got a rich dad, a rich uncle? No, well then, that's it. You're going to have to do it yourself.
Rule #2. Recognize Failure
And then you have to be realistic also, and not a dreamer. And that's one thing people said about me after the event. I talk as if I've always made great products. Well, I have made a lot of great products, but there's also been some real duds.
And one of the things about me is, is that as much as I, as well as I know the marketplace, and know if I got a hit on my hand, I also know when I've got a dud on my hand and know to cut, wipe your face, get out, and clear it out and get rid of it, don't waste any more time, move on. And I think a lot of people are not prepared to recognize that something's been a failure. And you're successful by, on many occasions, by learning mistakes, from your failures also.
Rule #3. Seize Opportunities
A successful business person needs to exploit the market or the sector that they are in. They need to have a great understanding of it. They need to constantly monitor the marketplace and spot opportunities. That's what successful business is all about, spotting new opportunities and exploiting them.
Most success stories in expansion of businesses are based upon enhancements learnt from the core business that you're already in. Adding additional features to products, expanding product ranges, ideas that come from what you're already doing, particularly in manufacturing.
Your own employees could actually come up with some spark of genius in streamlining the production process, something that you may have never thought about before, something that could save you lots and lots of money. Or suddenly come up with an idea based upon the product that you're producing that is allied to it.
Rule #4. Have A Good Work Ethic
When you come from the working class background that I come from, I feel guilty at 10 to five, if I'm not in the office. I know that might sound strange to you, but there's a work ethic that I have to be half-dead not to not go to work. It's kind of a work ethic that's built into me, you know?
But nevertheless, having said all that, the weekends, that was it, it's over, switch off like a light Friday night as you got back from the office or from the work or from the factory, whatever. No matter what was buzzing around in my head, it was off like a light switch, and that's it.
Don't let it interfere, very rarely let it interfere with the weekend. And then Monday morning, bang, back on it again, as if you flicked the switch on again. So I think was a bit of discipline in that respect.
Rule #5. Stick To What You Know
I got a philosophy, which is stick to what you know. And real estate, as I explained in detail already, is something that I know now and of course, electronics is something that I know, and the answer, very simply, is no, I wouldn't invest in a business that I didn't understand.
I would invest in businesses that I understood but didn't necessarily want to run them. And I think that's a good philosophy also, is to stick to what you know.
Rule #6. Appreciate Your Team
But generally, people that stay with you are motivated not necessarily just by money, but they're motivated by the enjoyment or the excitement of what you're creating and the fact that you make them part of a team.
And that they can see that they're actually achieving something towards the goal of the organization. And I think if you ostracize people or you don't show them your appreciation in that way, then you can expect them not to show that loyalty.
Rule #7. Have Discipline
Interviewer: When you've gone from looking out of windows at classrooms, to having a very regimented timetable on the weekends, how did you develop such a good self-discipline?
I don't know, I am very disciplined. That's all I could say to you, very, very, disciplined, a creature of habit. What's that thing, is it called OCD, or something like that.
If you look at my desk, you'll see all the pens lined up, like that, and the piece of paper over here, and a cup over there and all that. I'm just very disciplined, that's it. I think in business and in life, I work on the principle of clearing my desk every minute, or every day.
So answer emails immediately, answer people's questions immediately. That's been my success in running my company, that I'm there to, like a springboard, if you like, for employees to tell me what their issue is and then to give them a quick resolution to it so they can get on and deal with it.
So that's my discipline. I would heartily recommend it to all of you. If you decide to become, you should be disciplined, you should discipline yourself. Because it's not a bad way of life.
Rule #8. Track Your Progress
We've been through an era of massive bankruptcies or liquidations and receiverships, particularly in the property world where lots of money has been lent against assets which were over-valued, for example. I, fortunately, didn't play in that market.
My son's in this business with me, and we kind of sat around watching what was going on, and knowing that this is a forced-market. I would not take on something that I couldn't pay for, myself, I would not take on something that I couldn't see a light at the end of the tunnel, where we come out of it.
And I know that's pretty much stating the obvious, and it doesn't apply to all businesses, but I think it's a good philosophy. That's to always have a kind of a wake up call, whether it be weekly, monthly, or six-monthly, where you are, where you're going, what you're doing.
And it's easier in some businesses, because you know, it's blatantly obvious where you're going in some businesses, because if it's a retail business, it's, have you got customers coming across the table or the counter for naught? In other businesses, particularly like service businesses, where there is no product that you touch and feel, and that your income comes from being an agent, for example, you have to constantly look at your overheads and your costs.
And I think that it is cost-control, regular wake up calls, regular checks of where you are, status checks of where you are, will keep you afloat.
Rule #9. Analyze Your Marketplace
You need to set aside a day per week, where you divorce yourself from the day to day activity of your company. You must have someone inside the company who you trust. God forbid, you ever got run over by a Number Six bus, think of that person who would have to take control and put that person in control for that day, or for those two days.
And then use those two days to go out into the marketplace to find yourself some new business or at least observe what your competitors are getting up to and what they're doing in order to see how the market is changing. Because if you engross yourself too much in the day to day running of the business, you might find that the world is passing you by and you're missing opportunities.
Rule #10. Let Your Product Do The Talking
Well, I think that you could be, I mean, the point is, is that there's the integrity and honesty, as far as I'm concerned goes without saying, and you can push that to one side at the moment. Because you can be honest and have a high integrity, but if you've got lousy product, or prices are too high, it's irrelevant.
So it's a mixture of spotting opportunities, I mean, target from the top of your own business, spotting opportunities, products, services, that you want to offer that do bring value to whomever you're going to sell them to, and then having the nous to go and sell them. I mean, again, this young man's question over there, it's very, very similar.
I get asked a lot a similar question in universities and places like this. You don't just jump out of bed one Monday morning and I want to be Richard Branson, I'm going to start an airline. Like that, I want to start an airline tomorrow morning. Total nonsense, have you got any money? No, but I want to start an airline tomorrow morning.
And so there's a certain realism as to what one month needs to do. Secondly, you've got to look at, you got to also have a realistic point of view. I'm new, I'm starting, I've got a new business. What do I offer somebody? What do I offer my potential customer? What have I got that they can't already get from 20 or 30 or 40 or 50 other people?
Because if I'm not offering anything different, then I've got a tough job ahead of me. And I think you have to continually test yourself on that basis. I used to test myself with products. Is this a good product or not? Well, has anybody else got one? Or is it the same as what other people have got but half the price, does it do more, has it got different features on it, is it look better, is the market ready for it?
That's the test and from my point of view, I can only talk from my experience, my products did the talking. You know, I could be the greatest salesman in the world, the most charming person in the world, whatever you want to be, and you could advertise and do whatever you want. If the product sucks, then you got no business.
Thank You!
Thank you guys so much for watching. I hope you enjoyed the video. I made it because Iain Fairley asked me to. So if there's a famous entrepreneur that you want me to profile next, leave it in the comments below, and I'll see what I can do.
I'd also love to know which of Alan Sugar's top 10 rules meant the most to you. Leave it in the comments, I'll join in the discussion. Thank you so much for watching, continue to believe, and I'll see you soon.
---
BONUS
Find Your Motivation
Man: Do you think source like Apprentice have genuinely a positive impact on entrepreneurship?
You mean, the program?
Man: Yeah.
Okay, okay.
Man: Because your program is immensely successful. I love it.  We all watch it, but we haven't seen big success-
Okay, I think I get what you're saying, but look.  I feel like I'm in the boardroom, a candor bit there. No no, I think I know where you're coming from. The thing is, is that you might, you like the program. And I guess that you like it because you think it's entertaining and you like looking at somebody you might think is a right numpty, and that's why you like it.
What you don't realize in the back of your mind is, is that you are picking up some of the business message that is there, okay? Now there was, well, you might not admit it, but you are. And I can tell you that from when I started doing this Apprentice thing, the amount of young people that are inspired by the program, put aside all the fun and the laughter and all the clowns that you think you've come across.
The amount of people that are inspired by it, the amount of people that were, they put to me their business ideas. And I think it does, it performs a very, very good service amongst the young, to be honest with you. And you can't get a better endorsement of it when it becomes part of the curriculum at some schools where they set up a mini, a mini kind of apprentice task.
And the amount of times that I've been asked to attend schools to try and judge this. I just couldn't do them, there's enough time in the day. So yes, it does inspire people. It entertains, and it inspires.
Inspires Other
Interviewer: Who inspires you, and why?
Well, I don't… I wouldn't say that where I've got today is because I was inspired by others, I think… The thing is, I often say to people that, you know, you're born with a certain thing here. You know, this kind of gut feeling, this kind of determination, you're born with it.
I try to make the analogy of that, some people are born with a talent. If you locked me a room with a piano teacher, for example, for one year, no doubt at the end, I could perhaps knock out a rendition of Roll Out the Barrel, maybe. Would I ever be a concert pianist? Not in a million years.
Because in that example, that person has a talent. And I think I was blessed with some kind of talent of some kind, you see, which, an eye for things, a very fast brain to see the end conclusion. Normally, the end conclusion, I'm very skeptical of what can go wrong, and that is something, I'm afraid to say, you can't go and buy in a book somewhere or go and buy a bottle of entrepreneur juice and boots, or something like that.
You're either born with it or not. And it doesn't come out initially. It is normally others that observe your aptitude and it is others that encourage you along. So in my career, I kind of always had people that I respected and where was my first respect? Well, in my humble family, it was to look up to an uncle of mine who was the only one that had a business.
He had a small shop not far from here, actually, in Victoria, so he was someone I looked up to. And of course, it didn't take very long that I passed him over, and when I passed him over, the next person I looked up to was one of the guys that I was buying stuff from.
Because he was the man, you know? And then I passed him over, also. And eventually got up the ladder 'til you reach someone by the name of Rupert Murdoch, for example. I haven't passed him over, yet, but. And I never will, but I mean, on that climb, there were great names like Lord Weinstock, for example, from GEC.
Great people that I admire for their skills and all that stuff. And that's the people you look up to. That's the motivation that you get. They have got there, and they've done it somehow. So I'm going to do the same.
Summary
Rule number one is my personal favorite, and I'd love to know which one you guys like the best.
Alan Michael Sugar's Rules
I hope you enjoyed this article, make sure to check my Alan Michael Sugar video on his Top 10 Rules For Success as well.

Alan Michael Sugar links

---
You might also like
---