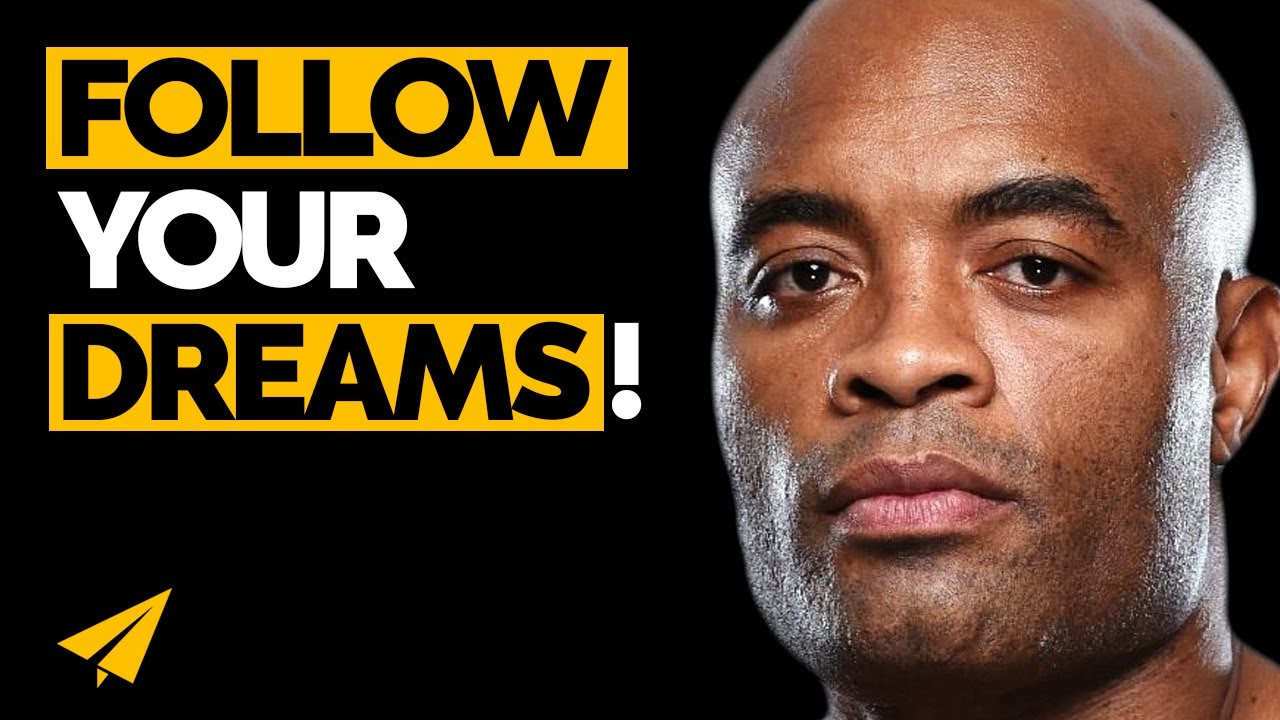 Famous Entrepreneur Quotes
Anderson Silva's Quotes
"I love my sport. I love my job, and I strive my focus, all the time, in my life, for training, because fight is my life."
"Nobody is invincible. For a long time, people thought that i was invincible. So nobody is invincible."
"I remember my life, and the start, the training. And, the more difficult is the training, because my step-mom say to me, no martial arts."
Anderson Silva's Top 10 Entrepreneurship Rules For Business and Success
He's a Brazilian mixed martial artist, and former UFC Middleweight Champion. He holds the longest title-defense streak in UFC history, with 16 consecutive wins, and 10 title defenses. UFC President Dana White and other experts have called him the greatest mixed martial artist of all time. He's Anderson Silva, and here are his top-10 rules for success.
Rule #1: Love your Job
I love my sport. I love my job, and I strive my focus, all the time, in my life, for training, because fight is my life. Sometimes, everything's changed, because you have the good working, bad working, and good experience, bad experience, but I love my job. And I talk to my family, and I say I go back to fight, because this is me.
Commentator: Silva looking to overwhelm Marquardt at the end of round number one. Oh, caught him with a big shot.
That might be it.
Marquardt is in trouble.
It is all over!
Wow!
Commentator: Anderson Silva remains the Middleweight Champion.
Rule #2: Nobody is Invincible
Nobody is invincible. For a long time, people thought that i was invincible. So nobody is invincible.
Announcer: And it's all over! Just like that!
Everyone has their dark cloud moment.
Everyone
Announcer: Weidman!
And everyone has the magical moment. My magical moment lasted eight years.
Commentator: And Franklin goes down momentarily.
Commentator: Rich has got to be careful here.
Commentator: Jumps on him, and lands one again. Silva with a big knee. Franklin is in trouble.
Nice right hand.
Commentator: Silva trying to finish it here. Another knee. And down goes Franklin, and it is all over!
Commentator: The right hand hurts him.
Boom.
The knee to the head
Commentator: Hurts him, another knee.
Commentator: That right knee caught him flush, Joe.
Rule #3: Respect your Opponents
That was it. Nick is the great fight. Nick fights for the, for a long time in the same category. So, I go training hard, because older fighters, when they go to UFC, is the best fighters in the world. No me, no Nick, all the fighters. I need to training hard, because they they go, when they start the fight, Nick have good training, have good jiu jitsu, have good boxing. And it's the fight, it's the great fight. All the people in the world are waiting for this. And, I'm prepared for this. I go for fight for Nick, because I respect Nick. Nick is danger. And, the same position, Nick no fight for a long time, I no fight for a long time. I think it's the great fight.
Commentator: Anderson holding on to the arm, and he takes him down.
Commentator: Swarms him. Looking to finish the fight right here! It is all over! Anderson Silva defeats Stephan Bonnar.
Commentator: He is the first guy to ever stop Stephan Bonnar.
Rule #4: This is your Time
I'm very happy, because my family give me the sport, and help me, for back, because my sons and my wife say that this is your time. This is your life. Go. Keep going.
Commentator: To finish the fight, with some of the best, if not the best I've ever seen in MMA. Nice leg kick by Irvin.
Commentator: And Irvin's in trouble already. Silva trying to finish it.
It's done.
Commentator: It is all over!
Commentator: Irvin throws a kick, Anderson catches it, right on the chin, takes him down. It looked like Irvin was done already, from that one punch, and just a few punches more, and that's it.
Rule #5: Follow your Dreams
I remember my life, and the start, the training. And, the more difficult is the training, because my step-mom say to me, no martial arts.
Interviewer: Uh-oh.
Because this is danger. You are need to pick it up, you focus for school, and the same professional, your dad, your brothers. My family in Brazil, my whole family, my brothers, my dad, is cop in Brazil. I talked to my dad, no, I no go for school for the academy, for cop. I go for training, because I love martial arts. My dad and my mom say, you crazy. Why?
Interviewer: That's funny.
Your brothers, your dad is the cop. Why you go change? Because, why? Why is your problem? I say, mom, dad, it is my dream. So now, it's very good.
Interviewer: Yeah, it worked out.
Interviewer: It seems to have worked out. It seems to worked out for everybody.
Yeah. My dad talk to me now, my step-dad talked to me now, oh, good job man.
Interviewer: We were so wrong. We were so wrong.
Yeah.
Commentator: Leben is rocked, he was stunned.
Commentator: He was rocked back then; I thought it was over.
Commentator: Oh, he is in big trouble. Chris Leben goes down again, and it is all over!
Wow!
It is all over!
Commentator: He gave Chris every chance he possibly could, to recover.
Bam.
Bam, and that is the end.
Rule #6: Learn from your Mistakes
Talked to my coaches and they all said: "Dude it was good you lost. Now we can see where the mistakes are" "Until then, everything was ok. If you didn't lose, we couldn't see what you were doing wrong" "We are able to figure a thing or two you do wrong and correct it" But there was a bigger mistake, which was the fact you weren't 100% focused" "You mus keep all things that might affect you outside" " In order to do what you have always done well".
Commentator: Try to protect what seemed to be damaged ribs.
Oh, right to the face.
Caught him again.
Rich is in trouble.
High kick by Silva! Rich is in trouble!
Rich Franklin's in trouble.
Commentator: Anderson Silva, and down goes Franklin! And it is all over!
Commentator: That shot right there broke Rich's nose, and that was the end of the fight. A high kick, another high kick to the body. Tried the big elbow, another knee right to the head, and Rich goes down for the last time here. John McCarthy saw enough.
Boom!
Flush on the face
Commentator: With that right knee. Rich staggers back.
Rule #7: Listen to your Heart
I don't know. I don't know, sometimes I think in my mind, so when I stop, Anderson? I talked to my master, it's my first master, and why? Why is the time for stop, master? My master say, you no have time for stop. You time in your heart. When you heart say no more, no more. Because when you come to here, is young, I train you, no for fight, I train you for life. And martial arts change you life. You was in my technique in martial arts, for fight, but I no show you for fight, I show you for your life. And, I think when I finish, my heart give me the sport for say, Anderson, done.
Commentator: Look at Silva. I mean, that's just amazing.
He's out, he's out.
And it is all over.
And here we see-
Look at this, Joe.
Commentator: Anderson shows complete disdain for the striking ability of Forrest. Look at that right hand, look at that. I mean, that was just like a paw.
Rule #8: Take it one fight at a Time
When I fight the first fight in UFC, and when I got the belt, I stay on the belt for seven years. Now, is no new one for me. So, I'm working for UFC. UFC is my family. So, my focus now is the fight for Nick Diaz. When I finish the fight for Nick, I'm win, I go training for next fight.
Commentator: Silva asserting dominance here. Oh, what an elbow. It is over.
A vicious elbow.
Superb.
This was one
Commentator: of the most amazing, look at this. He throws it from here, watch this.
Commentator: Oh, what a shot.
Commentator: Beautiful.
Rule #9: Fear makes you respect all the Environment
No, I'm always afraid. It's a contact sports, but it's a sport where we see a lot of things during the training sessions. Silly things that cause serious injuries.
Interviewer: Like What?
Like an arm injury, from a wrong take down. Taking a "Wrong Punch", not a "Wrong Punch", but taking a punch where the hand is slighty open, getting poked in the eye process. Then you have an eye injury. Then you can't train anymore, needs to be out for a while to heal. And during the fight, the risk is even higher. Because there are two well trained fighters, but he risk is higher. So i have fears, everytime I enter in the cage, I fear. I think fears make you respect all the environment.
Interviewer: And to defend Better.
And to defend better.
Commentator: I don't think that would be a good idea. Oh! No way.
He's out, he's out. He's out, he's out!
He's out.
Commentator: Oh, my God. That was, wow! That was a knockout, folks.
Rule #10: Just be Happy
When you go to fight, this is you; no have people, no have fans, no have nothing. When you go inside the octagon, you need you take it off, all the people in close together, you, and go inside, and put in your mind and your heart for fight. Sometimes I have the bad energy, good energy, but the more important, is you happy. When you go to fight, you go to walk in for octagon, you happy, everything is good.
Commentator: Like we said, second to none.
Commentator: Oh! He front-kicked him in the face!
Commentator: Absolutely rocked, trying to finish. It is all over!
Kick to the face!
Anderson Silva
Commentator: Remains the Middleweight Champion.
Commentator: A front kick to the face.
Thank You!
Thank you so much for watching. I made this video because Jeff Lian Xiao Ming asked me to. So if there's a famous entrepreneur that you want me to profile next, leave it in the comments below, and I'll see what I can do. I'd also love to know which of Anderson Silva's top-10 rules meant the most to you. Leave it in the comments, I'll join the discussion. Thank you so much for watching. Continue to believe, and I'll see you soon.
---
Summary
Anderson Silva's Rules
I hope you enjoyed this article, make sure to check my Anderson Silva video on his Top 10 Rules For Success as well.
---
You might also like
---