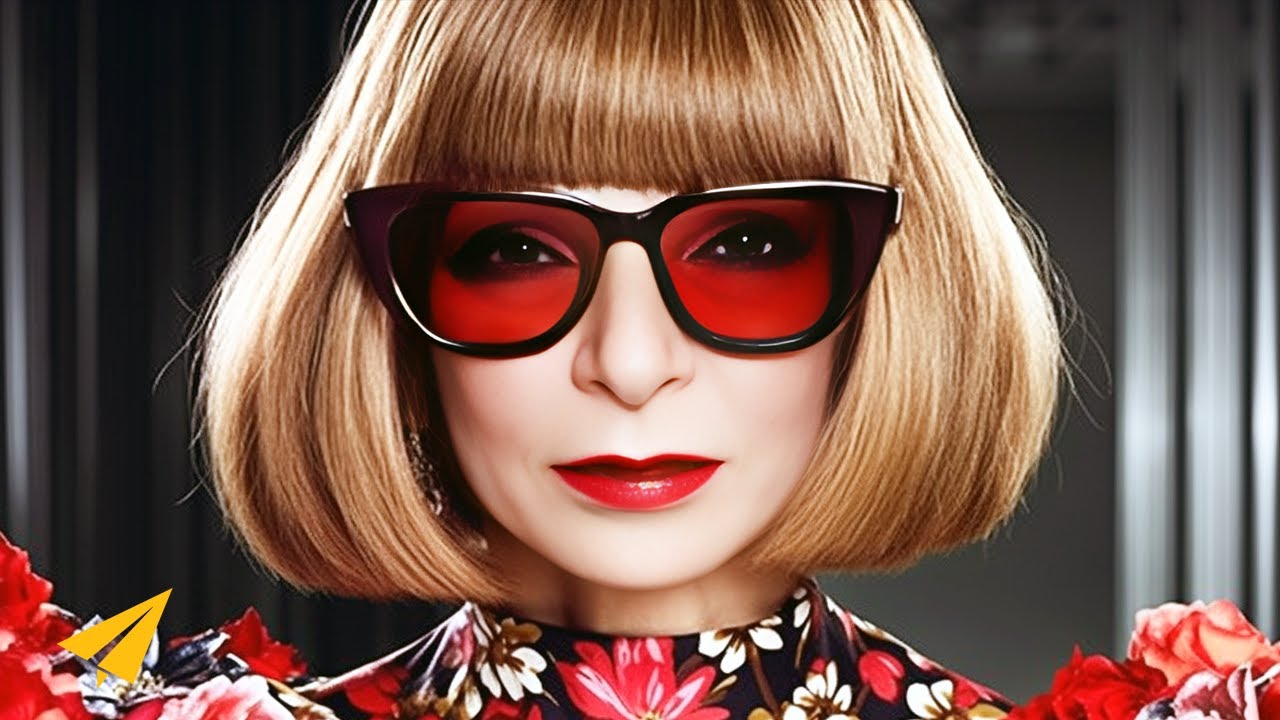 I don't think of myself as a boss. I think of myself as someone who's giving direction.
I think it's healthy for everyone to lose a job as well as to gain a job.
I like people who represent the best of what they do and if that turns you into a perfectionist, then maybe I am.
I think the more you go out, the more you see, the more you experience life, the more you bring back to your day job.
Anna Wintour's Top 10 Rules For Success
Evan: She's a British journalist and editor.
She's been Editor in Chief of Vogue since 1988.
She's Anna Wintour, and here is my take on her Top 10 Rules For Success.
Rule number five is my personal favorite, and I'm curious to figure out which one you guys like the best.
---
Anna Wintour's Rules
Be decisive
Don't highly specialize
Accept failure
Avoid mediocrity
Be true to yourself
Always do your best
Experience new things
Have a sense of business
Enjoy what you do
Be a good leader
Rule #1. Be Decisive
I try and be decisive. I try even if I don't know what the hell I'm doing, I try to be decisive because I think it's very comforting and reassuring and important to the people that work with you to feel that whoever is in charge knows what they're doing and knows what they're thinking. That if it's a yes, it's a yes, and if it's a no, it's a no. I mean I don't think of myself as a boss. I think of myself as someone who's giving direction, guidance, and vice-a-versa.
Rule #2. Don't Highly Specialize
And, I also know careerwise how important it is not to be too highly specialized. Especially these days in the world of media. It is crucial to have multiple interests and skill sets. To have tried and possibly failed at many different undertakings. The young people that we hire today at Conde Nast, are fearless polymaths. Hardworking and passionate, creative and curious.
Rule #3. Accept Failure
You eventually joined Harper's Bazaar U.S. And in 1976 it was, you were fired, and I find that extraordinary.
No, they were very clear in that they thought that I would never understand the American market. I remember, I was the editor on one shoot that was, I think it was the French fashion shows, and I decided that it would be interesting to have dreadlocks on the models. I think that that pushed them further than they could bear. That was it for me. But I think it's always part of life to have some knocks as well as some successes.
And to take risks.
And you know, to learn. So I think it's healthy for everyone to lose a job as well as to gain a job.
Rule #4. Avoid Mediocrity
Interviewer: What bores you?
Mediocrity. If you see a collection that is, you feel the designer has been lazy or taking inspiration from other designers. It doesn't so much as bore me as anger me.
Rule #5. Be True To Yourself
What is your best piece of advice for the next generation's influencers?
I think it's really to be true to yourself, and listen as much as one is able to other people who's opinions you respect and look up to, but in the end it has to come from you and you can't really worry too much by looking to the left or the right about what the competition might be doing, or other people in your field might be doing. It has to be a true vision.
Rule #6. Always Do Your Best
The blurb about your unauthorized biography reads, "She's ambitious, driven, needy, a perfectionist. "An inside look at the competitive "bitch-eat-bitch world of fashion." Accurate?
Well I'm very driven by what I do. I am certainly very competitive. What else am I needy? I'm probably very needy, yes. A bitch?
Perfectionist.
Perfectionist.
Oh that's right, bitch first.
Well, I hope I'm not. I try not to be, but I like people who represent the best of what they do. If that turns you into perfectionist, then maybe I am.
Rule #7. Experience New Things
I don't … make notes. I react very instinctively to everything. I'm a great believer in traveling a great deal. I don't believe in meetings. More than two people in a meeting is too many.  Really it's true. Do you know about stand ups? No, okay. So in Silicon Valley now when you have a meeting everybody stands in a circle like they're meditating.  Maybe I should try that. I think the more you go out, the more you see, the more you experience life, the more you bring back to your day job. As I was trying to say in my remarks, I think the problem about big corporations is you get a lot of people my age trying to hold onto their jobs. Clinging onto their pensions and their retirement, and they're not experiencing new things, and they don't like change and they don't like disruption. So either they don't make a decision or they say no and as a result they stagnate. It's terribly important to bring people in from the outside, and not to remain too insular. And also to hire as many young, bright people, like all of you, as you can just to teach you how to think about things completely differently.
Rule #8. Have A Sense Of Business
Well, I think all of us at Vogue are always looking for talent. And we're also looking for someone who has a head on their shoulders and that understand that being talented is obviously important, but that you also have to have a sense of business. And that being creative and commercial are two words that can work together.
Rule #9. Enjoy What You Do
It's very important to me that I look good when I go out publicly. I like looking at my clothes rack in the morning and deciding what to pick out. I enjoy fashion. I mean, I wouldn't be in this job if I didn't.
Rule #10. Be A Good Leader
I think clarity is one of the most important leadership qualities that one can have. I think it's really important to be very specific and very clear on what you expect, and then to delegate. People respond much better when they're in a more independent environment and you're not completely breathing down their neck all the time. The other thing I think is incredibly important is to hire divas like Andre Leon Talley. Who will disagree with you and contradict you and not yes you all the time. And not to be scared of having people working with you that have different opinions.
Thank You!
Evan: Thank you so much for watching. I made this video because Mauri Sylvester asked me to.
So if there's a famous entrepreneur that you want me to profile next, leave it in the comments below and I'll see what I can do.
I'd also love to know which of Anna's top 10 rules had the biggest impact on you and why. Leave it in the comments and I will join in the discussion.
Finally, want to give a shout out to Jesse Willoughby. Jesse thank you so much for buying the copy of my book. It really means a lot to me. For your chance at a shout out in a future video, make sure to pick up a copy of the book, and email in your receipt so we can keep track.
Thank you guys so much for watching. Continue to believe or whatever your one word is. And I'll see you soon.
---
You might also like
---
More from Anna Wintour
---
"Failure's not a bad thing."  "Failure is the mother of all success."  "You should seek failures."  "No consideration of failure."  "You have to be …