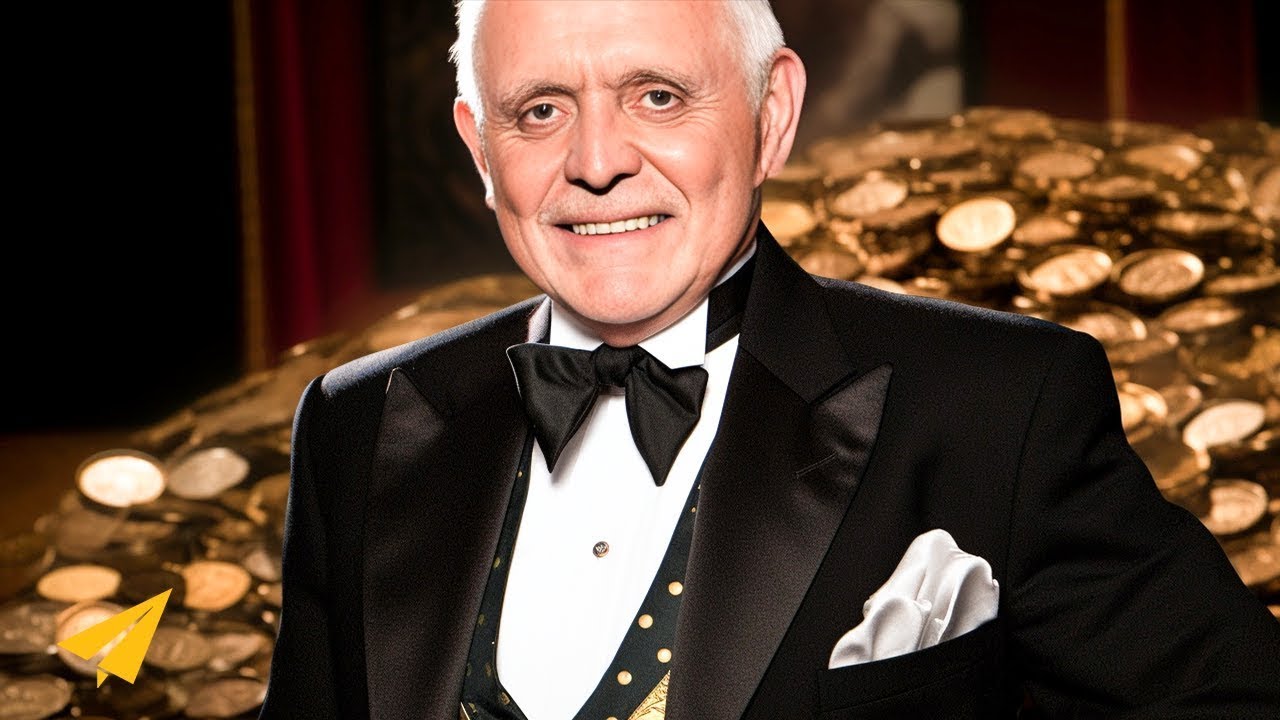 Evan: What's up everybody? Welcome to another YouTube Hangout. Super excited to be here. I have a special guest with me, Mr Dan Pena known as the $50 billion man. Because the people who he has coached have went on to create $50 billion plus in wealth for themselves and the world. He is a coach, he is an author, he is a speaker, he's got a speaking tour right now. He's sometimes controversial, so we'll see what we get into today, Mr Dan Pena, welcome aboard!
Dan: Thank you for having me. It's nice to see your face other than on a website, more or less in person. Thank you very much for having me.
Evan: I love it, so for the people who may not have heard of you yet, we've done some videos on you, but for the people who still don't know, Mr Dan Pena, a little bit beyond the intro I gave you, how would you introduce yourself? What do you want to say?
Dan: Well, I'm a, barrio bad boy, I came from the barrio of East Los Angeles, as a adolescent, got in a lot of trouble. Who got flunked out of university three times, arrested five times, went off and the military made a man of me, in fact, today is a very special day. 50 years ago today, one June, 1967, by an act of congress, of the United States of America, I was deemed an officer and a gentleman, a second lieutenant.
Evan: All right.
Dan: So 50 that was  high performance thing that I ever achieved 'cause I didn't think flunking out of school and getting arrested was much of an achievement, although my buddies thought I was cool. And that's why I tell kids, show me your friends and I'll show you your future.
I went on, came back from the military, came back to school, graduated with honors, ultimately finished four year degree in two and a half years, went on, had a scholarship to go to law school I never used, and went on to Wall Street, and the rest is more or less history.
And I've created since 1993, my 24th anniversary was last week, when I gave my first seminar. And my kids, like you have created over $50 billion in equity and value in those 24 years. And I was just on the phone with one of them who's created billions and he wishes you all well, and he says, you'll need it under the whip! I'm the whip.
Evan: I like it.
Dan: Yeah and, I've just started a tour of the United States and Canada, and I'll be visiting your hometown in a few months, where I go to speak at universities for free pro bono. They don't pay for me to get there or anything like that, they don't put me up in a hotel. And I got the idea, Evan, when Oxford University called me last year, and I had speciously said, oh must be my Rhodes Scholarship, 50 years late.
You know? But I went to speak there, and it was a very successful event. And then I got the idea well, if Oxford liked it, maybe a lot of other people would like it. But I was booked up all the rest of last year and so I only started giving these talks to schools.
But everything I have on my website is free, 99.9% of all the kids that I've created the $50 billion with I've never met because all my product's free. I don't sell anything other than the Castle Seminar, and then I mentor you for a year free.
But, I mean the big thing about today is, information's almost instantaneous, actually it is instantaneous. Like this, you're in Canada and I'm in Scotland, and we're able to do a show like this. And I think it's terrific. I take my hat off to you.
Evan: I love it, so let's get to the topic. I always have my guests pick the topic. I don't really cover politics a lot on this channel. You know I always feel like entrepreneurs, we're the ones that's going to solve all the problems of the world, not to rely on the president, or the government, or not to blame the president for your not having success. Right like, I'm not a success because of Trump or because of Obama or because of anybody else, I think is ridiculous. And so it's interesting to cover politics on this channel, I'd love to know why you picked this topic and what your thoughts are.
Dan: Well, on November eighth, I announced, when he was elected, now, full disclosure, I knew President Trump in a different life. I knew him in the late '80s and early '90s when I was partners with people that he knew in New York.
But I haven't seen President Trump in 25 years. So OK. But on November eighth, I said that this was the greatest transformation of wealth in the history of the world since World War II. And the reason why he was elected in my judgment, and I was one of the first to endorse him, publicly. Is that the United States is fed up, you know, I'm not here to talk bad about Obama, although I didn't think he did much, but anyway, and just fed up, just like Brexit in the UK, and various other votes.
But I know what he's capable of, both good and bad, and I know, most people listening here, if they're US citizens, have no idea what it really means if we get from 35 to 50 or 20% corporate tax rate. You have no conception what that means. I mean in the trickle down effect. So I mean the Trump era, and he may only stay one term, but the Trump era, he's already made tremendous changes.
And if he's done nothing more than we can have change if the people rise up. We can have change if the people rise up. Now, as another aside, I knew the first Trudeau back in the day, probably before you were born. And I had the pleasure of meeting him. And just as I also have met five presidents, five secretaries of state, and I also met, as a little boy, General de Gaulle.
So when you've been around a million years, like I have, you've met a lot of people, and that's why the perspective that I give, and I believe why I was so successful at Oxford, and I'm going to be successful at these other schools, and that's why the kids come here. My demographics for this seminar, Evan has changed. 10 years ago it was mid 30s to late 40s. The demographics for the seminar now is late teens to late 20s.
Evan: Hmm.
Late teens to late 20s.
Evan: And why the shift?
Dan: Two things, I believe. One the kids can make money on the internet to pay for it, although we give students a big discount and we give active duty military a big discount, that's number one. And number two, they know that they're pissed off earlier now, they know they're not happy. And people only make a change for one or two reasons, you know, inspiration or desperation.
And to come to me because I'm really hard, to come to me you have to have tried everybody and their dog. I've had kids come here that have read 700 books. And in 700 books they couldn't figure what the fuck to do. So they come to me. And the most important aspect in my coaching, teaching, mentoring is the one year free mentor program, and I give it free because I want to be able to throw you out if you don't measure up.
I take exception to people that say it's a boot camp. Most of these kids have never been to a fucking boot camp. They wouldn't know a boot camp if it bit them in the butt! But I mean, we're hard here. Like the kids can't go to the gymnasium until they earn it. I have two gymnasiums here at the castle. It's hard. But I find life hard and, if you look back upon the Elon Musks, et cetera, of this world, the current day, they're tough guys, they're not, you know, wusses.
You know, they're not snowflakes I think is the word. I had to look that up, I wasn't sure what that meant. But they're not snowflakes. And most people come here, I'm told, because I'm an alpha male dad model that they never had. I'm not asking for any kids, I got three lovely children, I don't need any. But one of the reasons that I have admiration for President Trump, look at his kids. They should be spoiled brats.
Now I'm not saying they're not spoiled in a certain way but they've got their heads on their shoulder, they've got their own business. My kids should be spoiled brats. But they're not, they're successful in their own, I didn't get any of my children jobs, I didn't make one phone call. And they went to good schools. You don't have to go to school. We have kids that come here that didn't get out of high school.
The point is that I make you accountable. I'm the only, that I know of, and correct me if you know of anybody else that makes their seminar attendees and post seminar, for one year, to be 100% accountable. 100%. Not 98%. Through their weekly reporting and their monthly Zoom calls. It's very much like the military. And, the only thing is I don't hit 'em anymore. In the '90s, I hit ya. Now I don't. I'd still like to hit ya.
But now for obvious reasons, everybody's got an iPhone. Although, we don't let you have your iPhones in the room, but anyway, be that as it may, right now, there's a whole room full of them sitting over in the main castle waiting to come and me giving them a beatin'! Or a beat down. And we've even got some Canadians! The Canadians love me, I don't know why, why they should.
I normally don't have anything good to say about Canada but, other than I made a lot of money there. And yourself, who's been kind enough to talk about me over the years. And like my 10 secrets, et cetera. I think it's a very unique concept that you have. And I think you bring a lot of service to the kids. But at the end of the day they've got to take action. They can watch all the YouTubes, podcast, from now until they bury them. And if they don't take action it's all BS. The Dalai Lama had his 80th birthday last year. Were you invited, by the way?
Evan: I was not invited.
Dan: Neither was I. But some of my high performers were. And at the end of the speech he says meditation is great. Prayer is great, contemplation is great. But if you don't take action, action, action, all the rest is wasted. And what the kids today have trouble with, they connote reading a book to taking action.
And I'm not saying you shouldn't read 'cause I've read the classics, I've read Shakespeare, and all that stuff. But it's not taking action. Taking action is pulling the trigger, going out and making something happen. And even if you fail. And the kids have problems with that. And they come to me and I show them the way through the maze as it were, how to learn how to take action.
Evan: So let's talk about that. You've got the guys reading 700 books, you've got people just watching video after YouTube video after YouTube video, but they're not doing anything. They show up to you, how do you get that person who read all the books but hasn't pulled the trigger to do something?
Dan: Well first of all, they pay me a whole bunch of money to come here, and there's no refunds. So they pay me a lot of money. And, I shame them. I embarrass them. Even yourself, high performer, and by the way, I call everybody kids because I'm either old enough to be your father or grandfather. A kid like you, if you had to keep track of seven days a week, 24 hours a day, what you do, you would be shocked, astounded, overwhelmed, or as they say in Britain, gobsmacked, how much time you waste.
And I make them keep track of every minute of the day! Every minute of the day. And it's not easy. It's not easy. And, when you find out, I have people that have come to the seminar, that spend 20 hours a day walking in the fresh air and meditating. 20 hours a week, excuse me, not a day. 20 hours a week. And they don't get anything done, and they don't feel relaxed. Now I've never meditated one second in my life.
I've walked in the fresh air. But unless I'm sweating and I'm running up a hill, I don't think I'm accomplishing much. From a cardio point of view. At my age, I should be strolling, up the hill, or not even going up the hill. So we make 'em accountable, we give 'em the templates, we give them the tools. For those that even didn't read 700 books, they've read seven books or 20 books, you've read about all the various financial instruments.
But here we teach you how to play the entire financial orchestra for the first time. Money is almost free the last eight or nine years. Yet it's hardly I find a snowflake that has done anything about it. Free, the money's free right now! 10, 20 years from now, Evan, the guys on this call, their kids and grandkids are going to ask 'em, what the fuck did you do when the money was being given away free? Dad, granddad? I did nothing, I just kept my finger up my ass, and read another book.
I mean, I don't know how much longer this is going to last, free money, but right now, there is so much money out there, it's unbelievable. The problem the kids have when they come here, and not just when they come here, they don't know what a real deal looks like. They really don't know that  free cash flow has to cover debt service. They don't understand that concept. And they come in here with PhDs, MBAs, they're certified financial analysts, you name it we've had 'em here.
And they just don't understand. As I said, they wouldn't know a deal if it bit 'em in the butt. And they spend most of their time on deals that intellectually sound good but, financially they're no good. And so once you learn the difference between a deal and not a deal, and once you learn for real, and we show you the templates to use to how to get the money out of the banks, your life is never the same, it's just never the same.
Evan: And why now? So you say free money right now, it's not going to last, next generation, what's so special about right now where it's free money?
Dan: Because interest rates are so damn low! I mean interest rates are giving it away! I mean, I was making money, millions, when interest rates were 15, 18, 20%! Not two, three, four percent. I mean they're literally, the only thing they're not doing is setting up, like the Bank of America founder, the picture you've got in the back, he said, if I remember correctly, after the great fire, San Francisco Fire of 1906 or five or whatever it was, he set up a card table outside the bank, or what was left of the bank, they were making loans.
And people still didn't even come up to him. He didn't even do all the paperwork like now. I mean, oh God, I take a jet plane, I'd be the number one in line to do business with that old timer. But I mean it's not that easy, but I mean it's real easy.
Another thing, in America, the Small Business Administration, the SBA in recent years has gone from a one million dollar limit to a five million dollar limit. Meaning the government guarantees your damn loan. And there's talk, under Trump, I don't know if it's true, that it's going to go to seven or 10 million. If you can't do a deal when the government's going to guarantee 100% of the goddamn thing, you ought to blow your brains out!
You ought to commit seppuku, I think it's called. As Elon Musk said, he would rather commit seppuku which is, harikari, than fail! And I mean, I don't know how long it's going to last, I don't. But I do know that it's here now. And God almighty, I don't know why you wouldn't want to take advantage of it. As long as it's moral, ethical and legal. Moral, ethical and legal. Those are my only backstops.
Evan: I like it.
Dan: But if you don't want to be moral ethical and legal, God almighty. It'd be the mafia!
Evan: I like that you know your history! Most people have never heard of AP Giannini, and being able to pull that story out was great, it was actually across two barrels and a plank of wood, and he would lend money to people based off of a handshake and a look in their eye. That's how you got a deal with AP Giannini. He wanted to judge a man by the callouses on his hand, that's how he made a decision whether to give a loan or not. So, far cry from
Dan: All they have are callouses on their fingertips maybe from being on the laptop.  
Evan: Let's talk about that, so I mean, I got AP Giannini behind me. I love learning from successful people, trying to apply to my life, my business. I see behind you you've got this giant wall called influencers, and on there you have some controversial figures, you've got, I saw Winston Churchill and Jesus Christ and JFK. You have Adolf Hitler, Einstein, Trump, Ted Turner, talk to me, you're pulling from a wide range of people who are all over the place.
Dan: Stalin, I've got Stalin, I've got, oh Walt Disney, Jack Welch, I mean, McNamara from the Vietnam era who I actually knew but all those people now, when they ask me, what have I read? I read them. What did I look at last night to get fired up for today, for tonight? I watched the two and a half hour movie, 1963 movie Zulu, with Michael Caine, which depicted 1779 I believe, Africa, the British army, where they fought off 5000 Zulus, 150 guys, and they did heroic stuff.
That's what fires me up because it's tough to keep your energy high and fired up because I've done just about everything known to man, I have. Not all good shit, but I mean, I've done just about everything known to man. But the reason I have these people is because I learn something from everybody. You know, Hitler believed in practice, practice, practice. He had over a million photographs of him to do his promotional stuff when he was selling Mein Kampf, and when he was selling to become chancellor of Germany in the '30s.
A million pictures. He was the first guy being advised by Goebbels that, you know, if you're going to influence the masses. I studied when I was learning, when I was a poor speaker 30 plus years ago, I studied JFK, I studied Winston Churchill, I also studied Hitler and his mannerisms, but I couldn't understand what he said. And I studied to be a world class speaker that I am today, or at least I'm told I am today.
I studied Harry Truman who's up here who was the president that took over from Franklin Delano Roosevelt when he died in office and he was the guy that made the decision to drop the atomic bomb, bombs. Can you just imagine the heaviness of that decision? The heaviness that you're going to kill God knows how many people? I study, in current day I study Secretary of Defense General Mattis, Mad Dog Mattis.
And I have some friends from my military days that actually know the secretary. But these are all high profile people. You may not like 'em, but they're high performance people, every single one of them. Every single one of them. And quite frankly, in my judgment, 85 to 95% of the people that write books aren't high performance. They're also rans. Why do the kids read 'em? Evan? Because they say it's easy.
And I mean, high performance is anything but easy, and staying on top is even harder than getting to the top. Now I've been on the top of my game, arguably for three and a half decades. I haven't had to work in 35 years. People ask me how do I get up in the morning? I get up fired up! I'm fired up, I've been high on life since 1974, that I thought about it, and actually since I got that OCS 50 years ago today.
Failure's not an option. And I do fail. But when I do fail I'm so fucking, I can't believe it! It must be an error! There must be a typo! Because I'm so used to winning. And I've had the pleasure, the good fortune, to have been mentored by some real, real, world, world, world class guys. And, the world class guys like me. And, they often say you have the energy I had 50, 60 years ago. This is when I was younger.
I went where the action was. I went to New York. They said that Wall Street'd eat me alive, barrio bad boy. They were wrong. I run towards the gunfire and I kill everybody, metaphorically speaking. I look for problems. Because from chaos comes order. From chaos comes order, and I've done that successfully for, 50 years. And, I'll be 72 in a few weeks, I don't feel 72, I don't believe I look 72. And I've had, if you've noticed on my website, I'm called the bionic man because I've got so many artificial parts in me, my knees, my hip, my shoulders, my collarbone, my right bicep.
I mean, I'm running out of parts to replace. And that's because I do everything to the maximum and I do a lot of physical stuff, in the past than now where I got hurt a lot and I busted up. I'm looking to be all I can be every single day. I mean, there's no question. And getting back to the original question, how do I change their mindset? Is because I require the kids to be all they can be every single day for one year.
I have 100% track record for changing lives for the better. It's much less for billionaires. It's more for hundreds of millions and more even that than tens of millions, and if I can't make you the millionaire, I'll blow my fucking brains out. But I mean, a million, the average little dumpy house in Los Angeles costs a million bucks now. I don't know about Canada but…
Evan: It's getting there, Toronto's pretty expensive.
Dan: When I'm in Toronto, I'll probably stay at Trump Tower, which I stayed there last time I was in Toronto, not because of President Trump. I don't know how close that is to the University, I don't know.
Evan: Close enough.
Dan: I'm making two speeches in Toronto, one to a group of lawyers I think, financial, excuse me, financial people, and one to the university. And I'm looking forward to it, I'm expecting different kind of questions in Canada than I normally get.
Evan: I look at one guy on the back of your wall, you got Ray Kroc who's the guy who built McDonald's, and he really started that in his 60s. And at an age when most people were thinking about retiring, that's when he's just getting started to go off and build this huge empire. People look at you, a guy 72 years old, still tons of fire, still tons of energy. What is it that gets you pumped up to continue to do this. You've got your castle, you've got all the material possessions you want. Why do you wake up every day and do what you do?
Dan: Because, I'm glad you asked that question. Because I want to take as many of you across the goal line before they put dirt on me. My wife says I have a bad back because I'm carrying all you fuckers for 25 years. OK, I want to take as many of you across the goal line and that's why I give all my product away free 'cause I want to take that last excuse. I went from the most expensive product, high performance coaching product on the net, to free.
And I got calls from guys that you know their names. Some Canadian, what the fuck, you're killing us Dan! Why are you doing that? 'Cause I'm not doing it for them. And everybody's got the right to make a living. I don't want to take that away from them. But if you can find anybody that has even done remotely what I've done, that's coaching, I'll quit today. If you can find anybody that even remotely has made the kind of money that I've made for others I'll quit today.
Nobody talks about numbers Evan, because nobody's created any numbers. And I know it's gauche, and money's not the only thing in life, and I realize that. If you want to save the world, go make a ton of money like Bill Gates, and then save the world. Like a lot of the big guys that are saving the world now. Some say, Evan, that because they're paying for the sins that they committed in creating that wealth.
Now I'm not here to point the finger because, you know I support a lot of orphanages. I have two, 250 nuns praying for me every single day. Every single day. I mean, I do it because I want to, you want to call it giving back? I don't call it that. I'm selfish. I want to be known, when they put dirt on me, as the greatest high performance coach that ever walked the fucking planet! I don't even want 'em to think about Napoleon Hill, only as an afterthought.
And currently I am. And I'm not done yet. You know? I plan on living to at least 120. I may not be mentoring at 120, but I'm six foot one, 225 pounds, and have twisted steel and panther piss. I'm still a formidable guy. And I don't plan on being any less formidable during my 70s. Now will I be doing this in my 80s, I don't know. I don't know. But I have no outside investments. I don't do anything other than coach the kids.
And why do I not have any outside investments? 'Cause anybody that's got a portfolio that thinks that he can devote to you kids and over your own investments is a lie. I have no investments, all I have is cash. 'Cause I never even remotely want to be conflicted. You show me one other person that does that, I can already tell ya there aren't any. What about inflation dad? What about deflation?  Bulls***t! As Bunker Hunt told me 30 years ago, one of the real billionaires, he says Danny, if you're worrying about paying taxes, you aint making enough fucking money. Am I still fired up? Yeah. And I'm calmed down too. I've calmed down in my old age. In the '90s, I loved it 'cause I beat the kids. I used to, oh God, the good old days. The good old days. What's next?
Evan: Well I love the fire and energy that you still have for us. We're wrapping up, we're almost out of time, it's crazy how quickly half an hour can go. For people watching, where can they learn more about you, where do you want to guide them to? You got your website, you have the success test, your YouTube channel.
Dan: Yeah, thank you for reminding me, danpena.com, all the stuff's free. Got hundreds of pages, podcasts, et cetera. But if you want to separate the men from the boys and the girls from the old women, take my success test. It's on the front page, the landing page. And it's only got a 95% accuracy rate, of correlation to you being successful. Only 95%. That's all. And, you take that test and then you tell me how your program's worked up heretofore.
And I want to thank you Evan for this opportunity. And I look forward to hopefully seeing you when I'm in Toronto. A couple of the universities I'm speaking at told me I should be concerned about my security. Toronto didn't tell me that so…
Evan: I wouldn't worry too much about Canadians, we're usually pretty nice. So I think you'll have a great time.
Dan: I look forward to it, I look forward to it and I look forward to hopefully meeting you.
Evan: Cool, well Dan, thank you so much for spending time with us, guys, go check out danpena.com, check out that success test if you want to learn a bit more. Good luck on your tour Dan and again, thanks for spending a half an hour with us today, we appreciate it.
Dan: OK, thank you for the opportunity. Thank you very much.
---
You might also like
---
More from Dan Pena
---
Today, we're going to learn how to ignite the fire within you. Hello, Believe Nation. It's Evan. My one word …
Hello, Believe Nation! I started the Mentor Me series to try to hang around people who've done a lot more …
He's a Hispanic-American businessman, entrepreneur, mentor, and business coach. He's the author of the popular book, "Your First Hundred Million". …