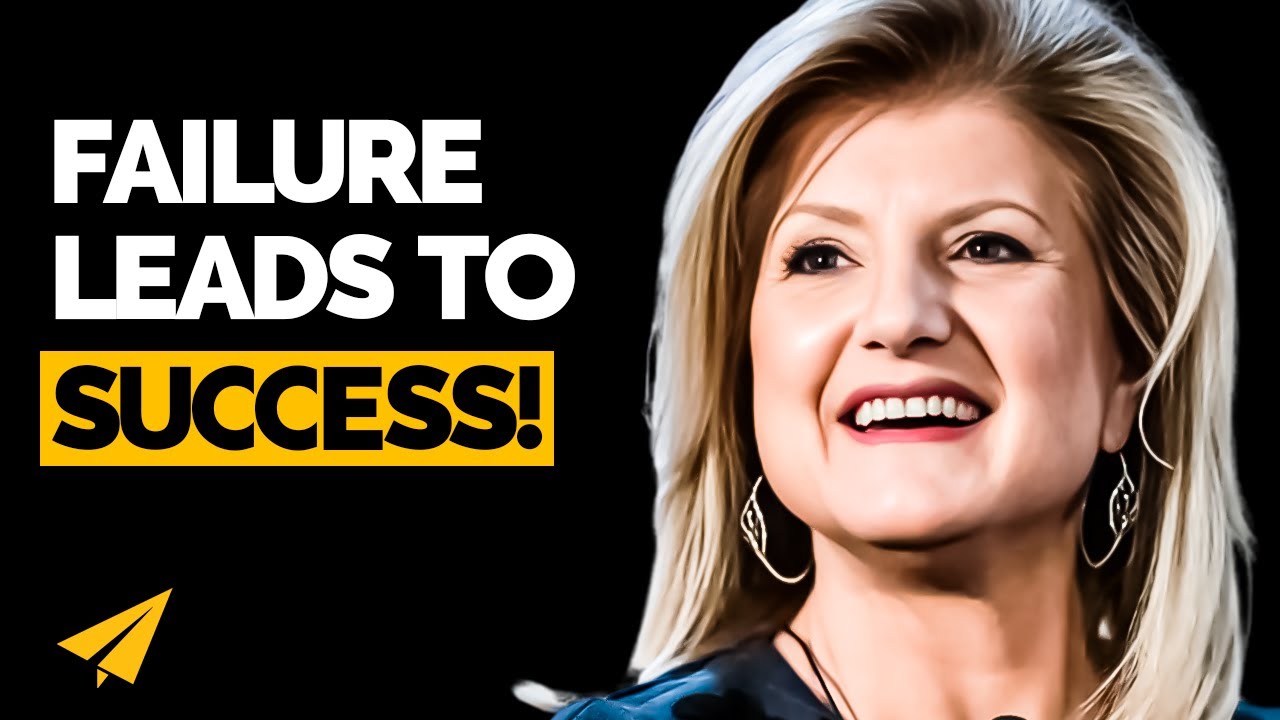 Famous Entrepreneur Quotes
Arianna Huffington's Quotes
"A lot of the time we do have good ideas, but we are afraid of failing."
"What I tell everyone who works with us is that all this stuff that we've learned, we now need to apply to actually bringing people to see how they can live their lives in a better way and make the world better."
"There's nobody who has not failed along the way. So I think it's very important for young women especially as they are starting in life to recognize that. Because otherwise they only see people's successes. So when I speak, I speak of my failures."
Arianna Huffington's Top 10 Entrepreneurship Rules For Business and Success
She's a Greek-American author, syndicated columnist, and occasional actress. She's the co-founder and editor-in-chief of The Huffington Post. As of 2014, she's listed as the 52nd most powerful woman in the world by Forbes magazine. She's Arianna Huffington and here are her top ten rules for success.  
Rule #1: Embrace Failure
A lot of the time, we do have good ideas, but we are afraid of failing. I think especially for women. And I see that in my daughters and my daughters' friends. Fear of failure is what stops us more than anything.
Interviewer: Yeah, I agree.
I was like it in that I had a mother who was full of sort of this colloquial wisdom. And she used to say to me, "Failure is not the opposite "of success, it's a stepping stone to success." There's nobody who has not failed along the way. So I think it's very important for young women especially as they are starting in life to recognize that. Because otherwise they only see people's successes. So when I speak, I speak of my failures.
Rule #2: Bring Joy To Your Life
One entry point is bringing joy back into our everyday lives. Because so many of us, and I speak as a complete culprit, as like a certifiable type A, workaholic, driven personality who basically felt my job was about getting it all done, getting it done in time, getting it accomplished. Joy, who has time for joy? And now I feel that not at all. That it's like when I'm not joyful, I look at what happened.
I don't mean joyful like there are no challenges, problems, et cetera. I mean like when I'm not like, "Hey, this is great. "I'm blessed. I'm doing something I love. "I'm grateful." When I don't have that feeling, I know I'm off. I need to course correct. So joy, kind of really checking in and seeing how am I doing. You don't even have to check in because you know when you are in the flow, in the joy and when you're not.
Rule #3: Do The Right Thing
What I tell everyone who works with us is that all this stuff that we've learned, we now need to apply to actually bringing people to see how they can live their lives in a better way and make the world better. So these things don't have to be boring. They can actually be really exciting. We have a dedicated section called Good News section. It only has good news. It's one of our most popular sections.  And I think part of it is because of the zeitgeist.
And I really believe in the zeitgeist. And I know it's a terrible German word, but there is such a thing as the zeitgeist, you know the spirit of the times. The spirit of the times is changing. You see now many brands want to be part of wellness for example. When I decided to launch The Huffington Post, it was an expensive operation. I wanted to be free. I was absolutely committed to that. I didn't want anybody to have to pay for it because I wanted everybody to be able to access it.
I never thought it would be sponsored. When we announced that we are going to launch it at CS, we had brands competing to sponsor it. It ended up being sponsored by Weight Watchers because of the connection between stress and weight. I really believe that if we set up in the media to do the right thing, and do it effectively, and do it smartly, and do it in a way that draws people to it not in a didactic way, then the monetization will follow.
Rule #4: Unplug, And Recharge
If you look around you, you see leaders in positions of power in politics, in media, in business. All of them with high IQs, great degrees making terrible decisions. What is missing is not IQ but wisdom. And today it's getting harder and harder to tap into our own wisdom because we are all so hyper connected to our devices, our screens, our social media that we're having a hard time disconnecting from technology and reconnecting with ourselves.
Your very own, very wise Smith sophomore, Erin McDaniel, wrote in the Sophian about her decision to disconnect from all her social media. "We have eschewed," she said, "real social connections "in favor of superficial technology-bridged ones. "We have become, in many cases, "nearly as socially robotic as our computers."
Now, you don't have the head of a digital company telling you to completely disconnect from technology. What I'm telling you is to regularly disconnect from technology, to regularly unplug and recharge in order to reconnect with ourselves and our own deepest wisdom.
Rule #5: Dare To Live Your Life
It was actually at Cambridge when I discovered the Cambridge Union which was a debating society. And I fell in love with the spectacle of people's minds and hearts being moved by words. And I said I want to do that. And I was terrible. When I first stood up to speak, I was literally laughed at especially with my thick Greek accent which was even thicker than now. I had to read every word, but at every debate, I would get up. Often they would call on me at midnight after they had exhausted calling on everyone else.
And I was just determined to learn to speak. It's still my favorite thing even though obviously I spend a lot of time online and running a digital company. And I've written 14 books. My favorite thing is speaking. In the end, it's about how we feel inside and what is it that nourishes us. And it may not be what our society values.
And that's why a lot of … Increasingly we see millennials especially turning down the jobs with the big salaries and doing something like becoming a teacher in an inner city school because that's what fuels them in a positive way and that's what touches their heart. So when we dare to do that instead of living someone else's life really, it's dramatic how everything changes.
Rule #6: Practice Death Daily
Socrates said, "Practice death daily." He didn't mean that in a morbid sense. He meant that if we really consciously realize and remember every day that we're all going to die, then we live life differently. Because first of all we don't sweat the small stuff. When it comes to death, everything is small stuff. It's the same thing that the Romans thought. You know they would carve on statues and on trees: "MM" memento mori, remember death. It's one of the things … We actually have now a dedicated reporter on The Huffington Post covering death.
Because again, that's again a huge silence in our culture. But the thing that is the absolutely inevitable part of our lives is not being covered by the media. The Columbia Journalism Review, his first name is  if you can't remember his last name. He's doing amazing things around death in our religion section, which is next to our science section, because increasingly we're trying to see how the two are not opposed to each other.
Dogmas may be opposed, but the heart of a religion is very connected to the heart of huge scientific discoveries. So my point, to go back to death, is that if we make it part of life, it will make us live life differently. And so when the time comes for us to die, we will be prepared for it.
Interviewer: Yeah, because we practiced it.
Because we'll have practiced it every day.
Rule #7: Don't Hold Grudges
And my advice to everybody is look at a child and see how a child handles being upset or angry. I don't believe in growing a thick skin. I think that stops you from really being permeable and feeling everything to the fullest. But a child will get really upset and really cry and then like five minutes later it's as though nothing has happened.
That's what I love. I love to live life like that. It's perfectly okay to be upset and angry and irritated. But how long do you stay on it? That's for me the key. It's like, can you say "next" and move on and not hold grudges. That's the other key. Oh my God. Holding grudges is the worst.
It's a big part of the political landscape. Did you have to learn to do that, to let go?
Oh yeah, I worked at it, and I really believe in it. The most draining thing we can do in our lives is hold onto something other than upset or anger or judgments. I like what the Bible says, "The evil of today is enough." "Let the dead bury the dead." Move on, that's my advice for everybody.
Rule #8: Prioritize Sleep
Well, first of all, I prioritize sleep. That means saying no to things you want to do. It's not easy.
Interviewer: That is hard, I think the hardest thing.
Last night Sheryl Sandberg interviewed me at the San Francisco Symphony Hall. And then I had to sign books. I would have loved to go and have dinner with her. But I went to bed. Because if had gone out to dinner and hadn't gotten my at least seven hours sleep that I need and had to get up early to do TV, I would not be enjoying being here with you now, and I'm really enjoying it. And I'm 100% present and I'm not tired. And I hate being tired more than I hate anything.
Rule #9: Nurture Your Creativity
If you really want to be creative, just go with Steve Jobs' biography by Walter Isaacson in which Steve Jobs says how it was when he was in meditation that often a lot of his best ideas for Apple came to him. He calls it being able to listen to the whisperings. But otherwise we are really too busy and there's too much static in our lives to listen to them.
Yeah, yeah, beautiful, yeah.
And Bill Gates, you know he would have his what do you call think weeks, when he would take a week off without any devices and go to a cabin and think. And again, to go back to another Greek. I always go back to the Greeks. Who came up with his Eureka moment in the bath. How often don't we have our most creative ideas in the shower or the bath.
Rule #10: Redefine Success
At the moment, our society's notion of success is largely composed of two parts: money and power. In fact, success, money, and power have practically become synonymous. But it's time for a third metric beyond money and power, one founded on well-being, wisdom, our ability to wonder and to give back.
You know, money and power by themselves are like a two-legged stool. You can balance on them for a while, but eventually you're going to topple over. And more and more people, very successful people, are toppling over every day. Basically, success the way we've defined it is no longer sustainable. It's not sustainable for human beings. It's not sustainable for the planet.
Thank You!
Thank you so much for watching. I made this video because Alf asked me to. So if there's a famous entrepreneur that you want me to profile next, leave it in the comments below and I'll see what I can do. I'd also love to know which of Huffington's top ten rules meant the most to you, had the biggest impact. Leave it in the comments below and I'll join in the discussion. Thank you so much for watching. Continue to believe and I'll see you soon.
Summary
Arianna Huffington's Rules
I hope you enjoyed this article, make sure to check my Arianna Huffington video on his Top 10 Rules For Success as well.
---
You might also like
---
More from Arianna Huffington
---
Hello Believe Nation, it's Evan. My own word is believe and I believe in people more than they believe in …
Good morning, BelieveNation. My name is Evan Carmichael. My one word is believe and I believe that entrepreneurs will solve …
Hello, Believe Nation! Today we're going to look at how you can have more joy. And as always, guys, if you hear …