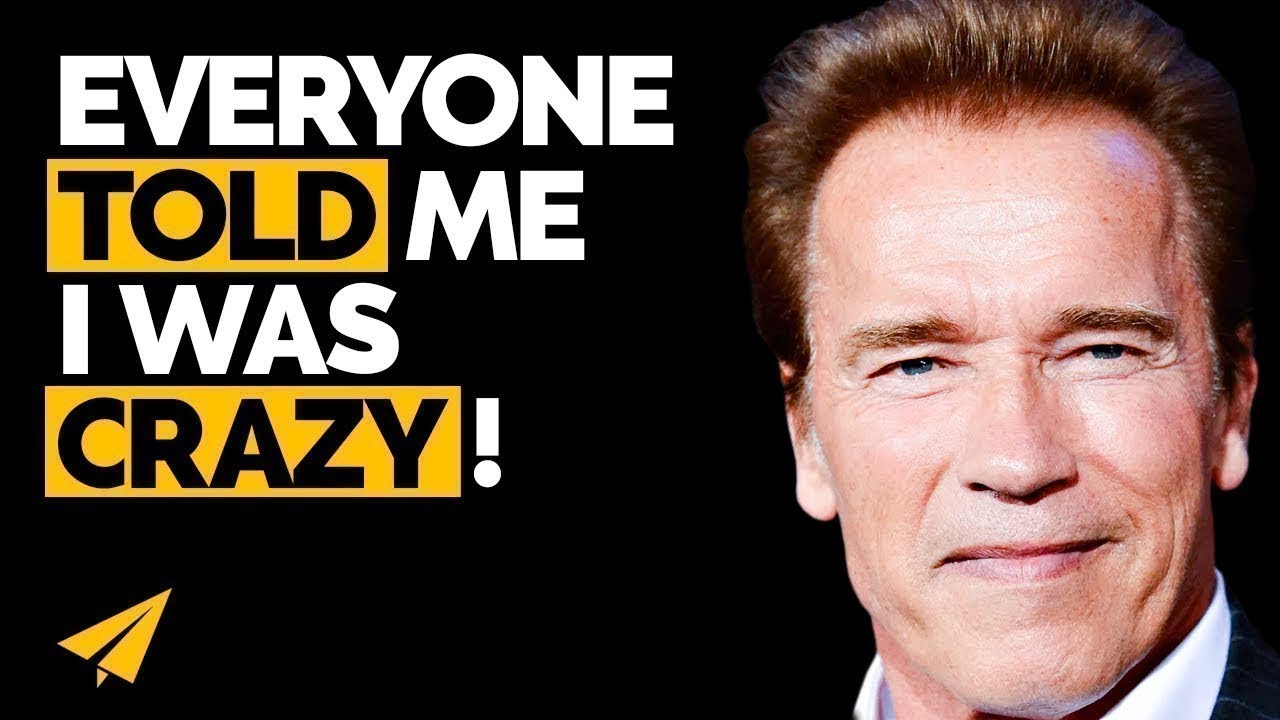 He won the Mr. Universe contest when he was 20, and the Mr. Olympia contest seven times. He is worth hundreds of millions of dollars. He's been an athlete, actor, entrepreneur, director, model, and politician. He's Arnold Schwarzenegger and here are his ten rules for success.
Arnold Schwarzenegger's Top 10 Rules For Business and Success
Rule #1: Have A Clear Goal
Here's the goal, and whatever it takes to get there, I would do. So, I was doing my daily work, cleaning the guns, going to the shooting range, marching 20 miles a day and falling around up hills with weapons, running at five in the morning with heavy combat boots and all this stuff, and then everyone just almost drops dead at night, is totally exhausted.
I worked out three hours and got up early in the morning again to do my sit-ups, and the push-ups, and my chin-ups. There was a clear conflict, a dilemma. Because the lifting was not a traditional sport for them, they didn't like the idea.
They didn't even have the equipment. I had to go and figure out every way possible to do dips with chairs, or put a bar across two chairs, and do upside down rowing. Everyone would say this is the wrong direction that I'm going, or I'm in a dream world, I'm useless, whatever it was, I'm going to break through that, no matter what it takes. I needed to reach that goal. That vision that I had, of being a world champion.
Rule #2: Think Big
Think big. Because then you're going to get big. Then you're going to go and achieve big things. That is the most important thing. We don't achieve big things by accident. So, shoot for the top, shoot for the sky. Shoot for the stars.
Rule #3: Turn Your Liabilities Into Assets
All of those liabilities that they talked about that are turning into assets. When I did Conan the Barbarian the director came to me and he said, If we wouldn't have you, we would have had to build one. And on Terminator, the director said, I couldn't imagine to have anyone play Terminator that wouldn't have an accent and that wouldn't have your body.
I cannot imagine the line "I'll be back." with a normal American accent. It worked so perfectly that you have this German accent. So all of those things that they say are liabilities, became an asset. As moment went on, I grew and grew and went from one movie to the next, started making more and more money and then I ended up being the highest paid actor with 30 million dollars in Terminator 3.
Rule #4: Ignore The #Littleman
My father, he said this is an embarrassment to me and was dumping all over me.
Rule #5: Work Your Butt Off
The other thing is, you have to work your butt off. If you think that you're going to go accomplish something really special and be the best in anything in the world, and you think you can do it without working, you'll make a big mistake.
Because no matter what I did, if it was in body building or in acting, or in the political arena, it always took a lot a lot of work. You got to put out and you got to make a lot of sacrifices. If you're not willing to work hard, forget about it this is another rule that is very important.
Rule #6: Make The World A Better Place
Use your power of potential and make this nation and this world a better place. It worked for this immigrant who came over here to this country with $20 in the pocket, and I know and I guarantee it will work for you too.
Rule #7: Don't Be Realistic
I said that I wanted to get into acting, people said "No, you have an accent and you have a body that is too big, and your name no one can pronounce, be realistic." It's the 70s. Today. Dustin Hoffman, he's the big shot. Al Pacino, little guy. Woody Allen, sex symbol.
Even when I ran for Governor they said, "Are you kidding me, he can never win. Give it up." But, I didn't pay any attention because I said to myself, "What did I do when they said you can't go to Germany, you can't compete in the Junior Mr. Europe." I did not listen to the no. I went, and it worked out. And I used that attitude, as a blueprint for the rest of my life.
Rule #8: Don't Be Afraid To Fail
Don't be afraid to fail. Because if you're afraid to fail, then you're always holding yourself back, because you're afraid if you go all out you may fail. Well, in weight lifting we learned very quickly, the only way you could break a record is if you're willing to fail.
That's when you put on more weight, you try and sometimes maybe you don't, you would not be able to lift it. Which has happened to me many times. But eventually when you train hard enough, you will lift it. So, don't be afraid to fail, I mean, how far can you fall.
Rule #9: Model Success
In Austria, kids were conditioned to follow our parents path, but, unlike other kids around me, I was very determined that I have to get out of there. And then one day, I saw the cover of a magazine of Reg Park. And it says, "How Mr. Universe Became Hercules".
I opened up this magazine and I read through it, and it was the whole plan, laid out. I asked myself, Arnold, what is it about you, that is so different? Why are you the only one that sees it so clearly, the score, going to America, winning the Mr. Universe contest, and getting into movies, and making millions of dollars, no one else talks about this around here.
Is it real? Is it just a crazy fantasy? But, wait a minute, Reg Park did it. Then it's possible. Arnold, focus. The key thing is to be focused. Visual a goal, and I saw myself standing up on a stage just like Reg Park and it became more and more clear. Arnold, You got to go.
Rule #10: #Believe In Yourself
That just shows you again so much for it can't be done. This is what I try to tell you, anything and everything can be done if you can visualize it and if you believe in yourself. It was the same thing again when I ran for Governor, you can imagine when I went on the Tonight Show, and I announced that I'm going to run for Governor of the great state of California.
People came to be afterwards and said, "You're crazy. You don't announce something like this on the Tonight Show. You have an official Press Conference at the state capital. Plus, you don't start with governorship, you start first with Mayor, or with State Senator."
And I said, "I don't want to be Senator, I don't want to be Mayor. I want to be Governor, don't you understand that?" Well, the rest is history, I won in 2003, and I won also in 2006. Let me tell you, you're going to find the naysayers in every turn you make. Don't listen, just visualize your goal, know exactly where you want to go. Trust yourself, get out there and work like hell. And break some of the rules and never ever be afraid of failure.
Thank You
Thank you guys so much, I made this because Daniel Grantham asked me to, so if there's a famous entrepreneur you want me to profile, and you want to see a top ten list of, leave their name in the comments below, and I'll see what I can do for you.
Now, Arnold liked to talk a lot about how important it is to have a clear goal that's set out and achieve for yourself, so my question of the day for you today is what is your clear goal? What is a clear goal that you, you're trying to work towards, to build that life and that business for yourself? Leave in the comments, I'd love to hear from you.
And of course if you like this video and you want to see more, don't forget to subscribe to the newsletter and to the channel and I hope to see you again tomorrow morning for another shot of entrepreneurship to kickstart your day, thank you for continue to believe, and I'll see you soon.
---
More from Arnold Schwarzenegger
---
Today's message is execute your idea.  Good morning, Believe Nation, it's Evan. My one word is believe, and I believe …
Today we're going to learn how to expand your mind. Hello, Believe Nation! It's Evan. My one word is believe, and …