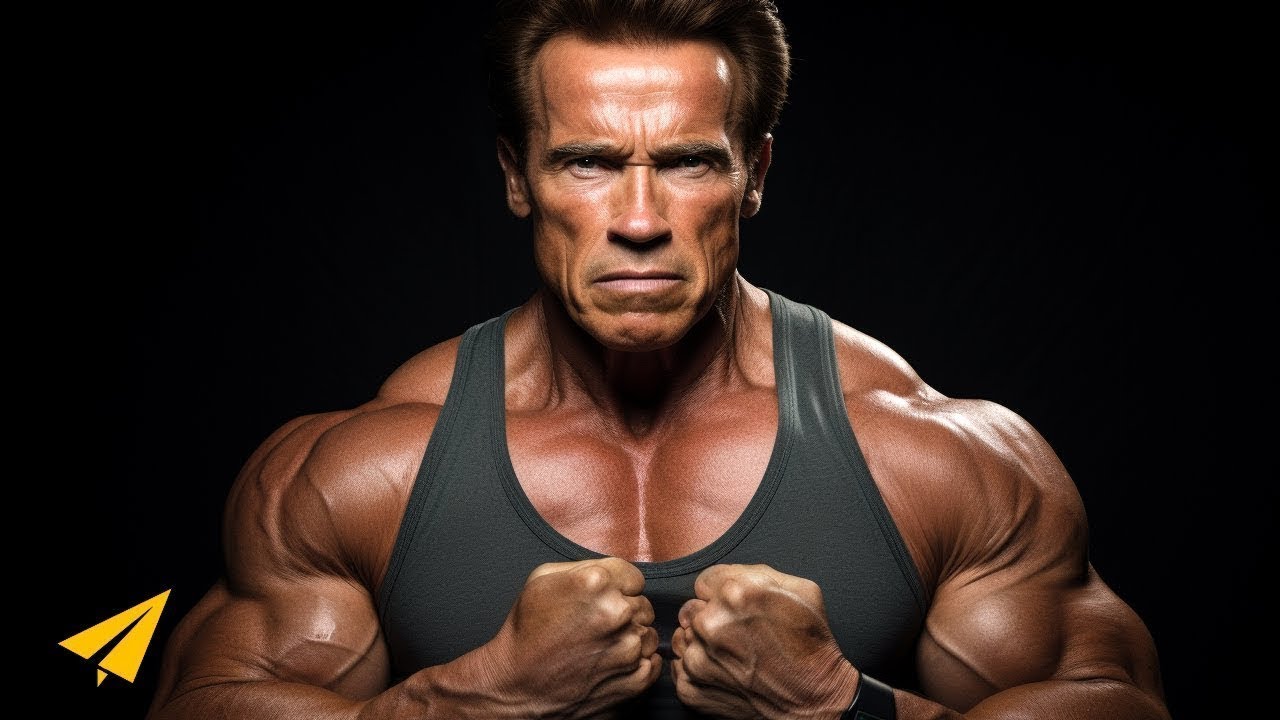 Famous Entrepreneur Quotes
Arnold Schwarzenegger's Quotes
"Just remember, you can't climb the ladder of success with your hands in your pockets."
"The resistance that you fight physically in the gym and the resistance that you fight in life can only build a strong character."
"Strength does not come from winning. Your struggles develop your strengths. When you go through hardships and decide not to surrender, that is strength."
Arnold Schwarzenegger's Top 10 Rules For Entrepreneurship, Business and Success – Volume 2
He's an actor, politician and former body builder. He won the Mr. Universe contest at age 20 and went on to win seven Mr. Olympia titles. He gained world wide fame as a Hollywood action movie icon. He's Arnold Schwarzenegger and here's my take on his top 10 rules for success, volume two.
Rule #1: Develop Your Hunger
When I used to do seminars on how to become a champion I would always ask people why do you want to be a champion?
Or what do you want to accomplish?
Why are you training?
And if a guy will get up, and he will say "well I want to train because I think that if I get muscular "and I feel like I'm getting the kind of definition "then I maybe can enter a body building competition." I said, "sit down".
Cause if you think this way, you're going to be a loser. You're never going to make it because there's no maybe. You got to get up and say, "I want to be a champion. "And I do whatever it takes." The amount of hours it takes. The posing, the this, the that, the visualization.
Looking at training footage, looking at motivational books, reading this, whatever it takes, I will do. That's the answer I want to hear from you. You can detect right away those that are going to be shaky and that will fall behind.
They will not go all the way. And those that are very hungry. And that hunger you have to develop because you have to create a goal for yourself, whatever that may be. A short-term goal and a long-term goal and you got to go after that and if you do not see it, and if you do not believe it, who else will?
Rule #2: Go Through The Pain
Experiencing pain in your muscles and aching, and just then go and go on and go on and those last two or three or four repititions that's what makes actually the muscle grow.
And that divides one from being a champion and one from not being a champion. If you can go through this pain barrier, you may get to be a champion. If you can't go through, forget it.
And that's what most people lack is this having the guts, the guts to go in and just say "I go through and I don't care what happens. "It aches and if I fall down, "I have no fear of feinting in a gym." Because I know it could happen. I threw up many times while I was working out, but it doesn't matter, because it's all worth it.
Rule #3: Make The Time
Everyone has a problem with time. But the day is 24 hours and we sleep six. Now I know there are some out there that say "Oh woah, woah, woah, woah, I need eight." Well I say, "just sleep a little faster" because the bottom line is we have six hours of sleep, 24 hours are available so you have 18 hours now available to your work, your family, your hobbies, and also to learn something new or to do something new.
Which could easily be that you want to learn a new language, or that you want to read as a New Years resolution, have to read a book every week or you say I'm going to go and re-shape my body. So you're going to go and take this hour out of your schedule and say I'm going to train an hour every day. So this is for most people a huge challenge but it is totally doable, I can tell them.
Because the kind of things that I did when I came to this country. I mean, I went to school, I was working in construction, I was working out my five hours a day, I was taking acting classes from eight o'clock at night to 12 midnight. I was doing all of those things.
I wanted to make sure that out of the 24 hours of the day that I don't waste one single hour. Those hours were too precious. And so then I just want to tell people don't give me this thing "I have a difficult time with the time, "and I don't have time for this, none of that." You have time, you make the time.
Rule #4: Be A Fanatic
I had this need of coming to America. I mean, when I started learning about America at the age of 10 because of geography lessons and learned about America and about, and saw the first photographs, I remember photos in the textbook, but also in Super 8 millimeter film footage that they showed in the classroom.
You know, about the Golden Gate Bridge and the Empire State Building and the six-lane highways and all this. I said "what am I doing here in Austria "with these little roads? "I want to go and I want to be part of the big deal." And so I had always this desire that felt like the only way ever I would get to America, because in those days it wasn't common that you buy yourself a ticket, no one could afford that.
So I had to accomplish something big that takes me to America. And then when I read about this guy Reg Park who won Mr. Universe three times and then became a star in Hercules movies, and then was in Italy filming, and then in Hollywood filming, I felt that could be the ticket.
I should become Mr. Universe, I should become a second Reg Park. Of course, no one really bought into that. My parents thought I was totally insane. And I remember that I hung up pictures above my bed for inspiration. Pictures of Reg Park in his posing trunks and all that.
I would always then lift weights afterwards
My mother was so concerned, she called the local doctor and she had him analyze the wall, because she thought that there's something terribly wrong that I have naked men above my bed. And all of my buddies had women hanging above their bed and so she was concerned about that. But I think that my parents really thought that there was something terribly wrong of being that driven.
Because I would come home at lunchtime and instead of having lunch, I would do 200 sit-ups. And at night, I will go to the stadium and I will be lifting weights. I will come home at 10 o'clock at night and I will be continually lifting weights. So it was like one of these insanity in the military, I will continue lifting weights. No matter how the training was and how tough the basic training was, I would always then lift weights afterwards.
And as a tank driver would have on the side of the tank in the toolbox, I would have my weights, my barbells, my dumbbells and my exercise bench, and everything there. In order to be, at any given time, if we stopped driving the tank and maneuvers. At two in the morning, I will be able to pull out my weights and again lift for two hours my weights. I was really a fanatic about the whole thing.
Six years after my dream started, I was in America
But it's the only way you really get the way I succeeded. Because, I became at the age of 20 the youngest Mr. Universe in London in the history of bodybuilding. Because the youngest before then was Reg Park, the guy I was talking about, at the age of 24. But I became the youngest with 20, but it was because I was so serious about the whole thing.
And it worked, by the age of 21, after I won my second Mr. Universe title, I got an invitation from Joe Weider who was the publisher of all the muscle magazines in America and also the person that had the biggest warehouses of weight training equipment, and had food supplement companies and all this. And he brought me to America, and so there I was. Six years after my dream started, I was in America.
Rule #5: Have Your Own Vision
I think it's the most important thing that we have a very clear vision of where we go a goal, where do we go? Because you can have the best ship in the world, you can have the best cruise liner, but if the captain does not know where to go that ship will drift around the world, and out there at sea and will never end up anywhere. This is exactly the way it is in real life.
If you don't have a goal, if you don't have a vision, you just drift around you're not going to be happy. This is why it is so important to have that vision. Now I created that vision in Austria because I grew up after the Second World War. Austria right along with Germany, lost the Second World War, thank God.
And the problem was that everyone was so depressed because they lost the war that there was alcoholism everywhere, there was of course depression, there was a terrible economic situation, there was famine, there was starvation and all those things.
This was the vision of my parents, but not mine
And also it was kind of a little place and narrow, I felt kind of, I wanted to get out of there, I wanted to escape. And I couldn't see myself really do work there, and to stay there, to work in the factory or to work on the farm, even to follow my father's footsteps and to become a police officer, I couldn't see that either.
And so I think that's what my parents wanted me to do, they wanted me to become a police officer and to marry a girl by the name of Heidi.
And to have a bunch of children and to run around like the Von Trapp family in The Sound of Music. But that's not what I saw, this was the vision of my parents, but not mine. And luckily one day in school I watched the documentary about America. And I found myself, I knew exactly that is where I wanted to end up. I wanted to be in America.
Rule #6: Find Mentors
Interviewer: You had an early meeting with Dino De Laurentiis and it didn't go so well?
Well, that was different because Dino De Laurentiis had an office and he wanted me to be in Doc Savage. And he wanted me to play the villain in Doc Savage. And I walked in, and I always kind of have a mouth that sometimes goes a little bit too fast and I step on myself. I walked into the office and I saw Dino standing behind his desk.
And it was this huge desk, ornate, gold and kind of like French looking or Italian looking, I don't know what. But it was gigantic, it was one of those partner desks. And Dino, the only thing that stood out was his chest and his head because he's a little guy. Dino's a really short guy.
So I looked in, I walked into his office and I looked and said "Hi Dino, "why does a little guy like you need such a big desk?"  And to Dino De Laurentiis you never say, you're little. Because he saw himself as a giant.
So he looked at me and he says, "Ah, Schwarzenegger, you have an accent, "I cannot use you, ah." And I said, again, stupidly, "who is talking about having an accent? "I mean, listen to you." "Ah, are you a Nazi? "Ah!" And he walked away because I had a German accent.
Who would give me advice
So that was the end of that. So I left the office and my agent came up to me. He grabbed me really forcefully by my arm and he said to me, he says "I've been an agent for 15 years. "This meeting was exactly one minute and 14 seconds. "It was the shortest meeting they've ever had. "You just "everything up. "God damn it, it took me months to get in here." So he was mad at me also.
So anyways, so that's how the relationship started with Dino. But then when he bought Conan, he came to Spain where we were shooting. And the third day of filming after he saw the dailies, the footage that we had filmed, he came up to me and he said "Hey, Schwarzenegger, you are Conan, ah." And he walked off.
And Milius came to me, the director, and he says, "this is the greatest compliment that you can ever get. "He said, you're Conan, isn't that great?" And I said "I guess so." And from that point on, we created this really great relationship.
And we did movies together and The Raw Deal and then Red Sonja and Conan the Destroyer and Conan the Barbarian. And he became kind of like a father figure. He became kind of the Reg Park that I had in the bodybuilding world and Joe Weider, he became that character in the movie world.
That I could go to for anything. Who would give me advice. Who always had wonderful compliments and kind of took me in as part of his family. And so that's why I always will miss him very dearly after he passed away.
Rule #7: Love What You Do
The worst thing I think you can do is retire. Retiring means that you, maybe have hated something that you did your whole life. And now you retire and finally you get rid of this pain or this horrible being on an assembly line in some car factory or something like that. I don't know what it may be.
But people just sometimes look forward to retiring. I cannot imagine, why would I want to retire, from organizing the Arnold Classic? I am having a ball here. I love coming here every year, you know what I'm saying. I cannot imagine retiring from going to Gold's Gym.
Because I love everything I do
How can I retire from playing chess with Franco? How can I retire going around and promoting health, the environment or the fitness crusade and stuff like that. Or going to the Schwarzenegger Institute. So I cannot imagine that there is such a thing as retirement. I think that it will be over when it's over.
Interviewer: Define retired, is that when you give up?
Yeah, I don't know. Some people just look forward to that and like I said it depends. We have to also understand one thing. 74% of the American people, there's a poll that was done, do not enjoy their work. So this is why, and it's very tough, it's easy for us to say "why would I retire?" Because I love everything I do.
Go after that
But there's a lot of people that don't like their work and they're just doing it because they need to make a living, they have a family to feed and so take the next best job. But they don't really like the job and they don't know then how to switch over to another job.
So it's very tough, that's why I always tell kids in my success seminars. Have a clear vision of where you want to go. What is it that you're really passionate about? And then go after that, no matter what it takes. Go after that. As crazy as it may sound, because you've got to do something that you really enjoy doing.
Interviewer: Be true to yourself.
That's right yes.
Rule #8: Execute On Your Ideas
Interviewer: You're a fantastic direct response marketer with your mail order business can you talk to us about that dollar into two concept?
Well, you know we all pay taxes and we all hate the idea that you're losing that money. But there's a difference between hating that you lose that money and hating to pay taxes. I love paying taxes, if it is the fair amount and if it is used wisely.
I think we all have to contribute it because this how you set up social programs that how you build infrastructure. That's how we have a military all of this kind of thing. So that's great. But I always had to belief that the money that I pay in taxes I want to make up through wise investments.
So this is why I got into the real estate right away in the '70's and I started buying raw land and developing that. I started buying apartment buildings and you know just think about it, I mean it would be in, I remember in 1974 I bought my first apartment building and we bought it for $215,000. That's it was then a lot of money.
Interviewer: Yeah.
And put only found like maybe $35, $37,000. But within two years that apartment building was worth instead of the $215, $350,000 and I sold it. So imagine now how much gain there was.
Interviewer: Yeah.
I mean, so we made hundreds of percent on my initial investment so that's what I'm talking about. See it, it takes you know thoughts and ideas, can make much more money than actual physical labor. And physical labor is always part of the action because I always say you've got to work your ass off no matter what you do.
That's what I always believed in
Because now you have a great idea but then you still have to implement it and you have to hassle, you have to go to the bank get their financial statement, do this and that. Raise money sometimes, then you go to look at a thousand apartment building to find the right one and all this kind of things.
So you still have to work but normally if you just physical labor you can never make the money that you can make when you have ideas. So this is why it's important I always tell people, I say "the secret is, there's certain don't think. "Like when you get up in the morning, don't think." Just roll out of bed just go on your live cycling or go on a bicycle ride or go to the gym, work out.
You know that's what you have to do, and then read something and learn something. Don't even think about it. But there's other times when you have to really think and you really have to get creative and have a clear vision of where you want to go and what you want to do. And that's what I always have and that's what I always believed in, always believed in making money so that then you can do something with that.
That's the way I look at it
You invest in it in order, eventually you create the family you give some of it to your kids and all that stuff but also for charity. Look, I have the Schwarzenegger Institute at USC
Interviewer: Yeah.
So we have to raise money all the time and make money to pay for that and the support there. We have the R20 the environmental organization or any organization any idea is great but if you don't have the money you can't implement anything.
And so this is why it is important that if it's an environmental organization or if it is my after-school programs, that are nationwide, where we raise millions and millions of dollars every year. Or if it is just you know living in a great mansion or driving a nice Bentley in the Bulgari.
You know these the kind of things, it takes money to do all this kind of stuff, so therefore I believe in making one dollar into two. And having a good time when I pay my taxes. When someone says "yes, yes Arnold. "We have bad news, "you owe $50 million in taxes." I say "wow, yes!" But then he looks at me and says "what are you happy about?"
Interviewer: He's finally lost it.
"Because that means we must have made a lot of money." To have to pay that much money in taxes. And they say "yeah that's a way of looking at it." And so that's the way I look at it.
Rule #9: Give Back
But I tell you that I was very fortunate that I had great heroes. I had great heroes that I could look up to and I mentioned two of them Muhammad Ali and Sargent Shriver, my father-in-law. But there's other great heroes like Gorbachev, Reagan, Mandela.
Great leaders like Mother Teresa, Chancellor Kohl and Churchill and the list goes on and on. I mean those people had such an impact on the world, single-handedly they've changed the world. We all can create change, whether it is in our neighborhood, or in our local schools, or in our country.
It can be big but it can also be as little as just going to a school kid that has problems reading and teaching them kids how to read or how to do math. We don't have to just work on me, we should also work on we. Not just me but also we. Remember that.
To lead a truly full life you must give back. You must leave the world a better place than you found it, because the bottom line is it is up to us, I mean those rules that I've given you are important rules, but giving back is one of the most important rules.
Rule #10: Tell Great Stories
Interviewer: In The Terminator you have a very, very famous line. Maybe your most famous line ever. But you explained that when you were learning English, you didn't understand contractions, you hated them. So you thought the line should be said differently than it was written. So how would that line have sounded if you'd gotten your way?
I will be back.  I was as wrong as anyone can be. I was arguing with Jim Cameron.  Jim Cameron wrote the script, and so that's mistake number one. You never tell a writer that you want to change his lines. And we had a battle when we shot this scene. I said, look, I just think it sounds funny when I say "I'll be back. "I'll."
It's weird when I say that. And he said to me, he says "look Arnold let's shoot it 10 different ways. "Let's not get hung up on should you say it or not, "because you are going to say it. "Because I wrote it. "And I don't tell you how to act "and you don't tell me how to write, "so let's just move forward. "Let's just shoot it 10 different ways."
Becomes the most famous line in the movie history
So that's how Jim and I always talk, kind of straightforward. And we shot it 10 different ways. Close-ups, medium shots, long shots, zoom-in shots, and everything you can think of. By the time I did say it like 50 times, we did all the different takes and shots, it sounded right to me.
It sounded strong to me. Because it just didn't feel like it was strong enough and machine-like enough. And in the end when I saw it in the film, I was happy that he convinced me to say it that way. And when you say a line like that, you never know if that's the line that becomes the most famous line in the movie history. And it just was voted as number one line in movie history.
I'll be back!
You don't know that. I didn't even know it was anything special at all. Only when I promoted the film, and I remember I was in New York and I had people coming up to me on the street and saying to me and says "say it."  And I said "say what?" They say, "the line! "The line from Terminator." And I said "which one?" "Oh, come on, you know, I'll be back line." I said "okay, I'll be back." "No, no, no, just the way you say it in the movie."
And then I will say "I'll be back." "Yeah, yeah, yeah, that's the one." So I realized then, jeez, what did we create, a monster there or something like that? It was like wow, it was a big surprise to me that it became such a big hit. And it became bigger as time went on and the rest is history.
Thank You!
Thank you guys so much for watching. I made this video because Abhishek asked me too. Also if you want to nominate someone for the next top 10 video, please check the description for a link to a video where you can vote for people and put in your suggestions as well.
I'd love to know what did you take from this video? What was the most important lesson that you learned, that blew your mind, that you're going to immediately apply to your life or your business somehow. Please leave it down in the comments below, I'm super curious to find out.
I just wanted to give a quick shout out to Kam Jennings. Kam thank you so much for picking up a copy of my book Your One Word, and the fun interview we did on your YouTube channel about it. I really appreciate the support man and I'm glad you enjoyed the read.
On the call we have one Evan Carmichael. Owner and operator of EvanCarmichael.com and Evan Carmichael YouTube channel now with over 600,000 subscribers. The author of Your One Word.
So thank you guys again for watching. I believe, I'm hope you continue to believe in yourself and whatever your one word is. Much love, I'll see you soon.
---
BONUS
Have a strong mind
The body is very important, but the mind is more important than the body. You have to visualize what that body ought to look like in order to make it win. Because that's what creates then the will. The will that you need to go to the gym every day.
The will that makes you go into the four steps. The will that makes you go beyond and you do your 500 pound reps and the squats and you can't do another rep, and your body is shaking, it's the will that makes you go one more time down and struggle up one more time.
And so it's all of this is the mental aspect that motivates you, and that makes the difference of you being in the gym full of joy and looking forward to doing that extra rep, and looking forward to doing those extra hundred reps, and the sit-ups and working past the pain periods. That all is the mind, that's not the body. So this is why I think the body is very important but the mind is more important than the body.
Break the rules
We have so many rules in life about everything. I say break the rules, not the law, but break the rules. My wife has a t-shirt, my wife has a t-shirt that says well behaved women rarely make history. Well you know, I don't want to burst her bubble, but the same is true with men.
It is impossible to be a maverick or a true original if you're too well-behaved and don't want to break the rules. You have to think outside the box.
That's what I believe. After all, what is the point of being on this earth, if all you want to do is be liked by everyone and avoid trouble? The only way, that I ever got any place was by breaking some of the rules.
After all, I remember that after I was finished with my body building career, I wanted to get into acting, and I wanted to be a star in films. You can imagine what the agents said when I went to meet all those agents.
Every one had the same line that "it can't be done. "The rules are different here." Says "look at your body, you have this huge, monstrous body, "overly developed, that doesn't fit into the movies.
I didn't listen to all those
"You don't understand. "This was 20 years ago, the Hercules movies. "Now there is the little guys that are in "Dustin Hoffman, Woody Allen, Jack Nicholson." Before he gained weight of course, that is.  But anyway, those are the guys that were in.
And the agent also complained about my accent. He says "no one ever became a star with an accent like that. "Especially not with a German accent and yes, "I can imagine with your name, Arnold Schwarzen-schnitzle, "or whatever the name is, on a billboard.
"Yeah that's going to draw a lot of tickets "and sell a lot of tickets, yeah right." So this is the kind of negative attitude they had, but I didn't listen to those rules. Even though they were very nice and they said look, we can get you some good parts.
We can get you to playing a wrestler or bouncer. Oh, maybe with your German accent we can get you to be a Nazi officer in Hogan's Heroes or something like that.
But, you know, I didn't listen to all those. Those were their rules, not my rules. I was convinced I could do it, that if I worked as hard as I did in body building, five hours a day. And I started getting to work, I started taking acting classes, took English classes, took speech classes, dialogue classes, accent removal classes I even took. I remember running around, "a fine wine grows on a vine."
You have to work your way up
Is it because Germans have difficulties with the F and the W and the V, so "fine wine grows on a vine." I know what some of you now say is "I hope that Arnold got his money back." But let me tell you something.
I had a good time doing those things and they really helped me and finally I broke through. I broke through and I started getting the first parts in TV, Streets of San Francisco, Lucille Ball hired me.
I made Pumping Iron, Stay Hungry. And then I got the big break in Conan the Barbarian.  And there the director said "if we wouldn't have "Schwarzenegger we would have to build one." Now think about that. And then, when I did Terminator, "I'll be back"  became one of the most famous lines in movie history. All because of my crazy accent.
Now think about it, the things that the agents said would be totally a detriment and would be impossible for me to get a job, all of a sudden became as asset for me.
All of those things, my accent, my body, and everything. So it just shows to you, never listen that you can't do something. And you have to work your way up, of course, run for something else first.
XXX
I mean it was the same, and I when I ran for governor, the same lines, that you have to work your way up, it can't be done. And then of course, I ran for governor, and the rest, of course, is history. They said you have to start with a small job as mayor. And then there's assemblyman, and then there is lieutenant governor, and then as governor.
And they said that's the way it works in a political career. I said I'm not interested in a political career. I want to be a public servant. I want to fix California's problems and bring people together and bring the parties together. So like I said, I decided to run, I didn't pay attention to the rules and I made it and the rest is history.
Keep your eye on the ball
As the kind of movie star that you are, were certainly. You could be a dictator. You could say "I want it." And it gets done. You can't do that now.
You're absolutely correct. And now this is different, but look this is the great thing about it, about adjusting from one career to the next. And the key thing always is, is to keep your eye on the ball.
Well speaking of which, it took a lot of balls to go cold turkey in politics.
Yes, but they've never had a lack of that . I made up my mind, it makes no difference to me. Because I always say "what's thew worst than can happen?" That you fail. I mean, that is, that's really not that bad.
Summary
Arnold Schwarzenegger's Rules
BONUS
I hope you enjoyed this article, make sure to check my Arnold Schwarzenegger video on his Top 10 Rules For Success as well.
---
You might also like
---
More from Arnold Schwarzenegger
---
Today's message is execute your idea.  Good morning, Believe Nation, it's Evan. My one word is believe, and I believe …
Today we're going to learn how to expand your mind. Hello, Believe Nation! It's Evan. My one word is believe, and …