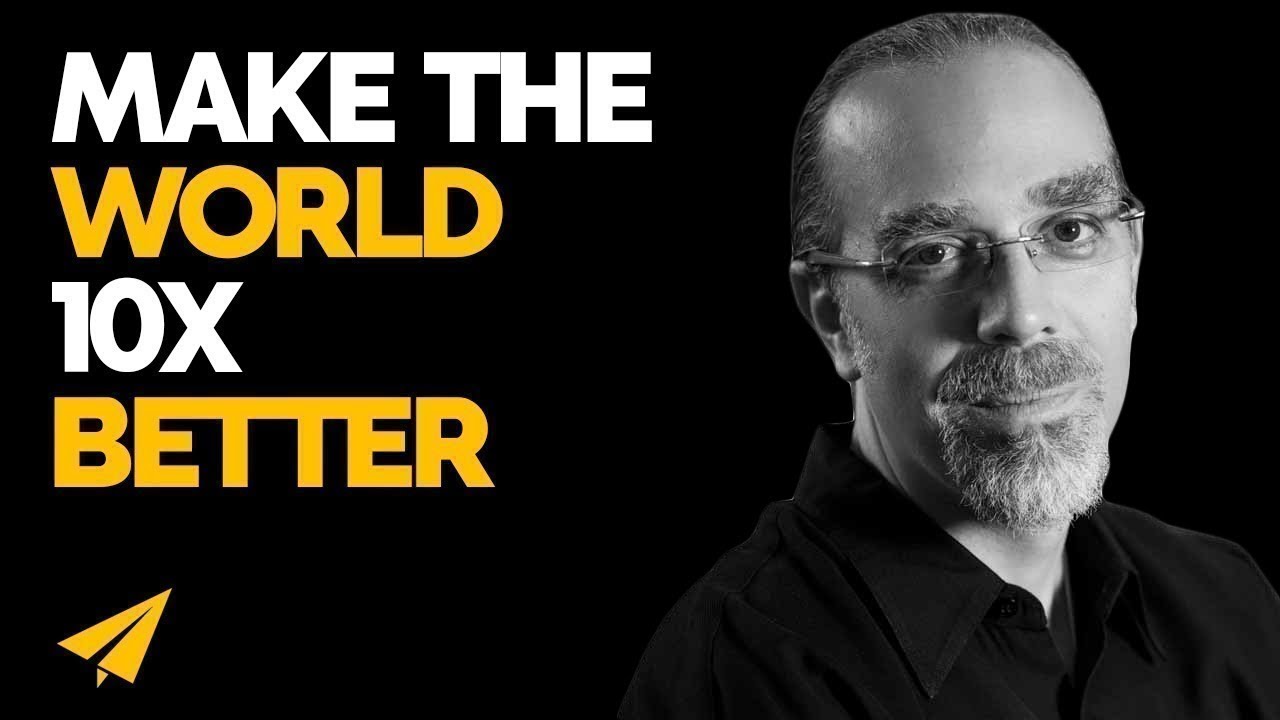 Famous Entrepreneur Quotes
Astro Teller's Quotes
"The bigger you go the more inspired you will be personally."
"The failure moment is not the moment where we stop a project. It is the moment when we decide to stop a project and realize that we knew six months earlier, a year and a half earlier, that we could have killed it."
"If you want to know what you're capable of, look backwards, don't look forwards."
Astro Teller's Top 10 Entrepreneurship Rules For Business and Success
He's an entrepreneur, scientist, and author. He's the co-founder and chairman of BodyMedia. Since 2010, he's been directing Google X Laboratories. He's Astro Teller, and here are his top 10 rules for success.
Rule #1: Go Big Or Go Home
Go big or go home. It's so easy to think that if you play it safe, if you do it a little simpler, a little smaller, you won't scare yourself, you won't scare your friends, your family, you won't scare your investors when you go ask them for money. It's just not true. The world just doesn't work like that. It's counterintuitive, but you can't go too big, you really can't. The bigger you go the more inspired you will be personally.
And trust me, you will need to be inspired to get through the hard times that will hit you. The bigger you go the more of a cause you can make it for the people who you're going to need to attract. "Hey, come with me. "We're going to do something and make the world 5% better." Eh, you know what, I'll stay in my current job. We're going to make the world 10 times better.
We're going to make the world 100 times better. Now you've got me. Now it's like I'll ask what I'm getting paid three months after I start work, right? That's the feeling that you need to be able to create in people in order for them to join you. So go big or go home.
Rule #2: Fail Fast
The second thing is failing fast. Companies say that phrase, but they just don't do it. In order to do something radical, you have to be prepared for most of the things, literally 99% of the things that you do not to work out, which is totally fine and it's not too expensive if you kill them at the first moment when you could reasonably have known to stop doing it.
But for all kinds of mostly emotional reasons we don't. I mean even we don't at Google X. It's incredibly hard to make this happen. If you're going to have a portfolio of these more radical bets, of trying things out, I'm not and I assure you you're not smart enough to figure out ahead of time which of the hundred things you're going to try is the one that's going to work out.
There's just no way. Like maybe one person in a generation, like a Steve Jobs like person can just point and say, "That turns out to be the right answer." So unless you're the Steve Jobs of this generation, the right answer is try stuff, just try stuff. But then you have to create a culture among your people that says, "I value you trying things. "There's nothing wrong with the learning moment."
The failure moment is not the moment where we stop a project. It is the moment when we decide to stop a project and realize that we knew six months earlier, a year and a half earlier, that we could have killed it. That's the failure moment, not the moment six months earlier or 18 months earlier where we say, "Oh, that was worth trying. "Didn't work out, next." That's a learning moment. That's not a failure moment.
Rule #3: Perspective Shift
The perspective shift is what it's all about. That why going 10 times bigger is more important and works better than going 10% bigger. When you shoot for 10% better you're in a smartness contest. You're putting all of your people in a smartness contest with everyone else in the world. They're not going to win. It doesn't matter how much money you give them.
But, if you push them, if you give them the expectation and the freedom to be weird, that's moonshot thinking. Then they can do the perspective shifts. And not only if you shoot for 10 times bigger instead of 10% bigger, it's almost never 100 times harder and the payoff is 100 times, so you already know that you've got a better return on your investment. But sometimes it's literally easier, and the reason is because that perspective shift is actually cheap relatively to being smarter than everyone around you.
Rule #4: No Excuses
No excuses. No victim mentality. The world owes you nothing. The world might come help you, but I wouldn't count on it. And if you start from the feeling that you need the world to participate in order for you to be successful at taking on this new thing that you're considering doing, you're right to be scared. It might. I wouldn't count on it though.
But if you start from the perspective that the world owes you nothing, which it doesn't, and that it is not likely to bring you any particular help, you have nothing to lose, because really isn't that for every one of the people you brought onto the team, isn't that how you want them to feel when they report to you? You don't want excuses. That doesn't mean that you can't fail or that they can't ever fail.
But right when you're starting, you have nothing to lose. When you're a huge company, you can spend 99% of your time worrying how not to mess up the billion dollar a year money hose you've created. But, you don't have a billion dollar a year money hose right now. You have nothing, so you can't lose. Spend 99% of your time imagining what would happen if things went well and planning for that.
Rule #5: Take Smart Risks All The Time
I think risk is important for every company. I think it is the essence of entrepreneurship whether you're the smallest company in the world or like Google the second largest company in the world to take smart risks over time. I run this experiment frequently with groups where I give them two choices, Choice A and Choice B. So Choice A is you get to deliver a million dollars of bottom line value to your company this year, guaranteed.
Choice B you get to deliver a billion dollars of bottom line value to your company this year, but only with one chance in 100. So everyone does the mental math. I say, "Who wants Choice A?" Nobody raises their hand. "Who wants Choice B?" Everybody raises their hand. It's got an expected utility that's 10 times higher than Choice A. And then I say, "Who here believes that your boss "wants you to choose Choice B?" And not a single person in the room raises their hand. I mean these typically are large multinationals who want to be innovative.
And then I say, "You don't need a lecture on innovation. "You need a new boss. "You need a new context." I really think that it's the context that matters. We all inherently understand that taking smart risks is the right thing to do. Now what counts as smart and what counts as a risk is different in different parts of the company or companies of different sizes.
You know, you can tolerate a PR fiasco much easier if you're a tiny company, because no one is watching you, than if you're a large company for example. So, the calculus is different, but the principle is still the same. The only way to stay sharp, to stay growing, to stay relevant, is to take smart risks all the time.
Rule #6: #Believe
This is actually what I spend a lot of my time on with Google X that if we all believe that our project has to work, then we're going to find some way to BS ourselves, to BS our manager that it's going to work even way past the point where we know in our hearts that it's not going to work. And we do that because we're worried we're going to lose our bonuses, we're going to lose the people who report to us, we might lose our jobs, we're going to lose face with our peers.
We have all these reasons not to want to raise our hands and say, "Look, this is a dumb one. "Let's go do something else." And so if you can create a culture in which people actually believe not that failure in the long run is acceptable like, "Oh, we just kind of went in circles, but that's cool." That's not cool. But, if you can see each thing that you do as a purposeful experiment, there's no bad … There are bad experiments to run.
Like if you already ran the experiment you just run it again that's a dumb thing to do, but there's no bad outcome to an experiment if it was a thoughtful experiment to run. Think of a good question. Think of the fastest, cheapest way you can answer that question. Make sure that the answer to the question would actually change what it is that we would do afterwards. Go run the experiment. And then you can celebrate whatever the answer is afterwards. And that way of making progress, I think that's the rate limiting step of real innovation.
Rule #7: Swim Out Of Your Element
Swim out of your element. That's another one my favorite ones. I chronically take on tasks that I'm hopelessly unqualified to do, and I do it on purpose. So, I know that feeling that you have inside where you're thinking, "Nano tech, and I know what to do," and then you think, "But I don't actually know "anything about nano tech. "I need my head examined for even considering "going and changing an industry I know nothing about." Right? Wrong.
Swim out of your element. First of all, a lot of great ideas … You're not going to be smarter than everybody else, so the fact that you're not in nano tech doesn't matter because if you were in nano tech you still wouldn't be in the top 10 people in the field of nano tech. So the fact that you aren't the top 10 is irrelevant. You aren't going to work harder than everybody else.
You're probably not going to have more funding than everybody else. Those are not ways you could have won anyway. You can be more bold. You can be more creative. Those things you can actually do. But you don't need to be from their industry in order to have those qualities. And you can transplant your ideas, your expertise from an area that you are an expert in into a new area.
If you're already in an industry you've already been brainwashed with the rest of the industry into how that industry works. Your chances of breaking that industry and remaking it in a productive way are actually meaningfully lower. If you take ideas, data, inspirations with you into a new industry you can actually have a perspective that they haven't had, and that you can do.
Even if you can't be smarter, or better funded, or work more hours, you can have a perspective that they don't have because of your naivety in that industry. So, swimming out of your element is not a reason not to start. It's not a handicap that you have. You can't use it as an excuse. It's actually your secret weapon. You should look at that as an opportunity to start in a new area.
Plus personally, in any fight I'd rather be the underdog than the champion. It's like remember in high school when you were like playing against the varsity team and you were junior varsity? That felt awesome, because you couldn't lose, right? If you lost, you were supposed to lose. And if you win, then you get bragging rights forever. It's the same thing. When you enter a new industry, you have nothing to lose.
Rule #8: Don't Build The Ladder To The Moon
Let's not build a prototype and do all the easy stuff first so that it looks like we're making progress every week. I don't want that, because we're in danger of building a ladder to the Moon where we're closer to the Moon every week but we're never really going to get there. Let's work on the hardest part first.
We discuss for the project that you're going to work on what are the things that are most likely to kill the project? And I say, "Your job is not to cause the project to succeed. "Your job is to kill your project. "I want you to kill your project. "You won't be fired. "We're just going to keep doing this." And it is only the process of failing to kill your project that will eventually cause it to succeed.
So I tell you this. You're thinking, "Does he really mean that? "That sounds scary." When you do that the first couple of times and you try an experiment, which is functionally what these things are, maybe it works and we take that risk off the list. That's awesome. We de-risked your project. We try a few more and we find the fatal flaw. Yes indeed, this was going to be a ladder to the Moon.
Rule #9: Make The World 10x Better
And so at Google X the mantra, I know how Pollyannaish this sounds, but we want to make the world a radically better place. And we have conversations all the time. At the end of the conversation we say, "Nope, that would make a lot of money for Google. "Wouldn't make the world a radically better place. "Next." And it's joyous.
And I believe that it's actually financially smart for Google to have us think like that, because then they get a bunch of people who all are as excited as I am to run to work in the morning because I get to be in a place where we get to say that to each other. It's just so invigorating that you get to say that and then everyone else starts saying it, too. They're like, "Really?" Because don't you all want to be able to say that in your daily lives that you're not just trying to make money for yourself or someone else, that you want to make the world better.
It's just fundamentally inspirational. I think it's a basic part of being a human that we crave that like we crave love or community. And if you say, "That's what we're going to be like …" You know, Google X is another one of these, this is a separate but related Santa Clause moment. At Google X we don't worry, we don't work towards is probably a better way of saying it, how we're going to make money.
In the early conversations about our moonshots they do not include, "Okay, so then it would cost us this much. "And then we could charge that much. "And that nets out positive." Nope, it's the wrong way to think about it. Because if you're going to make the world slightly better then you have to claw for those pennies that you're going to make.
That's a tough business. It's just exhausting. If you make the world seriously better, 10x better than the alternative, the money will come find you. You really don't have to figure it out. I can see from the outside how frustrating this looks to watch Google do this over and over again. Because I think there's this attitude like Google is just kind of bumbling its way through the process a little bit.
But over and over again Google has put something out in the world, like Search, like Street View, like Translate, Geo, almost everything we've done has started from a, "You know what? "This is just the right thing to do. "The world is just better this way. "Let's start by helping users, "and then we'll figure out the money thing "in a little while." And that just shouldn't be true.
That's like cheating in the business world. There's something wrong with that. But wouldn't that be awesome if you could do that? If you could actually spend your time saying, "Let's just make the world crazy better," and then trust that the money is going to come find us?
Rule #10: Figure It Out As You Go
If you want to know what you're capable of, look backwards, don't look forwards. It's so easy to feel like, "I don't know how to do it so I won't get it done." But that's kind of nonsensical. You've never done this thing before. Of course you never know how to do the next thing. It would be boring if you already knew how to do it. But look backwards at all the things you personally have accomplished in your life.
Imagine going back to the 20 year old version of yourself and telling them that they had to go do all these things. It would sound like black magic to them, because that person didn't know how to do it. You figured it out as you went. I have a CEO that I'm mentoring, and he called me, and this is like two, three days ago. And he said, "Oh God, I have this board meeting coming up, "and I had all these plans "about how I was going to ask the board."
He's got an investor who wants to put a couple million dollars in, but the board doesn't want to take incremental dilution, and he was going to like show them all these great new results. And he just felt like, "You know, our revenue has kind of been flat "for the last couple of months. "And I had these results and now I can't show it to them, "because they're not as good as I thought they were. "Ah, I'm just I'm so frustrated. "I'm just, I'm no good at this." I said, "Dave, you're looking over the last "like three weeks, four weeks maybe. "You've been the CEO of this business for 22 months."
It was already an ongoing business when he became the CEO of it. "The revenues of this business "have gone up a factor 12 in 22 months. "You've taken on one person "and diluted the company by like 8% "and taken up the revenues by a factor of 12. "Seriously, you're a loser? "My God, we can only hope as a board "that you'll be such a loser for the next 22 months."
But it's easy for us to like laugh and see that, but you can see how in the mindset you care about something and you get so focused on the future and what you don't know, but if you look backwards things look very different. And often that's what helps me to take on a task that I don't know how to do, because I don't have to prove to myself I believe that I know how to do that task. I only have to convince myself that I've historically done a good job of figuring out tasks I didn't know how to do.
Thank You!
Thank you so much for watching. I made this video because Blast asked me to. So, if there's a famous entrepreneur that you want me to profile next, leave it in the comments below and I'll see what I can do. I'd also love to know which of Astro Teller's top 10 rules resonated with you the most. Leave it in the comments. I will join in the discussion. Thank you so much for watching. Continue to believe and I'll see you soon.
Summary
Astro Teller's Rules
I hope you enjoyed this article, make sure to check my Astro Teller video on his Top 10 Rules For Success as well.
---
You might also like
---
More from Astro Teller
---
In today's #BelieveLife article, we're sharing advice on how to take risks! How to TAKE RISKS WHY Brendon Burchard Have you ever heard that …