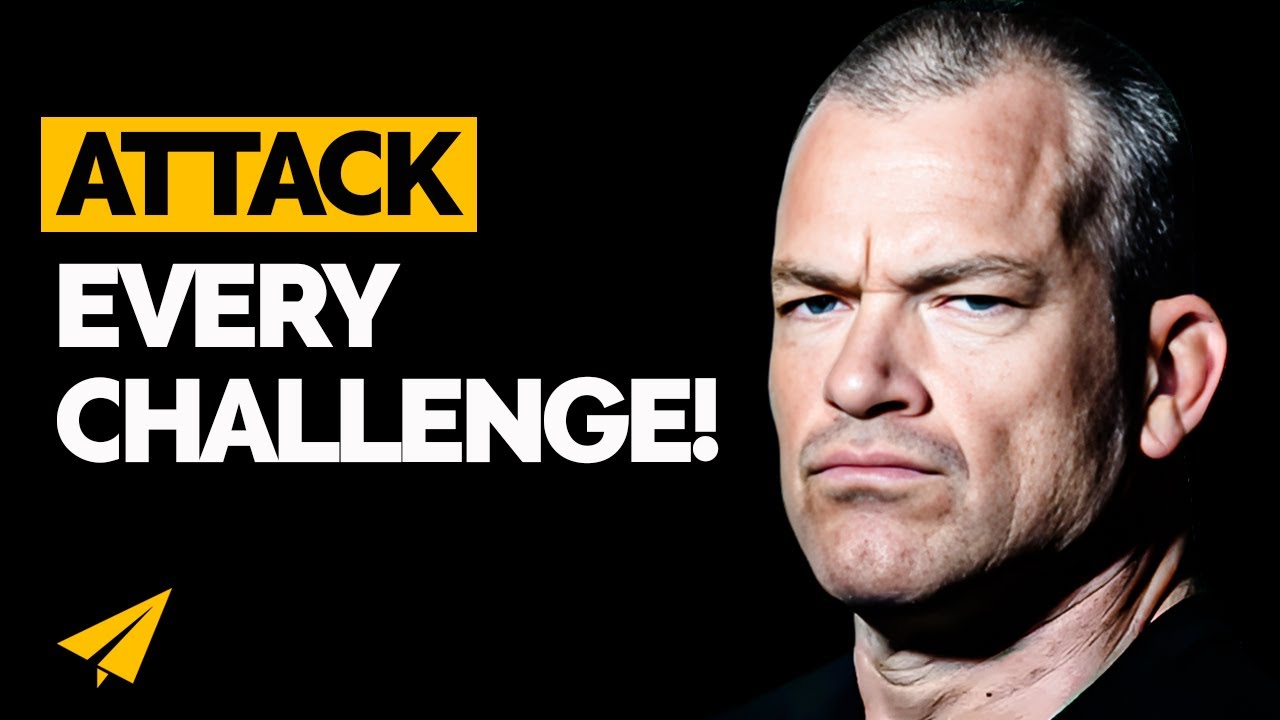 Good morning, Believe Nation, my name is Lily, and my one word is extraordinary. I live to encourage people to be extraordinary, so together we can make this world an extraordinary place. So to help you on your journey, today's message is attack over to you, John Jocko Willink.
Attack! – Jocko Willink
One of my direct subordinates, one of my guys that worked for me, he would call me up or pull me aside with some major problem, some issue that was going on. And he'd saw, boss we got this and that and the other thing. And I'd look at him and I'd say, good.
And finally one day he was telling me about some issue that he was having, some problem, and he said, I already know what you're going to say. And I say, well what am I going to say? He said, you're going to say good. He said, that's what you always say. When something is wrong and going bad, you always just look at me and say good.
"When things are going bad, there's going to be some good that's going to come from it." – Jocko Willink
And I said, well yeah. When things are going bad, there's going to be some good that's going to come from it. Didn't get the new high speed gear we wanted? Good. Didn't get promoted? Good, more time to get better. Oh, mission got canceled? Good, we can focus on our other one. Didn't get funded? Didn't get the job you wanted? Got injured, sprained my ankle, got tapped out? Good. Got beat? Good, you learned.
Unexpected problems? Good, we have the opportunity to figure out a solution. That's it, when things are going bad, don't get all bummed out, don't get startled, don't get frustrated. If you can say the word "good," guess what? It means you're still alive. It means you're still breathing. And if you're still breathing, well then hell, you still got some fight left in you. So get up, dust off, reload, recalibrate, reengage. And go out on the attack.
Lily Ma
So I think too many people dwell on the bad, and not on the good. They get so consumed about the current situation they're in and they complain, without realizing that they could do so much more.
I think about my situation, I grew up really poor. I slept on the floor in a tiny room that my parents rented. I wasn't able to go on any trips with my friends. I wasn't able to buy the fancy clothes. I was made fun of because my pants were too short. But you know what, I'm grateful. I'm grateful for all those experiences. Because it made me who I am today.
I wouldn't be 25% of the person I am today if I hadn't gone through all those hardships. I wouldn't have known how to work hard, to be resourceful. I know the pain and the struggle that comes from not having money, and it made me work so hard. I would wake up every Saturday when I was 13 years old at 5am so I could go work a waitress shift, while everybody else slept.
I knew everything I wanted wasn't going to be given to me. I knew I had to work hard for it. So everything that I do today, whether it's a job that I want, the business I want to create, being in front of the camera right now, it's all hard work. And nobody sees that, people see the opportunities that I've given to people, but they don't see the hard work that goes behind it.
So next time you find yourself complaining about something, you not having the right equipment, not being the right gender, not being the right color, not having the right contacts, think about what is right about you and focus on that. Because that's your strength. That is what's going to make you grow and become stronger, and that will make you unique and become the person you are. So next time you're facing a difficult situation, think to yourself, "good" and attack.
Question Of The Day
So the question of the day is, what is the bad situation you're dealing with right now? So leave it in the comments below, and I'll join in on the discussion.
I also have a quick shout out for Andy Duinker. Thank you so much for picking up a copy of Evan's book, "Your One Word." Your support means a lot to us and we hope you're enjoying the read, So thank you so much for watching, we believe in you and hope you continue to believe in yourself and whatever your one word is. And we'll see you again tomorrow morning for another shot of entspresso.
---
BONUS
Attack
Eric Thomas
If there's anything in life that you don't currently have right now, it's because of who you are and how you think. Come on, right now, you saying ET man, you talking to me. Man, I'm going through some type of pain, I'm ready to quit and give up, let me see your hand. I'm ready to quit and give up, let me see your hand. Something in life, I'm ready to quit on, give up on. Come on, raise your hand high. I'm ready to quit on, I'm ready to give up on it, come on raise it up.
Alright, what I need you to do is I need you to find a reason to keep going. And if you can find a reason to keep going, I know you're strong enough to do it. Cause you human, and every human has what it takes to get past whatever they going through if they decide to. Push through it, push through it. Tragedy and trials come to everybody. Only the strong survive. I watch my wife when she got diagnosed, I watched my wife have terrible days.
And she probably missed two days of work the whole time she had MS. I watched her go to work and I'm like, boo, why in the world would you get up and go to work? You don't even need the money. Why would you do it, it's cold. It's 10 degrees in Michigan and your MS flare up when it's cold, what are you doing.
She said, I can't see my daughter, I can't have my daughter see me weak. Cause my daughter going to be married one day, and my daughter going to face tragedy one day, and I have to show her how to do it. So I get up and get dressed, and I go to work every day, so my baby girl can know how to get through trials.
Cause one day she ain't going to be under our roof, and she going to have to do it alone. And I don't want to talk, I want to model what it looks like. My daughter got on the prayer line, she could pray me another day, told her testimony, she's like, I didn't even feel like going to school, I didn't feel like walking a mile to go to class.
And I thought about it, my mom got a chronic illness. My mom, in her 40s, could get up with a chronic illness and go to work, why surely I can get up at 18 years old and go to class.
It worked, it worked, it worked! Listen to me very closely, you all running from obstacles, when in fact it's the obstacle that's going to take you to the next level. Like you all running from pain, you all running from challenges.
You telling me how difficult your life is, do you understand it is the difficulty that's going to prepare you and take you to that next level? Why do you keep crying, why me, God? Why did I get MS, why did I get cancer, why did my mama die, why did I get fired? Do you understand, list you got through that, you got put through that, because what that does, that tension produces greatness. Stop running from it and run to it.
Come on you all, you all got to hear me. The reason why you do what you do is more critical than what you do. And if why you do what you do is weak, I need you to go back and start all over again. Because if your reasoning is weak, you're not going to get it done.
Why, because life is going to beat you upside your head. And I'm going to tell you this, I don't care who you are and what profession you in, before you blow up, life will strip you to the core. But if you weak, you will be broke. And I'm not here because I'm the best. I'm here because they tried to break me, and they couldn't.
Grant Cardone
Guy just hit me on Snapchat and said, hey man, I'm going for it cause I only got one life to live. And I Snapped him back and just said, hey man, what if that one life thing isn't true, bro? And now he's wondering, he's like, what you mean, man, what you mean? I said, well here's the deal, okay? I mean you don't know and I don't know, right? I mean maybe you don't know, and maybe I do.
But here's the deal. I'm much more dangerous and much more of a risk taker and much more a go-it-all-the-way dude and less introverted when I'm not worried about the one life myth, okay. I'm thinking, hey baby, what if I live forever, man?
Then am I willing to take the risk, am I willing to make the sales call? See, me living forever, the immortality concept, makes me way dangerous, makes me sick dangerous, makes me crazy dangerous, okay.
It makes me want to go for it every freaking single day because I don't have the ultimate to lose. You understand what I'm saying? Hey, check it out, maybe you know, maybe you don't know, but I bet you're curious.
What if you live forever? What if this like the thousandth time? What if you've got a thousand more runs at this deal? Well then go for it. Bottom line is one life or many lives, go for it today, go for it in a big way, and go for it like you going to live forever.
---
You might also like
---
More from Entspresso
---
Today's message is be confident. Good morning believe nation, it's Evan. My one word is believe and I believe that …