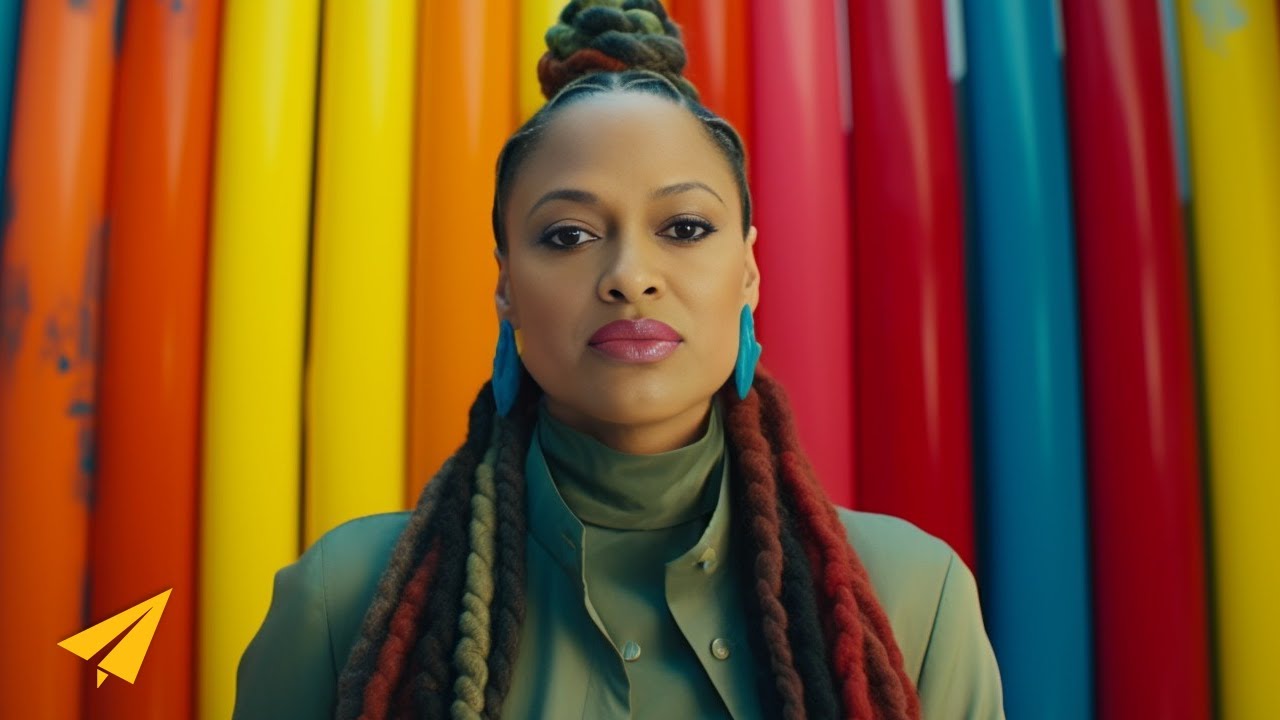 Famous Entrepreneur Quotes
Ava DuVernay's Quotes
"Who are we asking for permission to do what we want to do? That should be eradicated."
"If you are not paying attention to your intention, then your life is just kind of is a bit of a hot mess."
"If your dream only includes you, it's too small."
Ava DuVernay's Top 10 Entrepreneurship Rules for Success and Business
She's an American director, screenwriter, film marketer and film distributor. At the 2012 Sundance Film Festival she won Best Director for her feature film Middle of Nowhere. She's the first black, female director to be nominated for a Golden Globe Award. She's Ava DuVernay, and here are her top 10 rules for success.
Rule #1: Don't ask for permission
You know we have to work without permission, especially as women in this industry.
Who are we asking for permission to do what we want to do? That should be eradicated.
You need to set a path, and start walking. And that is what I've tried to do, and what I try to encourage folks to do.
Walk with me, let me walk with you. Let's walk with each other.
I think, you know, so much of the industry is very permission-based.
And once you get out of your mind that you have to ask anyone to do what you want to do, you'll be better for it.
"You need to set a path, and start walking. And that is what I've tried to do, and what I try to encourage folks to do." – Ava DuVernay
Rule #2: Pay attention to your Intention
The intention of our attention.
It's so big for everyone, but especially for artists and creative-types like us.
It's the cause that produces the effect, and the effect is our life.
So whether you're conscious of it or not, your intention is the cause that produces the effect which is your life.
So if you are not paying attention to your intention, then your life is just kind of is a bit of a hot mess.
That's what I've found. Each decision we make and action we take is born out of intention.
So every thought, person, experience that we give our attention to, is motivated by intention.
Rule #3: Love what you Do
Interviewer: You've been in this room before as an employee, I think, before you.
Yeah, no, I did work for Paramount. A lot of work for Paramount when I had my agency and my PR firm.
Interviewer: So you know what the business side of all of this is. You know what the machinery of all of this is. You really do seem to be having a great time going through this experience at this point. Is that fair?
Yeah, I think having done the publicity for so many years, and been a part of that machine, I really would always watch filmmakers and just wonder, they were just so entrenched in it in a way that was, they were missing the joy of it.
I would see it, you know, when you're standing off to the side and you see someone just so bogged down in press, and in numbers, and in deals, that they were missing the fact that they were living their dream.
You know truly, they were, you know, you get in the elevator with someone after an interview, and they're just bitchin' and moanin'.
They're trying on beautiful dresses, but they're upset because they didn't get the dress that they wanted.
Or, you know what I mean? They're sitting in an award show, but they're not sitting where the other person was sitting.
I just always remember, it's like, "Dude, you've got to make a film." You know what I mean?
Everyone's talking about it, or everyone's not, or whatever.
But you made something. You did it.
So I just never want to be that way. I really, really don't. And I just don't feel that way.
I just literally, I'm just happy that I get to make films.
Rule #4: Change your Perspective
But one thing she said to me that really sunk in deep, and really changed my life.
She said, I was going through a challenge, really tough challenge, and she said, "This is not happening to you, this is happening for you.
"This bad thing that's happening, is not happening to you, "it's happening for you. "You're not the victim of it, you're the beneficiary of it."
And to think about anything that's going, any struggle, any issue, any personal crisis from the point of view of, this is in my path for a reason changes the dynamic of the way that you are in the situation and allows you to see there is going to be a light there somewhere.
And also, it's not just everything's going to work out. You know what I mean?
It is, challenge yourself to analyze this moment, and figure out what is really going on.
That's, you know, requires a stamina, and a dignity, and a presence of mind that takes you out of the woe is me moment, and empowers you.
Every day I say to myself in some instance, at some level or another, "This isn't happening to me, it's happening for me."
And you know, I think back to times when I was nursing my aunt, in the last days of her life with breast cancer, and just being a caregiver, and thinking at that time, "Why is this happening to us?" To be able to look back at those hard times and reassess them from the point of view of "This wasn't happening to us, it was happening for us."
I see the beautiful moments we were able to share.
The things we were able to say to each other in her last days that we had never said before.
The gifts that we were able to give each other through bonding, through connection, through reflection.
To embrace cancer and a long dying as a blessing in that, it wasn't quick and we were able to say everything we wanted to say.
To be able to look at any instance from a place of education and nourishment as opposed to a deficit is one of the things that Oprah taught me and gave me and was a huge gift.
Rule #5: Include others in your Dream
If your dream only includes you, it's too small. If that dream is just about the thing you want to accomplish and you don't even know why you want it, I mean it's too small.
It may take your attention, but you're not really winning. You may achieve it, but you're not growing from it.
You're just going from thing to thing. It may look like success from the outside, but if you don't even truly know why you're doing it, then your cause and effect will be off, and you're not going to be fully, truly living your dream.
So, I feel a little weird to tell you that when you win awards and a light is on you that it's not going to be enough.
But that's what I'm telling you. And I wish that someone would have told me that early.
If we limit our visions to those things outside of us to validate us, we're making an intentional error that might very well bring the outside thing you want, but it'll ring hollow in the end. Why, because none of that shit really matters.
"If that dream is just about the thing you want to accomplish and you don't even know why you want it, I mean it's too small." – Ava DuVernay
Rule #6: Appreciate Others
Am I like a consensus builder? I try to be. I mean, I've been crew, so I know how it feels to be on a set where there's not, you know, warmth emanating from behind the camera.
When crew is kind of just walked past, and no one knows your name, and no one really cares what you're doing even though you're working damn hard.
And so that's something that also, I can't abide. I can't have it.
So for me, I guess what some of what you hear, or how people might feel is just because I'm treating them like human beings.
You know what I mean? Treating people the way I wanted to be treated when I was working on these pictures. Working my ass off on these pictures, you know?
And you know, sometimes often feeling like I was invisible. And so I just try to bear witness to everyone who's doing anything on behalf of these movies.
Rule #7: Take Action
Interviewer: I find it quite inspiring you were in film publicity originally. And then at a certain point you decided that you wanted to direct. Can you tell us how you got from there to here?
Well I was one of those ladies standing on the side. And they work hard and no one ever really gives them a shout out.
I thank you all, the publicists in the corner. And as a person who loved film and wanted to make film, you're standing there supporting filmmakers telling their stories, and it's something that I loved doing.
But for me, there was always a little bit of, I don't know, not jealousy, but just like, "Wow that's great what they're doing."
And so at the moment when I actually started to write and tried to direct my own stuff, I was still doing publicity for other peoples' films.
I was trying to make my own films.
I was asking for permission, pitching people, trying to get contacts and network and do all the things that don't matter.
Because the only thing that matters is your work.
And so, when I finally realized that and started to make small things, and try to move them around festivals, and just you know, just share my work, you know the energy behind that positive intention started the ball rolling.
And I've only been making films for five years. And I only quit my job full-time three years ago.
Because I was still holding onto publicity as a security blanket.
And so, yeah, I look at each year that's past and all I've tried to do is continue to make work whether I have the money to make a film, a narrative, a doc, a commercial, a TV show, directed an episode of Scandal, a documentary about Venus Williams.
Whatever story I want to tell through whatever medium.
Short medium, TV medium, commercial medium, full length, documentary, feature.
That's something that I really learned from Spike. Lee, not Jones. I'm sure Jones is nice. I was talking to a lady, she was like Spike Jones. No lady, Spike Lee.
But you know, remember he did commercials with Jordan.
He's done almost as many docs as he's done narratives.
He's made a film every year for the past 20 years.
He's really the blueprint of just not even a black filmmaker, a filmmaker who has just continued to make work. And so that's how we're here now.
Rule #8: Put others First
Favorite thing to say my mom is treat others like you'd like to be treated.
She always, always says that.
Since I was a little girl. So that was just something that, you know I carry onto my sets with me, carry into my corporate life, certainly my personal life.
You know, my love life, in my life. Always trying to put the person that I'm relating to ahead of myself, in a way that doesn't diminish me.
In a way that actually enlarges me. And so that's a fine balance. It's something that you have to learn.
Because you can be taken advantage of.
But there's a way to do it where you're actually getting more than you're giving when you allow another person to kind of be first. And so, that's a direct lesson from my mom.
"Favorite thing to say my mom is treat others like you'd like to be treated." – Ava DuVernay
Rule #9: Be Grateful
Interviewer: Do you have time to even think about like where you are in the award season at this point?
No, I don't have a dress for the Golden Globes. And it's two days before Globes.
Interviewer: It's two days from now!
I don't, I don't.
Interviewer: Who's going to come to your house and give you a dress? Somebody has to be doing that.
It'll work out, it'll work out. It always works out. It always works out.
But no, I mean, I think it's only because I was a publicist before, and for whatever thoughts I used to have about how much that was a waste of time.
I should have been making films, I started too late. You know, I should have gone to NYU or Howard Film School and learned all this, and I should have realized what I wanted to do earlier.
I started making films in my early, mid-30s.
I was a publicist, you know. I mean the odds that that was ever going to work, and I'd ever be sitting here with you.
That I'd be here on opening day. Today's opening day.
The last film that I had in theaters, I distributed myself on 22 screens.
Now it's on 2,300 screens with Paramount Pictures, who used to be my client.
Like that, that stuff only just puts me in a place of just being grateful that I got to make the film.
And that I continue to be able to make films. So the dresses and the numbers, all that stuff is just less important to me.
Rule #10: Find your creative Process
It's interesting to talk to creative people about the way their minds work.
Sometimes it sounds kind of freaky.
When you're a creative person, and you're nurturing that within yourself, you open yourself up to a lot of discovery that comes from unexpected places. Which is really wonderful.
I mean for me, the writing process is very much about when I have a really, really good idea of what I'm writing.
I need to have notes, a good outline, thought it through, have some dialogue.
Like, really be clear about what I'm doing. And all that comes from being out in the world.
My films are low budget, independent films.
Very specifically focused around communities of color, and people of color, and families of color, and finding the universality in the specificity of those stories.
When you're making a low budget film, a film for $50,000 or $200,000, there's nowhere to hide. It's just people.
Usually people talking, or not talking. But you're on these spaces.
You're on behavior. And so you really have to be able to understand that.
And so that comes from living. Being a black woman walking around. It comes from observing people.
It comes from asking questions. And so I find that, you know, I've got to get out.
You know, and you got to be around people. And in Los Angeles it's such a sprawl.
It's such a huge place. And downtown, you could actually rub shoulders with people.
You can actually see faces that are not behind a car window. You know what I mean?
The best thing is when you see people and you're wondering, "What's their story? "How do they fit together? "Where did they come from? "Where are they going? "What's their connection? Sometimes I'll even ask, and people want to talk.
You know, and it may not be anything that's directly related to the work that you're writing that day, but that energy from people, that stuff is kind of like, you know, seeds on fertile ground that helps with the writing.
For example, one of these great places to kind of just find a good corner is a spot called The Last Bookstore.
It's such a great space. That density that I talked about, it's dense with books and people and it's not too busy, but it's just enough.
The right flow of the odd character that comes in and out.
You know, it's part of what I prefer to have around me when I'm writing. I'm outlining, I'm playing with dialogue, I'm figuring out what the beginning, middle, and end of the scene is.
Is it moving the film forward? Really trying to pin down those big questions.
I consider movie watching people watching, because you're watching people.
You're watching behavior, actors kind of mimic human behavior.
We're here at the Downtown Independent, which is one of my favorite places to be inspired.
It's a great one-house movie theater in downtown L.A. I really love it here. I love coming down and watching other peoples' films. I love coming in here and watching my own films.
Wherever I find myself these spaces that inspire, it leads to the sparking of my imagination.
"When you're a creative person, and you're nurturing that within yourself, you open yourself up to a lot of discovery that comes from unexpected places." – Ava DuVernay
I definitely am recognizing when I'm being hit and inspired and then making sure that I'm logging that, or documenting that in some way.
I take pictures a lot, and then yeah, I take a lot of notes, and I find that I used to just scribble on scraps of paper, but now more and more I rely on the phone.
I'll put in the subject header, "XO". I don't know, that's my code.
Hugs and kisses to myself of inspiration. It's so corny.
And so, whenever I'm ready to sit down or I need to pull in something that I've seen, I just search XO and everything comes up. Whether it's a picture or a thought.
A lot of my director's work is happening during the screenwriting process.
Questions about character, and being able to answer those questions for actors. A lot of that stuff I'm answering for myself as I'm collecting my material to write.
I have a special exercise that I hold very close to my heart, for when I am in a rough patch. It's called procrastination. I will put it off until something else strikes me.
I wish I had a magic talisman to pull me back into the space. I just don't.
I've got to be in the right head space or else you're just forcing it and it just never comes out right.
I know there were times when, you know, I wasn't working in a creative way, that I felt very unhappy that I wasn't living my best life.
And so for me, to be creating, to be around creative people, is something that's really necessary for my own personal happiness.
And I'm just really fortunate that I get the opportunity to do it, because everyone that needs that, doesn't get the opportunity to do it.
And I was one of those people for a long time. So I'm happy to be in this place.
---
Thank you so much. So if there's a famous entrepreneur that you want me to profile next, leave it in the comments below and I'll see what I can do.
I'd also love to know which of the top 10 rules you heard today had the biggest impact on you. Leave it in the comments below. I'll join the discussion. Thank you so much for watching.Continue to believe, and I'll see you soon.
---
Summary
Ava DuVernay's Rules
I hope you enjoyed this article, make sure to check my Ava DuVernay video on his Top 10 Rules For Success as well.
You might also like
---
More from Ava DuVernay
---
Hello Believe Vision, my name is Evan Carmichael. My one word is believe and I believe that entrepreneurs will solve …