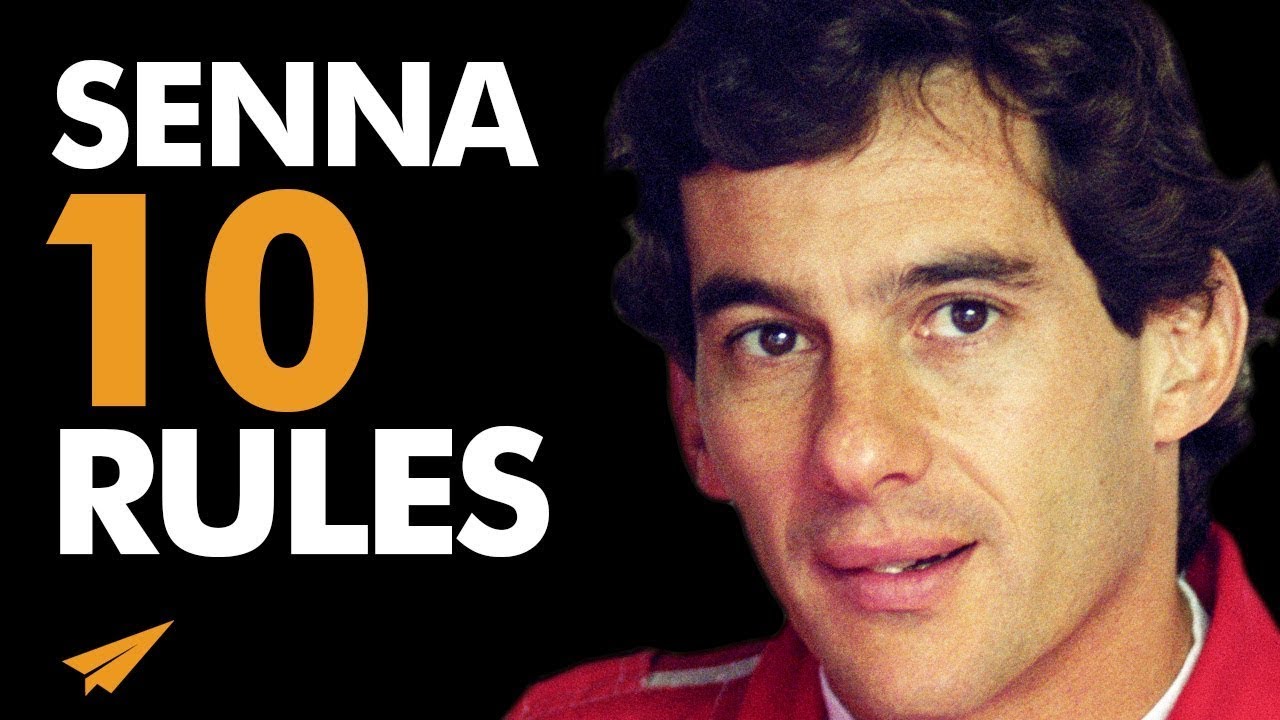 By being a racing driver, you are under risk all the time.
I use those lines and those guidelines to move as a man, as a professional.
I like to do well, I like to be the best.
I am as, committed as ever to my passion.
Everyone is responsible for the race having being started. I am only 32 and it's no sense for me to stop.
Ayrton Senna's Top 10 Rules For Success
Evan: He's a Brazilian race driver who won three Formula One world championships.
He was killed in an accident while leading the 1994 San Marino Grand Prix.
He's considered by many as the greatest race car driver of all time.
He's Ayrton Senna, and here are his top 10 rules for success.
---
Ayrton Senna' Rules
Compete For Victory
Control Yourself
Do Things For the Right Reason
Be Competitive
Transmit Good Values
Stay Committed
Take Responsibility
Consider Everything
Be Driven
Never Give Up
Rule #1: Compete For Victory
You should know that by being a racing driver, you are under risk all the time. By being a racing driver means, you are racing with other people. And if you no longer go for a gap that exists, you no longer a racing driver, because we are competing, we are competing to win. And the main motivation to all of us, is to compete for victory. It's not to come third, fourth, fifth or sixth.
Rule #2: Control Yourself
First off all, you need to calm down, to get tranquility and you need help. You need to be assessored. You need to have a competent group of people behind you. Teaching you, giving the hints you need, and trying to reduce your mistake.
Try to be calm. I think the most important thing is to control yourself. And that's a problem, because young people always want to do things really fast. I am like this.
Interviewer: Are you very anxious?
Yes I am, But I learned a lot with my mistakes. And I am still learning that sometimes you can't go so fast.
Rule #3: Do Things For the Right Reason
Ayrton:  I have had all my life a very, very strong and good education. And from that education I've got, again, clear and strong principals in way of behaving. And that's where I guide for… I use those lines and those guidelines to move as a man, as a professional.
And I don't regret anything, I just feel I'm doing things for the right reason. Some understand, some don't. In the end you never get everybody to understand, to agree and to accept. But most of them, I'm sure, admire after all, what I'm doing as a professional and as a man and as many drivers do.
We are exposing our lives, they are consistent. And the reason for it is only one, it's to succeed, it's to win. It's to get the thrill when you cross the finish line in first place.
Rule #4: Be Competitive
I am very competitive. I think any racing driver that gets to Formula One, has in expressionality, a lot of competitiveness. I particularly believe to be extremely competitive in anything I do. But it depends where you are and what you're doing and what is your state of mind.
If I'm on holiday, off season, it's a different way of living totally then when you do interviews, when you're testing, you're in the season of racing, competing during the season. You have to allow yourself different mental approach, a different way of looking the day and night.
And only that way I find possible to get the necessary equilibrium to then give everything I have when it really matters. But in normal things I am competitive. I like to compete and I like to do well. I like to be the best.
Rule #5: Transmit Good Values
My Responsibility, my main attention is specially with kids…Because I can feel the children's admiration, love and care to myself. And this love motivated me to transmit good values for them. I feel that I have this responsibility with kids. With those kids who like racing , and always ask their parents to go see a Formula1 racing. This is the kind of people that I am really open, I feel good when I meet them.
Rule #6: Stay Committed
Interviewer: Ayrton, it has been a quite incredible season for you. You are the youngest ever three times world champion, three times in four years. I have to ask you on behalf of your despairing rivals. Is your motivation still as high as ever? 
I think so.  I am as you said, young and healthy. I am as committed as ever to my passion, to our passion, and to my profession. And the main thing is to find the ways time after time to stimulate myself in my own world, my own funny ways. To dedicate a lot of my time and a lot of my thinking and keep up when the commitment is quite high to continue, to be successful.
Rule #7: Take Responsibility
If we were to run into rain conditions of this kind again, is there a better method, Ayrton, for us to look into how the race should be stopped, earlier or more-
We shouldn't start.  I think it's very hard for the officials to make such a decision, because there is a lot of pressure. Television all over the world, and… And it's difficult, we understand. But I think it's, in a way, it's our own fault. We shouldn't have started as drivers, if we just get out of the cars, stick together, and make a decision for ourselves, then the race wouldn't start in the first place.
It's always very difficult to get everyone together, I've experienced it myself two years ago, today again, because also we have a lot of responsibility to the teams and the sponsors that give us so much, and there are moments that we have to also try to give them some simple … it's very difficult to find equilibrium to balance on making the right decisions at every single time, but as I said, I think it was a mistake to all of us to have started.
Not only from the officials, it was also driver's mistake, was team's mistake, we all should have courage as a group. Everyone that is here to get together and go against it, and not start the race. So it's not officials only, I also take responsibility, as drivers, and also the team .. everyone is responsible for the race having been started.
Rule #8: Consider Everything
I expressed the feeling some time ago, a couple months ago that I wouldn't be prepared to continue driving next year, unless I felt I could compete–competitive, and that meant not that I had to leave McLaren or anything, it just meant if you feel you have some light at the end of the tunnel in which you can work and make up, and be back in a compeititve way. And if that situation, did not…
Turn up for me, then I wouldn't drive. Without really wishing to stop, because I am only 32, and it is no sense for me to stop, I mean, the peak of my career is still with quite few years ahead. I have achieved so much credibility, so much experience, that is it's not the time to stop, but on the other hand, there's absolutely no sense to just be a number out there, giving the fact that whether you're fighting for first or second, or fifth or sixth, you just expose yourself to a lot of danger continuously, a lot of stress, and a lifestyle that not always is attractive for me.
Therefore, considering everything, the material benefits I got up until now, and the ones I could get in the future, the personal satisfaction, the achievements that you can get, and the only real motivation for me to continue was to be in a position where I could compete, improve, learn more and be there. Be there fighting at least for it. And anything else, I could not justify to myself.
Rule #9: Be Driven
I'm very privileged. I've always had a very good life. But Everything that I've gotten out of life was obtained through dedication and a tremendous desire to achieve my goals, a great desire for victory, meaning victory in life, not as a driver.
To all of you who have experienced this or are searching now, let me say that whoever you may be in your life, whether you're at the highest or the most modest level, you must show great strength and determination and do everything with love and  with a deep belief in God. One day, you'll achieve your aim and you'll be successful.
Rule #10: Never Give Up
Reginaldo:  Ayrton had never won the Brazilian Grand Prix. Ever since he'd been in Formula One it was his dream to win at home
Announcer:  The Brazilian Grand Prix is about to start. Red Light – Green Light. He start's well. Come on Senna! And Sena gets away in the lead
Ron: Ayrton pulled out in the lead, he was then really faced with a very easy race win.
Announcer:  Here is Senna… It's raining
Ron: And then, the gearbox jammed, and he was faced with several laps to go, only having the sixth gear.
Reginaldo:  It should have been impossible to  drive  a Formula One car stuck at 6th gear. He wanted to stop. He couldn't drive anymore, but he tried so many times to win the Brazilian Grand Prix, that he found a special inner strength.
Announcer:  After this corner, senna is on the home straight, He's going to win, Ayrton, Ayrton – Ayrton Senna From Brazil! Leading from start to finish, he wins at Interlagos. A great victory for Senna
Ayrton: I don't believe it. I've won!
Thank You!
Thank you so much for watching, we made this video because Devesh Somani asked us to. So if there's a famous entrepreneur that you want us to profile next, leave it in the comments below, and we'll see what we can do.
We would love to know which one of his top ten rules that you like the most, please leave a comment below before joining the discussion.
Thank you guys for watching, continue to believe, and we'll see you soon.
Bye!
---
You might also like
---