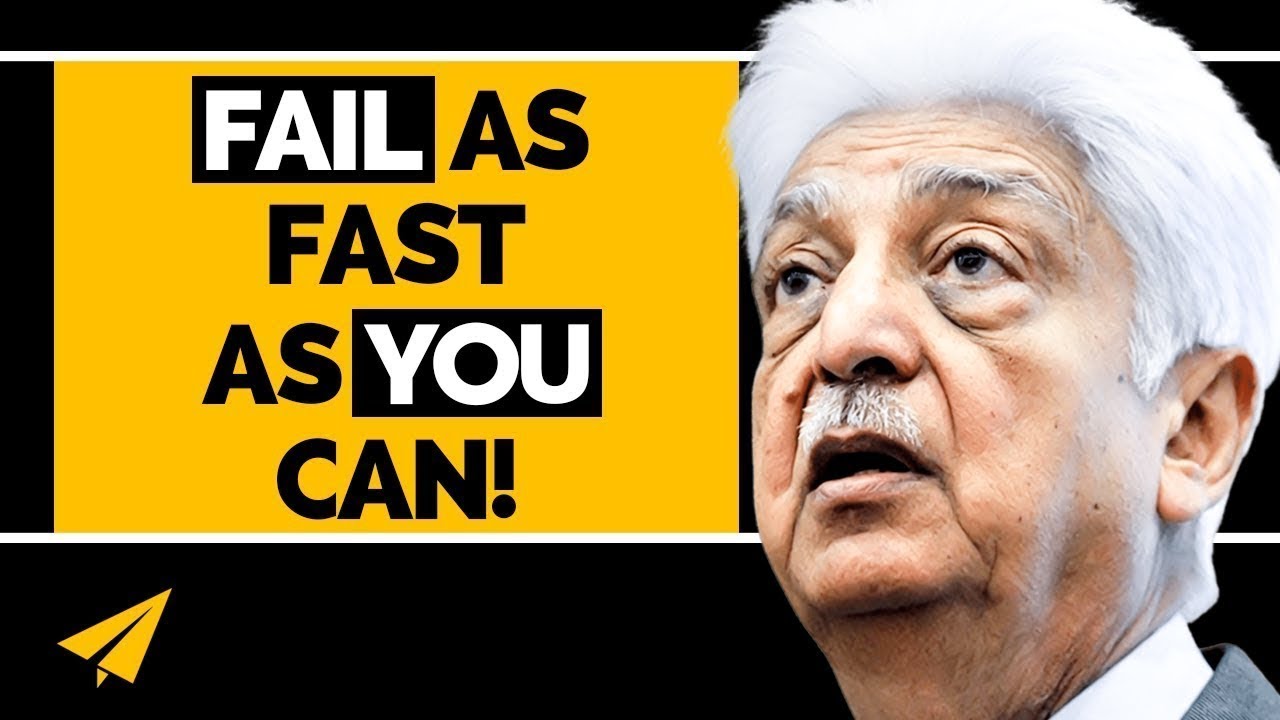 Famous Entrepreneur Quotes
Azim Premji's Quotes
"Don't get too worried about what other people think of you all the time"
"We must allow for creative failure when it comes to generating ideas. It is inevitable."
"it is only on our strengths that can give us the energy to correct our weaknesses."
Azim Premji's Top 10 Entrepreneurship Rules For Business and Success
He's an Indian business tycoon, investor, and philanthropist. He's informally known as the Czar of the Indian IT Industry. He has an estimated net worth of $16.5 billion. He's Azim Premji, and her is my take on his top 10 rules for success.
Rule #1: Find your Purpose
Azim: You're asking me is what should really motivate you.
Audience Member: Yeah.
You know, I think that's a very personal question of what should really motivate you. I think the longest standing thing which should really motivate you is that something in which you're trying to quest for something to satisfy yourself and feel good about yourself. And decide what that is, and be constant to that purpose, and try to work for excellence in that area. And don't get too worried about what other people think of you all the time.
Rule #2: Fail as fast as you Can
We must allow for creative failure when it comes to generating ideas. It is inevitable. No one likes failure, particularly business leaders. But unfortunately, all evidence suggests that it is impossible to generate few good ideas without a lot of bad ideas. And bad ideas are expensive, but they have to be tolerated. As the physics Nobel Prize winner Fermi said, "I try to fail as fast as I can." That is the best way to move forward on a new idea, fail as fast as you can. Failure should be forgiven and forgotten as long as the lessons are remembered and recycled.
Rule #3: Cherish your Strenght
You must begin life, and you must approach life with your strengths. Absolutely essential. Everyone in schooling very often keeps on pushing one to focus on what is wrong with us, or tells us what is wrong with us. And there is a very interesting imaginary story of a rabbit, and you must hear this one. The rabbit was enrolled in a rabbit school, and like all rabbits, it could hop very well but could not swim. At the end of the year, the rabbit got high marks in hopping, but failed in swimming. The parents were concerned.
The relations were concerned. The friends were concerned, the elder friends, particularly. They said, forget about hopping, you are anyway good at it. You don't have to keep practicing it. Concentrate on your swimming. They sent the rabbit for and coaching in swimming, and guess what happened? The rabbit forgot how to hop. As for swimming, have you ever seen a rabbit swim? While it is important for us to know what we are not good at, we must cherish what is good in us. It's very fundamental to life. That is because it is only on our strengths that can give us the energy to correct our weaknesses.
Rule #4: Be Persistent
To make changes in any organization, you have to have a measure of very high persistence. You've got to go on, and on, and on, and on. If we don't have that persistency, very often you fall out just when success is around the corner.
Rule #5: Get Ideas from Customers
The customer is a great source for ideas. The customer can actually participate in his getting better satisfaction, provided we can listen to the customer and what he or she has to say. And I think this is the most important thing in terms of customer visits, in terms of customer research, is how do you get the customer to say things, or indicate things, or give nuances of things which are really unsaid? And very often the customer himself or herself does not know about it, but that is the source of truly very, very interesting ideas.
Rule #6: Earn your Rewards
My friend was sharing with me a story of his eight year old niece. She would always complain about the quality of the breakfast and about the quality of the food she would get in the house. She came from a family where there was a cook, and they tried just about everything to please her.
Finally, my friend took the child to a supermarket and bought her one of these ready-to-cook breakfasts. The child had to cut the packet and pour water in the dish. After that, it took two minutes in the microwave to be ready. The child found the food to be absolutely delicious. The difference was that she had cooked it with her own hands. She had put work and effort into it. I have found that nothing gives as much satisfaction as earning our rewards. A rupee earned is much more valuable than five rupees found.
Rule #7: Deal with Disagreements
I think the simplest thing in dealing with disagreements is get them onto the table. I think that nothing breeds more discomfort, and frustration, and anger with people if you bottle them up. That's very fundamental. And you don't always win when you get them onto the table, but at least you come to certain points of understanding, which makes for people to move forward.
And you know, we, to run large leadership positions successfully, you can debate issues, you can get issues onto a table.But what you would expect is that when a decision is made, people fall in line going forward. And if they have strong conviction against the decision made, it's best that they get out of the system and don't frustrate themselves and frustrate other members of the colleagues with their frustration.
Rule #8: Disrupt your Industry
As Gary Hamel puts it, businesses are good at getting better, but poor at getting different. It is very difficult for successful organizations to develop destructive innovations that would threaten the basis of their success. Often they are put out of business when some similar company or smaller company develops a radically new technology.Which employees working in a booming telecom company in the 1990s would have suggested that free voiceover internet telephony would be something that they could develop? It took a start up Skype to make a success of this radical idea.
Rule #9: Practice
Interviewer: When you talk about ethics and integrating in the Indian context, the two companies that come to mind are, one is and the other is . What is so special about these two companies that has been imbibed in these organizations? How is it done?
Very simple. It's done by practice. There's no other way you imbibe things in an organization. It is practice. Integrity is practice. Leadership is practice. Innovation is practice. It's all practice. You got to figure out what you want your company to be and what you consider is non-compromisable and not negotiable. And then send those out, and keep them as simple as possible, and keep them as few as possible, and practice them. And practice them every day, every hour, ever minute and have zero exception to it.
Rule #10: Start Small
advice to students who want to start an organization like Wipro?
Man: Yes, sir.
You know, the reality is you have to start small. Like we started small. And you must have a very clear understanding of why you want to do it and what focus you want to build. And the focus you want to build in terms of starting an organization is something which must be deeply passionate inside you. Because you're going to go through ups and downs.
In many cases, you're going to fail. Certainly in parts of your journey, you're going to have major failures. So unless you have a very clear commitment to the focus which you build in terms of what do you want to build successfully, and have the flexibility to change that focus, because you've not judged the market properly.
The markets don't run after you, you know. You have to run after what the market demand is, what the market demand you can create. But you have to be persistent, and you have to be prepared to make sacrifices, because you will have to make sacrifices in the early stages, and some very major sacrifices. And most of them will be financial sacrifices. Because you won't get cashflow the way you hope to get cashflow, unless you have a brilliant, genius idea, then you'll get cashflow.
Thank You!
Thank you so much for watching. I made this video because PRNV asked me to. So if there's a famous entrepreneur that you want me to profile, leave it in the comments below, and I'll see what I can do. I'd also love to know which of the top 10 rules had the biggest impact on you and why. Leave it in the comments, and I will join in the discussion. Thank you so much for watching. Continue to believe, or whatever your one word is, and I'll see you soon.
Summary
Rule number one is my personal favorite, and I'd love to know which one you guys like the best.
Azim Premji's Rules
BONUS
I hope you enjoyed this article, make sure to check my Azim Premji video on his Top 10 Rules For Success as well.
Related Azim Premji links
---
You might also like
---
More from Azim Premji
---
Hello, Believe Nation! Today we're going to look at how you can bet on your strengths. And as always, guys, if you …