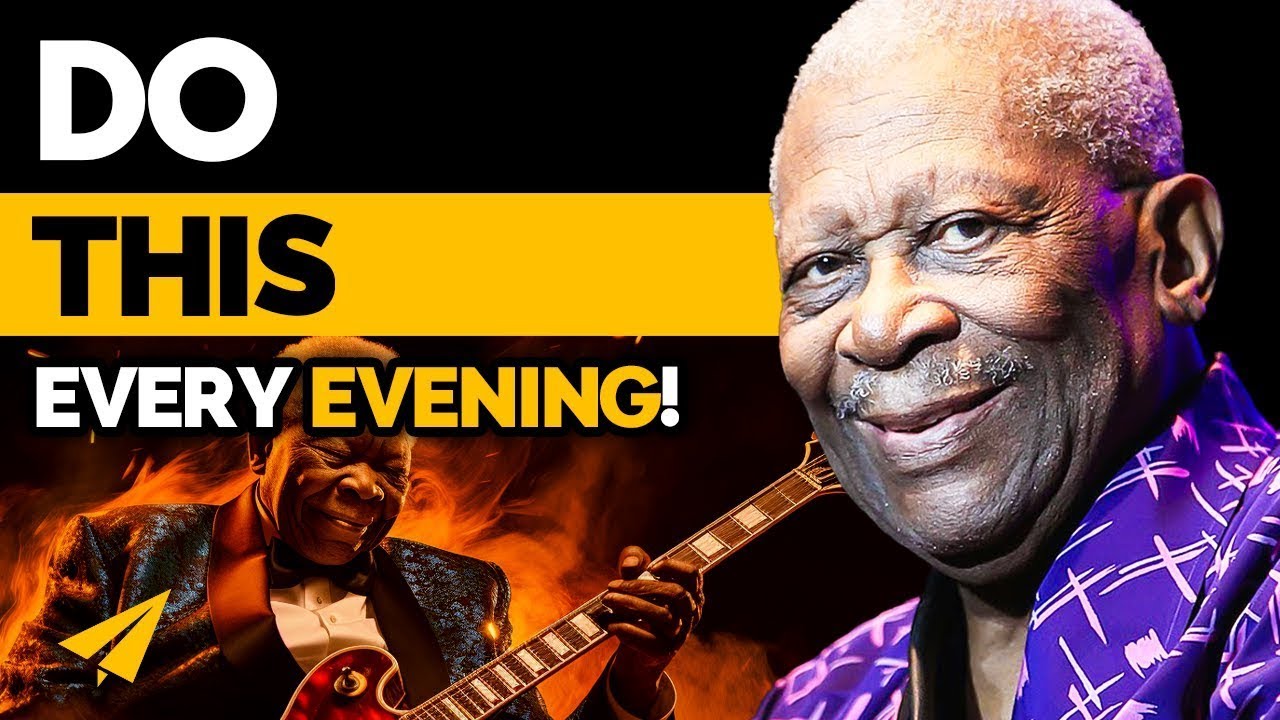 He was an American blues singer, song writer, and guitarist. He was inducted into the Rock and Roll Hall of Fame in 1987. He's considered one of the most influential blues musicians of all time, earning the nickname, the king of blues. He's B.B. King and here are his top 10 rules for success.
B.B. King's Top 10 Entrepreneurship Rules for Success and Business
Rule #1: Know Your Goals
Interviewer: What do you want to do with your music and with your singing?
Play the best that I can, reach as many people as I can, as many countries. In other words, I'd like the whole world to be able to hear B.B. King sing and play the blues.
Rule #2: Do The Best That You Can Do
Well, practice is something that we think is something that you should do daily anyway 'cuz I'm lazy and I don't, but generally you kind of think, for example, I know that at the North Sea Jazz Festival people are used to hearing various types of music. So, when I come out, I try to do the best that I can do of my kind of music.
Rule #3: Practice
Interviewer: B.B., do you still practice?
Yes. Yes, I do. Not nearly enough, but I play every night, practically, at least for five nights a week and I practice, but my practicing is not what it should be.
In other words, to really just get down and play the scales and something once or twice a week.
But by me playing every night, usually, I'm always running into something or accidentally falling into something that I hadn't heard before, then you go back and look for it later on.
Interviewer: When you do practice, what do you work on? Do you have any specific exercises?
My exercises usually it's the scales mostly.  Mostly that and just all over the neck of the guitar because if I keep doing it, I usually will hear and you start to playing with them.
You keep hearing it and you hear things that you can play with.  You know, something like that. And that's what I keep doing until my fingers stay stop.
Rule #4: Contribute Something New
Man: That feeling on the guitar, that singing string. What was the phrase that you used for it before?
Twingy.
Man: Twingy. This is your own. This is your contribution.
I think so. I think it is because I've heard so many guys, since I've started playing, sound that way, and I don't remember ever hearing anybody before that. Not before that.
Rule #5: Find Your Energy
We average about 200-about 250 to 275 concerts per year and sometimes that mean you might do two in one day.
I'm 69. I'll be 70 on September the 16th if I live that long. And I find the energy meeting people like yourselves. I enjoy people. I love to play. See people happy. I love to see them dance and see them enjoy themselves.
That's energy for me and it's educational. I get a chance to learn how to say merci beaucoup.  I don't speak French, but Lucille does. Music is a universal language and I believe that because it's been many times I've heard great musicians like Django Reinhardt.
I love. You never hear him speak English, but he speaks it with his guitar. So, I think music is a universal language that we can, I believe, communicate with anyone.
Rule #6: Be Grateful
I believe I do. I don't want to stick my neck out there, but I think so. But I'm grateful that some of them seem to like me. I'm grateful because to me, it seemed to open a few doors for us that seemed like it was never going to be open and we're glad when people like Mike and the rest of the fellows will take up some of the things we do.
We're very happy because until the days of rock and roll, a lot of times a lot of the places, they just wouldn't accept us. I'm not speaking racially. I'm just talking about he people as a whole that just wouldn't accept us in some of the places that the doors are open now, that you can go into because of people like Mike, Elvis Presley, the Beatles, Fats Domino. People like that helped us out quite a bit.
Rule #7: Appreciate Your Audience
Well, I think, like this, the management of Newport Club wouldn't want me if they couldn't have people that wanted to see me. So, I try my best to let the audience know that I appreciate them and their appearance here with me or their support, if you will, in letting them know that I love them too.
I've been around some artists, I've been around some places, even. Once, the audience, I'll never forget once, I was in Chicago. I won't mention the club. I was in Chicago and the management had been advertising to get people to come.
So, people were there. So, when the show was over, some guy got up and said, well, you don't have to go home, but you got to leave here. That made me angry. I get very angry. Very angry. I said that he could say, folks, we got to close. You know? That whole stuff about you don't have to go home but you got to leave here. He didn't say that when he was trying to get them to come in.
So, I wasn't happy about that at all. So, you don't get that here. Sure. There are curfews in some places. Some places you have to close at a particular time. The audience understands that. So, if you tell them, you're going to have a few that may grumble, but the majority of the people are right with you and they're sensible.
They know that if you don't close down, you maybe lose your license. So, if you say, folks, sorry. The time is now. We have to cut it off. It's our curfew time. And majority of the people will walk out. They will go.
Rule #8: Create Something That Lasts
Man: What is for you the characteristics of a good melody?
Something that seems to stay with you. Sometimes you wake up mornings and you go to wash your face and you still hear there's something in your head. You walk out and all of a sudden you're whistling.  Something that stays with you. That's a good melody. That haunts you.
Rule #9: Always Aim To Do Better
Man: Are you still getting better as a guitarist?
I hope I am. I hope so. I can't always tell 'cuz I still can't play like I want to play. I'm going to do this 'til I die, folks.  There's a lot of young guitarists have new ways of playing and they, to me, are what's going on today.
Man: Well, people want to see you.
I'm glad.  Oh, am I glad.
Rule #10: Have Fun
So, I was going to Montgomery to play. Called the promoter, I said, I'm broke down. I said, I don't know how long it's going to take to fix it. It was about two thirty, three o'clock in the evening, then. I said, I'm pretty sure that we'll be late when we get there.
He said, that's all right, B. Come on up. Then, are you sure? He said, yeah. Come on up. Come on up. So, sure enough, we were late when the bus got ready and we went on up there. When we got there, you don't hear much about them today. Armories. Armories. You remember?
We used to play a lot of those. Armories. So, the armory, you started from the ground floor and you had to walk about 10 or 15 stairs and there was a platform like that. So, that's where he was sat to collect his tickets and the money. And then, you go about 10 or 15 more floors and there's the dance hall.
So, when I got there I said, we'll, we made it. He's, yeah, but you can turn around and go back now 'cuz I ain't going to pay you. I said, but I called you and told you. He said, yeah, but I didn't think you were going to be this late.
I said, but I didn't say how late. I just told you we're going to be late. He said, well. I ain't going to pay you, so you can turn around and go back. I said, well. Since I'm here, I have a thing about being late. I have a thing about standing up the people.
I said, let me go on out and play. He said, okay. You can go up if you want to, but I ain't going to pay you. I said, okay. So, we went on upstairs and boy, when we got on the dance floor and people just looked like they were packed in there.
I sure would have liked to have had some of that money.  So, we got up there and we started to playing and the people, you know, you couldn't buy liquor, but you could carry what they call a brown bag.
You could carry your bottle with you. Well, at the armory, they had places where you could keep your bottle, you know? Well, we got to playing and people starting drinking their yucky duck, everything was going good.
So, after I played about two or three pieces, you know, and everybody was fired up. I said, ladies and gentlemen. So you know, this is 'ol B and I never stood you up. No, B. You always come in time. I said, yeah.
Well, I got something sad to tell you, but when I came upstairs, the boss told me he wasn't going to pay me. Everybody got quiet. What? I said, no. He said he wasn't going to pay me and I ain't telling you what to do, but I feel that if I'm going to play free, you should be able to listen free.
I ain't going to tell you what to do.  They went, he never said he ain't going to pay me and I'm up here playing, you ought to check on your money.  I ain't telling you to do it, but you should. Boy. A little bit later, the money went one way and the dude went the other. And I thought, well, the house if full again.
---
Thank you so much! 
So, if there's a famous entrepreneur that you want me to profile next, leave it in the comments below and I will see what I can do.
I'd also love to know which of B.B. King's top ten rules had the greatest impact on you. Leave it in the comments and I'll join in on the discussion.
Thank you so much for reading. Continue to believe and I'll see you soon.
---
BONUS
Tell Good Stories
Well, everybody that looks at me now. Usually, when I'm talking about my guitar, it's always Lucille. And they look at me like that. And then, I tell them how I gave the name Lucille to my guitar. We were playing out near a place called Twist, Arkansas.
And they had a place for you to dance, like over here, and you would eat over here and that's where I stayed at most times when I wasn't on stage. They had a small stage, you know, smaller than this. And I would go in and I would start to play and eat. Eat and play.
And two guys start to fighting. They do quite a bit of that in Mississippi, Louisiana, and Arkansas, near them small joints where they gambled then.
And when these guys started to playing, this is in winter, they had a big pail sitting in the middle of the floor and one of them knocked the other one over on this container and when he did, well, it spilled on the floor. And when it spilled on the floor, everybody started running out, including me, and I forgot my guitar.
And I'd never done it before and never have did it since then. But, I went back in and got my guitar and I almost lost my life trying to save it. And that's when I named my guitar Lucille because these two guys, I learned, was fighting about a lady that worked in the place where they cooked the food.
And I named my guitar Lucille to remind me to never do that again.  That's how that came about.
You almost lost your life going back in to get your guitar.
My guitar, yeah.
And you named it Lucille and that's stuck all of these years.
Yes, all these years.
---
You might also like
---