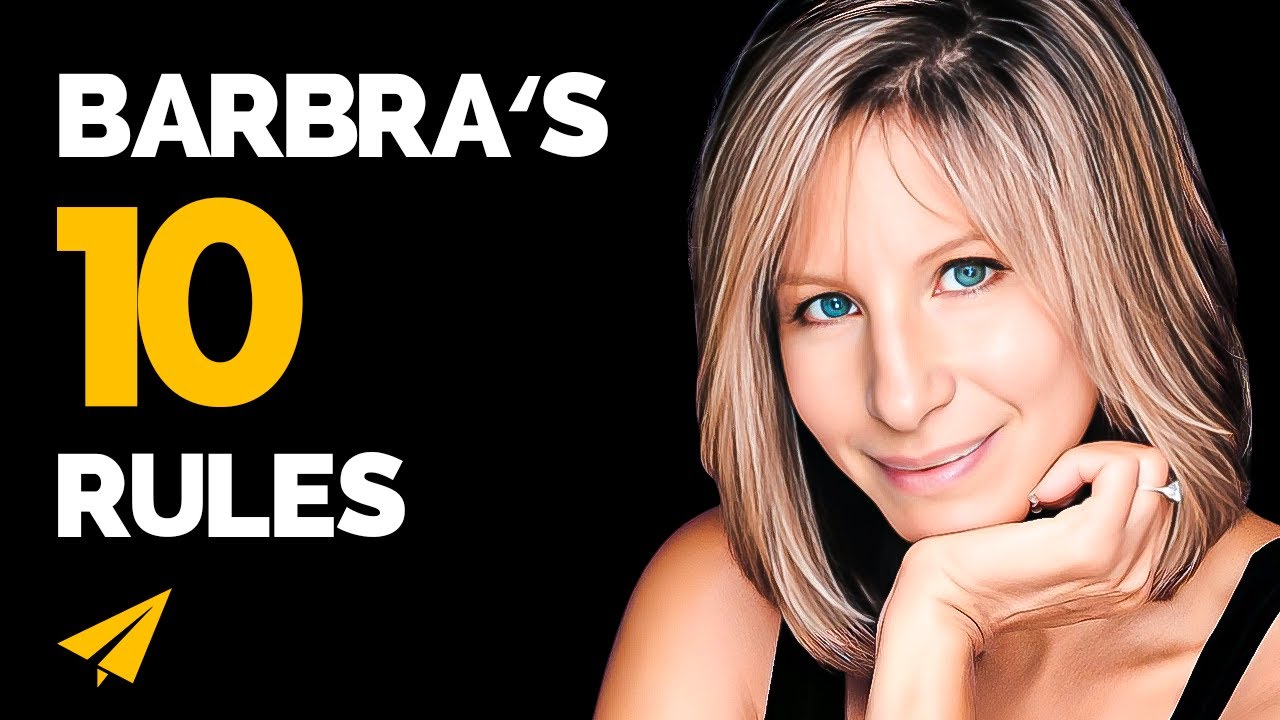 Famous Entrepreneur Quotes
Barbra Streisand's Quotes
"A man's reach should exceed his grasp."
"If you're following a path that is pleasurable to you, it's much easier, it flows, there's a light behind the eyes you know."
"Music is so powerful to the soul. It's so rich and being able to identify with feelings. Music can transport. So it's very strong."
Barbra Streisand's Top 10 Entrepreneurship Rules For Business and Success
She's a singer, songwriter, actress, and filmmaker. She's one of the best selling artists of all-time worldwide with over 245 million records sold. She's the only recording artist to have a number one album in each of the last six decades. She's Barbara Streisand, and here are her top ten rules for success.
Rule #1. Life Is Short
A man's reach should exceed his grasp. It's just, life is a carousel, life is a bowl of cherries, I don't know it's, life is short. And you just got to play, dance, experiment, fail, succeed, learn, give.
Rule #2. Follow Your Bliss
In life it's like, you know, follow your bliss. If you're following a path that is pleasurable to you, it's much easier, it flows, there's a light behind the eyes you know. There's a shine within. It's beyond, it's not just work, it's a joyous experience. You long for that.
Rule #3. Have Courage
As I got older, I just thought, how many people said to me, how could you not sing in public, like we as your fans really want to hear you and see you live. And I thought, I owe this to them. And maybe I owe it to myself too to build up the courage to try it again, because it's not about perfection, as you know, you know. This could happen, your voice could go flat, dadada, and there is a certain excitement to that, and a certain acceptance again of, you know, imperfections.
Rule #4. You Have To Try
My mother had a great voice. Not like mine, not like my sister's, not like my son's. A high soprano voice, but like a bird, I mean, really beautiful, but, I used to say mom, why didn't you try to get a career as a singer? No, she said she was too shy, she couldn't do it. And I'm basically shy too, but that makes the difference, you know, how do you succeed if you don't try?
Rule #5. Accept Your Flaws
The truth is, I think for years I thought, well, I don't want to disappoint people. You know, it's like you have this thing for me, well if you meet me, you know, will you be disappointed, will it destroy the mystique? Now as you get older and when you accept your own imperfections, there's a warmth to that, that's like the Indians sewing in the flaw in the blanket, you know, that it shouldn't be perfect. So I really can't make a mistake, because if I accept my flaws, then you will accept my flaws.
Hostess: Exactly.
Rule #6. Be Passionate
Music is, is transporting, music elevates life, you know, music is larger than life. You know, when you have certain emotions, that are larger than life, you want to sing, you want to, you want to express it in a larger way. Music is so powerful to the soul. It's so rich and being able to identify with feelings. Music can transport. So it's very strong.
Rule #7. If You Have To Think About It, Don't Be It
Did you have a lot of people say you were never going to make it besides your mom?
Yeah.
Rosie: And what did you think in your head when they'd say that?
I thought they were crazy.
Rosie: Same thing with me, that's what I did.
It's terrible. No, I mean, I thought I knew their, what meant, I knew why they thought that but, isn't that funny that within enormous insecurity and doubt, was a kind of a
Rosie: A knowing.
A knowing that, you know if I stick to my guns, and I tell the truth and I, I will be there, I don't know, I never thought about it that much. It was something so deep I guess, that .. I tell people, some people ask me you know, do you think I should be an actress? And I say, boy, if you have to think about it, don't be it.
Rule #8. Try Something New
Interviewer: Now I can direct, people know I can direct, now I can write songs, people know I can write songs, I don't need to do that anymore?
I do bore myself a lot. You know I have to go on, and it's not conquer, I don't know if I'd use the word conquer, it's, it's expanding one's horizon. You know, it's trying something new. It's risking failure. Even that's exciting to me.
Rule #9. #Believe In Yourself
You see, actually you have to be thankful for people like that 'cuz in a way, they gave you more courage, they gave you more energy. More of a sense of your own destiny.
Rosie: It's true.
I thank my mother actually for not believing in me. Because I really set out to prove to her, that she was wrong, that I could make something of my life, you know, as an actress.
Rule #10. Strive For Excellence
I am proud say I am. But there is no such thing as perfection, and I found that out when I was 15 years old, I wrote it in my journal, that perfection is imperfection. So it has that humanity, a human quality. Otherwise it's too cold, right? You could just strive for perfection. Better word is excellence, strive for excellence.
Thank You!
Thank you guys so much for watching. I made this video because a.l. interpretations asked me to. So if there's a famous entrepreneur that you want me to profile next, leave it in the comments below and I'll see what I can do. I'd also love to know, which of Barbara Streisand's top ten rules most resonated with you, leave it in the comments, and I'm going to join in the discussion. Thank you guys so much for watching, continue to believe and I'll see ya soon.
Summary
Barbra Streisand's Rules
BONUS
I hope you enjoyed this article, make sure to check my Barbra Streisand video on his Top 10 Rules For Success as well.
---
You might also like
---