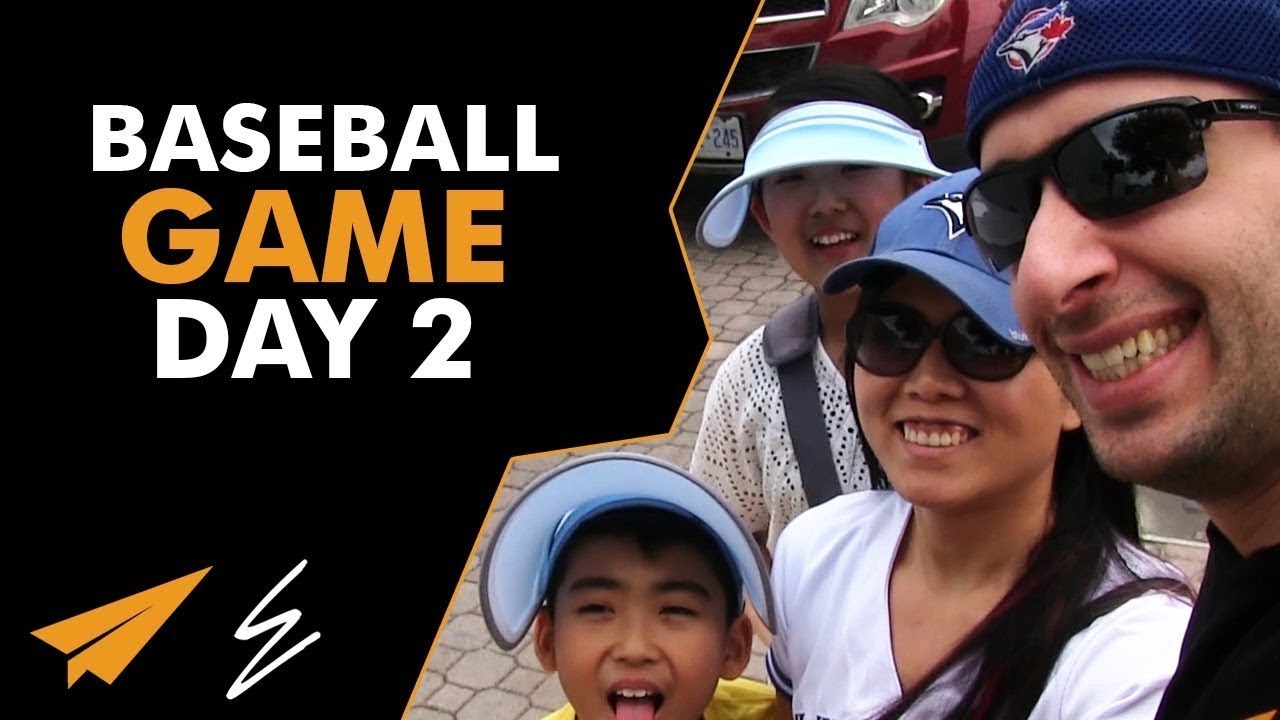 Evan: I have a sneaky feeling we're going to be late. So I got to, we got to rush.
Hayden: I hope we win.
Evan: You hope we win? Me too, you think they're going to win? Yeah?
Stephanie: They're already at three.
Evan: Oh!
Evan: Alright, let's see it. Go Jays go.
Good morning! Welcome to day two!
Hayden: Blue Jays game!
Evan: Blue Jays game day!
Hayden: Tomorrow is Disney World
Evan: But more exciting than Disney World is Bluejay game day today!
Hayden: He's wrong.
Evan: Hayden's eating, what are you eating?
Hayden: Hotdog.
Evan: Hotdog and Cheerios? I support it. Stephanie and Jeffrey are eating hotdogs and eggs.
Hayden: And we're watching TV.
Evan: Eat a yummy breakfast, and then head off to the game, so we are not late! I'm excited. So we have a, history of being late for the Bluejays game, mostly because of Florida traffic. The GPS says it's going to take an hour and a half to get there and it takes us like three, so the first two years we were late, the third year we got there just as it was starting, and this is our fourth year. I have a sneaky feeling we're going to be late, so I got to, we got to rush. We got to rush! We got to rush! Let's go, get some Starbucks, and rush, rush, rush. To the baseball game!
Evan: Nina is in bad need of-
Nina: Coffee.
Evan: Coffee. And there's only one Starbucks between here and where we're going. So, we stop here every year for the fourth year in a row, to get a coffee for the Nina!
Nina: Ow, you just stepped on me!
Evan: Oh, you okay?
Nina: Yeah, no, it hurt.
Evan: We're celebrating love though?
Nina: Uh-huh.
Evan: Okay, yeah, let's go get some coffee!
We got our coffee. Nina got a-
Nina: Coffee.
Grande Pike. She's very excited about it.
They don't have milk. Who doesn't use milk? I don't like cream.
Nina doesn't like cream, Starbucks. Evan got a venti caramel machiatto. Cheers. Mm. Holy cow, it's strong. I'm not used to this.
Really, is it strong? It's not strong.
Back in the car, let's go go go to the baseball game!  We stopped in quickly, for lunch at Chick-fil-A. So we got to hustle. Nina got chicken fingers,
I got chicken fingers.
Evan: We basically all got chicken fingers. And I got a chicken burger. And we got to leave in five minutes to get to the baseball game. Whatever you don't finish, you're bringing in the car.
Go Bluejays!
Alright, we made it, we parked, we're on our way in. What's Nina doing, are you vlogging this?
No, I'm just taking a picture.
Oh, Nina's taking a picture
Oh my god. Picture!
Okay! Everybody get in! Okay, who's going to win today?
Kids: The Bluejays!
Let's hope, right? Let's hope, let's see it. Nina's worried that it's going to rain.
It's raining.
Evan: What are you going to, oh no! No rain, no rain. Look at those clear skies, that's amazing. It's all sunny up there. Beautiful Florida sunshine, right Nina?
Yeah.
Yeah! That wasn't a rain drop, that was just, love juice from the sky!
Are they going to put the roof up, it's raining.
Evan: There's no roof here.
Oh.
This isn't Toronto. Yeah, if it rains, you get wet.
So Nina did a weather check, and-
It's going to shower at-
Huh?
Four p.m.
Four p.m. They're starting, we're still in line. So, we might get rained on. It's okay, a little Florida rain. We got this. I want to be inside!
Now!
What happened Nina?
Ugh, they won't let me bring in the selfie stick.
Nina's not happy.
No.
They won't let her bring in her selfie stick. It looked like a weapon, Nina's-
How is it like a weapon?
You can be violent at times, so,
Oh, did you just drop on me?
No. Did I just drop on you?  It's this beautiful sunny weather here. Nina threw the selfie stick in a bush.
Yeah.
Who's going to go find it after this?
Look at Hayden's shirt. Choose your weapon. Which is your favorite weapon?
My favorite weapon? If you could make up your powers, then my favorite weapon is this one.
Emerald.
'Cause it could shoot emeralds, and then when it hits something it breaks and sends green spirits everywhere.
Sounds pretty powerful.
And they-
Nice.
And they give you a curse.
Oh, wow. Sounds pretty dangerous. What are you guys having?
A twist!
Evan: It's an ice cream break. How is it?
It's good.
Cashier: There you go.
And one for Stephanie, okay, thank you! Okay, let's go back. What do we think, guys?
Yum!
Good!
Yum! How is it Jeffrey?
Good.
Alright, good. Let's get back to our seats, Jays are winning, yeah.
I hope we win.
Evan: You hope we win? Me too, you think they're going to win? Yeah?
They're already at three.
Oh!
Alright, let's see it. Go Jays go.
Bluejays won, now we got to see if we can get Nina's selfie stick that she threw in the bush. Let's see how we do. Oh, looks like it's gone. No selfie stick, we'll have to buy a new one. But at least the Jays won. Time to go home. Drive in the rain, get some food, Finish the day.
I got so hungry that I forgot to film and let you guys know what we're eating! Nina made some awesome food, look at those pork chops. And some special pasta. Spinach and pasta and carrots and mushrooms and-
Oh!
Evan: Oh, it's Hayden! Holy crap. Eating is good. Yeah.  It's the end of day two. Again we kind of forgot to film, What are you doing, you looking at yourself?
Yeah.
We forgot to film after dinner, what did we do? We cleaned up.
You cleaned up.
I cleaned up, I put the kids to bed.
Yeah.
I gave them a bath.
They gave them their bath. They gave each other bath.
Well, I helped. And I've been researching the health benefits of green tea.  I kind of went down this rabbit hole tonight about researching green tea, and the benefits, and how to determine a good green tea versus a bad one. So-
We have a lot of leafy tea at home.
I'll be looking at different green teas when I get back.
My skin looks very-
What?
Glossy, and-
Glossy?
And very good.
I married a glossy Chinese person.
Look at the, look at the screen.
You're shiny.
Yeah, my skin look very shiny.
Nina shines in all situations. Goodbye all, have a great night. Thank you for joining us for day two. Tomorrow we start off at Disney, day three, by hitting up…
Continue to believe!
Epcot.  Epcot, continue to believe?
Whatever you want where it is, we'll see you next time.
Bye!
---
You might also like
---
More from Evan Carmichael
---
What's up, Believe Nation? Greetings from London, England. It's Evan. My one word is believe and I believe in people, …
Watch Evan Carmichael's Top 10 Rules For Success video. Famous Entrepreneur Quotes Evan Carmichael's Quotes "Changing my environment had a dramatic impact …
Today we're going to look at seven different ways that you can make business alliances. What's up Believe Nation? It's Evan. …